With Halloween just around the corner, some of us enjoy being scared out of our wits while watching movies. As a student who gets stressed easily, distraction is important to me. My favorite mode of distraction? A good horror movie. Even the ones based on campuses.
If you're looking for college horror movies, check out these 10 with settings close to home and even with a few WKU alumni ties.
"Black Christmas" (1974)
Cited as the first Christmas scary movie and slasher film by Movie Web, "Black Christmas" follows sorority sisters on Christmas break lounging in their chapter's house, but all is not silent on this night.
The plot follows a convict who escapes a mental institution and returns home to celebrate Christmas with his family. However, he discovers that his childhood home is now a sorority house.
The convict intends to murder each sorority sister and seek revenge on the college for defiling his old home. However, in the true meaning of sisterhood, the girls work to trap the convict and save each other.
"Black Christmas" did not only influence one iconic franchise, but two decades later, inspired Wes Craven's "Scream," according to the Ringer. "Scream" also has an antagonist that uses home phones to prey on his youthful victims.
John Carpenter's "Halloween" is often called the first slasher movie, but Collider explains "Black Christmas" came first. Movies Network speculates that Carpenter based some elements of the "Halloween" franchise on this film.
"Black Christmas" is available to stream for free on YouTube and Tubi.
"Urban Legend" (1998)
On a prestigious New England campus, murders have been cropping up frequently. The most disturbing aspect of the slayings is they're all modeled after famous urban legends such as the murderer in the backseat, the hook-hand killer, and even alligators in the bathroom.
Student Natalie Simon is stalked by the killer after her best friend was murdered during another urban-legend-inspired slaying. After a close call with the killer, Natalie recruits a ragtag team of students to help her unmask the murderer, but she unwittingly allows the murderer into her friend group.
Following the explosion of Wes Craven's Scream franchise in the late '90s, multiple teen-centered horror films were released in an effort to make another horror classic". While most of the films failed, as stated on Tor, this film certainly stands out for not only the refreshing plotline but also its phenomenal cast, including Jared Leto, Freddy Krueger actor Robert Englund, and even 1994 WKU alum Michael Rosenbaum.
This film is available to stream for free on Tubi and Pluto TV.
"Reanimator" (1985)
Based on the titular H.P. Lovecraft short story, "Reanimator" follows tender-hearted medical student Dan Cain and his girlfriend living happily. But, things take a turn when enigmatic student Herbert West transfers from Switzerland, begins attending school, and lives with Cain.
As West's disturbing antics, such as attacks on professors, grow, Dan wonders what he is up to. When Dan's cat mysteriously disappears, he rushes to confront West only to discover that West believes that he "possesses the cure for death" and resurrects the cat in front of Cain.
West lures Cain into experimenting with his "reagent" to bring back patients who die in the medical school, but, when these experiments go awry, the students have to learn that sometimes "dead is better."
Surprisingly, "Reanimator" was made with a $900,000 budget. Fun fact: the iconic reagent used in the film is in fact just glow sticks placed in syringes.
This film is available to stream for free on Tubi and is $2.99 on Amazon Video.
"Fright Night Part 2" (1988)
Now a student in college, protagonist Charley Brewster is still reeling from his vampire neighbor Jerry Dandridge and the trauma he inflicted on the neighborhood in the original "Fright Night"
As Brewster slowly acclimates to life on his own, he discovers that Jerry's sister Regine wants to avenge her brother's death, which was caused by Brewster and local television hero, Peter Vincent.
Vincent is hesitant to join Brewster again because, hilariously, his TV show was renewed for another season and he doesn't want to die before his next season is recorded.
Still as anxious as he was when Jerry was his neighbor, he must battle both Regine and his relentless fear in order to save the lives of his girlfriend and family.
This film was directed by former WKU student Tommy Lee Wallace. In an interview with The Movie Waffler for "Halloween III," Wallace explains he became interested in the horror film creation process when he was in a band with the director of "Halloween," John Carpenter. Their later albums can be listened to here.
This film is available to stream for free on Amazon Video.
"Rush Week" (1989)
Young journalism student Toni is assigned to report on her new college's rush week, meaning she must interview the most popular sorority sisters on campus. During the interviews, Toni is told about secret, provocative photo shoots taken by the sisters.
Intrigued by the need for more information, Toni seeks out a list of the participants and heads to investigate.
Disturbingly, all of the sisters who were photographed are being targeted by a stalker who will stop at nothing to find the perfect girl on campus.
The stalker ultimately murders each sorority sister involved in the photo shoot and targets the protagonist Toni.
"Rush Week" is reminiscent of the classic horror film "The Bride of Frankenstein" which also concerns obsession with the perfect woman.
This film is available to stream for free on YouTube.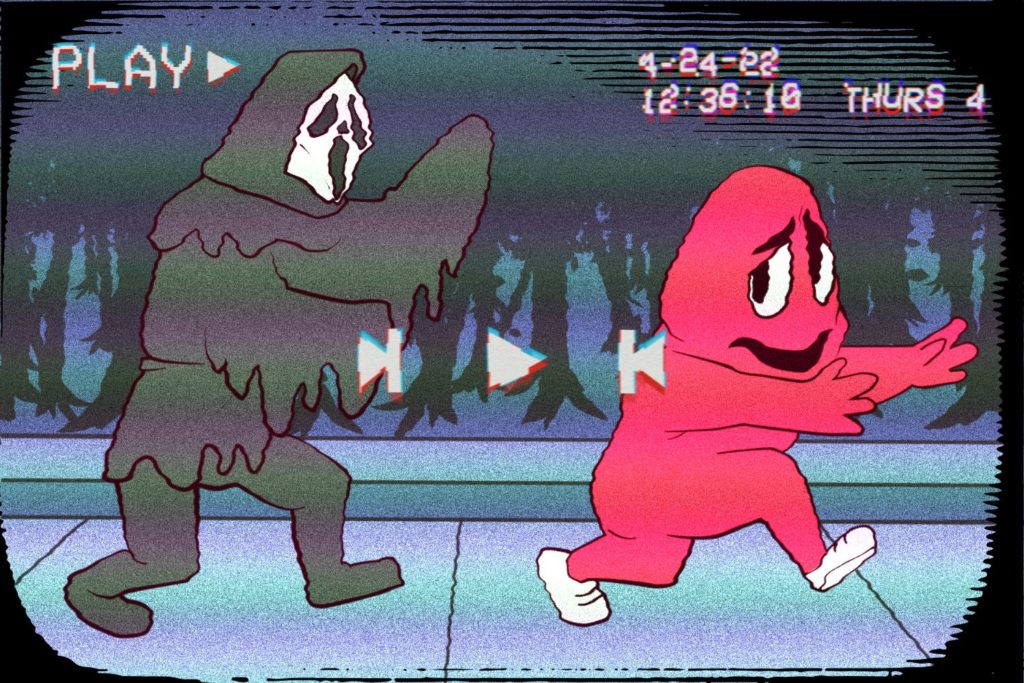 "Flatliners" (1990)
Medical student Nelson has grown obsessed with the concept of death and the afterlife during his tenure at medical school.
Much like "Reanimator," this film deals with theories surrounding how long it takes for the brain and conscience to leave the body after death. Both films deal with the concept of the "mad scientist" and death; however, this film is rooted more in a psychological world rather than in the gory and Lovecraftian world of "Reanimator."
Nelson brings his hypothesis about resurrection to his peers to convince them to play into his obsession. The students are instructed to kill Nelson and bring him back using his hypothesis involving extreme electricity levels and other resuscitation tactics.
When Nelson returns from death, it captivates his friends and colleagues, but as the students keep toying with resurrection, they begin to lose their grasp on sanity.
This film stars beloved actors Julia Roberts, Keifer Sutherland and Kevin Bacon.
This film is available to stream for free on Pluto TV.
"Hell Night" (1981)
In order to be officially initiated into the sororities and fraternities of their dreams, pledges must survive a night in a haunted mansion where an entire family was murdered. However, the tortured souls of the family roam the halls of the mansion, and they do not take kindly to strangers.
Child star Linda Blair takes on the role of protagonist Marti Gaines after playing the antagonist as possessed child Regan MacNeil in the 1973 horror film "The Exorcist."
Some Google reviews cite this film as the "GREATEST SLASHER EVER!" and others talk about how poor the acting and camera work is, but this film is for you if silliness and gore matter more than acting.
This cheesy, indie yet grotesque 1981 picture is brimming with big hair and even bigger scares.
This film is available to stream for free on Peacock and Tubi.
"Scream 2" (1997)
"Scream 2" is the sequel to Wes Craven's notorious '90s horror film "Scream," and it never failed to make audiences, well, scream.
Sidney Prescott, a survivor of the Woodsboro Massacre in the first "Scream," is learning to cope with her PTSD from the tragedy and focus on her graduation. However, the perpetrator of a brutal murder at a local movie premiere is dressed like the horrific Ghostface killer, and she realizes that finals are not the only thing that could kill her.
Ghostface and his terror once again target Prescott and her friends after the release of Gayle Winters' novel and film about the massacre.
Sidney is once again left with no one to trust, and she must discover if Ghostface is a new or an old face.
This film is available on HBO Max.
"Sorority Row" (2009)
Sorority sisters Cassidy, Ellie and Jessica frequently tease their fellow sister Megan, who is often regarded as the least popular of their group.
The sisters plan and execute a prank on Megan, but when she's accidentally killed, the sisters must hide their gruesome mistake.
Shortly after the murder, the girls are stalked by what they believe is a masked killer, but could it be the vengeful spirit of their former sister?
This film is an adaptation of both the 1982 gory cult classic "The House on Sorority Row" and the 1988 black comedy mainstay "Heathers." While the mix of those films may sound bizarre, this movie provides the viewer with the perfect ratio of comedy and tragedy.
This film is available to stream on HBO Max and Hulu.
"Happy Death Day" (2017)
College student Tree Gelbman is celebrating her birthday with her sorority sisters until the mysterious Baby Face killer murders her.
Contrary to other horror movies, Gelbman's life doesn't end there. She must relive the day she dies until she solves her murder, similar to the film "Groundhog Day" but far scarier.
Gelbman must investigate and fight through college faculty and her friends before the clock strikes midnight to uncover who murdered her and why.
This film is a breath of fresh air in the horror genre because it is creative and can laugh at itself while maintaining suspense.
"Happy Death Day" is yet another film inspired by "Black Christmas." While not as scary as the classic film, there is something to be said about a villain who wears a baby mask to stalk their victims.
This film is available to stream on YouTube.