From owning a lash extension business to working as a videographer, some students have found a way to fill the need for services they feel are missing on campus through creating their own businesses.
Junior Tyla Campbell, a healthcare administration major from Indianapolis, owns an eyelash extension business called The Minks Collection. Campbell said she seeks to help her customers grow their natural eyelashes with the services she provides.
Campbell said the inspiration to start her business didn't come immediately. She took a course on how to be an eyelash extension technician but found herself uninvested in the service until the COVID-19 pandemic began.
"When COVID-19 had its first outbreak and I was let go at my job, I learned to appreciate what I had invested my money and time into," Campbell said.
Campbell said she first worked in a shop in 2020 where she received little to no clientele for her services before later offering them in the WKU community in August of that year. Campbell said she's received a great deal of support since then, and that she now has "a growing business" as a result of the increase in her clientele.
Atlanta senior DaShaun Van Cleave said he started his business, DVanCleave Productions, during his freshman year of college after taking pictures for fun.
"A lot of people said honestly that I was really good at it," Van Cleave said. "I got better and better because I was having fun with it, and I decided that I might as well turn this into a service for campus."
Van Cleave, a broadcasting and sports management double major, said he describes his business as "camera work" since he works as both a photographer and a videographer. He said he believes student-owned businesses are the "unsung heroes of the college communities."
"If it weren't for them, students might have to go off campus or even back home to get certain things that they might want done, whether it's wants or needs," Van Cleave said. "Student-owned businesses tend to be more affordable for use at this age too."
For Rachel Coyle, a recent WKU graduate from Louisville, creating and selling artwork within her community has always been important to her.
"Art is something that really keeps me going," Coyle said. "Once people started showing interest in my work, I felt that I had finally stepped into my calling."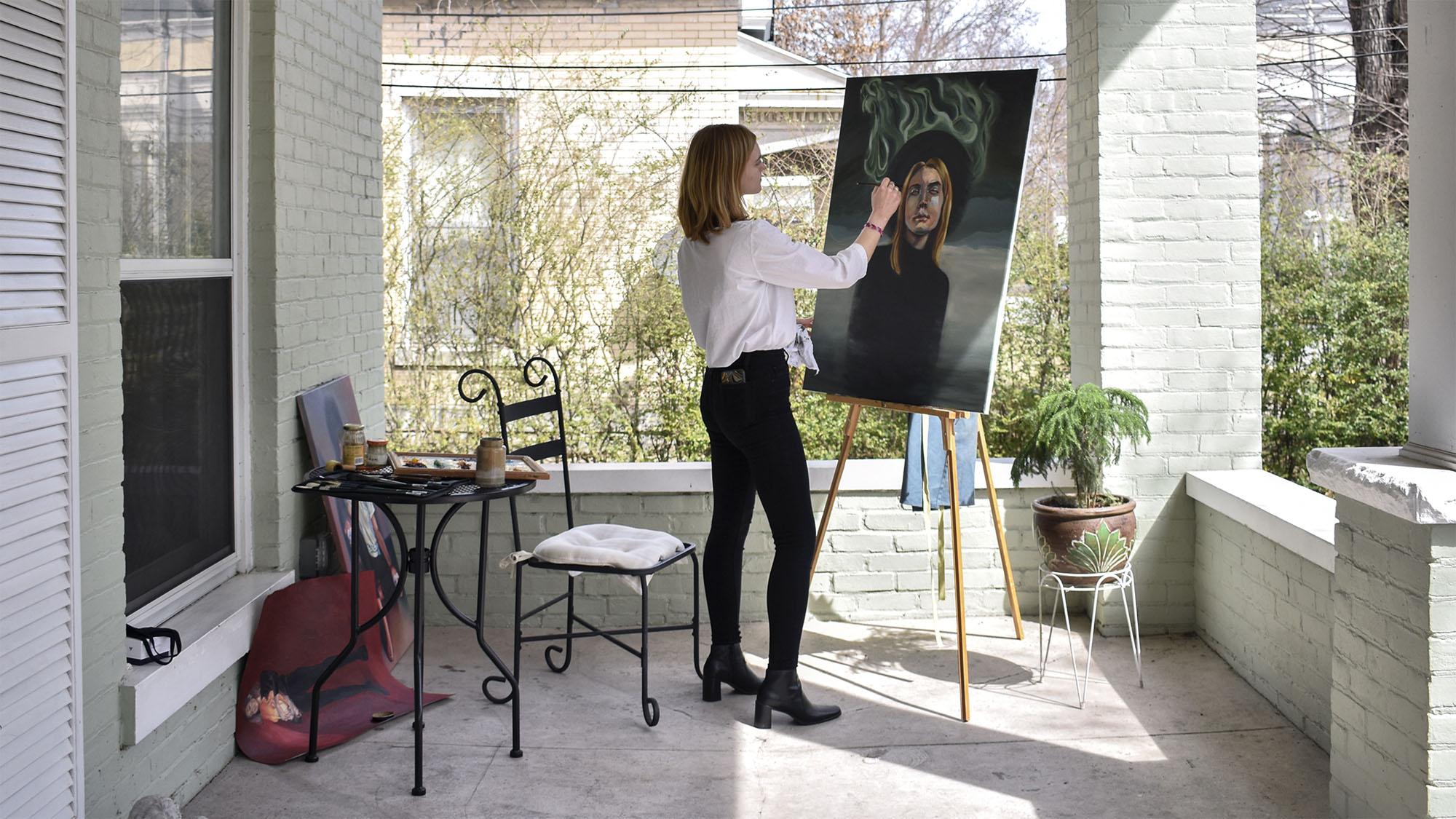 Coyle said she started Kentucky Woods Art to sell watercolor paintings and silk screen prints on T-shirts on Etsy, a website that gives creators a platform to promote, sell and commission their work through the creation of their own digital shop.
Coyle, who graduated in the spring with a bachelor's degree in visual arts, said part of what inspired her to start her own business was spending time helping her grandma with her own business at local craft shows while growing up.
"I always loved seeing what kind of seasonal wreaths she would conjure up every year, and the atmosphere of being around so many artists was always a huge inspiration for me as to what I could do someday," Coyle said.
Coyle said her grandmother often tried to dissuade her from pursuing selling art as a career because she believed there was not a chance to earn money in the field. Coyle said she believes creating and selling art as a profession is about the connections she makes rather than the money she earns.
"For me, and I think for my grandma too, it's not about the money," Coyle said. "It's actually connecting with people and being able to get your work and name out into the world."
Coyle said she transitioned to selling more of her original oil paintings as well as accepting commissions for portraits of her customers' pets.
"My paintings are a way for me to work out what's going on in my head in a way that has a positive impact on myself and other people," Coyle said.
Coyle said she believes the presence of student-owned businesses "serves a positive role" in the WKU community.
Campbell said she believes the importance of owning a business as a student is that it helps to build relationships, something she intentionally does with each of her clients.
"I ask all of clients about where they're from, their major, their plans after college, and you learn so much about each lady," Campbell said. "It helps both myself and my client to feel comfortable and safe as well."
Campbell said she wants to thank those who trust her to be their lash technician.
"I enjoy being able to see the smiles of so many ladies who feel so much better having lashes," Campbell said.
Coyle said she is inspired by many of her peers and hopes that her role in the community serves as an inspiration for those around her.
"I hope that student-owned businesses help other people realize that their talent is worth something, and getting yourself out there and finding your niche can be a game changer," Coyle said.
Coyle said she feels starting a business takes a lot of courage but that the process is worthwhile.
"Don't undersell yourself," Coyle said. "Your talent is worth it."