Yik Yak has become a popular app at WKU, where students can connect anonymously with other users in a five-mile radius. Since its inception in 2013, the app has faced controversy and was shut down in 2017 due to cyberbullying before making a return in August 2021, according to the Yik Yak website.
On Sept. 14, 2022, a WKU alert stated that there was a potential bomb threat around Cherry Hall. This situation was resolved in a matter of hours after it was believed to be construction related and not an explosive.
According to WBKO, while the situation was resolved, later the same day, a student allegedly made a bomb threat on Yik Yak. The threat said that the next bomb would take place at Parking Structure Two and that everyone should prepare themselves. Though the student said the post was a joke, she was taken into custody at Warren County Detention Center.
Posting inappropriate content on Yik Yak can lead to consequences with the WKU Police Department, like the bomb threat incident on WKU's campus.
Detective Sergeant Scott Harmon from WKU's Police Department said that to see information about a Yik Yak user's account, law enforcement is required to submit a request for user information to the platform.
"When Yik Yak receives a request for user account information from a government agency investigating criminal activity, the Yik Yak team reviews each request to be sure that it satisfies all legal requirements," according to the Guidelines for Law Enforcement.
The guidelines state that after permission is granted to investigate an individual's account on Yik Yak, law enforcement then has access to a user's GPS coordinates, the messages timestamp, telephone number, user-agent string, and the contents of other messages from the user's posting history.

Yik Yak was originally launched in 2013 but was shut down four years later due to cyberbullies. Additionally, some schools banned the app from their campus.
According to TechCrunch, "user downloads had declined 76 percent" by the end of 2016 compared to the same period in 2015. Meanwhile, the company began "laying off most of its employees."
Yik Yak soon became known as "the subject of hate speech and cyberbullying across high school and college campuses," according to NPR.
According to the Yik Yak website, in August 2021, Yik Yak was purchased by a new company and recirculated as a social media site. To protect users, Yik Yak enacted new protocols.
Yik Yak's website states that the new owners of Yik Yak are committed to making Yik Yak a fun place without bullying, threats and negativity in general. On the new Yik Yak, it's against the Community Guardrails to post bullying messages, use hate speech, make threats, or share anyone's private information.
Some Yik Yak posts include content that readers may find offensive, including sexually explicit comments and others regarding racial and gender discrimination. Students on campus have varying opinions of the controversial app.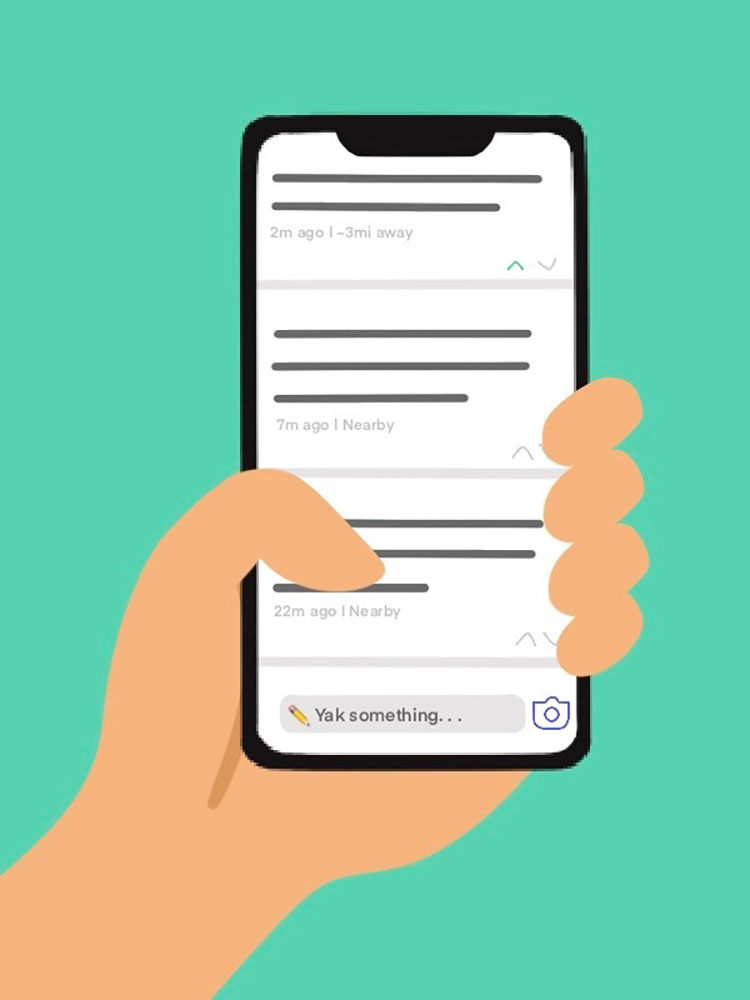 Freshman Griffin Allen from Brandenburg said he has been on Yik Yak for almost a year and downloaded it because a lot of students began talking about it.
"Whenever I'm on Yik Yak, I enjoy it because there's a lot of entertaining and funny messages left on the message board," Allen said.
Junior Isaac Perkins from Owensboro has a different opinion. Isaac said he doesn't enjoy getting on Yik Yak because people are racist and sexist. He said a place for people to share their thoughts anonymously is not always a good thing.
"It's a negative distraction. If you spend too much time on it, you can very easily become addicted," Perkins said.
Carly Butts, a freshman from Mount Olive, Illinois, agreed with Perkins.
Butts said that although she has never been personally offended by the content on Yik Yak, she knows many people who have.
"There is occasionally a funny comment on Yik Yak, but in general, it's usually rude and inappropriate content. It's not a safe environment," Butts said.