This story was originally published in early May in "Paradise," the sixth issue of Talisman magazine.
With less than five minutes left of the workout, John Michael Huffman stood letting his arms fall to his side, shaking them out. He looked to his partner to signal his fatigue. With people on both sides of him lunging forward, bending to a 90 degree angle, he grabbed his dumbbells to start again.
"We're going to finish this, OK?" Shaunna Mason said to him.
The gym floor resembled a warehouse with its tall ceilings and cement walls. It was only slightly warmer than the 30 degree weather outside, but Huffman had taken his shirt off within the first 10 minutes of the warm-up to show off his muscles.
Shaunna Mason is a co-owner of CrossFit R837 with her husband, Derrick Mason, and was Huffman's partner in the workout. She wore two long-sleeve shirts and knee-high striped socks that looked as if they covered half of her petite body. Her hair was tied up in a dark brown, messy bun.
Huffman fist bumped Shaunna Mason with a 10-pound dumbbell in the same hand and continued pushing the weight directly overhead until time was called.
"Three, two, one," Derrick Mason called out.
Limp bodies scattered the floor as the time was called to signal the end of the workout. Chests of participants expanded up and down looking for a breath they could catch. Groans and defeated cries came from each end of the room, but not from Huffman. He smiled through the sweat and hugged Shaunna Mason. They had finished as many rounds of the workout as possible in 15 minutes.
CrossFit R837 is an official CrossFit gym located in Bowling Green. Derrick Mason said the gym aims to encourage holistic wellness in its patrons by integrating mental health with physical fitness. In the last two years, CrossFit R837 teamed up with the Down Syndrome of South Central Kentucky Buddy House to improve the physical and overall health of individuals with Down syndrome. The two also manage the facility open to anyone in the community.
"CrossFit, I think, has grown a lot because of the popularity of the professional athlete and the competitive part," Derrick Mason said. "But CrossFit is not and really has never been all about elite fitness. It's been about wellness across the board."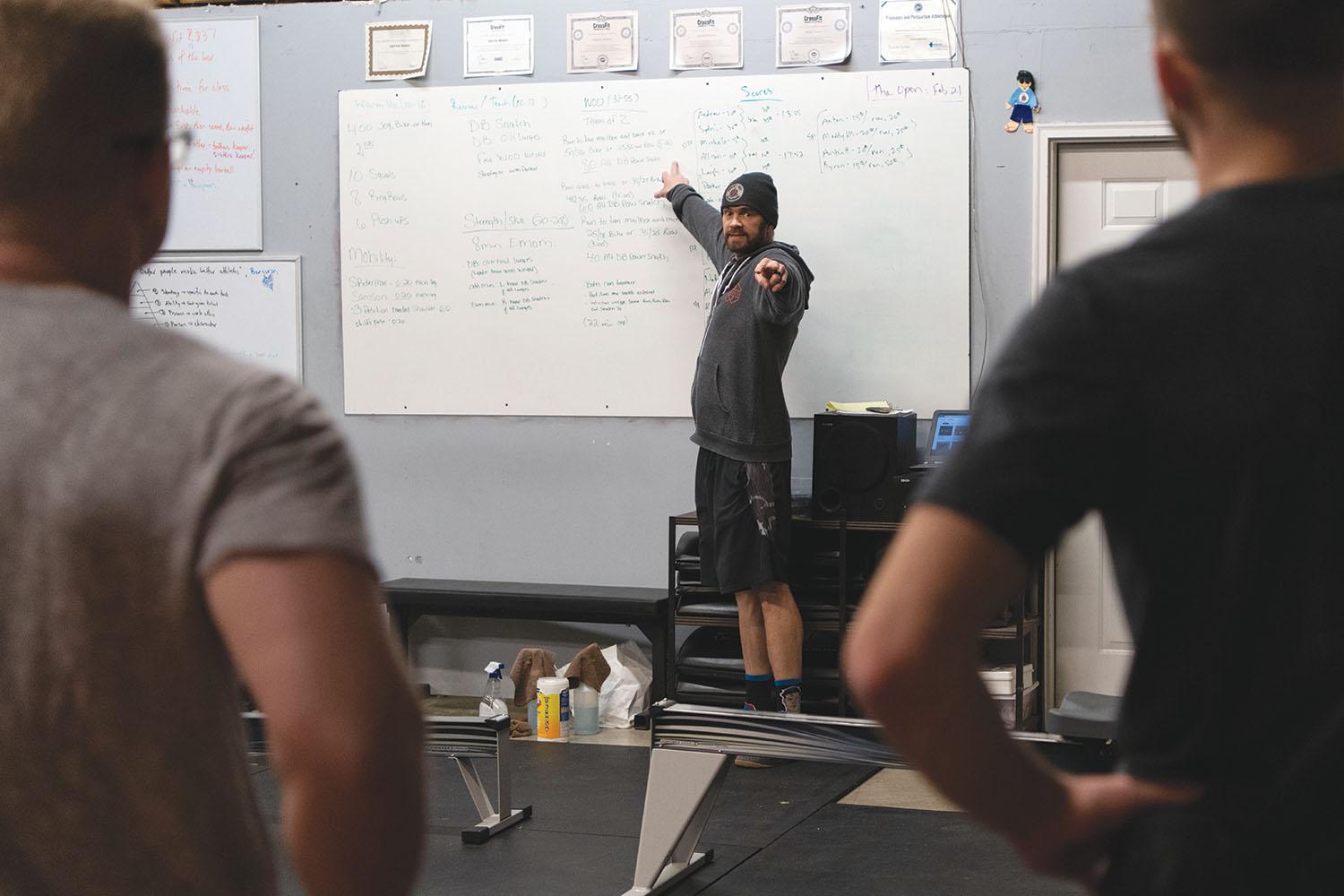 Derrick Mason first reached out to Tichenor, the former executive director of Bowling Green's Buddy House, in an attempt to get more involved with the Bowling Green community. Training adults with Down syndrome was new to Derrick Mason just as CrossFit was a style of training new to the Buddy House adults. Derrick Mason said the intention, however, was never to become a gym that specializes in one population but instead to be one that welcomes everyone.
"We specialize with whoever walks in the door, and these guys have as much of a right and a potential to be healthy as anybody else," he said. "Why should they be designated as special and why should we be somehow special because we work with them? It doesn't make sense to me."
Derrick Mason said it's "good-hearted but dangerous" to praise athletes like Huffman at the Buddy House for participating in CrossFit workouts because Derrick doesn't see Down syndrome as a limitation during the workouts.
"That's bullshit," he said. "I think he is like me. He is like you and anybody else. He brings to the table what he brings. Our job is to meet him where he is just like anybody else."
Jane Tichenor of the Buddy House and Derrick Mason discussed the creation of a fitness program to encourage the movement of their adults with Down syndrome. However, Tichenor said the success of the program really depended upon the connection of the instructor with the athletes and for Shaunna Mason that connection and passion came naturally.
"It's just been something that's become really important to her and she has a great knack of motivating these individuals to do stuff that none of us can get them to do," Tichenor said.
The partnership started with only an aerobic portion of the fitness program. The Buddy House held a Zumba class once a week, which was a rhythmic dance class intended to improve the cardiovascular endurance of the adults with Down syndrome. When the WKU student volunteer who was teaching the class graduated, Shaunna Mason began teaching the class under a new name, "Move with Shaunna." The class now meets every Wednesday at 10:30 a.m. at the Buddy House.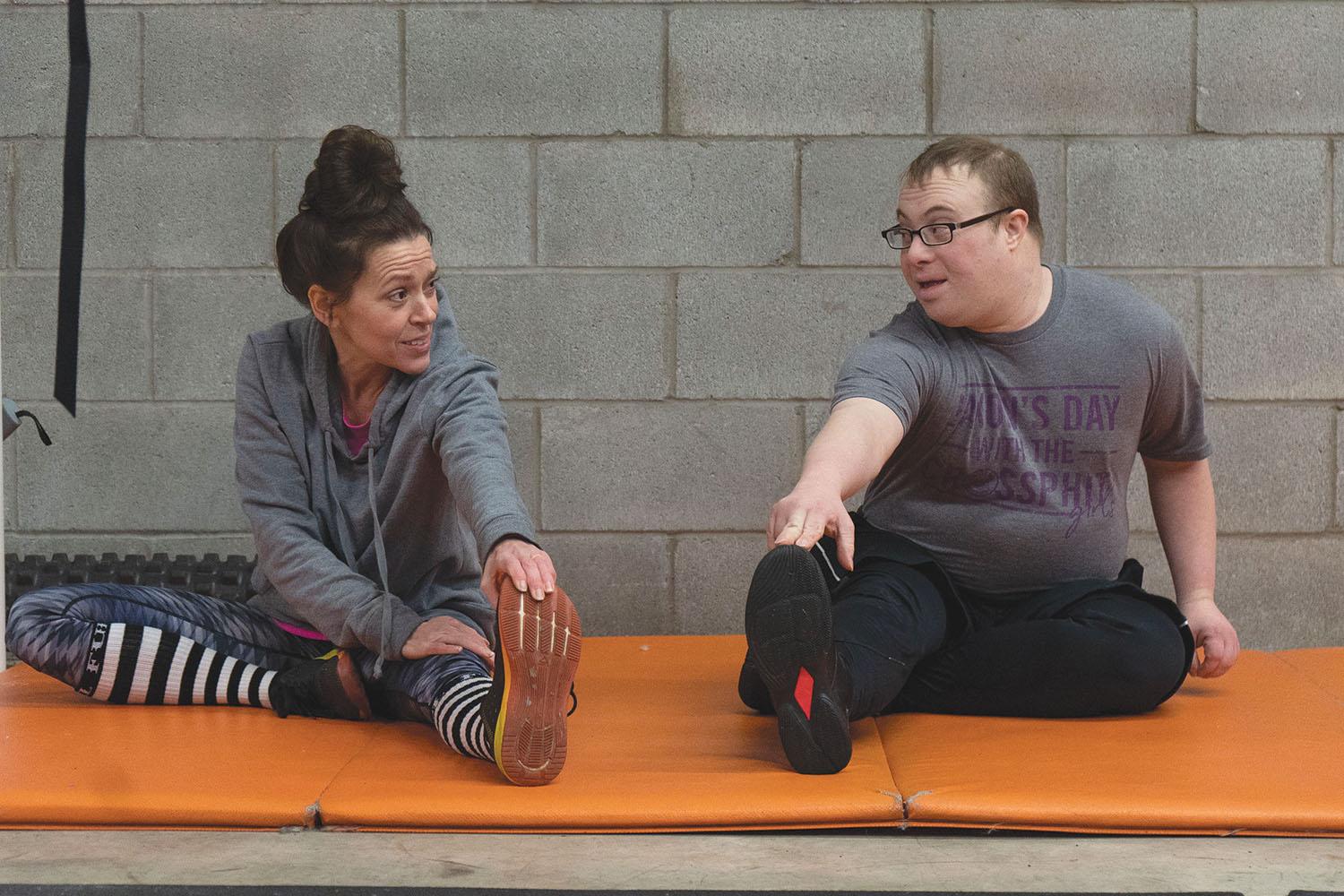 "Get those hips loose because we're getting ready to move and groove," Shaunna Mason smiled and called out as she performed high knees in front of the aerobic class one Wednesday. "Come on, John Michael. I want to see you move."
"Yeah girl, I see you," she said pointing to someone at the back of the room. "Yeah, sister!"
The aerobic class consists of four or five songs with Shaunna Mason standing in the front of the room facilitating the movements, but the adults get a chance to bust whatever moves they'd like during what Shaunna Mason calls "free dance."
"Hey big girl, make 'em back it up, make 'em back it up…" came through the speakers and a circle in the middle of the Buddy House room formed. Twerking and laughter immediately followed, and each Buddy House adult got a chance to freestyle dance in the middle of the circle.
Finding fitness
After seeing the success of the aerobic fitness class, Tichenor and Shaunna Mason developed an adaptive CrossFit program modified to the individual needs of the Buddy House athletes. The two had to do some research on the specific physiology of the athletes with Down syndrome because their bodies differ in their ability to move freely and limited ability to take in and use oxygen.
The extra copy of the 21st chromosome in individuals with Down syndrome affects their cardiovascular fitness through lower maximal heart rates and aerobic capacities. This could be explained by irregular catecholamine, or hormone release during exercise, according to an article in the International Journal of Exercise Science.
Individuals with Down syndrome also differ in their musculoskeletal systems, which include weak muscle tone, ligaments that are too loose or lax, and instability in the hip, knee and other joints leading to possible dislocation, according to the American Academy of Orthopedic Surgeons.
Exercise programs, however, have been found to increase the overall health of adults with Down syndrome, including increased bone mineral density aiding them in the prevention of osteoporosis as well as an increase in muscular strength and decrease in body weight, according to the official journal of the American Physical Therapy Association.
Karen Furgal, a professor in the WKU physical therapy department, is currently studying the effect yoga has on individuals with Down syndrome.
The WKU physical therapy department first worked with the Buddy House when the CrossFit exercise program began in 2018, monitoring the athletes' movements. They are hoping to demonstrate with Furgal's research project that a community yoga program like the Buddy House will have a positive impact on balance in adults diagnosed with Down syndrome, Furgal said in an email.
Every Tuesday and Thursday, Shaunna Mason works with five athletes from the Buddy House at the CrossFit gym, each with certain limitations she has to be aware of.
Shaunna Mason said she tailors the program according to individual participants' needs, just like she would do for someone who was dealing with any other health problem.
Kathy Towe, one of the adults with Down syndrome has scoliosis, has to squat until her butt touches the top of a 20-inch plyometric box, similar to that of a 20-inch step. This box stops her from going any further in depth and injuring herself. If Towe performs a deadlift, which is a barbell pull from the floor, Shaunna Mason has to put weightlifting plates underneath each end of her bar so she doesn't have to bend down as far to pick it up.
"I was always afraid that somebody was going to get hurt, and it was going to be on me," Shaunna Mason said.
She said there are still days when movements with a heavier weight than usual will scare her like the "snatch," which is a barbell lift from the floor to an overhead position.
"But I think that now they know how to control it," Shaunna Mason said. "They know how to get out from underneath the bar just like anybody else does."
Denise Huffman, John Michael Huffman's mother, said John Michael Huffman was excited about CrossFit from the beginning. She said he never had any medical problems, so she was never concerned about him lifting weights.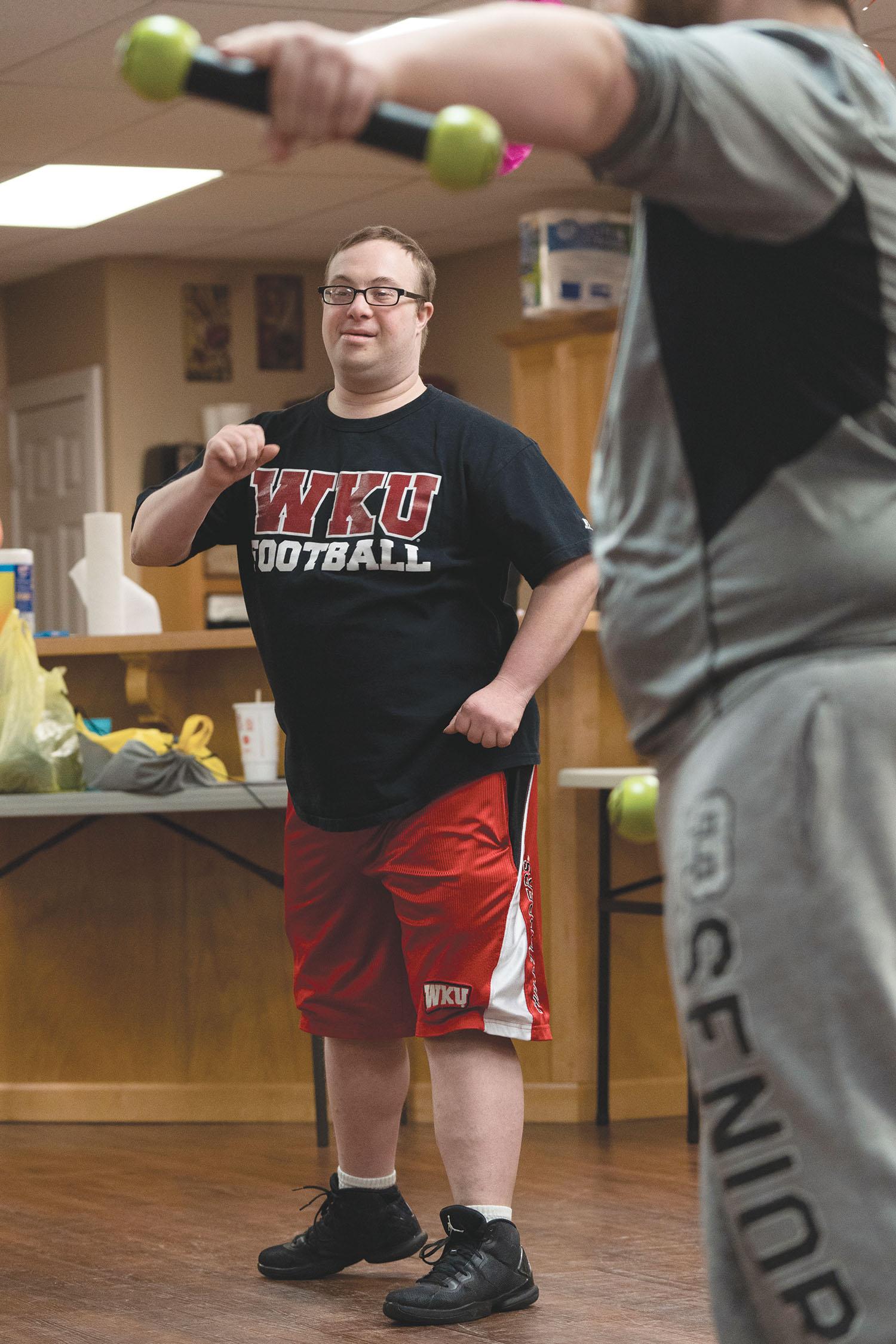 John Michael is now a member of the CrossFit gym, which allows him access to the gym during normal operating hours. He attends the two group classes with the Buddy House and meets Shaunna Mason at the gym when he wants to work out with general population classes.
Denise Huffman said John Michael Huffman is typically at the gym three days a week. She said she doesn't know the names of all of the lifts John Michael Huffman can perform, but after seeing him become so involved with the gym, she wants to start CrossFit now too.
"I think what set him apart was I pushed him," Denise Huffman said.
She said she and her husband didn't let Down syndrome stop John Michael Huffman from doing anything.
Denise Huffman said the hardest part about raising a child with Down syndrome is they are always with you, which she said is both a good and a bad thing.
"It keeps us hopping," Denise Huffman said.
John Michael Huffman is involved in a lot of things around Bowling Green that keep Denise Huffman feeling like a "taxi."
He participates with Best Buddies, a nonprofit organization through WKU with volunteers who create opportunities for people with intellectual and developmental disabilities. He is also an avid dancer, Shaunna Mason said, and a member of the Rockerz Dance Team, which performs choreographed dance routines to advocate for a better understanding of Down syndrome. He has also worked at Chick-fil-A for the past six years.
"I cook the sandwich and fries and soup," he said.
It's not just John Michael Huffman who has a long list of commitments throughout his daily routine. All of the athletes with Down syndrome are involved in a variety of activities and organizations. Tichenor said by keeping the individuals engaged in various forms of activities like physical fitness, the adults are learning how to practice healthy habits to ultimately lengthen their lives.
"A lot of us that are parents with Down syndrome, we say we hope we live one day longer than they do," Denise Huffman said. "That's just our goal is to be around to take care of them."
Competition day
Before Shaunna Mason was able to add weight to any of the athlete's barbells, she progressed the athletes from the ground up, having them lift a PVC pipe overhead from a seated position to now lifting anywhere from 20, 30 or 40 pounds loaded on each end of the barbell.
John Michael Huffman was one athlete who had very few limitations when it came to his movement, Shaunna Mason said. However, he did have trouble learning some of the Olympic weightlifting movements in the beginning due to his hypermobility, like many of the other athletes.
He can now "deadlift" 115 pounds off the ground to the level of the hips. He can "clean" 95 pounds, which requires him to lift the barbell from the ground and catch it on the front of his shoulders in a squat position. And he can complete five "snatches" with 65 pounds, which requires him to lift the barbell from the floor and then catch the bar overhead with his arms extended.
John Michael Huffman has participated in three CrossFit competitions, one being the "Double Date Got Twisted" CrossFit competition, which was held at the CrossFit R837 gym in September 2018. He and his partner won first place in the events.
During the final event of the competition, Shaunna Mason said John Michael Huffman was struggling to finish and needed an extra push in the final run. She said she remembers begging him to run just so he could get across the finish line.
"And he just looked at me and said, 'I'm going to try,' and that's pretty much when I started crying," Shaunna Mason said.
More than a "box"
Criticism surrounding CrossFit has typically been that it is dangerous and increases the risk of injuries including rhabdomyolysis, or a breakdown of muscle tissue, and musculoskeletal injuries, according to the Journal of Strength and Conditioning Research.
However, a 2017 study in the Journal of Sports Medicine and Physical Fitness looked at 117 CrossFit participants for 12 weeks and found the overall injury incidence rate was 2.1 injuries per 1,000 training hours. In fact, the study found that injury rate had more to do with gender and previous injury history. The study concluded the injury rate was low and comparable to other types of fitness activities.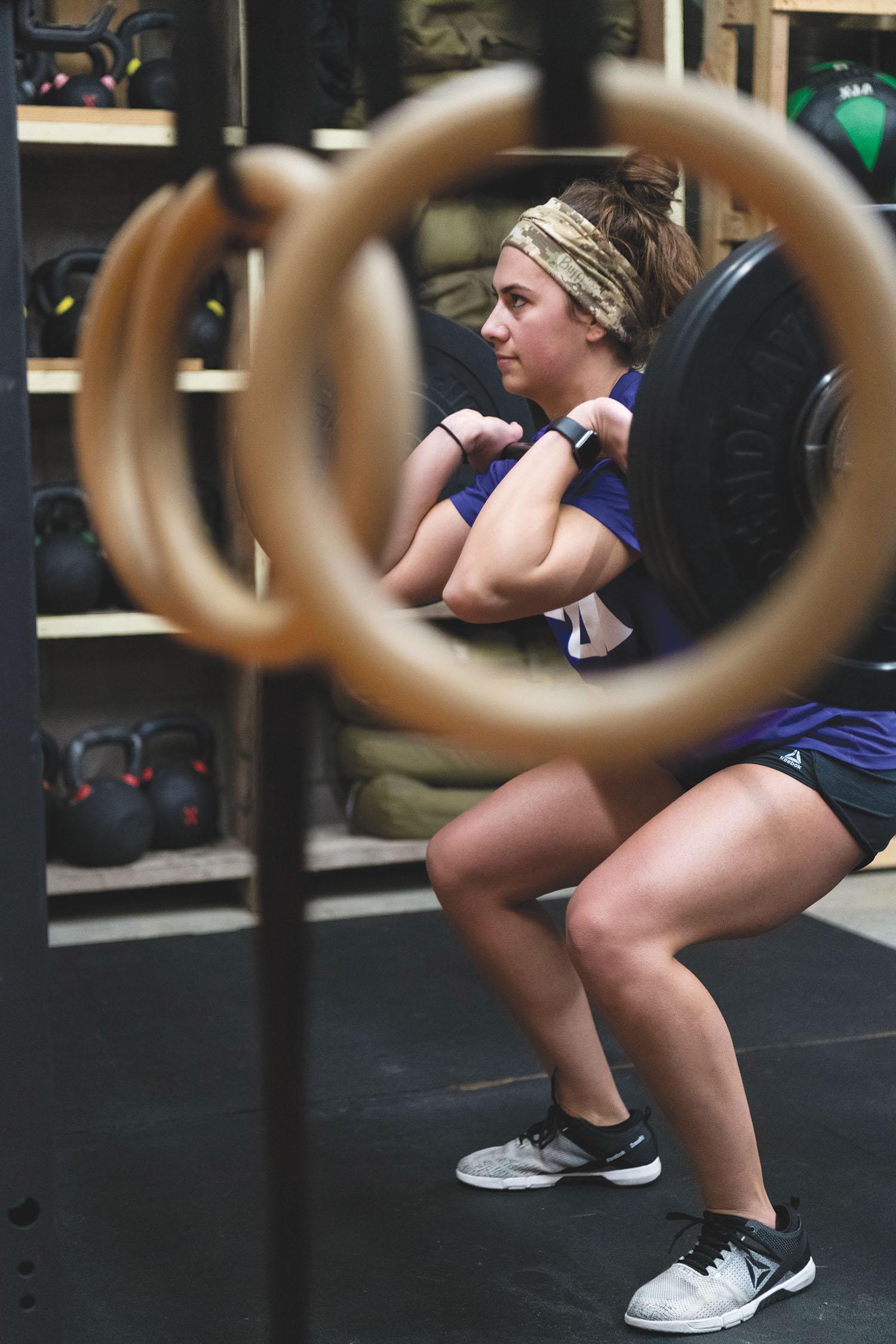 Rod Embry, whose son has Down syndrome was a little concerned with the CrossFit style of training when the Buddy House first got involved with the gym. He said he has gotten over that now but believes the group of five who are attending the workouts at CrossFit R837 are especially "tailor made."
"I think of CrossFit as very competitive and pushing each other," he said. "Well, they cheer each other on, they don't really push. But I think that's kind of the perfect mix."
CrossFit is a style of fitness training, but to many members of CrossFit R837 it is more than that — it is about bridging communities together, Derrick Mason said.
He said he feels his job is to use the tools and gifts he's been given to experience as much life as he can while making a difference in as many lives as he encounters.
"Philosophically, I feel like our responsibility is to do the best life we can do," he said.