Bowling Green native and muralist Andee Rudloff is all about fostering a sense of public responsibility and community. Her various artworks can be spotted all over Bowling Green, from WKU's campus to the historic Shake Rag District, Rudloff has made her mark. 
Rudloff has been working throughout Bowling Green and Nashville for years, curating collections in SKyPAC, promoting communities to get involved in the mural-making process and helping local businesses.
One mark that Rudloff has made on the community is her mural of cows eating ice cream on the side of the former Brown's Ice Cream Co. building, which until this month was standing for 25 years.
"The reason it's been up 25 years is because there are certain people that look at it, and all they see are black and white cows. That's all they see. There are certain people that look at it and notice that it's a retro-looking ice cream parlor. What that piece is really about is the lunch counters and about Black and white people coming together," Rudloff said. "At that time, that spot in Bowling Green is where the Black community and white community met. Maybe it's a little bit overly optimistic, but it also changed the energy of that corner."
Putting art into activism is not a new concept for Rudloff, and she has continued to advocate through her art, as she did in her "I Can't Breathe" mural on the side of the Shake Rag barbershop in 2020. 
Rudloff also consulted on and contributed to the Black Lives Matter painting beside the Titan's stadium in Nashville. 
"It was about me standing shoulder to shoulder with other young artists — who have never done that — and giving them the tools and the knowledge to know how to do it in the future," Rudloff said of the experience. "It was about discussion while we roll out there that day and have a moment — not just to listen to the people on stage that were speaking, but to listen to every voice that was there that day."
Rudloff had a similar goal when collaborating on artist Renda Writer's work at Fountain Square Players as a part of his World Peace Mural Tour.
Her interest in community involvement and art evolved as her creative process evolved. Rudloff developed her creative process as many people do — by rolling with it.
"The way it's best described is rolling along like a hay bale and gathering experiences in life — likes and dislikes — and all of a sudden you have this big giant hay bale of whatever you come across," Rudloff said. "Your brain starts to put things together, and you learn to work in a way that satisfies you."
Brie Golliher, who owns a local business as the Pie Queen, worked with Rudloff in 2020 to design a mural at her restaurant in the historic Boyce General Store and on her traveling Cutie Pie Wagon.
While designing the mural, Golliher said that Rudloff worked to incorporate her history and personalities into the art, to make it her own. 
"Her energy is great, and it makes you excited to work with her," Golliher said.
Rudloff said she's had many influences in her life that remind her to pay it forward, and she enjoys working in a way that inspires others.
Rudloff's goal is not just to put a painting up on the wall, because anybody can do that. Her goal is to engage the community throughout the process and have the mural become a reflection of that community for that moment in time, she said.
"What ends up happening is it's not just about painting a mural, it's about people coming together and having conversations and being part of the process," Rudloff said. "I want to see people come together. I want to see cross-generational conversations. I want to see someone put someone else up on their shoulders, you know?"
Rudloff also participates in IdeaFestival Bowling Green, an event held for middle and high school students to get involved within their community.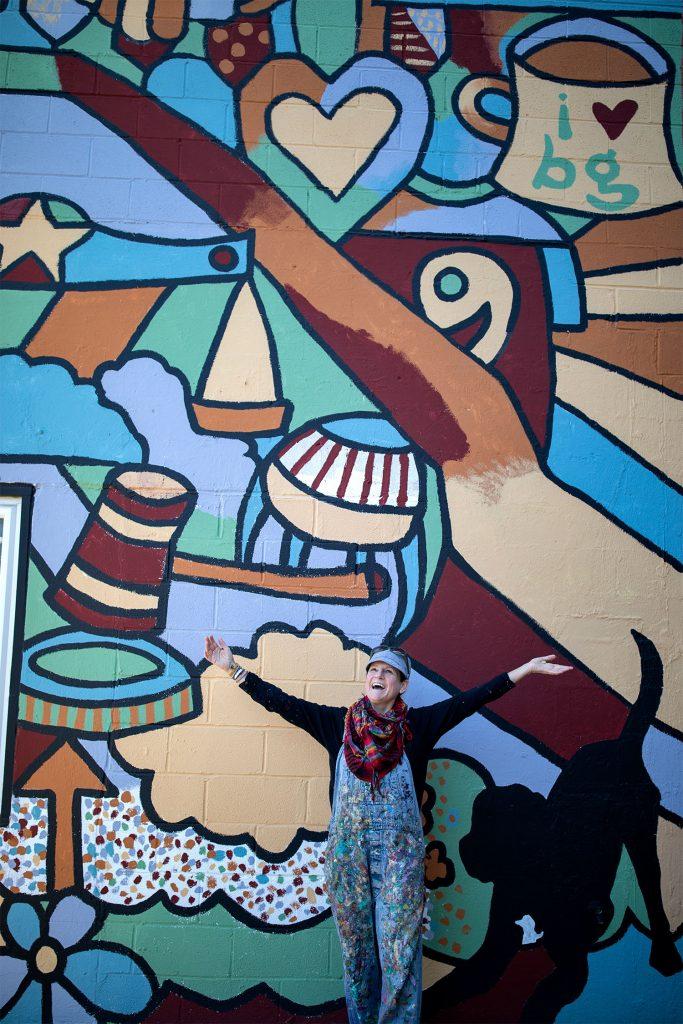 Natalie Tyree, assistant professor at WKU and board member at IdeaFestival Bowling Green, has collaborated with Rudloff for the past three years to bring the event to as many students as possible. 
"It's a great opportunity for my students to interact with the community and other students, and it's a great way for us to get out in the community and get hands-on with the students and teach them some basic techniques and history," Tyree said. 
Tyree loves IdeaFestival Bowling Green because of all of the different perspectives and said it's a diverse, inclusive and immersive experience for everyone involved.
Although Tyree and Rudloff crossed paths occasionally during past years at the event, the switch to an online format this year required them to get more creative with student involvement.
Rudloff held an interactive mural where students would submit designs and be able to download the mural outline as a coloring sheet.
"It was super nice to be a part of the magic that Andee creates when she's doing a mural. She kind of just draws you in," Tyree said. "Andee is just super great to collaborate with."
Murals to Rudloff are not just a means of creative expression or advertisement. Murals to Rudloff are a way of ensuring that communities can stay strong and stay together.
"There's more strength in the people that bring people together than the people who tear people apart," she said. "If you're not out there being part of the solution then you are contributing to the problem. It's just to say, every day, come up with something that you can do that day to make someone's day a little bit better and a little bit lighter. Before you know it you've created a whole new way of working."
While Rudloff works, she encourages people to paint with her and have those conversations that promote people to come together. Through her work, Rudloff fosters open communication and artistic expression community-wide. 
"I'm always doing the thing I think I can't do," Rudloff said. "Any artist will tell you that, anyone who's passionate about what they do. It keeps you young to enjoy what you do."