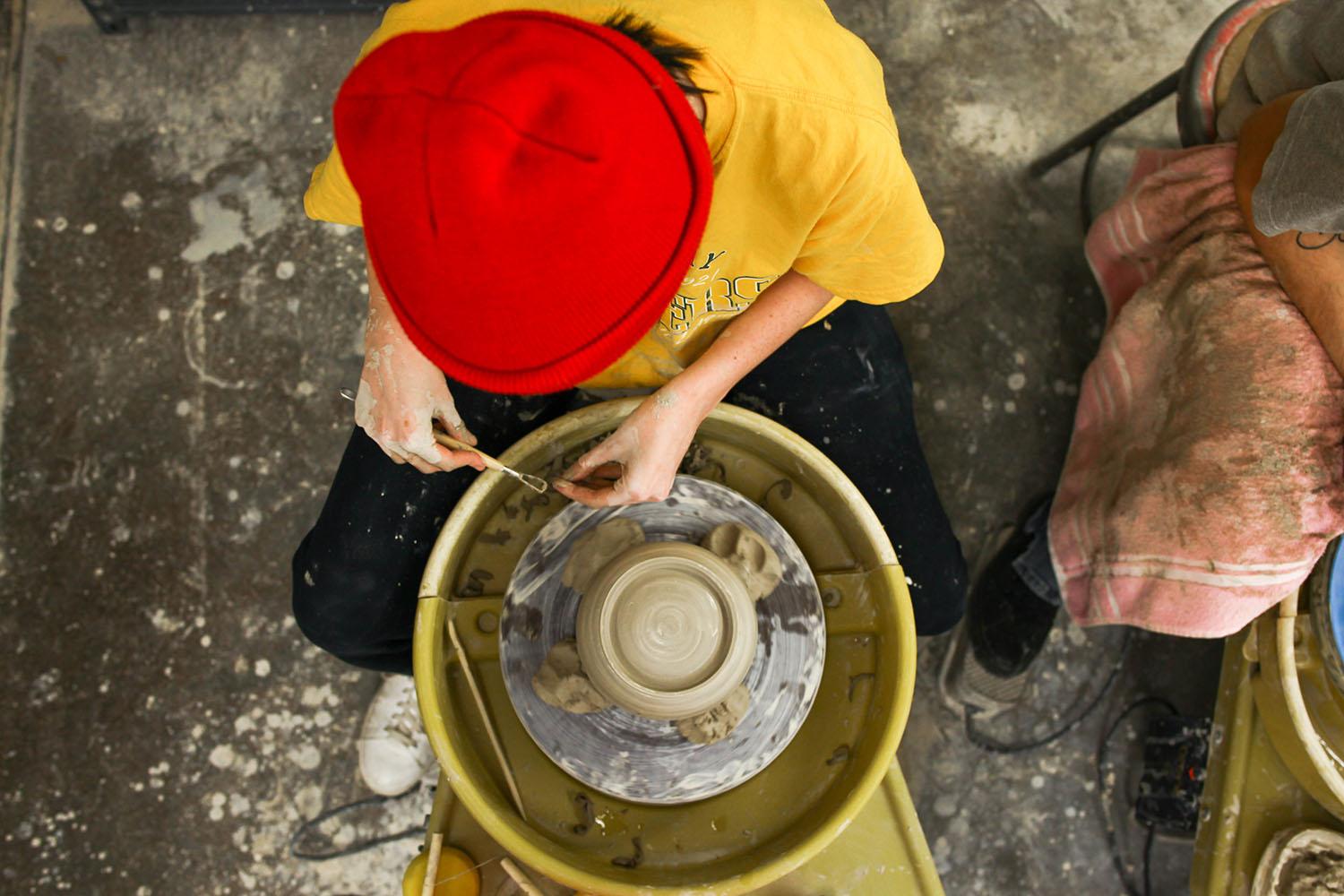 Ashy wood-fired bowls, glossy pitchers, colorful ornaments and hand-stamped earrings lined the tables at the Clay Club's annual Ceramics Holiday Sale. "Twist and Shout" by the Beatles played over the speakers while students from a beginning ceramics class wedged and shaped fresh clay on pottery wheels, giving visitors a glimpse into the process behind the artwork.
The sale lasted from Monday, Nov. 13 to Wednesday, Nov. 15 in the Fine Arts Center. Ceramics Instructor Greg Strange said the annual sale generates revenue for the club and for the artists themselves. The money also goes toward new equipment and tools for the club to use. Strange said that this year's sale made around $1000 on the first day alone.
"It's good for [the students] to get out there and work a craft sale, advertise it, market it and be able to get exposure with the general public," Strange said.
Senior Clay Club member Dakota Morgan of Campbellsville sold wood-fired bowls at the sale. Most undergraduate students do not have the opportunity to try wood firing, Morgan said, so this was a unique opportunity for her. Wood firing is different from electric-kiln firing because the firing happens in two stages: first the burning wood and then the burning charcoal. The ash from the wood fire covers and solidifies the pieces, making them food-safe.
Morgan, a double-major in graphic design and ceramics, said she prefers to make functional pieces, such as bowls and cups, and she dreams of becoming a "production potter." As a production potter, she would be able to sell her functional art, such as dinner sets, to the public.
As Morgan works toward her goals, she said she finds inspiration in the fellow independent artists around her and in her finished products.
"Seeing things through to the end and knowing how much of myself goes into each piece is part of what drives me to create art," Morgan said.
At the end of the semester, Morgan said she and other students in the club feel rewarded when they see their creations finished, polished and ready to be sold.
"It's like Christmas day," Morgan said. "You open up the kiln and all these beautiful pieces come out."