Editor's note: The Talisman granted a source in this story anonymity due to her employment with the WKU Restaurant Group.
After the university announced plans to demolish the Garrett Conference Center, students expected the Commons at Helm Library, along with its food options, to be open and available upon their return to campus for the fall 2021 semester.
In August, President Caboni announced the Commons' opening would be delayed to later in the semester, according to a message from the president.
Due to the ongoing COVID-19 pandemic, the university faced complications in completing the Commons due to supply, material and labor shortages, said Jace Lux, director of media relations. As a result, Helm's completion and opening date is projected to be sometime this fall, though there is no set date at this time.
In place of the food options in the Commons, as well as the loss of the food court from Garrett, WKU instated food trucks that vary day to day so that students would have a larger variety of restaurants to choose from.
The food truck vendors are listed as Local Restaurant Row on the iWKU app and are open from 10:30 a.m. to 2:30 p.m. Monday through Friday in front of the Fine Art Center. Students must purchase tokens at the food truck cash registers valued at $1, $5, $10 or "Value Meal" for a meal swipe before proceeding to purchase from a vendor. All vendors also take cash or credit cards.
Despite efforts on the university's part to mitigate longer wait times in DSU, some students have faced difficulty in getting food in a timely manner between classes.
Franklin sophomore Natalie Mcabee said that the increased wait time for food at DSU has made getting food during class breaks "not manageable," and longer wait times have added stress to her daily schedule.
McAbee, a biology major, said all of her classes are at the top of the Hill, emphasizing the importance of acquiring food in a convenient time frame.
"I believe it should be easier for students to be able to stop between classes for food considering it is an essential factor on how we obtain information in our classes," McAbee said. "Our courses do not change times based off when we are done getting food."
Lily Unick, a freshman from Mount Juliet, Tennessee, said she has to plan out what restaurant she wants to eat at in advance because of the longer wait lines. In the time she spends in line, Unick said she's had the opportunity to befriend other students.
"While being in the lines, you start making friends because of how long you're standing there next to the same two people," Unick said. "It's always funny to hear upperclassmen talk about how they've never seen the lines this bad."
Hunter Hartlage, a junior from Louisville, said his experience getting food on campus this semester isn't much different than what it was before outside of the longer lines, which he described as "frustrating."
Hartlage said unscheduled closures of DSU restaurants, such as Steak 'n Shake, cause backups during popular meal times. As a result, Hartlage has had to get meals earlier than needed every day before his classes and postpone his dinner by two hours on Tuesdays.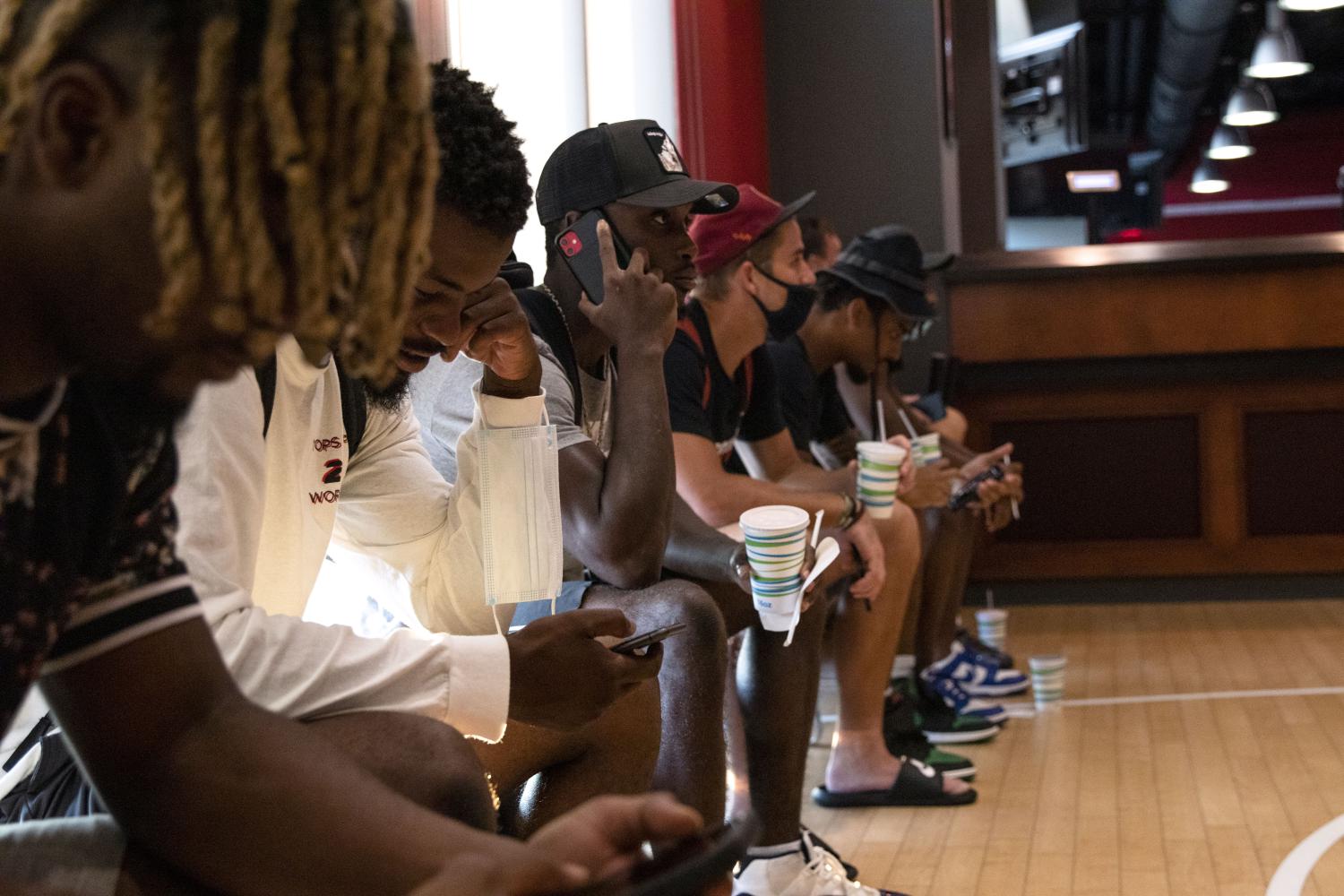 "As we've seen nationwide, the COVID pandemic has caused workforce challenges," Lux said. "We've experienced infrequent personnel shortages on campus that have regrettably forced the early closure of some of our on-campus facilities."
Cassandra (not her real name), a barista at Starbucks in DSU, said that the WKU Restaurant Group employees have been incredibly understaffed at all locations. She said employees are in a state of shock with the increased amount of people on campus this semester.
"I'm trying my best to let people know when there will be a wait," she said. "It makes things so much easier when people remember we all make mistakes."
The university plans to continue utilizing the popular Dining Sidekick app, which allows students to order their food in advance prior to arriving at a restaurant. The continued implementation of the app will "assist in expediting lines," Lux said.
The inaccurate listings of available restaurants and their hours on the iWKU app further complicates the campus food situation for students. Currently, the Helm Library Food Venue along with Java City and The Spread, both located in Regents Hall, are incorrectly listed as open. The unopened food venues have signs indicating a grand opening soon, but no exact date is available at this time.
Riley Carter, a junior from Owensboro, said that getting a meal in DSU between her classes on top of the Hill has been more difficult this semester compared to past ones. The greatest inconvenience Carter faces in getting food is traveling the distance from the Environmental Science and Technology building to DSU and back within her usual break between classes, which ranges from 40 minutes to an hour.
"If I have an hour break, I simply do not have time to go all the way to DSU to eat in order to make it to my next class on time," Carter said.
Carter said the addition of the food trucks on Local Restaurant Row was "a great idea but poorly executed."
"There's very little space to sit, not much variety and it is very expensive," Carter said. "I recently bought a $10 meal token at the trucks and all that bought me was a small hotdog and a coke."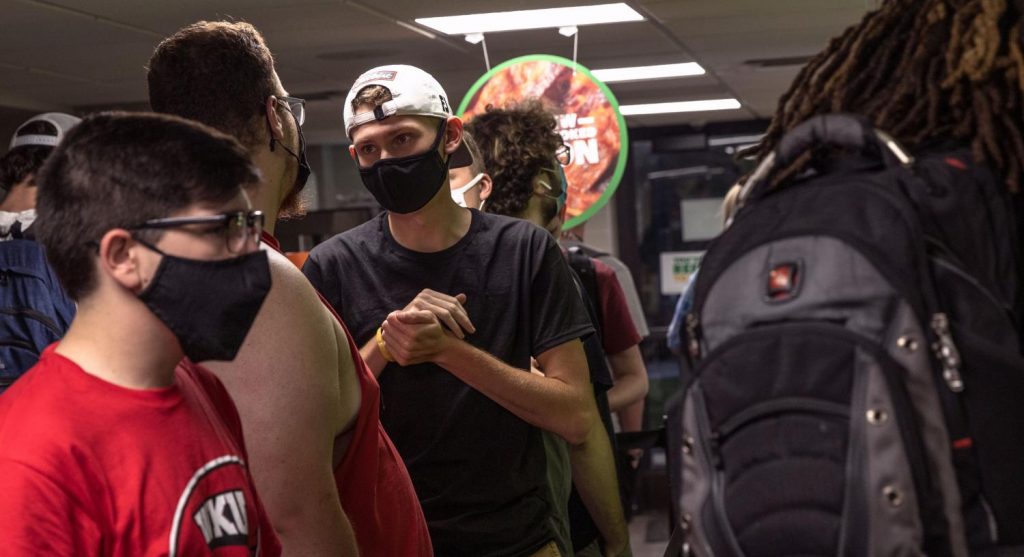 For Liz Walker, a senior from Mt. Eden majoring in theatre, Garrett's demolition greatly impacted her schedule. Walker said late night rehearsals made her only available option for dinner Panda Express in previous years. Now without Garrett's food court dining or Helm's food options, Walker and her theatre major peers are unable to eat in between classes.
"The food trucks barely even help, especially since they can only happen when the weather cooperates," Walker said. "I've pretty much stopped eating on campus completely."
Garrett's demolition may be ill-timed without the establishment of the Commons.
The inability to acquire a meal in a timely manner has been an unintended consequence for students.
"I have skipped lunch almost every day this semester," Carter said. "Without Garrett, I simply do not have food close to me to give me time to eat."
WKU Restaurant Group is currently hiring food service workers via Aramark in order to combat employee shortages.