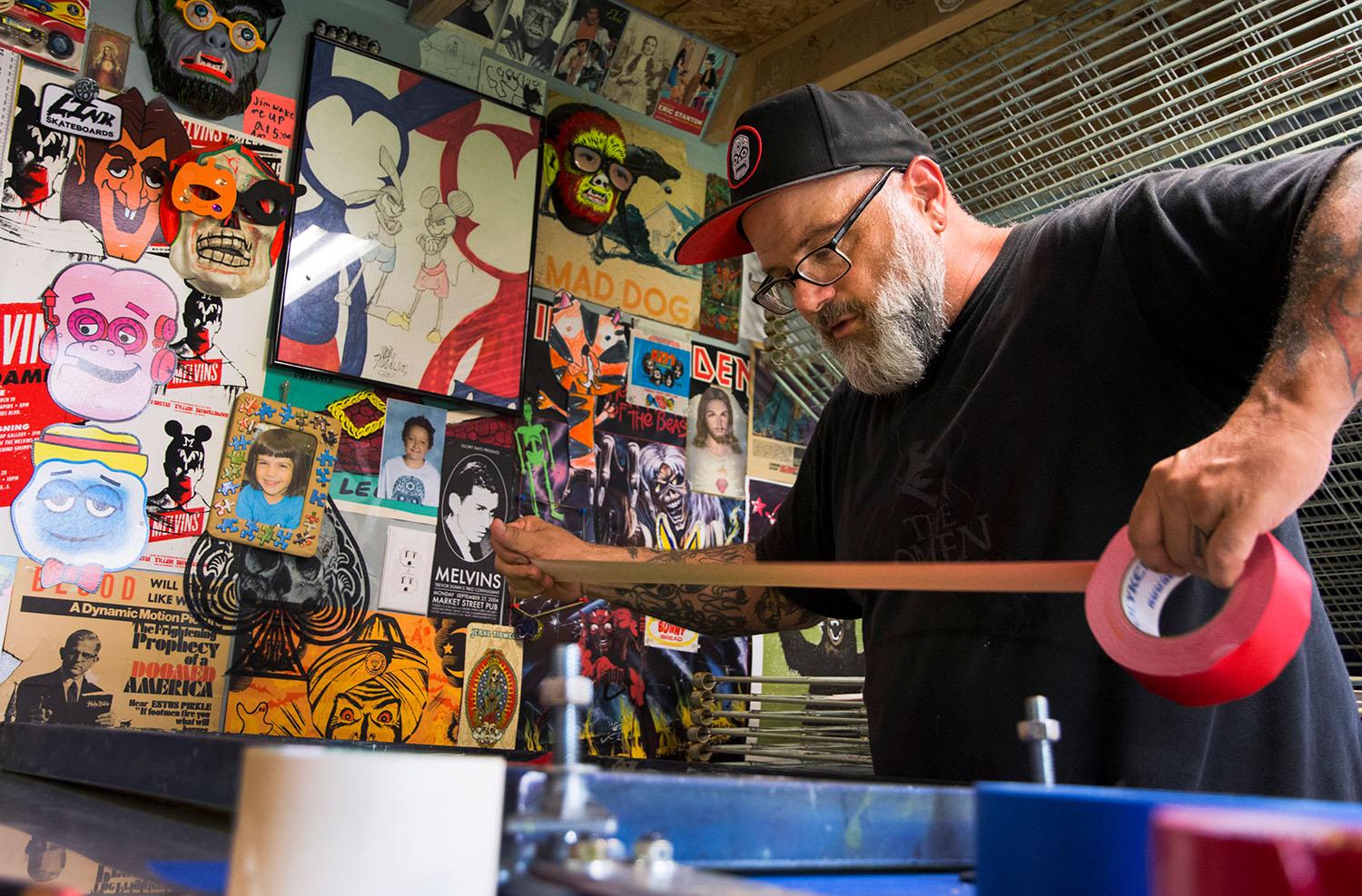 ---
JIM MADISON
Print Mafia
---
Bowling Green printmaker Jim Madison stepped into his studio on a warm day in September and started milling around, taping up screens and grabbing fluorescent green and yellow ink. The Melvins, an American rock band who Kurt Cobain of Nirvana cited as an influence, were on their way to Nashville for a show, and Madison needed to finish over a hundred prints for them by Friday.
As he worked, he was surrounded by walls covered from floor to ceiling with prints, collectible figurines and family pictures. Print Mafia, a design company Madison co-created with Connie Collingsworth in 1997, has designed The Melvin's posters for their Nashville shows since Print Mafia's early days."
Madison began printmaking about 20 years ago, originally partnering with a friend to create T-shirt designs. Eventually, Madison and Collingsworth created Print Mafia, which marked a shift to handmade gig posters and merchandise for local bands. Print Mafia has since created work for clients ranging from bands like KISS and The Shins to high-profile retailers, such as Urban Outfitters.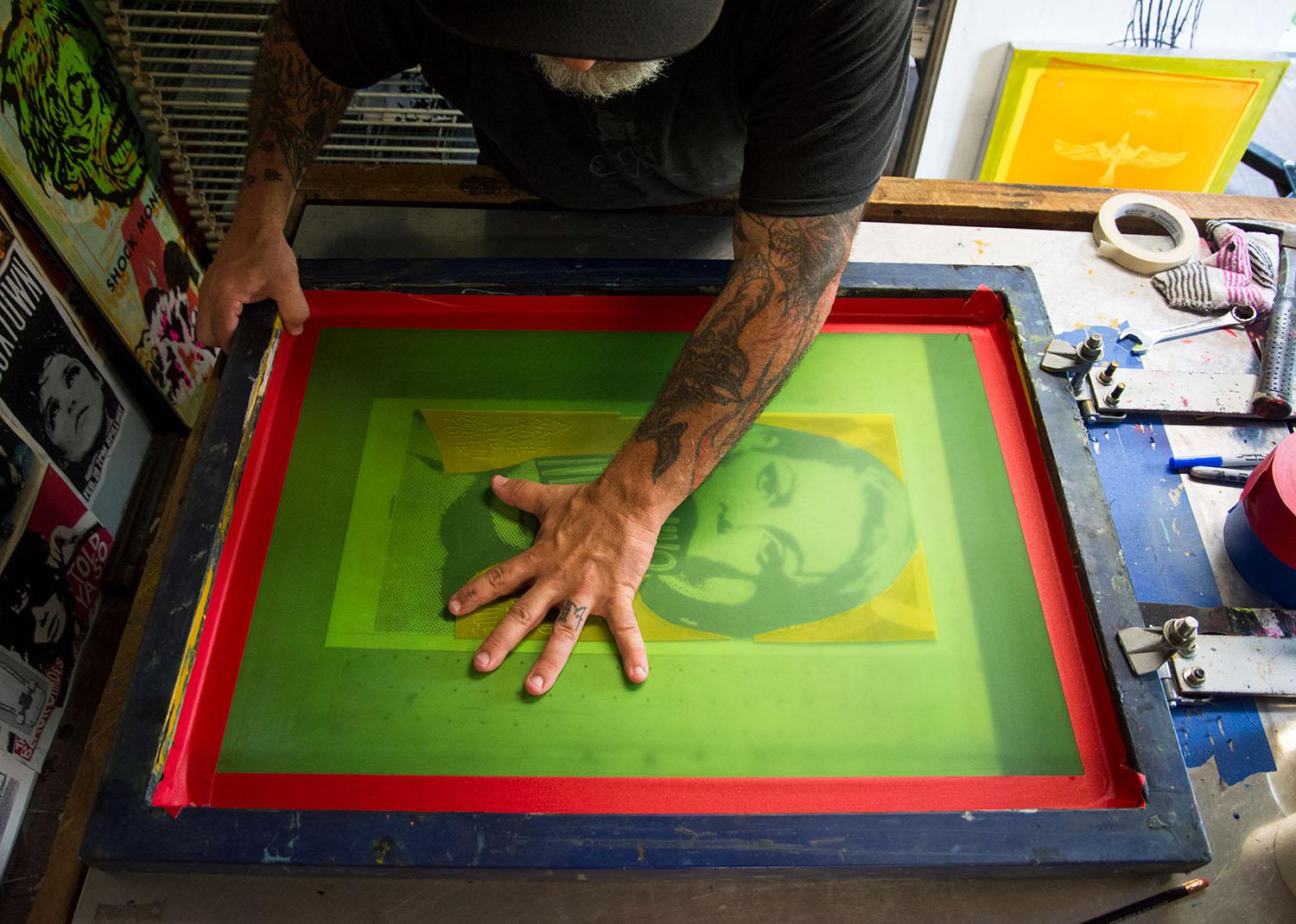 Madison has also recently started becoming active on Instagram stories at the handle @printmafiajim to show his followers the process of printmaking step by step.
He recalled an art show that led him to meet some of his Instagram followers who had watched his stories. The step-by-step process they saw sparked a conversation about different elements in his pieces, which is an interaction that Madison said he enjoys.
The conversation with his social media followers also leads to feedback about his work. Even after printmaking for over 20 years, Madison still said he feels as though he is learning about his artwork every day.
While continuing work for Print Mafia, Madison has also started creating solo pieces in the last year that revolve around his newfound Christian faith.
"This is the first time that I ever thought about God with love and joy," Madison said. "It's just so awesome."
Standing in his backyard studio, in the same spot where he had produced hundreds of prints before, Madison noticed a calendar he had for years taped to his cabinet, directly across from him. It dated back to 1966 and featured a piece of artwork titled "Light of the World," with Jesus Christ knocking at a door in the moonlight, a halo around his head. In these moments, Madison was finally able to put the pieces he had gathered throughout his life together.
"It just hit me," Madison said. "I believe."
Madison recently redrew a sketch of his own from 1994, titled "Holy Spirit, 100 Billion Times" as a solo T-shirt design. Madison said this kind of work drives his passion for printmaking and allows him to engage in conversations about faith.
"There are no coincidences," Madison said. "It's all part of the story."
To see more of Print Mafia's work, visit the Downing Museum, where select works are on display until Oct. 21. The exhibit will be open on Tuesday-Saturday from 11 a.m. to 4 p.m. You can also visit Print Mafia's website.