There are many distinguishing factors that make Steffen Bolz stand out from the typical WKU student. 
At 29, he is on the older side of the average college student. His fingers are typically adorned with intricate gold rings. A thick, dark brown beard frames his face while his hair is slicked back and polished. He uses a cane to get around due to an injury he incurred in the Army. 
Other than the physical distinctions that make Bolz unique, he is also a gunsmith. 
Bolz was born in Albuquerque, New Mexico, and moved to Bowling Green when he was around 5 years old. He was homeschooled and attended WKU when he was 16 but dropped out after a year to pursue other paths. 
He was working at a deli until he got bored and was hired as an apprentice at Morris Jewelry.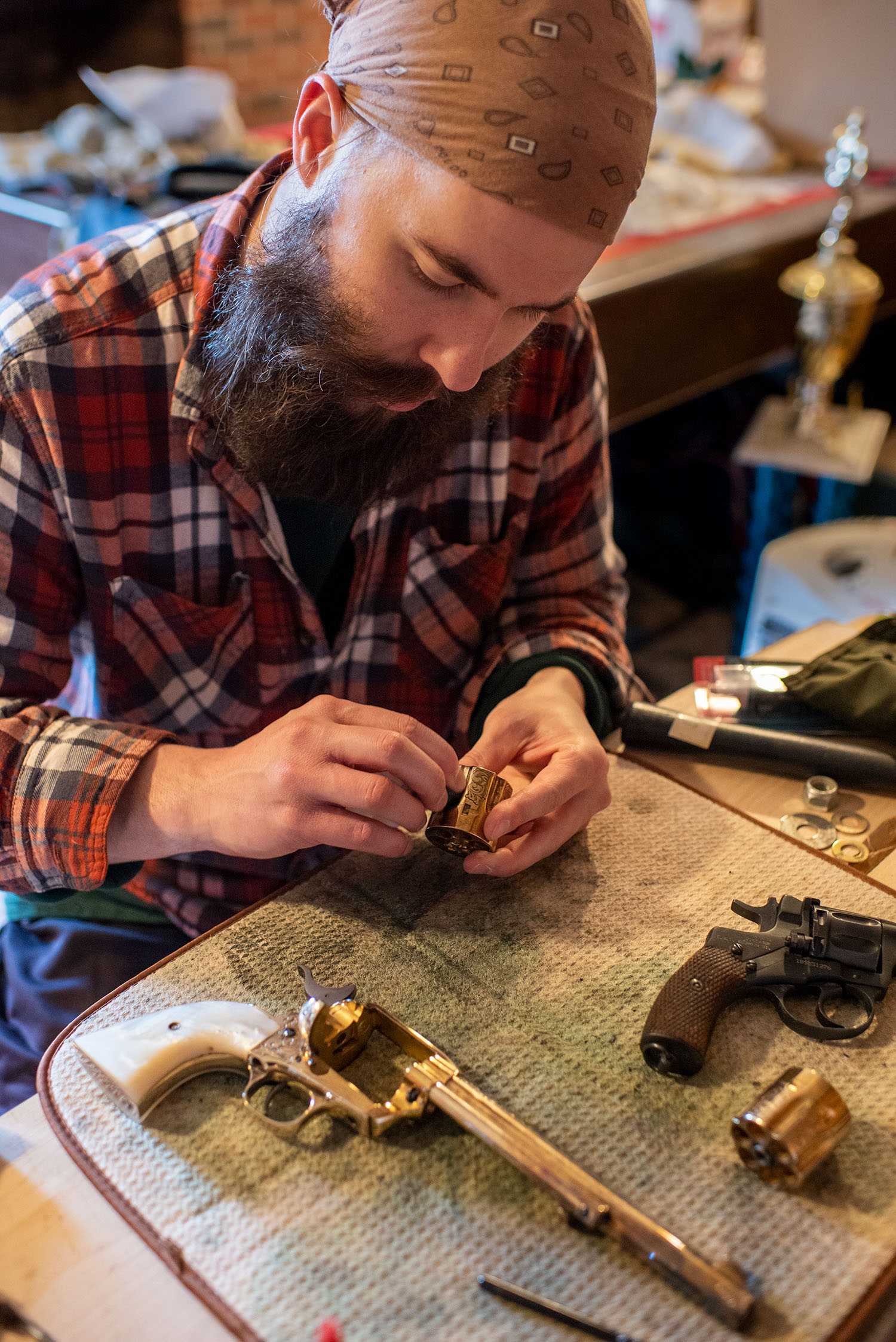 He said he didn't have a particular reason for going into jeweling. It was an apprenticeship that he came across and liked that he would get to work on crafting something such as jewelry. 
He was drawn to gunsmithing after being let go from his jewelling job. He said he liked the artistry of both crafts and the idea of them being artforms that are more niche and not as pursued today. 
Bolz attended the Gunsmithing School at Trinidad State Junior College in Colorado after researching different options for gunsmithing school. 
"I discovered that if you're going to get into gunsmithing, this is where you go," he said. 
Trinidad State Junior College provides gunsmithing education in partnership with the National Rifle Association, according to the college's website. 
The college started offering gunsmithing courses in 1947. 
"Since that time the program has developed into a two-year Gunsmithing Degree Program that is designed to train individuals with the basic concepts and skills needed by the professional gunsmith," according to the college's website. 
Bolz enrolled in the Army after gunsmithing school and was medically discharged after an injury in basic training led to more serious injuries in his hips, he said. 
He is now finishing his degree in manufacturing engineering technology at WKU and hoping to obtain his masters degree while he does gunsmithing jobs on the side. 
"I want to bring a level of quality and excellence back to gunsmithing," he said. "Right now it's kind of in a niche market, and I would like to expand it a bit more."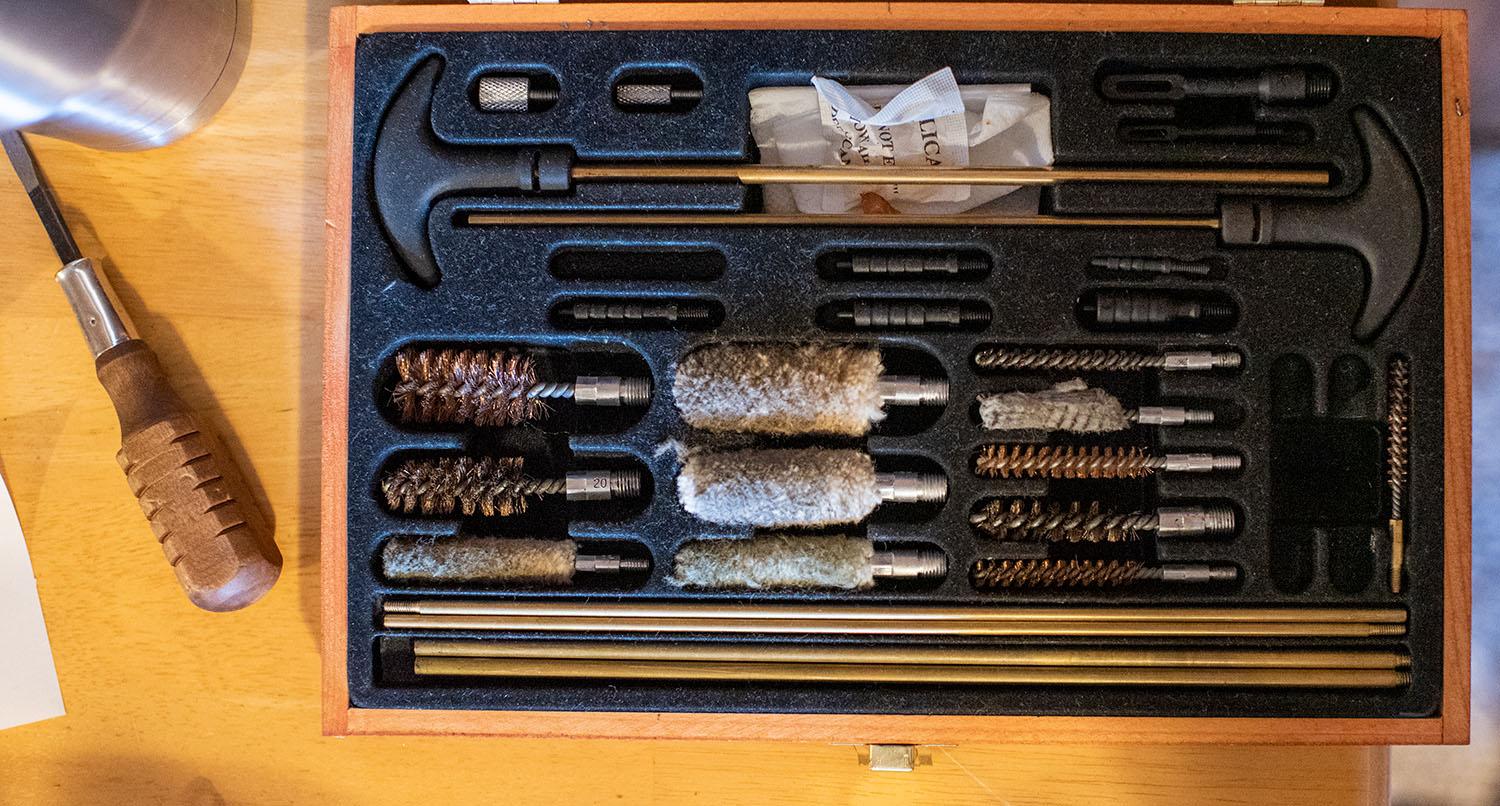 Bolz said the market for antiques will always exist, and he believes video games are bringing a younger generation to historical guns by allowing the players to see older firearms. 
"The thing with firearms is that you can buy an antique firearm and know that the money you paid into it will be back to you in that amount in just a few years," he said.
Bolz said the process of finding guns to add to his collection is mainly about being in the right place at the right time. 
"It's about what circle you move into," he said. " Once you scratch the surface, it's a whole new world you're thrown into."
As a gunsmith, Bolz mainly offers advice to people who come to him, but he also does repair. 
Bryan Reaka, associate professor and WKU Habitat for Humanity adviser, said he has Bolz as a student in class and knew he was a gunsmith. When his shotgun was not firing properly, he reached out to Bolz and after Bolz gave it a good cleaning, the firearm was back to normal, Reaka said. 
"Most people when they find out what I am say, 'Oh a gunsmith? What is it that you exactly do?'" Bolz said. 
For Bolz, gunsmithing is about more than just repairing guns. For him, it's an artform.
Bolz always wanted to do something creative with his life, and through gunsmithing, he combines his love of firearms and hands-on creativity in a way that is not often seen today. 
"There are firearms that can quite literally take your breath away like a beautiful piece of music or painting," he said. "Firearms are about doing the little things well. That's what excellence is."