The ornate and detailed leather pieces made by longtime Bowling Green resident Wesley Driver attract customers from Bowling Green to California. 
Driver's interest in leather started about three years ago when some of his friends suggested he try out leather working as a hobby. Driver went to Hobby Lobby, got some basic materials and tools and started drawing on leather to make patches and lighter cases for friends. He now makes large, intricate, hand-tooled leather pieces and collaborates with nationally-known artists — one is a weaver in Colorado. After selling small, $25 pieces to friends and relatives for a while, he decided to take his profits and get some proper tools. 
"I went to Tandy Leather in Nashville and got some real tools and a big roll of leather and then that's when I made my first Pelican case," Driver said.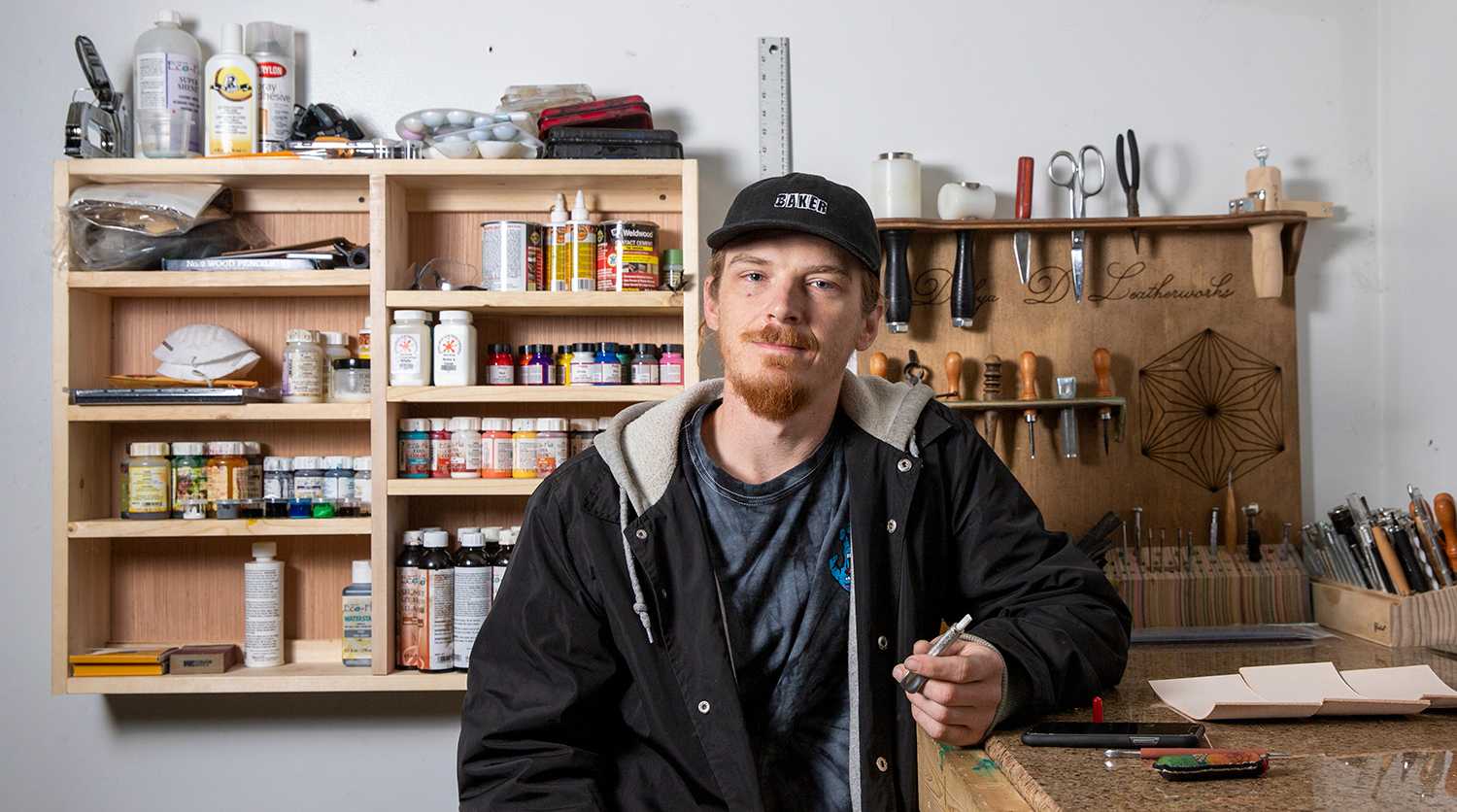 Pelican cases are heavy duty cases with foam on the inside to protect and shield fragile items. 
Alex Smith, a local artist and print shop owner, is a long-time friend and collaborator of Driver and was the first person to approach Driver about doing a large scale job. 
"I had this old Pelican case that my brother gave to me years ago that was beat to hell, so I was like here man, make a leather case with this," Smith said. "He had done some other stuff, but this was the first official case that he made." 
When working with a Pelican case, Driver's process begins by cutting two pieces of leather for the top and bottom of the case and one for the top inside of the case. He then draws on the pattern that he wants to use for the piece. 
Driver's geometric and intricate designs come from what is called "sacred geometry," which attributes sacred and symbolic meaning to certain geometric shapes. 
After sketching the patterns, Driver begins the process of casing the leather — he wets the piece of leather and lets it soak overnight. Once the water has set and fully absorbed, he presses the pattern through a plastic film, causing the moisture to rise to the surface, revealing the pattern. Once the pattern has been tooled and beveled, so the edges are smooth, on the leather pieces, Driver begins "wet molding" them into the shape of the case. Once the leather has dried into the shape of the case, he uses special glue to properly adhere the leather to the case, paying special attention to the corners and edges to make sure everything is seamless.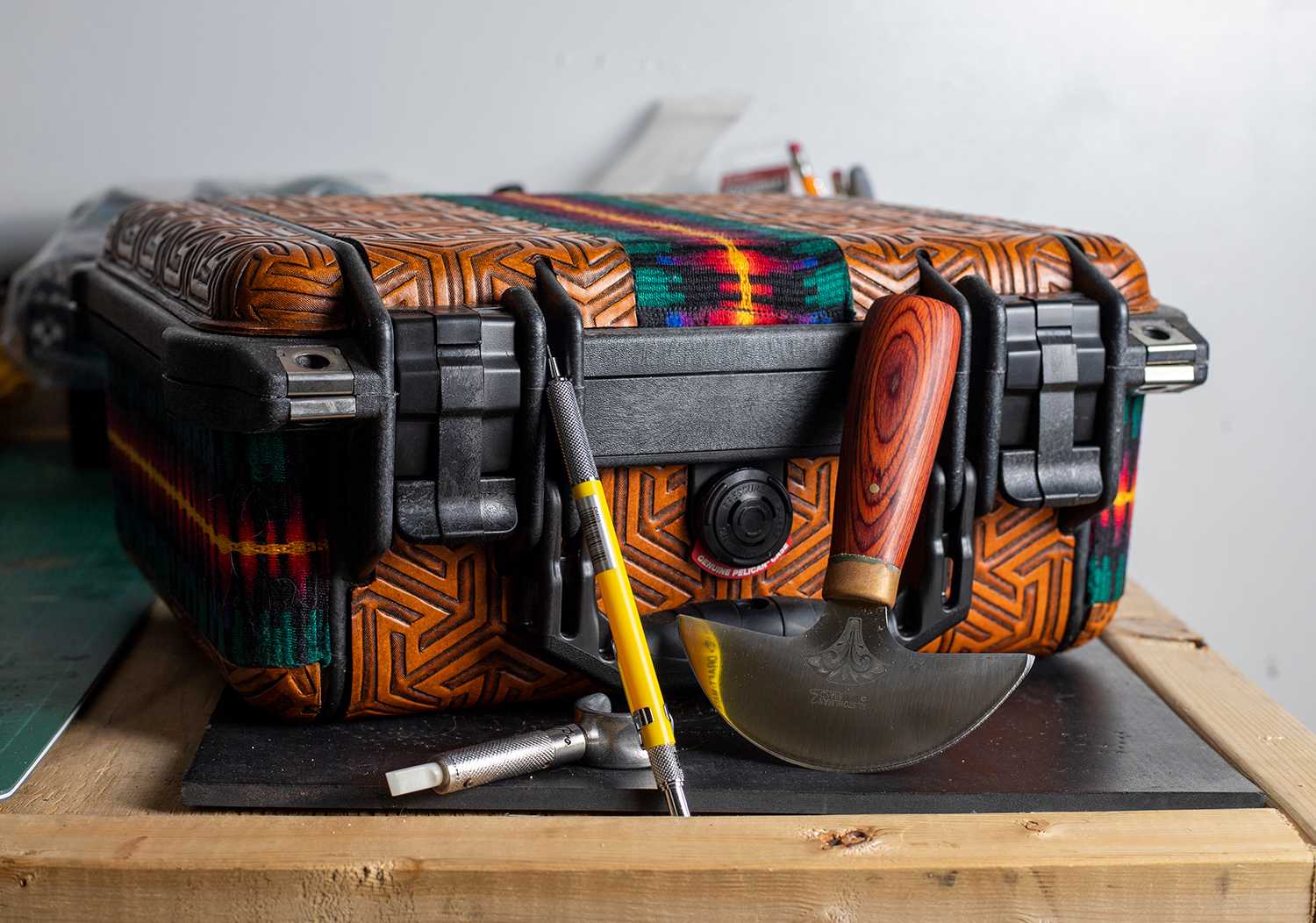 Driver slowly but surely has created a name for himself by making these leather wrapped protective cases that his customers find useful to hold fragile valuables. He has also found a niche market within the legal cannabis community, where people pay high prices for hand-blown glass products and need special cases to protect them. 
"My main source of income comes from the Pelican cases, which are mostly used to hold guns, valuables, music equipment, et cetera," Driver said. "But the market I'm in is the glass blowing scene, so these cases are perfect for holding glass rigs that someone might use out West to consume cannabis." 
Driver makes a variety of different leather products but is most well known for his wrapped cases. 
"A lot of his customers are from California and Colorado and are putting really nice $5,000 or $6,000 pipes in his cases that they might not even use," Smith said. 
Smith said the pipes are "more for the art and the cases are really a reflection of what's inside."
Nick Heller, one of Driver's first supporters, said the attention to detail Driver puts into every case he creates is what sets him apart from other leather crafters.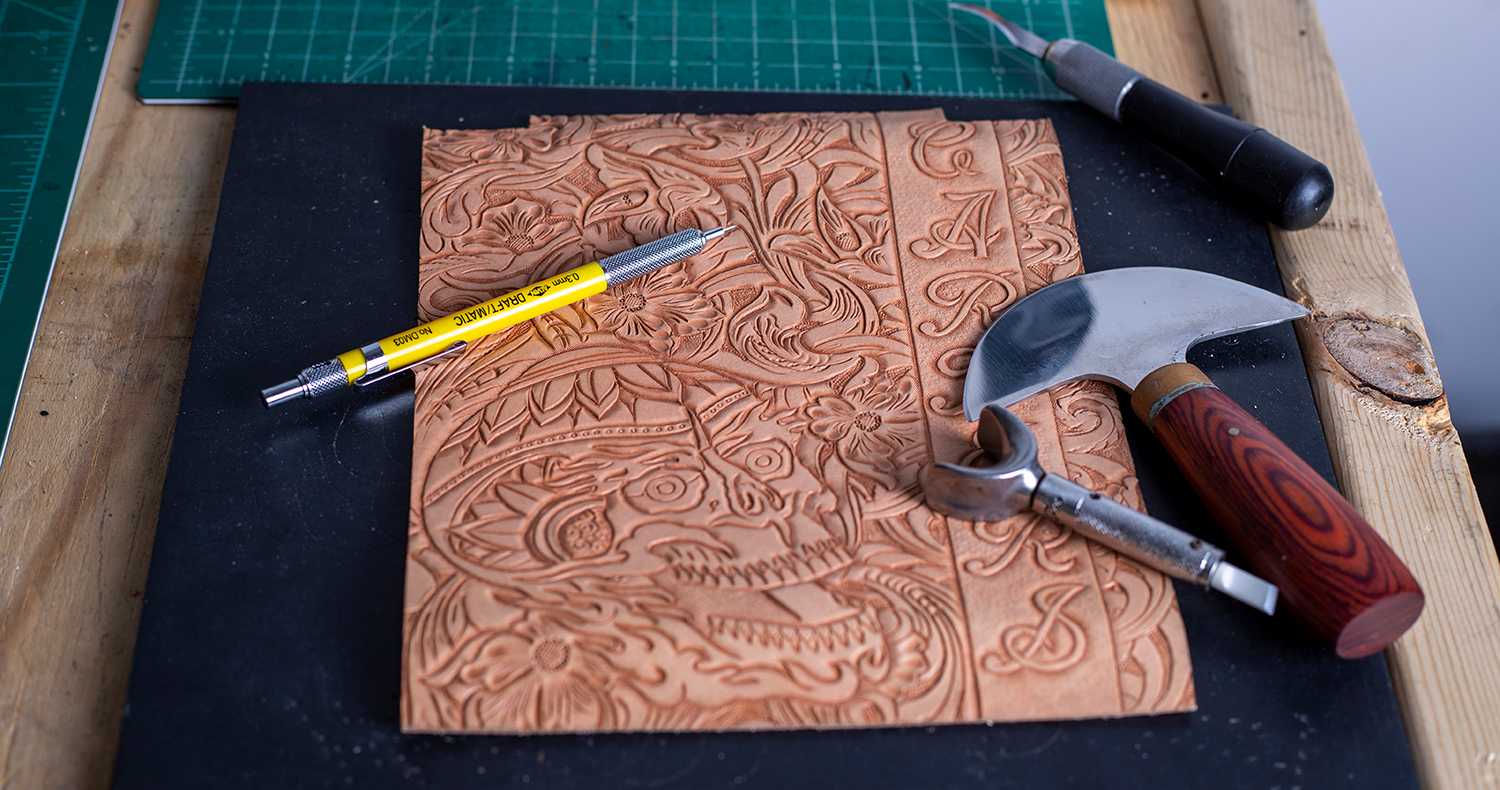 "I've seen many leather cases done by other people, even Pelican cases, and the detail is just not there," Heller said. "The way he form-fits the leather on the corner of the case completely sets him apart from any other leather-worker or anyone making leather cases in my experience." 
Smith said Driver's success comes from not only his attention to detail but also his demand for quality. 
"His demand for the quality of the final product is so high," Smith said. 
Smith said one time Driver shipped a case, then decided he wasn't done working on it. He had it shipped back to improve and fix it to his standards.  
Smith said although Driver has only been in this business for roughly three years, he has been able to attract the eyes of well-respected artists and influencers from across the country — such as Libby Goines, a weaver from Colorado — and build a large clientele.
"Wes has a name for himself now, you know, so when somebody says that they have a Wes Driver case, that carries weight," Smith said.