Story by Olivia Harden | Illustrations by Katie Ulrich
The spirit of Bowling Green, Kentucky, is defined to the outsider as the Corvette capital, the home of the Big Red blob or simply, "A town an hour north of Nashville." In comparison to New York or Paris, Bowling Green is no fashion mecca. However, even natives of the college town may be oblivious to the name of Carrie Taylor, a lifelong Bowling Green resident and entrepreneur, who lived from 1855 to 1917. Taylor's fame stemmed from her nationally-known fashion designs and the outstanding number of women she employed in the Warren County area. Not only did Taylor make an impressive $1.5 million per year in today's dollars, she also left a lasting imprint on American fashion at its most critical point: the turn of the 20th century.
Before Taylor's time, styles hadn't changed for hundreds or even thousands of years, said Carrie Cox, a fashion merchandising professor at WKU. However, due to the industrial revolution of Taylor's time, women had the opportunity to ditch sewing themselves and purchase manufactured clothing. From then on, fashion morphed with the decades.
Sparking in the 1920s, fashion became more than a means of conformity. Sandy Staebell, the registrar and collections curator at the Kentucky Museum, said "I think the '20s are fun because … seemingly (the fashion) was so outrageous at the time." As these designs reoccurred in the tumultuous times of the 1960s, clothing began to reflect unrest and rebellion within society, according to Staebell.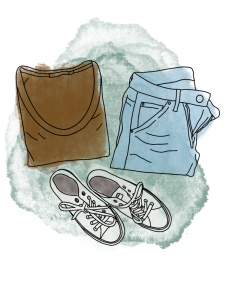 Think of the classic American outfit: a T-shirt, a pair of blue denim jeans and Converse. Generationally known as an at-home leisure outfit, the combination defined the "bad boy" image born in the 1940s and '50s with the films "East of Eden" and "Rebel Without A Cause," both starring James Dean.
However, according to Cox, jeans didn't break their rebel stereotype until the 1960s, as one of the first unisex, everyday-wear items of the 20th century. Along with it, the T-shirt evolved as more than an undershirt or symbol of protest, Cox said.
Americans have a deep adoration of tees, according to Cox.
"The T-shirt is not a billboard, it's a diary," Cox said. "We are all in love with our T-shirts."
The 1980s fractured society's attitudes towards fashion, as individuals began breaking the fashion norms of their societal groups and pursuing their own personal style.
While fresh, "innovative" styles appear each season, they're ultimately revivals of former trends, said Sallye Clark, a former WKU fashion merchandising professor.
"In fashion, nothing is ever new," Clark famously preached, according to Cox who was a student of Clark's.
Clark's point is proven in the fact that society is still sporting gladiator sandals of ancient times, overalls originating in the 18th century British army and wearing styles influenced by Taylor. Janice Centers, a former student of Clark wrote her master's thesis on Taylor's deep impact.
"(Taylor's designs were) distinguishable with their original trims," Centers wrote. "Rosettes, intricate buttons or velvet dog ears became her recognized signature."
All of these trends and more, live on today in a recycled, refreshed way.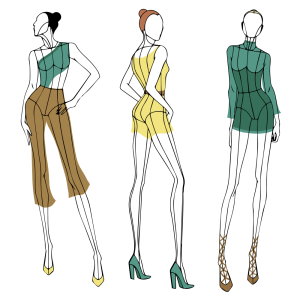 Taylor helped alter the course of fashion and shattered barriers to women's independence at a critical point in women's history, said Emma Ward, a special collections librarian at WKU. Taylor employed over 250 women.
"Not only was she important to Bowling Green and the surrounding areas because she was one of the biggest employers, but she was a female business owner on a very large scale which was huge in the early 1900s," Ward said.
Only two years after Taylor's death, the 19th amendment passed granting women the right to vote.
"Fashion does reflect what is going on in society," Staebell said. "Sometimes it leads, and probably sometimes it follows."
While designs from the turn of the 20th century and even thousands of years ago continue to resurface, they do so in new ways, Cox said.
"Technology advances it and allows for new variations," she said.
The history woven in what people wear allows us to see one another in the most cool or bizarre ways, she said, giving each person a unique channel of expression.
"Our clothes speak volumes about us," Cox said.