Throughout the last century, fashion has been a common and important factor in separating one era from another. From bell bottom jeans to black leather Dr. Martens, it's easy to find aspects of past fashion fads in today's dressing patterns. Check out our style guide to learn how to incorporate pieces of the past into your own style while maintaining a modern look.
---
'60s
Corduroy dress
Corduroy originally gained popularity in the 1960s. If you're not into dresses, wear a corduroy skirt, jacket or pants.
Layering
Give your look a '60s mod vibe by wearing a turtleneck or T-shirt under a jumper or pinafore dress.

Cat-eye sunglasses
Cat-eye sunglasses were a popular style of sunglasses in the '50s and '60s. Choose a bold colored pair to wear with a neutral colored outfit.
Miniskirt
If there's anything iconic about the 60s, it's the miniskirt. Considered by feminists to be representative the Women's Liberation Movement, miniskirts were a staple item often sporting plaid patterns.
Ankle socks
Pair ankle socks with any outfit to give it a vintage feel.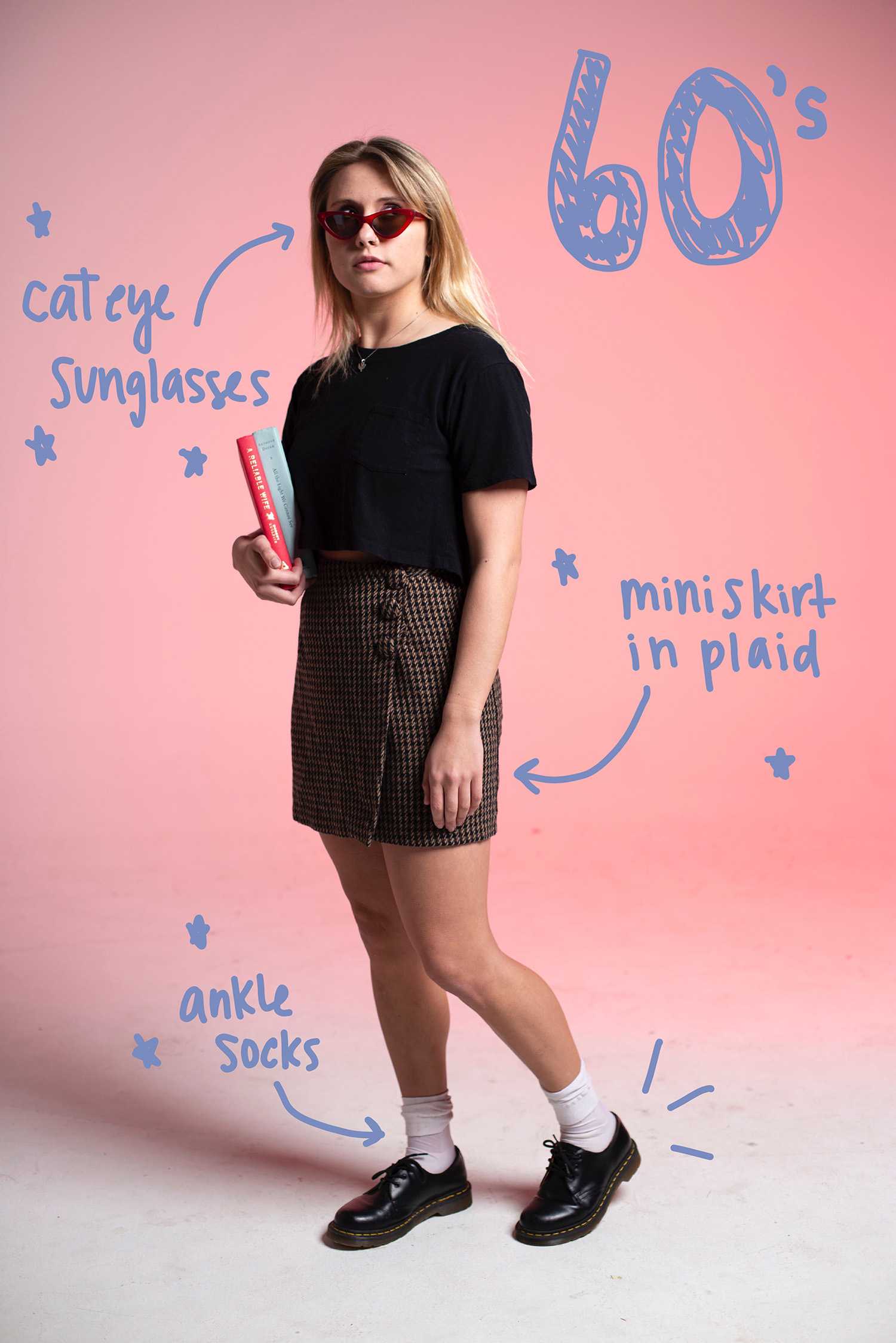 ---
'70s
Bold pattern tops
With the hippie movement at its peak, bright colors and bold patterns were essential. Stick to warm colors and collared shirts for the ultimate '70s look.
Bell bottom jeans
When we think of the '70s, we think of bell bottoms. Distress your bell bottoms to add a little 21st century flair.
Bold accessories
Pair your bell-bottoms with statement earrings, colored rings or chunky shoes.

Corduroy jumpsuit
Jumpsuits became a popular item of clothing in the '70s, most often seen in corduroy or denim.
Platform shoes
In addition to bell bottom jeans, platform shoes became representative of the era and haven't gone out of style since. Wear boots for a casual look or heels for special occasions.
---
'80s
Scrunchie
The scrunchie craze started in the '80s and has recently come back into popularity. Add hairspray or dry shampoo to give your hair volume.
Blazer
With the '80s also came the power suit. Blazers are great to wear for business and casual looks, but just make sure you remove the shoulder pads (one of the few trends that did not last, thankfully).
Mom jeans
Of course, back in their time, mom jeans were just jeans. If your mom didn't save any of her old jeans, you can find the mom jean in most clothing stores.
Colored shoes
The '80s are often associated with lots of bright and neon colors, but because this is 2019, neutral-colored outfits are more trendy. Add color to your outfit through shoes or accessories.

Bold colors
When you feel like dressing down with leggings, wear brightly colored crewnecks or T-shirts.
Matching socks
Instead of legwarmers, opt for ankle socks that coordinate with your 'fit.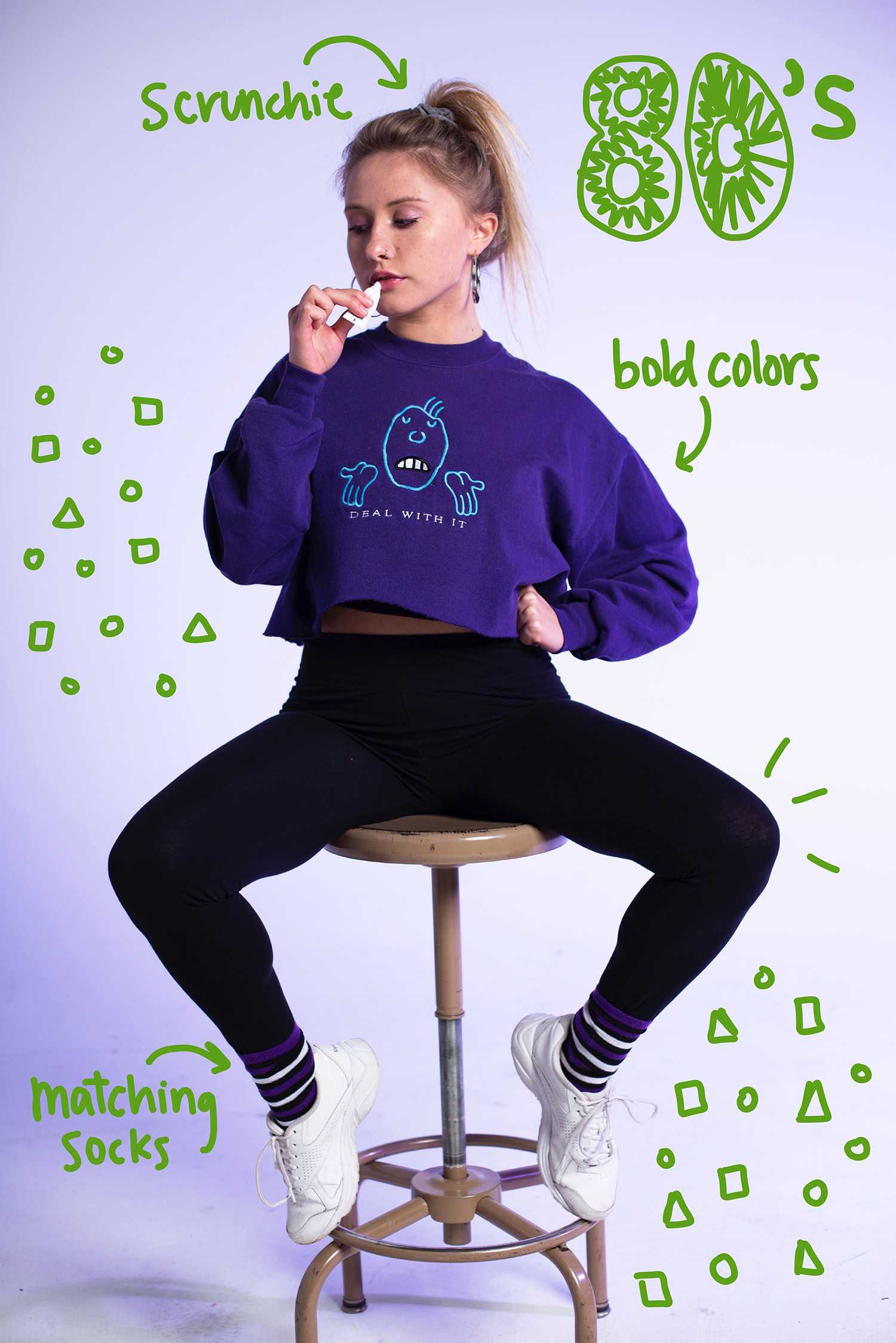 ---
'90s
Band T-shirt
Grab your favorite band T-shirt, whether it be Nirvana or NSYNC, and pair it with jeans or a skirt.
Mom jeans
Mom jeans were still a popular style of pants in the '90s, but often worn in black or stone-washed.
Jelly shoes
Although they were introduced in the '80s, jellies are often associated with the '90s. Wear them with socks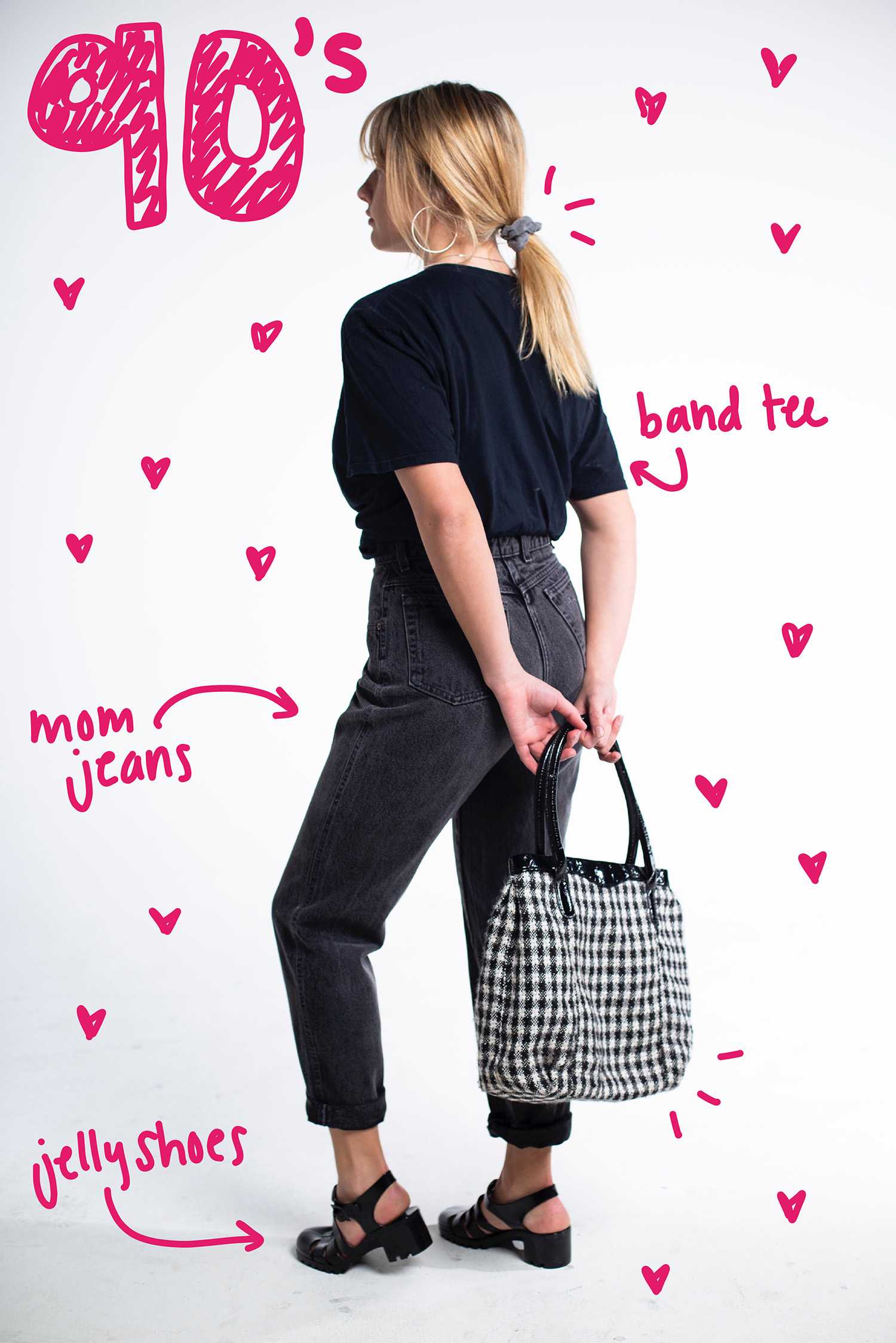 Tiny sunglasses
Worn by Jennifer Aniston and Leonardo DiCaprio, tiny sunglasses are another trend that has recently made its way back into the spotlight. Wear a black pair if you're feeling grunge or a colored pair if you're feeling more like Gwen Stefani.
Blazer
If you're aspiring for the goth, business-chic style, a black blazer paired with boots and black jeans will do the trick.
Skort
The epitome of childhood in the '90s — the skort. Wear with jellies or boots for a comfortable yet cute all-day look.
Dr. Martens
Originating in England, Dr. Martens shoes became the emblem of rebellion in the '90s. If the classic boot isn't for you, try Mary Janes or the Chelsea boot.