On the night of Thursday, April 6, drag kings and queens rushed around a makeshift green room at Carroll Knicely Conference Center. Rectangular tables and colorful mirrors lined the room's tan walls. Plastic wrap covered the room's geometric carpet to protect it from the flying powder of the performers' makeup. As they pinned their wigs, contoured their cheekbones and tied their corsets, the performers exchanged stories about their experiences with drag.
"It was the biggest crowd I'd played to until Bowling Green Pride," Joshua Finn said of last year's show. Finn, 28, is a Fall 2017 WKU alumnus also known by his drag name Geneva LaDiva.
Ivy Parsons, a Sulphur Well senior, said last year's show was her first time ever performing in drag. Parsons performs as her drag king alter ego Dick Sterling.
"It was terrifying and awesome," she said as she styled her short, black wig.
It was 7 p.m. and just an hour away from the start of the fourth annual WKU Drag Show sponsored by Housing and Residence Life.
What started as a shot in the dark four years ago has evolved into an ever-expanding cultural mainstay for the LGBT community at WKU and in Bowling Green, said Heather Thomas, apartments coordinator at HRL and the chair of the drag show committee. Thomas was part of the group that started the event in 2015.
"We honestly didn't know if 50 people would show up or 100 people would show up," Thomas said. "Our first year we had 250 people, which made us realize that that is a need out there and people enjoy it."
As the event began to grow in popularity, the show moved last year from a banquet room in Downing Student Union to a higher capacity ballroom at the Knicely Center on South Campus.
"We're hoping to hit 400 this year," Thomas said as a parade of students and community members filed into the ballroom.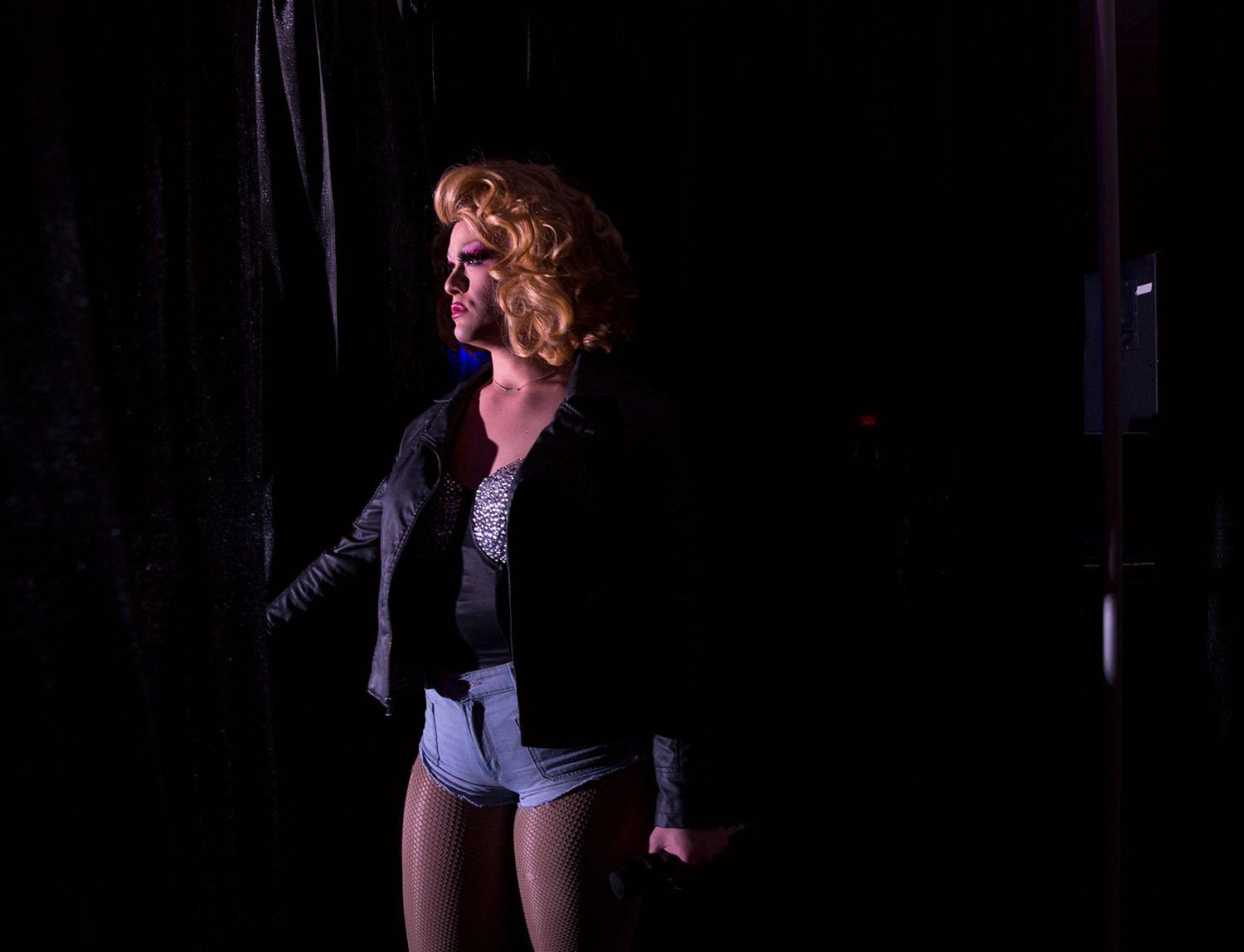 At 8 p.m., emcees Cheryl Cheva and Lily McQueen Fitzgerald took the stage and announced that the show's audience had surpassed 600 people — double last year's attendance, Thomas said.
Thomas said the show's accessibility leads to a bigger, more diverse audience than a typical drag show. Unlike many drag shows that take place at bars, the WKU event is free, all-ages and open to the public. She said this accessibility also allows drag hopefuls to try the craft out for the first time.
Several of the show's 13 performers got their start in drag at previous years' shows, including Parsons, a mechanical engineering major. An actor and performer throughout high school, Parsons said she was inspired to audition for the show after watching the LGBT-centered documentary "Paris is Burning" in her history of sexuality class. She now performs periodically at pride festivals and as a cast member of the O'Haras, a Bowling Green drag troupe.
"It's a fun and comfortable space for people to evaluate what we think of as gender and why and just really to point out how silly it all is," Parsons said.
Quest Broussard, a freshman from Lafayette, Louisiana, performed in drag for the first time at Thursday night's show as Miz. Thickumns. Broussard said he was introduced to drag by a friend — his "drag mom" — but had never performed until Thursday night. Broussard said he thinks the WKU drag show is extremely important because it exposes students to new people and ideas.
"We are not going back in time," Broussard said. "We're moving a little ahead. I feel like if you're not with the Johnsons then, girl, you need to be with the Johnsons."
Though Broussard said he has been practicing makeup and dressing in drag since high school, he was nervous to perform in front of an audience for the first time.
"I'm excited to show bitches what I got, but I'm also like kinda scared because it's scary," Broussard said. "I am a performer though, darling, so I gotta get this. I gotta do what I gotta do. Like Precious said, 'Real women make sacrifices.'"
Even for seasoned pros like drag veteran Joshua Finn, this self-expression can bring about nerves. Finn performs under the name Geneva LaDiva and has been performing in drag for over 16 years, 13 of which have been spent in Bowling Green. Still, he said, his mother's attendance at last year's show made him nervous.
"I was onstage my first number, and my knees were shaking, and I felt like there was a brick house sitting on me," Finn said. "But after my first number, the nerves kind of went away. She tipped me while I was performing and whatnot, so it was pretty cool. I was glad to have her here."
Finn's mother, Debbie, is a 63-year-old retired preschool teacher from Franklin. She said she has come to appreciate her son's profession over time.
"You know, at first I had a hard time with it," she said. "After I got used to it and everything, I was like, 'Go for it. The more the better.'"
She attended last year's drag show to see her son perform in drag for the first time, which she described as both eye-opening and entertaining. Thursday night's show was her second time seeing her son perform in drag.
"That takes a lot of courage," she said. "I was just amazingly proud of him because I know how much it means to him. And if it means that much to him, it means that much to me."
---
"Being in a place like this with such a closely-knit, vibrant and diverse queer community is something I want to hold onto until I die."
Sasha Malone, Bowling Green senior
---
For transgender and nonbinary students, drag represents an important deconstruction of gender roles, said Sasha Malone, a senior from Bowling Green. Malone identifies as nonbinary and uses the gender pronouns they/them.
"I appreciate being able to deconstruct gender so much," Malone said. "It's so affirming. It is absolutely a miracle that I live in a place with such a blooming local drag scene."
Malone also said campus-sponsored events that support and uplift the LGBT community are especially important in light of WKU's low ranking on the Campus Pride Index, a nonprofit project that aims to assess institutional LGBT inclusion.
"We need to be more supporting of queer people than we are as a community and as a municipality," Malone said.
Malone said the most important aspect of drag is that it provides a sense of community for LGBT-identifying individuals.
"At the risk of sounding like the biggest cliche ever, coming out totally turned my life around," Malone said. "It gave me something to fight for, and being in a place like this with such a closely-knit, vibrant and diverse queer community is something I want to hold onto until I die."