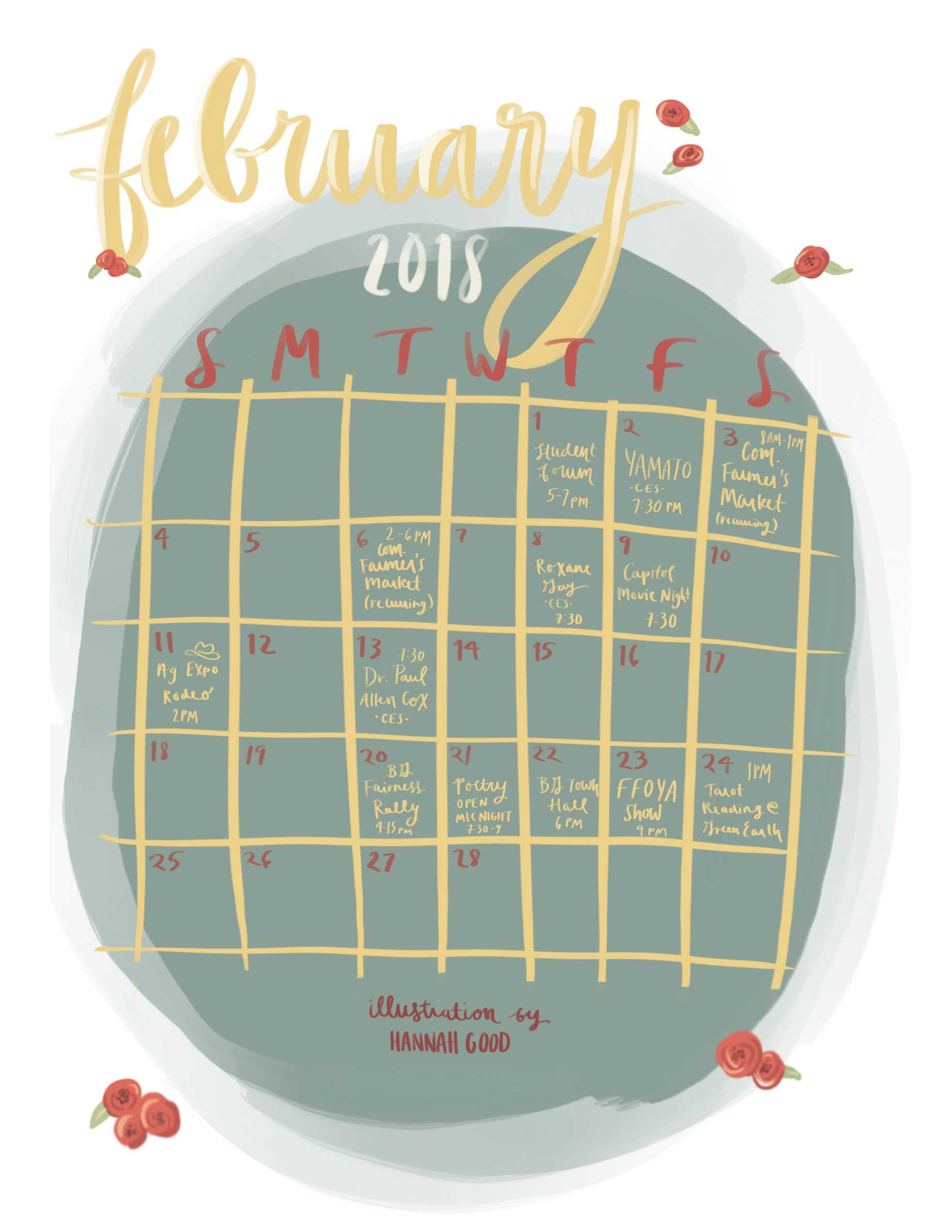 ---
A common sentiment at WKU is that there is nothing to do on the weekends, so everyone goes home. And since everyone goes home on the weekends, there's nothing to do. So to break this cycle, we're trying out something new: a monthly calendar of events in and around Bowling Green just for you, our Talisman readers.
Want to get involved in campus affairs? Check out the town hall meeting happening at Downing Student Union. No plans on a weekend? Try a show at the A-Frame. Looking for somewhere new to take a date? Try the three-day rodeo at the Agricultural Exposition Center (yes, really).
As with anything at the Talisman, this is for you and we want to know what you think. Leave us some feedback in the comments below or send your suggestions (and events!) to [email protected].
Love your Talisman web editors,
Emily Moses and Hannah Good
---
Thursday, Feb. 1
Kick off February right with an open student forum from 5-6 and 6-7 p.m. at DSU Nite Class. According to the event's Facebook page, students will meet to brainstorm ideas about how to improve WKU, and their thoughts will then be presented to a university committee that is developing a 10-year plan for WKU's future. Read more about it here from the Herald.
Friday, Feb. 2
No Friday plans? Hannah doesn't have any either! (She spent last Friday playing "The Legend of Zelda" on her couch.) Catch the Yamato Drummers, a traditional Wadaiko Japanese drum troupe in Van Meter Hall from 7:30-10 p.m. The event is presented by WKU's Cultural Enhancement Series — which never disappoints — and best of all, it's FREE!
Saturday, Feb. 3
Bowling Green's Community Farmers Market is open every Saturday from 8 a.m.-1 p.m. and Tuesdays from 2-6 p.m. year-round. It features local vendors like WKU Top Crops and local nut butter company Gone Nuts (maker of LEGENDARY almond butter). Be sure to take advantage of the market's Double Dollars program that doubles your first $10 in Big Red Dollars. (That's an extra $10 in free groceries!) Shopping local has never been so affordable.
Thursday, Feb. 8
Catch feminist writer and professor Roxane Gay 7:30-10 p.m. in Van Meter Hall for another installment of the Cultural Enhancement Series. Gay is the author of works such as "Bad Feminist," a collection of essays on the intersection of identity and culture, as well as numerous New York Times op-eds. The event was previously scheduled for Sept. 18 but was canceled due to a back injury, so you won't want to miss it this time around.
Friday, Feb. 9
The Capitol Arts Center is a historic music and arts venue on Fountain Square in downtown Bowling Green. On Friday, Feb. 9 at 7:30 p.m., the Capitol will be hosting a movie night featuring Wes Anderson's "The Royal Tenenbaums" (a personal favorite of Hannah's). Take a date or take yourself out in honor of February's season of love.
Friday, Feb. 9–Sunday, Feb. 11
One of the best parts about living in Bowling Green is how its culture straddles the line between rural charm and an urban college-town vibe. Throw that last bit out the window for a raucous weekend of not one, but THREE rounds of the Lone Star Rodeo at the Agricultural Expo Center. Performances will take place Friday at 8 p.m., Saturday at 2 p.m. and 8 p.m., and Sunday at 2 p.m.
Tuesday, Feb. 13
What's an ethnobotanist? The Facebook event page for Paul Alan Cox's Cultural Enhancement Series event drops the term and makes a swift transition into Cox's other qualifications (like, are we just supposed to KNOW what that means?!) Luckily, we know how to use Google, and it seems like Cox's work is actually pretty dope. Cox is a scientist and author who works in remote island villages to work toward discovering cures for Alzheimers and ALS. Catch his talk about it at 7:30 p.m. in Van Meter Hall.
Wednesday, Feb. 21
Join WKU students from 7:30-9 p.m. in Cherry Hall for an open mic night of poetry and other literary readings. This event is the third in a series of open mic events hosted by Clarkson senior Adrian Sanders. All genres are welcome and refreshments will be provided.
Thursday, Feb. 22
The Bowling Green Civic Assembly will host a town hall meeting on improving Bowling Green from 6-8:30 p.m. at La Gala. The meeting is the second in a series following a virtual town hall. The series will conclude with a community workshop to put the ideas into action. If you've wanted to get involved in making BG a better place, this is your chance.
Friday, Feb. 23
Catch Bowling Green's own FFOYA (Former Friends of Young Americans) and The Pretty Okays with Atlanta act Chew at the A-Frame at 9 p.m. Come see the best of Bowling Green's music scene at one of its best venues.
Saturday, Feb. 24
What do the cards say about your future? Find out with a tarot reading by Kiki Dombrowski from 1-5 p.m. at Green Earth Stones on the 31-W Bypass. According to the event page, Dombrowski has been reading tarot for over 20 years. Whether you believe in the mysticism or not, it'll sure make for a contemplative Saturday afternoon.
---
If you would like to submit an event for our consideration, send us an email at [email protected]. Events are reviewed and posted at the end of each month.
Happy February!