This story was originally published in early December in "Movement," the fifth issue of Talisman magazine.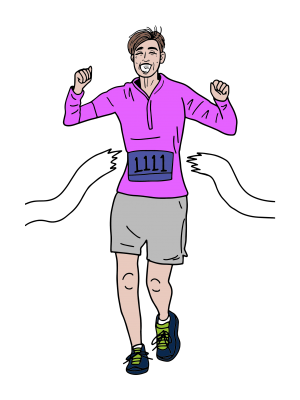 It was mile 20 when she hit the wall.
The doubt started to sink in. "I'm not going to make it," she thought. Within an instant, the crowd started to fade back in her line of sight and shouts became audible once again.
"It's only six miles," she heard the crowd yell. 
"Shut up," she thought.
Running just shy of a 10-minute pace per mile, an hour passed and the clutter of people crowding the Nashville sidewalks nagged her forward. The blinking numbers at the finish line were flipping from one second to the next, one minute to the next.
With her arms outstretched overhead, elbows bent, fists clenched in the air and her parents standing at the finish line, Vicki Johnson shouted, "I'm a marathoner."
A silver medallion was hung around her neck while tears streamed down her smiling face. Her chest collapsed for breath.
Vicki Johnson was 31 years old when she completed her first marathon.
Twenty years later, at 51, she was diagnosed with Stage 1 breast cancer.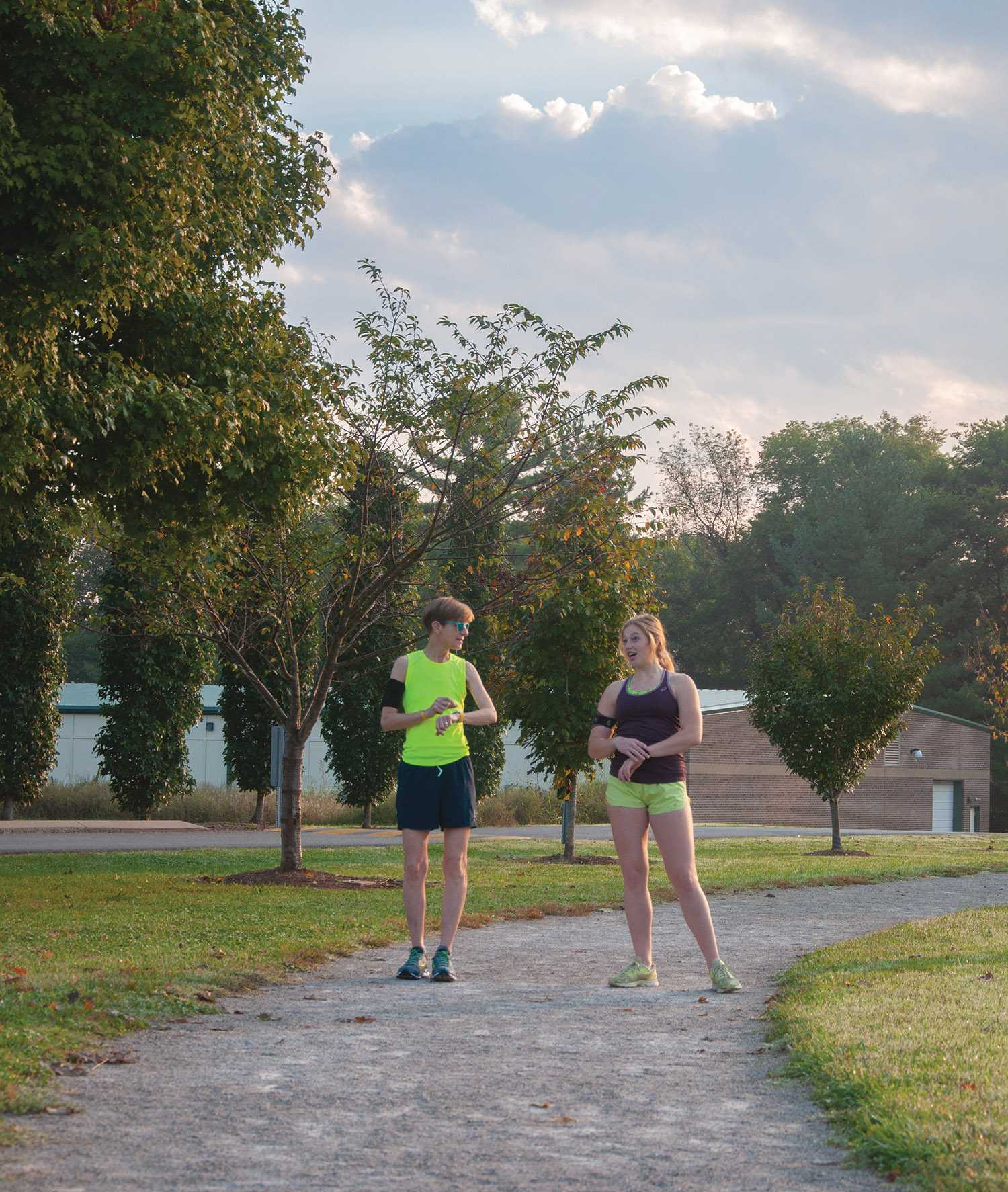 0.0 mile: The starting line
When Vicki and I first ran together, it was pitch-black at 5:24 a.m. This was a routine time for her and the lead runner, David Haynes, who is one of Vicki's co-workers at Nat's Outdoor Sports. On that Thursday morning, he wore a headlamp to lead us up and down the rolling hills of the CrossWinds Golf Course.
In her always-matching shorts and top, Vicki clenched a coffee mug between both hands until the last seconds of our takeoff.
She stood just shy of six feet tall, long and lanky with a waist I could wrap my arms around twice. She had a rock-hard six-pack only visible when she lifted her shirt to wipe the sweat from her face.
Her short strawberry blonde hair moved when she did. The top of her strands puffed up, and with each foot contact, the strands fell back down again.
She smiled, talked and laughed while she ran, making it harder for the rest of us to manage to breathe as we spoke, but Vicki seemed to breathe better that way.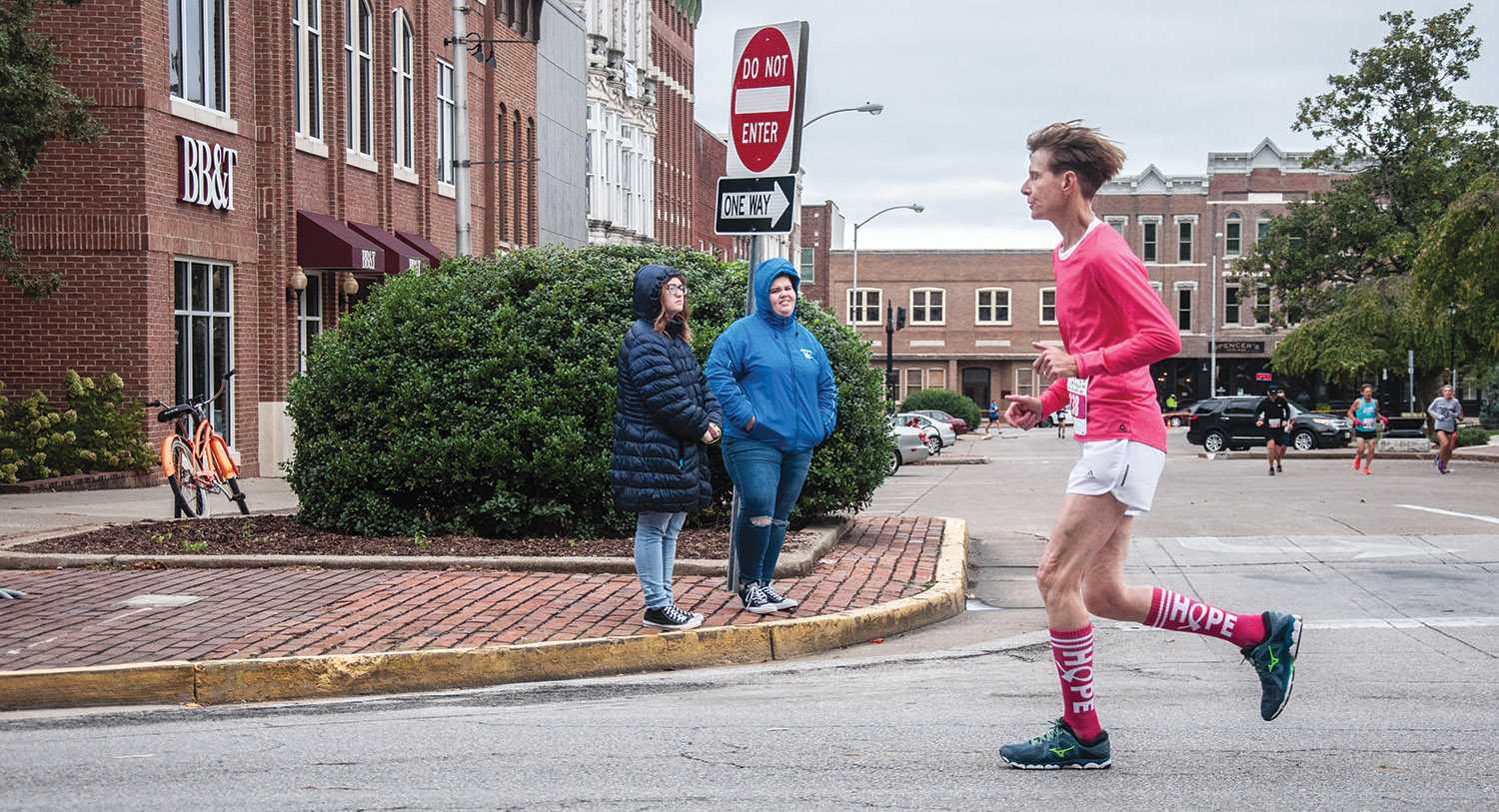 1.0 mile: Setting the pace
Vicki, originally from Park City, began running in Bowling Green when she started college at WKU in 1983. She had previously been on a scholarship playing women's basketball for Sue Bennett College in London, Kentucky, until she decided to stop playing ball and traded in her Chuck Taylor's for what she called "actual" running shoes.
"I had no idea what I was doing," Vicki said. She said her first time running was like slapping the pavement with her feet because of her lack of technique.
It wasn't until some friends on WKU's cross country team started banging on her first-floor dorm
window at 6 a.m. that she really committed to the sport. She has been a morning runner ever since, she said.
After pursuing a master's degree in exercise physiology at Austin Peay State University, she found herself back in Bowling Green in 1990 working for Kentucky's Department of Public Health.
Through a new marathon training group she had joined in Bowling Green, Vicki met her best friend, Jennifer Burgett, who would later become the first person she told when she was diagnosed with cancer.
Burgett said when she got the call from Vicki she knew exactly what it was.
Vicki had a biopsy taken of a lump in her breast — what the doctor's told her was most likely just a fibrous cyst.
"I just felt sick," Vicki said. "I didn't have anyone with me. I was by myself, and I said, 'There's no way.'" Vicki said she had felt fine up to that point.
"There's no way I have breast cancer," she told the doctor.
The doctor grabbed Vicki's hand and reconfirmed, "Yes, you have breast cancer."
The doctor asked if there was anyone she could call, but Vicki said no.
"It was a beautiful day," Vicki said. "I'll never forget it. I didn't know what to do."
Vicki found out she had cancer the day she retired from Kentucky's Department of Public Health. Her dad had died the year before, in 2013, from kidney cancer before he could undergo any treatment.
Bernice Johnson, Vicki's mother, said she was "completely flabbergasted" when she found out about Vicki's cancer. She paused for breath as she spoke. Her voice went soft with her fingers intertwined on her crossed legs.
Vicki calls her "Momma." Everyone – even Vicki's friends – calls her "Momma."
"I had no idea that anything was wrong," Bernice said. "That has been the worst thing that she has ever had. It has affected her and me both. I keep thinking, 'Will I be here for her if it comes back again?'"
Tearing up, Bernice asked, "At my age, will I be here for her?"
Vicki wasn't notified with the severity of her cancer until three months after the lymph nodes were removed from her breast, at which point the doctor told her she was in remission. She began taking oral chemotherapy pills for treatment and is still taking them today. The pill serves as an anti-cancer hormone therapy that is taken to help cure breast cancer in women.
"You're never cured," Vicki said.
One of the worst and lasting side effects of the oral chemo is joint pain. Vicki still feels the pain in her hands, hips and knees, especially when she's running. Tiredness and hair loss are two other side effects she said she still experiences.
"You're sore," she said. "You've taken your breast off. I mean it hurts. It's sore. It's terrible for any woman to have to go through that."
Vicki said running is so spiritual to her that she tried not to stop while taking the chemo pills and suffering the side effects. "I mean if I got up and ran two miles, it was so spiritual," she said. Vicki turned her head from me.
"You're going to make me cry," she said. "I don't want to cry — but it was. (Running) kind of holds you together."
Running was Vicki's saving grace along with her faith, she told me. Vicki grew up going to church on Sundays with her family and still continues that tradition with her mom. She said her faith has helped carry her through her dad's death and setbacks in life like the benign brain tumor she had to have removed in 2014. The tumor was not harmful in effect, but could have been if not removed.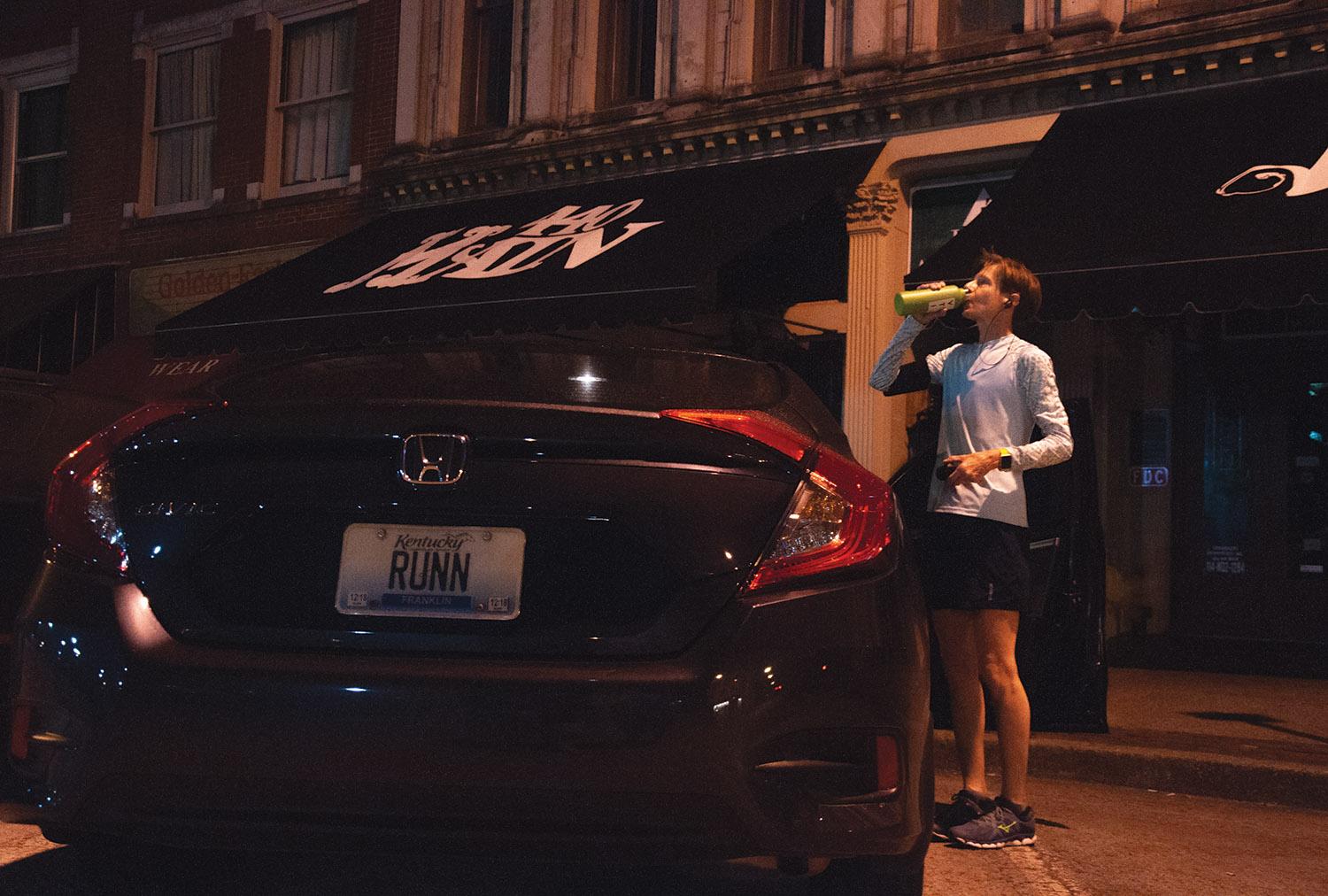 "I can't imagine going throughout the world without the Lord," she said. "That scares me more than anything – besides not doing everything that I want to do."
Bernice said they don't know how long Vicki will be in remission. She said Vicki's dad lasted five years before his own cancer returned. He had previously suffered from lymphoma and survived after going through chemotherapy but could not beat the kidney cancer.
"She keeps thinking that that's what's going to happen to her," Bernice said about Vicki. "We try to live with a good attitude even though the five years is getting close. We don't look at it like it's the end."
Bernice said Vicki has a lot in common with her father, which is why they are so concerned with the possibility of the cancer returning.
"But she never lets it affect her running," Bernice said. "Believe you me, it never interferes with her running."
About a month after her surgery, Vicki told herself she was going to try to run — even if it was just a little shuffle. Despite her pain from the surgery and the side effects of the oral chemotherapy pills, she laced up her sneakers.
"I thought, 'I'm going to do something,'" Vicki said. "'I'm going to move. I am not going to sit in this chair and just waste away. No way.'"
Vicki has run seven marathons in her life but her favorite and worst race of all was the Bourbon Chase, the second time around after her surgery.
The Bourbon Chase is a 200-mile relay race through the distilleries of Kentucky. The racers typically complete anywhere from just over three miles to nearly nine miles in their respective routes. It was Vicki's first step back into running. It was what she chose as her comeback.
Vicki competed with her best friends — Burgett and Harlan Holmes, another Bowling Green runner.
"It was like the perfect storm of everything that could go wrong," Holmes said. "As the rain came down and it got colder, everybody was miserable."
Vicki's first leg of the race was a six-miler right out of surgery, with an incision in the side of her ribs and a scar that never let her forget what happened.
As the night rolled around and the rain continued to pour, the team made it to Danville High School where they were all able to take a shower and nap before starting the next legs of the race. But Vicki could not make herself go into the communal showers.
"I mean, one of my breasts was gone," Vicki said. She was embarrassed and defeminized, she said.
"Gosh, I mean it looks awful," she told Burgett.
Burgett waited with Vicki until everyone left the locker room and they both cried before Vicki finally took her shower.
Vicki said she couldn't look in the mirror for months after surgery. She said she saw a reflection that was unattractive – deformed.
"It took me a long time to say, 'I have breast cancer and this is what happened,'" she said.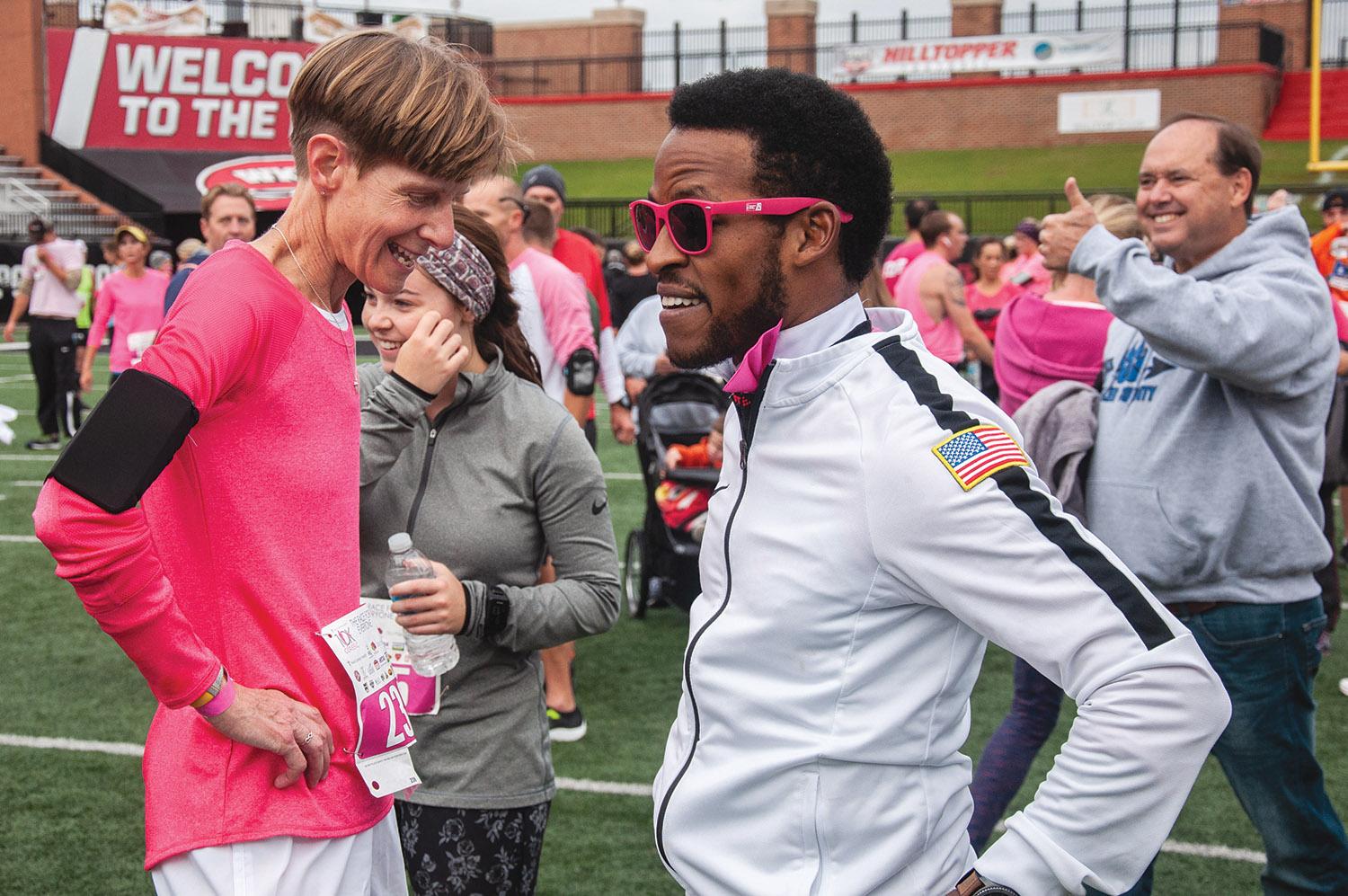 26.2 miles: The finish line
Wearing light-wash jeans and a white button-up T-shirt with embroidered bumble bees and insects on it, Bernice's eyes welled up as she wondered what she would do without Vicki.
"I don't know what I would do without her," she stopped, fighting the tears and struggling to find her composure.
She said Vicki is her ears, making up for her slight loss in hearing nowadays. She said Vicki does so many things for her that she is just lucky to have the security her daughter provides.
Bernice was at every one of Vicki's basketball games and has been at a majority of the finish lines she has crossed.
Bernice has even made it across one finish line alongside Vicki. At 65, she ran the 20th Anniversary Bowling Green Medical Center 10K.
"The motive behind it was just I had never really done anything that I could call an accomplishment, and I just wanted to do it to see if I could," Bernice said.
Vicki, too, said she has always tried to live her life to the fullest doing as much as she can while she can, but it really didn't start to hit home until her cancer diagnosis.
"Not being able to do all of the things I want to do – that's my biggest fear," Vicki said. "It's not dying."
0.0 mile: Yet another starting line
With her arms swinging in sync to the beat of her feet, Vicki keeps running. She keeps running for the marathon sticker she can always slap on her car and the race T-shirt she can always wear proudly, she said. But regardless of the material items, Vicki runs because that's who she is: a runner. Fast or slow and no matter the obstacles that pop up in her life, she keeps running, one step at a time.
"That's the way life is," Vicki said. "It's a marathon."