Looking at the storefront situated on Park Street, you would never know that Howard's Cycling and Fitness, colloquially known as Howard's, has been around for 84 years. Its sign is detailed in bright multicolored neon, and the inside contains rows upon rows of bikes and riding gear.
On a clear day in September 2021 Tracy Rossi, the sales manager of Howard's, sat on a bench sandwiched between skateboards and a variety of gear: helmets, pads and wheels populating well-stocked shelves.
Part of Tracy's job is to know Howard's and its history, and Howard's has a long and storied history in Bowling Green. The shop was established in 1937 by Howard Cox and has been run by his family ever since.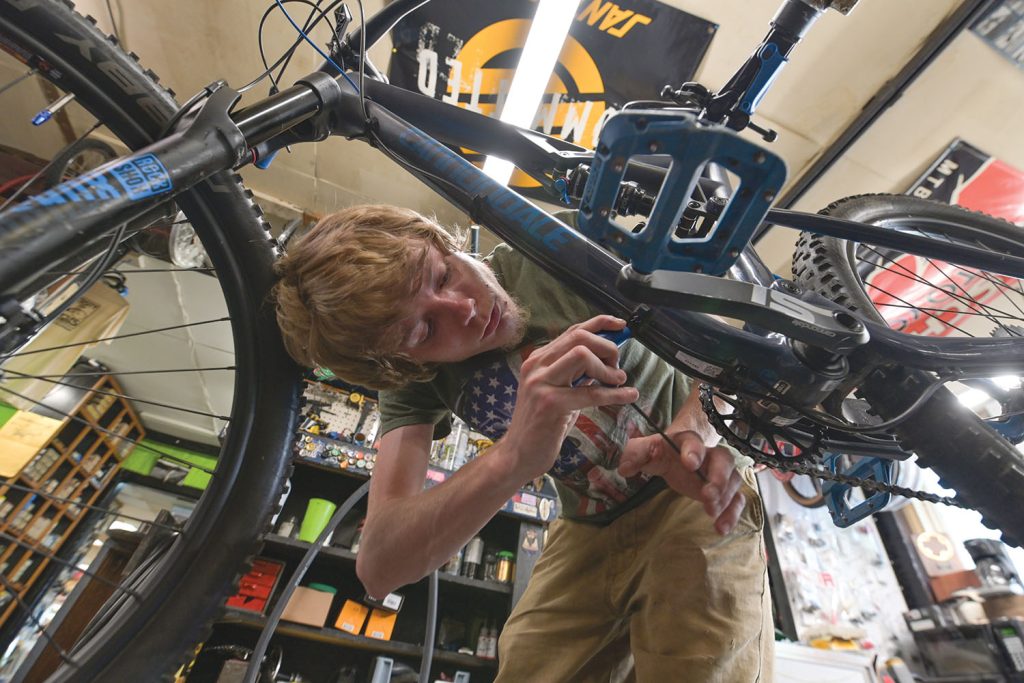 As a longtime customer himself and employee of four years, Tracy has seen much of Howard's development firsthand.
"It was first an Indian motorcycle dealership, and after Indian fell on hard times, they picked up the Schwinn bicycles and haven't moved back," Tracy said.
Tracy's patronage of Howard's started after Schwinn was cycled in.
"I started coming here in the late '60s," Tracy said. "It was more of a craft and hobby shop then, with balls and planes and electric trains and electric race cars, stuff like that."
Howard's phased the hobby shop out once staff couldn't support the hobbies and crafts, Tracy said. Howard's added a skate shop instead, then BMX, and remains a full-service skate shop today.
Similar to how Howard's was passed down throughout the Cox family, Tracy is employed along with his son and grandson, the very picture of the generational influence that Howard's has had on the community. Tracy's son, Anthony Rossi, has been with Howard's for six and a half years, and now is the face behind the locksmith service that Howard's offers. He also sells and services bikes and skateboards.
Time spent working in Howard's has made both Tracy and his son passionate about the hobby of biking.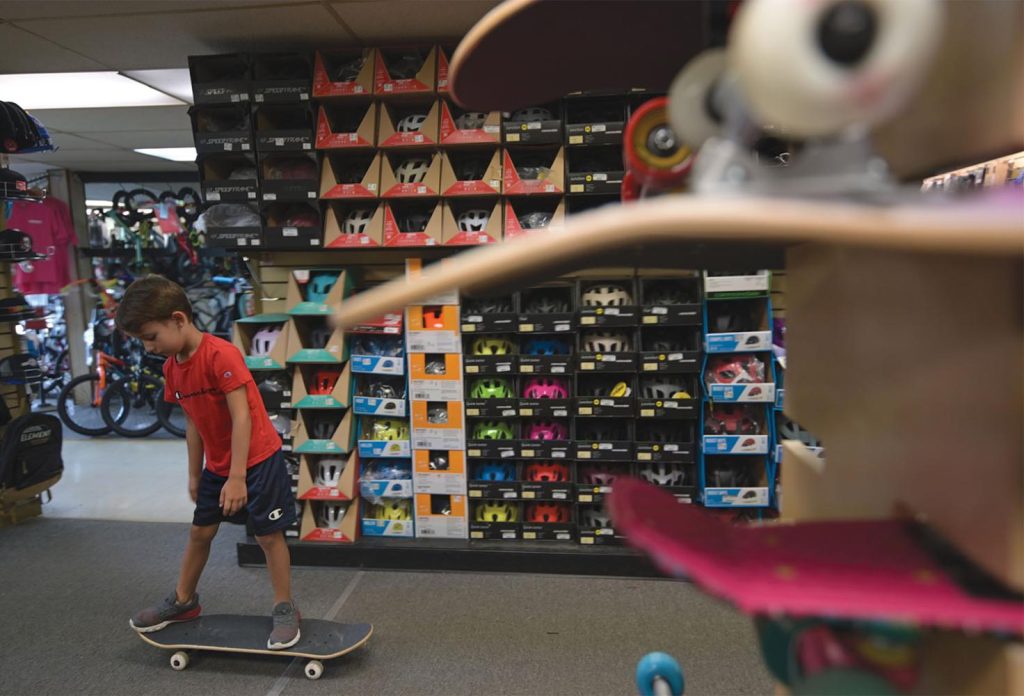 Tracy was an avid cyclist until 1990 when working in the restaurant business and raising a family began to take up most of his cycling time. Before that, he was heavily involved in the bicycling community, when it wasn't yet as common of a hobby.
"It's guys like me that pioneered riding around back in the '80s when it wasn't so popular to wear spandex around the county," Tracy said.
Tracy purchased his first racing bike from former Bowling Green police Chief Doug Hawkins, and he now has a collection of 50 bikes. His passion for biking has been passed down to his son. Anthony said he grew up watching his dad bike and got into the hobby himself a little over ten years ago. He originally was interested in the health benefits of cycling.
"I never really planned on going that route, but I got into bikes through an initial need for weight loss," Anthony said.
His passion grew from riding bikes, to being interested in the mechanics behind them.
"I like to watch the main mechanic now, Jake, work on a bike," Anthony said. "He's real good at it, and we learn stuff from one another. I can't really sit back and watch myself do it, so it's always cool to sit and watch Jake work on stuff."
Anthony was primarily self-taught on the intricacies of bicycle maintenance and repair, but the hands-on aspect of bicycle work was suited for him.
"I never really did well in school environments, I always learned better on my own," Anthony said. "I was applying that to bikes initially and then I got into the locks and stuff."
Anthony cherishes Howard's for the tactical opportunities it provided him with. His father found a similar cherishment in the loyalty of the shop.
Howard's is ever-adaptable, Tracy said. They have a dedication to staying humble, they've never tried to outgrow themselves and they depend on their generational clientele.
"I saw one of the kindest gestures in the bike world that I have ever seen, and it's the gift of a bike from one human to another," he said. "This man bought this expensive bike for his brother. It grabbed my heart."
Nikolai Endres, originally from Germany and now an English professor at WKU also has familial ties in biking, his mother's lifelong passion for the hobby drew him in.
"My mom, she's 70, she could do 100 miles a day if she had to," Endres said.
Watching his mother bike, and the necessity of biking for transportation in Germany, has ingrained the practice into Endres' life. Endres has continued to bike during his time in Bowling Green, out of both necessity and habit.
"I've been at WKU for 19 years and about 10 years ago I sold my car," Endres said.
Endres said that he frequently bikes to work. A month ago, Endres had his bike stolen and was on the hunt for a new one. He tried Howard's and was impressed with their service.
The pandemic brought shortages on bikes and bike supplies, so Howard's was short-stocked on affordable bikes, but the employees were happy to recommend other places for Endres to try. Endres said that he appreciated their service and plans to go back to look at their selection again.
Aside from the kindness fostered in Howard's and the interpersonal connections they've built through the workings of the shop, Endres, Anthony and Tracy all bike because of the beneficial effect it has on their mind and body.
"It's a good release from the daily stresses and it's a good way to clear your mind and do low impact fitness," Anthony said. "It does a body good."