The stage is dark at The Villager Tavern in Nashville as Joseph Jones tunes his drums. He is about to play a show for alternative singer-songwriter Eagle Johnson, who he has only rehearsed with once — two hours earlier. Jones has a glass of water, a setlist of 10 songs with sparse notes and his tools: brushes, mallets, shakers and drumsticks. Jones forces his mind to go blank. He does not run through the songs in his head, nor worry about how the show is going to go. Intuition is what he will rely on.
Jones' drumming career began when he was told to choose an instrument in middle school for the school band. Drums were his first choice because his dad was a drummer, sparking Jones' interest in the instrument from a young age. However, passion for percussion didn't hit him until he was 14 and began creating music with his friends.
"My best friends that lived down the street from me played guitar and bass. They made me get good," Jones said. "We played the middle school talent show, and we won it. We had built a medley — a 20-minute set — a month and a half in advance, and we would go and play it every single day."
Jones and his friends, who, in 2013, would create the indie rock band, Spirit Week, have always been classic rock admirers. In middle school, their garage band listened and memorized songs from bands like Led Zeppelin, Aerosmith and Deep Purple, pulling harder and harder tunes out of those band's catalogs, Jones said.
"Like "Dazed and Confused" by Led Zeppelin is 20 minutes long, but we learned it all. We would be blistering up trying to power through it," Jones said.
Jones said he learned technique and how to read music in his school's drumline, which proved essential to his development as a drummer.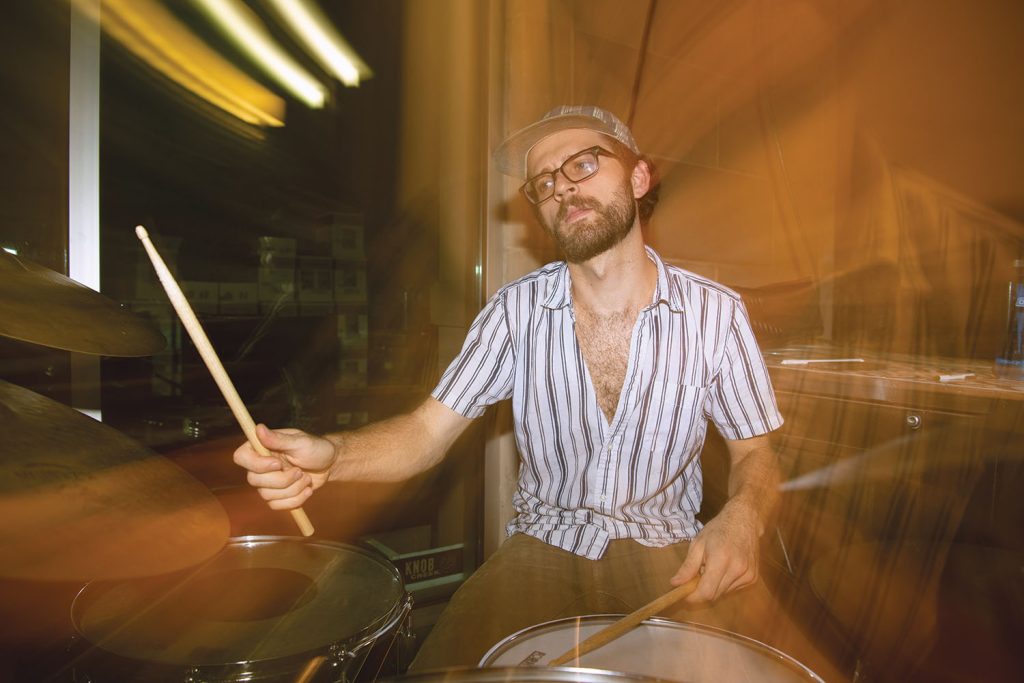 "There's a lot of drummers out there who don't know what they're doing," Jones said. "They just feel stuff […]. Learning how to read music and being forced to learn all the rudiments of drumming made my left hand snuff up my right hand."
Scott Harris, a percussionist and head of the music department at WKU, is deep in the academic, theoretical world of music. He also said that a musician should learn the basics to be the best artist they can be.
"The more you know and the more you learn, the better musician you are," Harris said. "If I know how to read (music), I can walk into a studio on Monday. I can walk into a church on Tuesday. I can walk into a bar on Wednesday. I can immediately understand what is needed, based on a piece of paper that might be on the stand."
In fall 2012, Jones enrolled in 18 credit hours at WKU, worked three jobs and played in two bands. By the end of the semester, Jones said he was burnt out. So, when the local Bowling Green band, Morning Teleportation, asked him to replace their lost drummer, Jones decided to drop everything to focus on drumming.
After some success in Bowling Green and on the road, Morning Teleportation signed a record label from Glacial Pace Recordings. The band went to Portland, Oregon, to record.
"The producer/engineer was also a drummer, and he had a lot of opinions about how I should do things," Jones said. That was probably one of the biggest moments of complete ego death."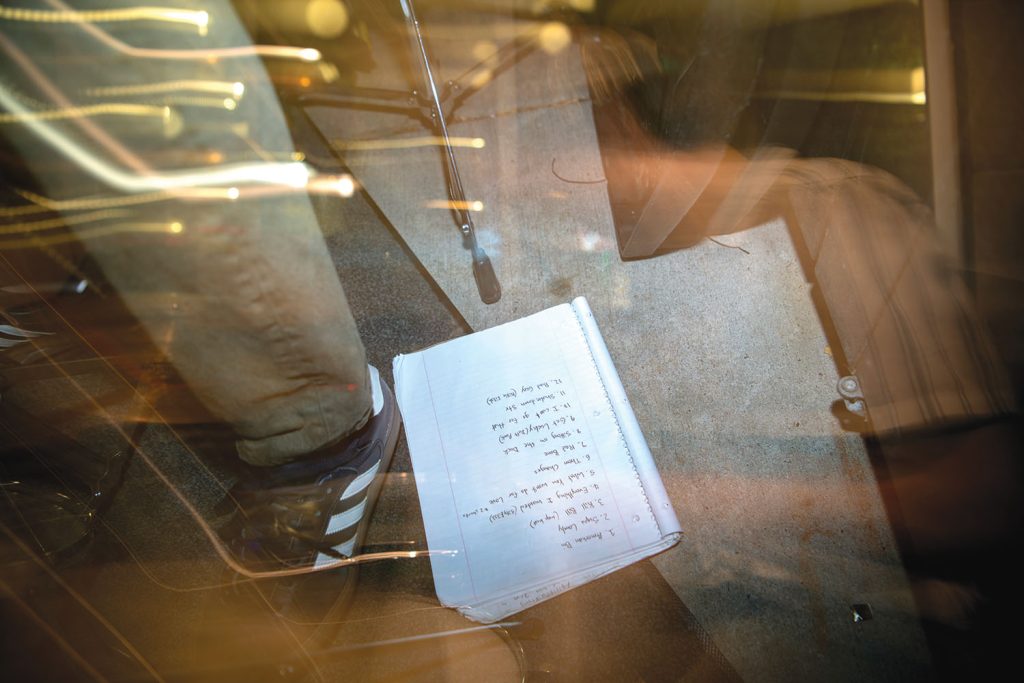 From his new professional music experience, Jones saw he still had much to learn.
Aaron Holder, a guitarist from Scottsville, has been playing music with Jones since 2008, and helped form Spirit Week with him in 2013. Playing with Jones before, during, and after he was involved in Morning Teleportation, Holder saw how Jones improved as an artist.
"He developed a very specific knowledge on the whole side of making music, which is a lot different than what we were accustomed to in the Bowling Green underground, hometown music scene," Holder said. "Even today, he's playing with so many people, picking up gigs, and he's just getting better and better. That goal post has always been pushed for him. He is a yes man in the best possible sense of the word."
Jones believes in the saying, "a band is only as good as the drummer."
"One way to visualize (playing the drums) is that I'm building the railroad tracks for the train to ride on," Jones said. "I'm guiding the direction in that sense. And you want it to be a smooth ride."
Holder, having played with Jones in many bands and a variety of music scenes, has also noticed the value of a good drummer.
"You are responsible for knowing when you should exercise restraint. Anybody can sit down and just beat the damn buckets and be loud," Holder said. "But when you're playing with other people, you must be aware of what's being said collectively."
Harris said conveying rhythm is also important.
"If you want to move, if you want to dance, the rhythm is what allows music to move through time and to affect us on an intellectual, behavioral and spiritual level," Harris said. "Playing percussion is many times how that rhythm is perceived."
Rhythm is something that all good drummers need, Jones said.
"People that are really good usually have an ingrained sense of rhythm in them. It's just a matter of tapping into that," Jones said. "I did not grow up using a metronome, so a lot of people's time compared to mine is more on the beat. I definitely tend to wax and wane a bit. Some of that push and pull is necessary for the emotional element it adds to things."
Harris is a firm believer that rhythm can be taught, and, like Jones, he believes everyone has an ingrained sense of rhythm that just needs to be pulled out.
"There are three things that I think all humans can do," Harris said. "We can all sing; we can all drum, and we can all dance. Those things are available to us. We breathe in a certain rhythm. And we certainly move, even in our walking or running, with a certain rhythm or groove that might be perceived as dancing to some degree. There's a drummer in all of us."
Jones has remained a member of Spirit Week since its creation in 2013. After Morning Teleportation ended in April 2019 due to a band member's death, Jones relocated to Nashville, where he is still living today.
Over the years, Jones has played drums for many genres, including blues, rock and indie. Throughout all his drumming experience, Jones' favorite way to play drums has always been through improvisation and experimentation. His newest band, Japan Drier, has tried to embrace that creative style with their progressive rock.
Jones' definition of the sort of music they produce is unique, "To be totally honest, I describe it as fucked," he said. "We don't use your general musical design as far as notes and stuff go. It's all based on dissonance, so we're not playing in keys. None of it is written. It's a kind of energy, really."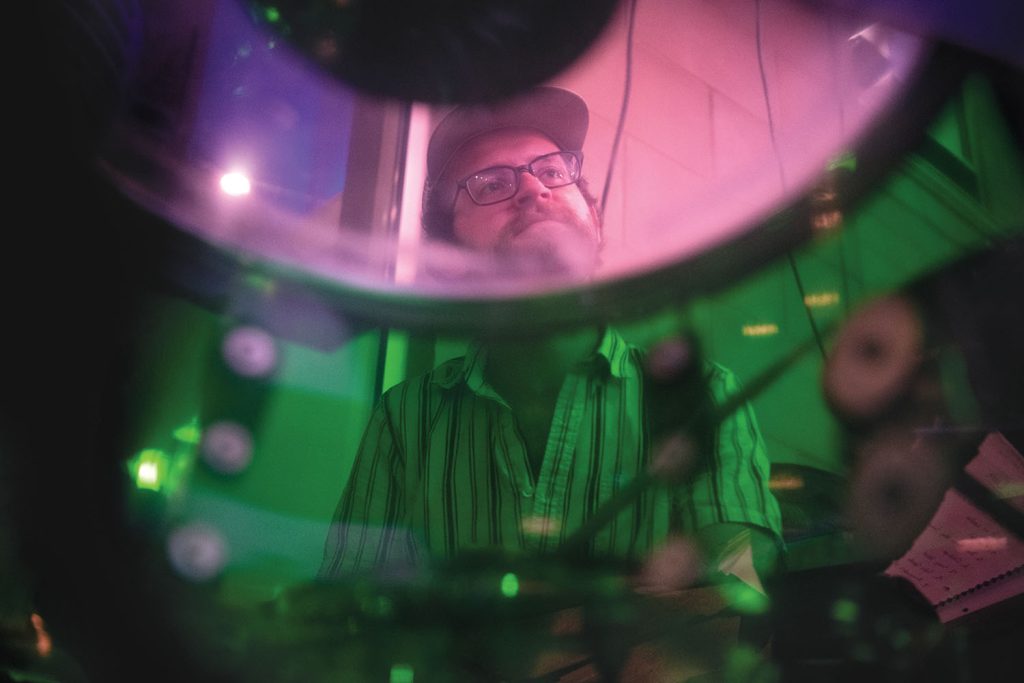 In May 2021, Jones played with Japan Drier at the Bowling Green bar, Donna's. The owner, a friend of Jones, asked them to perform even though they had no songs prepared. Jones and his band played for 45 minutes, improvising the whole time.
"Everyone was reading each other and communicating really well — just super fun," Jones said. "We can just sit there and speak and have this huge musical conversation out of thin air. That proves more to us about our ability to navigate, rather than just regurgitating something."
Holder has been improvising with Jones since 2013, when they were both students at WKU.
"There's this house on Sherwood in Bowling Green that, for as long as I can remember, that's where we went. I'd walk out of class at 3 p.m., get a six pack and go to Sherwood to jam for like six hours. It's like 'I'm gonna hit my instrument and it's going to sound terrible and I'm going to hit it until it sounds good.' We'd take ideas to the extreme."
Jones fondly remembered another case of on-stage improvisation when he played with the band Morning Teleportation at a venue in Chicago in 2017.
"In the middle of a song, Tiger, our guitar player, would start another song. And you'd sometimes only catch two notes, and then you had to be there with him. And we got to the point where it was like nesting dolls — he put a song within a song within a song," Jones said.
Most songs' time signatures — how many beats are in a measure — are in 4/4 or 6/8, but Jones likes to experiment and play in odd tempos. During one show for Spirit Week, he tried to flip the beat to sound similar to the drums in "Sunshine of Your Love" by British rock band Cream.
"All the guys just thought I messed up. Afterwards (they said) 'I don't know what you did but you really fucked that up bad.' I was like, 'No, that was on purpose,'" Jones said.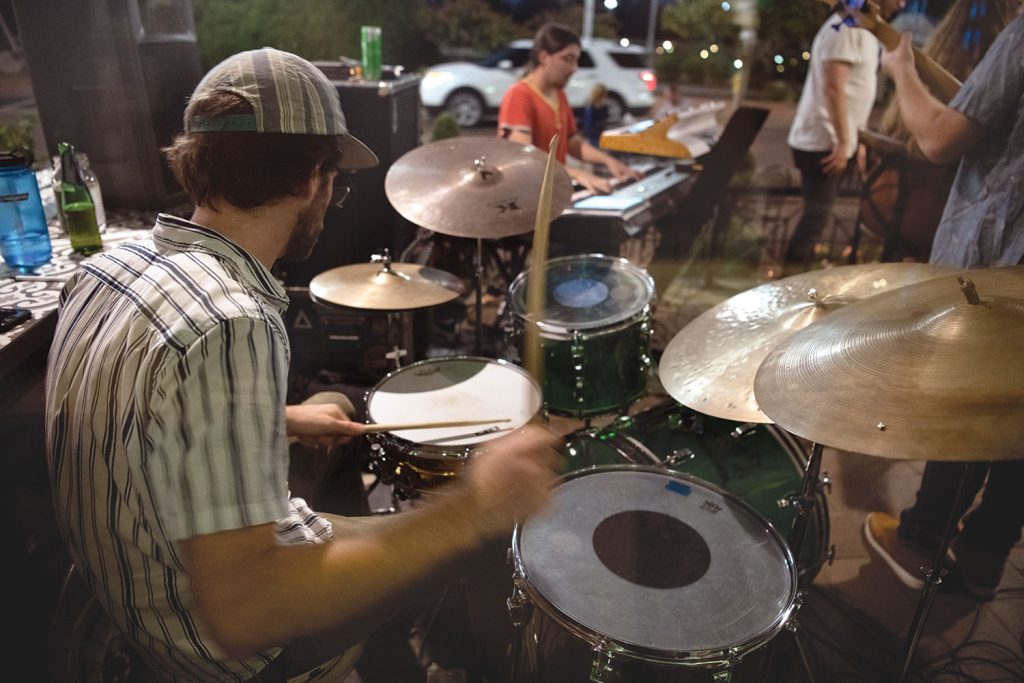 Jones said with rehearsed songs, it's inevitable that you will mess up.
"When you mess up, you smile. That's a big rule my dad told me. When I was in Morning Teleportation, in the middle of a song, it just ripped in half. Two people thought we're going here, and two people thought we were going there, and it just stopped," Jones said. "My solution was to just keep playing. The keyboard player got so upset that he threw his microphone on the ground, stormed off the stage and just started doing shots. We played without him. At the end of that show, people didn't go 'Man, I saw how you all fucked up.' They said 'What's wrong with your keyboard player? Why is he so upset?'"
Holder sees Jones' ability to keep going through mistakes as something essential to a band's success.
"Especially in Spirit Week, just playing with Joseph and the way we played, I don't think we ever saw mistakes as something that was a complete derailing factor," Holder said. "You have to be able to make mistakes and recover from them smoothly to keep the flow going. That's just as much a part of the pie, as you know, the actual creation of the music."