When walking inside Green Earth Stones Metaphysical Center, there is a strong scent of candles, incense and essential oils, with smells ranging from apple pie to the Norse god Thor. Crystals sit in piles on glass shelves that fill the center of the space. Different spiritual elements, including books, statues, tarot cards and oracle cards, line bookshelves in the back.
Green Earth Stones, located in a strip mall on the 31 W Bypass along with Firehouse Pizza and Baskin-Robbins, is "one-of-a-kind" in this town, said sophomore Lauren Brown, whose mother owns the store. People often visit Green Earth Stones because it's not the type of store they would think to encounter in a smaller town like Bowling Green since it has a more niche focus, Lauren said.
Kathryn Brown, the owner of Green Earth Stones, was born in Lancashire, Great Britain, and spent most of her life in Cumbria, also known as the Lake District. She said she moved to Bowling Green 16 years ago because of her husband, leaving behind all of her family in Great Britain to start her own here.
Kathryn said she originally worked in an office for 10 years but found the work was not for her — she wanted to blaze her own trail and be her own boss. She had always been interested in spirituality and metaphysics, which are popular in Great Britain.
"We're all the same, yet we're all so different, and one of those differences is spirituality," Kathryn said. "It's always been a fascination of mine."
Kathryn said she is a natural medium, meaning someone who can communicate between the living and the dead. She said at around 8 or 9 years old, she lived in an old house that had lots of spiritual activity, and she became interested in meditation practice through studying martial arts as a child.
Green Earth Stones opened as an online store in 2008 on greenearthstones.com, which is still a functioning website, and Kathryn originally balanced the website with her office job. It sold mostly crystals, incense and smudge blends, which are mixtures of loose herbs that are burnt, Kathryn said.
The online store kept growing, which Kathryn said gave her the opportunity to expand. Kathryn had always wanted to open a retail store.
"This kinda sounds corny, but even as a little girl, I always wanted to be a shop owner," she said.
Kathryn has seen a few other people attempt to open metaphysical shops in Bowling Green and fail within a year or two. Green Earth Stones' retail store has been open for seven years now.
"My little shop has brought home the importance of small business and micro-communities and bringing like-minded people together," Kathryn said. "There's a big importance on how that affects community — my shop affects the community in a small way, but it's a very positive way."
Kathryn said she did not want people to just come in and shop at her store — she wanted them to feel as though they could come at any point just to de-stress and get help along their spiritual paths. At times, people come in who have had stressful days and just want a space to meditate and "zen out" for a bit.
"A huge percentage of people that come through the door always say they could just spend the entire day here," Lauren said.
Green Earth Stones also has many classes and events for customers, including tarot card readings, group meditation, yoga classes, a book club and Reiki, a practice through which a practitioner channels energy into a patient through touch and heals or restores them.
"Everybody that comes through my door has been absolutely lovely," Kathryn said. "I think they get a sense of what I'm about and what my shop's about, and I don't care what walk of life you're from or what spiritual path you have or have not — that's irrelevant."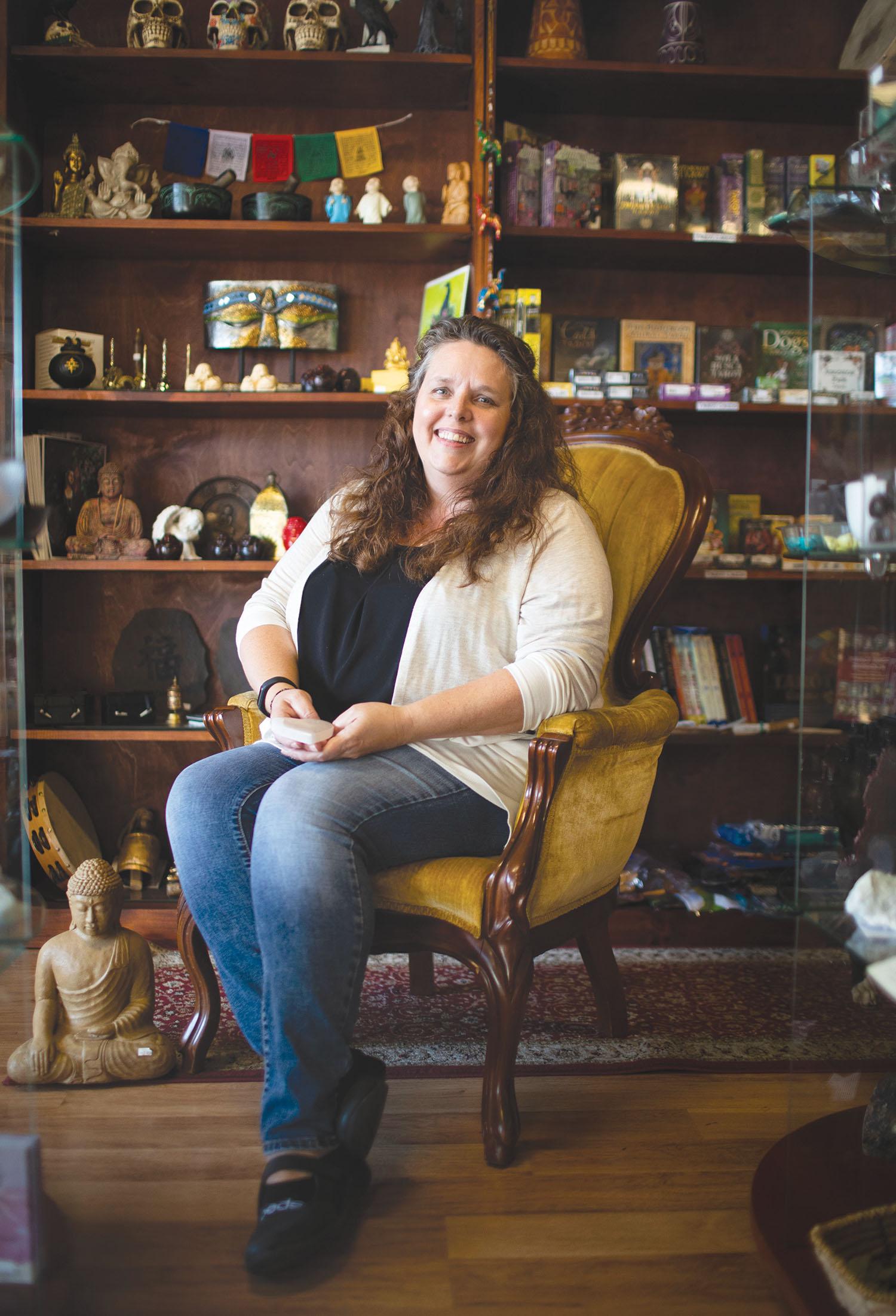 One customer who said she developed a deep connection with Green Earth Stones is Kelly Lamastus, who now works at the store on Saturday evenings.
Lamastus has another full-time job throughout the week but said working three hours every Saturday evening restores her mentally.
"This job is what feeds my passion — feeds my soul, basically," she said.
Green Earth Stones has allowed Lamastus to accept herself as an empath, which is someone who feels other people's emotions as deeply as their own. Sometimes, she has found it difficult to connect with other people as an empath since she feels everything for everyone else, but it is difficult for others to understand her emotions to the same intensity.
"I feel so different much of the time," Lamastus said. "I feel everybody else's stuff and help everyone else, but then it feels like, when it's me, I'm kinda out there by myself."
She grew up in a religious Christian household where relatives like her mother and grandmother told her that being an empath was not natural, but rather different in a bad way. She said she was always curious about that side of herself but did not look into it for a while.
Accepting her identity as an empath has both blessed and empowered her, she said.
"Honestly it has really helped me," Lamastus said. "It has allowed me to be me."
Lamastus said Kathryn helps everyone who comes into Green Earth Stones. They try to help customers find ways and products to reduce their stress or continue developing their spirituality.
"So many people are seeking and are on different spiritual paths, and what I have noticed about the shop is it has a wonderful way of bringing people with such diverse backgrounds together, and there's a common thread that runs through us all," Kathryn said.
Kathryn said some of the customers call her their "meta-mom," which is short for metaphysical mom.
"If you've got a metaphysical shop, you're not in it to make a ton of money," Kathryn said. "I'm doing what brings me joy."
At Green Earth Stones, there are many different types of crystals offered. Kathryn said many start with the seven chakras, which are the seven points on the body where energy goes through, from crown to root, as the first essential crystals.
"I always tell people just to walk around the shop and see what intuitively you're drawn to or just what catches your eye," Kathryn said.
Blues and greens are relaxing colors, and those stones can especially help de-stress, something many college students might need, Kathryn said.
"I don't have these grandeur visions of having this big metaphysical center," Kathryn said. "What I've got here, my little shop, brings me joy in life, and it allows me to do what I want to do, and it's as simple as that."