Sitting down at his desk in his office with white walls covered in plenty of WKU red decor in Diddle Arena, WKU Volleyball Coach Travis Hudson straightened his chaotic array of papers and scattered pens as he turned off music playing from his Amazon Echo Dot. Behind him was WKU's red towel logo on his wall, painting the perfect halo around his frame.
Hudson first became involved with the volleyball team as a student majoring in business management. He was a practice player before becoming a volunteer assistant coach for the team. In 1994, he graduated from WKU and became the head coach. At 25 years old, he was the youngest head coach in Division I volleyball. In 2019, he celebrated his 25th season in the position of head coach.
While coaching volleyball was never on his radar while he was an undergraduate and years prior, Hudson claimed it was not much of a shock to end up coaching a sport he did not have much experience in other than his first encounter as a practice player. The coach said he always knew he wanted to work with children as either a teacher or coach.
With this position, however, he found his perfect match.
Senior player Emma Kowalkowski from Lake Orion, Mich., said Hudson loves to spend the last 30 minutes before games giving "chalk talks" to fans who want to know more about the game. During these "chalk talks," he will explain the game plan and the technique and give a breakdown of how fans should watch the game. In Diddle's media room, Hudson will gather a small audience of fans who want to understand the game better and break it down for them from his seat at the press table. Kowalkowski said she has not seen this kind of engagement with fans in her experience before working with Hudson, and it is one of the many factors that contributes to his success.
"He respects everyone who buys a ticket," Kowalkowski said. "They create that atmosphere."
While being a coach satisfies the teaching aspect of some of his early intentions, the only kids Hudson really gets to work with, besides his younger fans, are more grown-up than he would experience in a primary or secondary school classroom. Hudson did not lose out completely on working with younger children by taking a job with adults, though, because his two sons Tyler Hudson, a high school senior, and Andrew Hudson, an eighth grader, are involved every step of the way. Kowalkowski said his sons are always around Diddle and are involved in the life of the team by attending events and cheering on the players. Tyler is not very interested in the sport, but Andrew is the "volleyball nut."
While Tyler may not share his father's passion for the sport, he shares Hudson's passion for the outdoors. The coach loves to spend time outdoors and on the lake, especially with Tyler, who enjoys the same activities with his dad.
"Tyler gets that," he said in reference to his son's shared passion for the outdoors.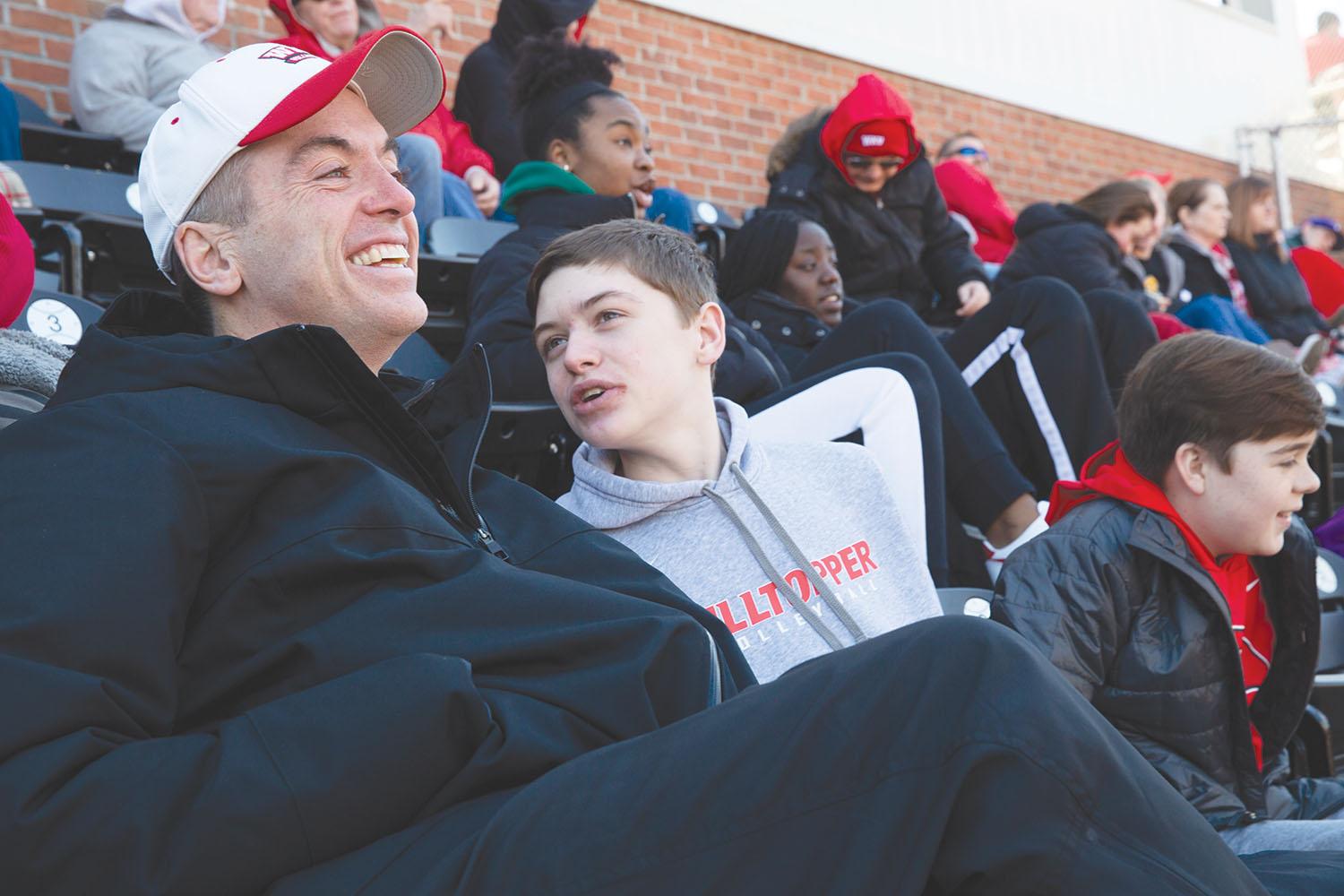 So while Tyler might prefer to spend his days out on the lake rather than on the court, that does not stop him from being by his father's side when working with the Lady Toppers. Hudson joked about having two sons while coaching a team of women and said, "I like to think I got all of the girl problems with the team, and so the good Lord blessed me with two boys."
One thing Hudson said makes him different from other coaches and defines the ideal relationship between a coach and their players is that he does not keep the emotional distance between his family and his team that he said most coaches think should exist.
"Travis is the best example of what the relationship should be," Kowalkowski said.
Kowalkowski said that Hudson treats his players like they are his own daughters and makes sure to trust them as they trust him. Working as a team requires a lot of trust, both strategically and emotionally, so Hudson makes sure it's present on both ends. Kowalkowski also said she agrees that this is a big key in how successful the team is when compared to past experiences.
Ashley Hood, a sophomore from Morris, Ill., said Hudson is very different from her past coaches.
"He's so caring inside and outside of the game," she said.
Hood is also grateful for Hudson's disregard for the emotional distance her previous coaches would usually cement in place. Both players mentioned that their old coaches would have never acted as a secondary father figure or opened up their homes the way Hudson has made sure to do.
"He's a trailblazer. He's not afraid to be different."

-Emma Kowalkowski
Hood's family is seven hours away from WKU, so she's found a sense of family with Hudson.
"Coach Hudson is like a father figure to me in the way he expands my support system in a town so far away from home," she said.
Kowalkowski expressed similar sentiments about the way Hudson opens up his home to his players. The second tournament during her freshman year was not a good moment for her personally, so Hudson invited her to his home on a Saturday to go over plays and review tapes.
"He's a trailblazer," she said. "He's not afraid to be different."
Instead of building off of the skills his players developed since they started playing the sport in their childhoods, he tells them to forget all the old tactics they know. Kowalkowski described the process as Hudson taking them as blank slates to rebuild them to fit seamlessly together as one new team, and the results are astounding.
WKU hosted and participated in some games of the National Collegiate Athletic Association Tournament in December 2019 and had a record-breaking attendance with 9,537 fans in the stands of Diddle. Kowalkowski said Hudson's uncommon coaching methods were strange when she first joined the team, and it sounded crazy when she first arrived, but she can't deny that it works.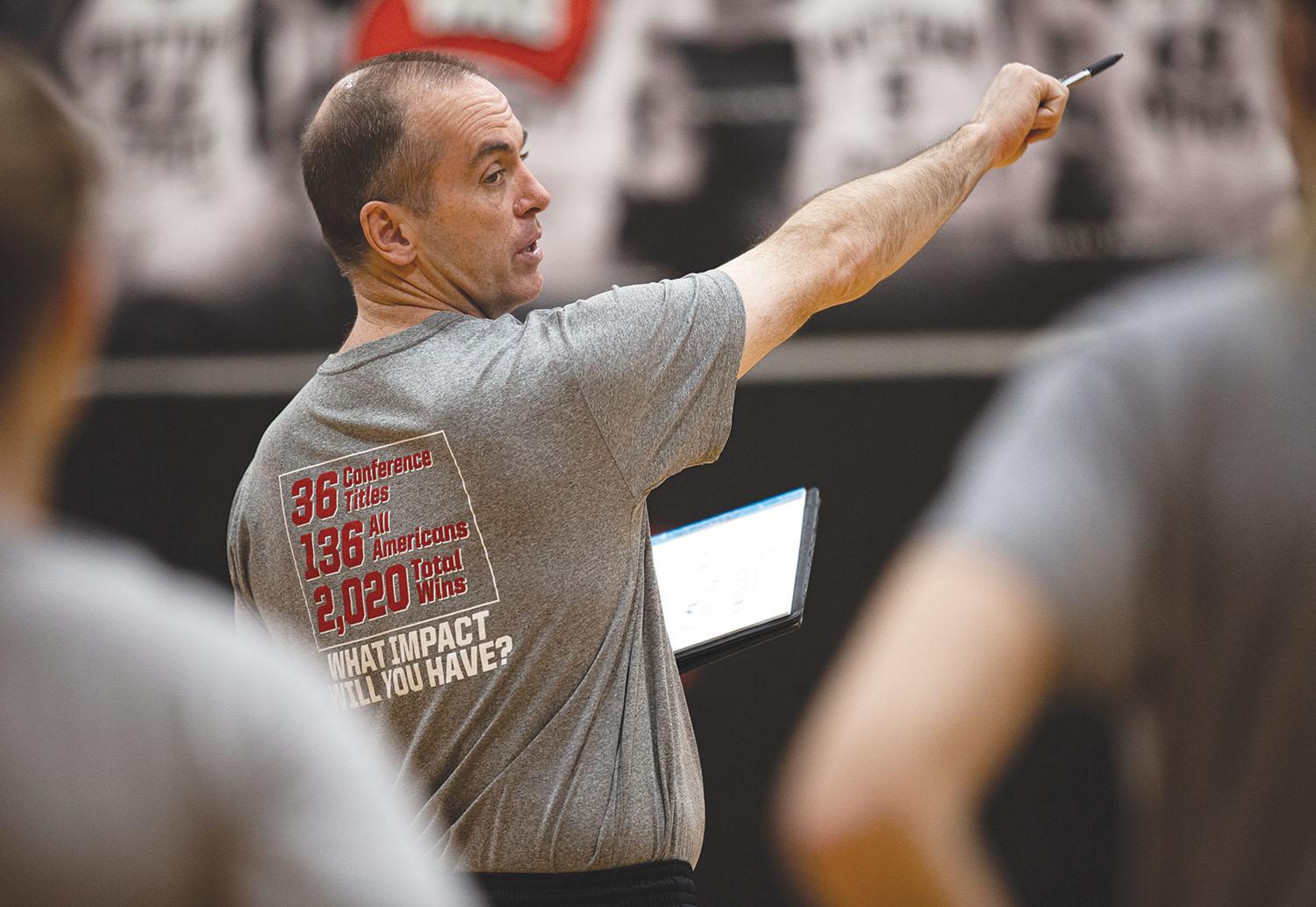 Kowalkowski said part of this build-from-the-ground-up method includes growth in areas that are not necessarily related to volleyball, like teaching his players to hold themselves accountable in many ways. One practice he has for his players is having them hand write thank-you notes for any person they feel grateful for in their lives. Hudson will personally take the notes or mail them to their recipients. Kowalkowski said she felt grateful for a janitor in the Downing Student Union, and Hudson tracked down the janitor to personally deliver Kowalkowski's note to him.
"As the generations go by, kids communicate less and less," Hudson said. "Tell people you love and appreciate them."
Speaking on this, Hudson was comfortable enough to share a small piece about his past.
"I come from very little," he said. "I had a poor family and think people should be genuine to who they are as people. As you navigate the world, you realize it's not just the people with titles and money that are special and unique — it's important to appreciate the people around you every day."
Being a coach has made him realize this sentiment more and more.
"In a lasting relationship of any kind, who you are as a person is going to shine through," he said.
Hudson said people can look beyond his success as a coach, as he is far more interested in being a good father and someone his players can turn to whether they are an 18-year-old freshman or a past player well into their adult life. Hudson said people always talk about having a "big break" into sudden success and fame but also how it's more uplifting than anything else in the world to have someone who believes in you through the greatest hardships.
"I hope to be one of those people," he said.