Shuffle, shuffle, heel, dig. Shuffle, pick-up, flap.
The punch of an unfamiliar combination of words and the heavy sound of feet shuffling against vinyl may be heard throughout Gordon Wilson Hall on the occasional weeknight. It can be difficult to concentrate on the rumble when the feet shuffle to their own rhythm; however, there comes a moment when the rumbling stops, and the feet shuffle, heel and dig in unison. The sound is powerful — the sound is tap dancing.
To reach that powerful unity, the dancers are gathered into a studio and choreographed to a tap dance routine by Amanda Clark, a WKU dance professor and the dance program coordinator.
"Do it again," Clark said with a smile as the dancers tapped along to "Survivor" by Destiny's Child.
Clark, who is from Kokomo, Indiana, has been a professor at WKU since 2005. She received her bachelor's degree in dance performance from Oklahoma City University and her master's degree in dance from the University of Oklahoma. She said she knew teaching was her passion as soon as she graduated college.
"Regardless of whether I'm tired, stressed or worried about something, when I go to teach, I forget about all of that," Clark said.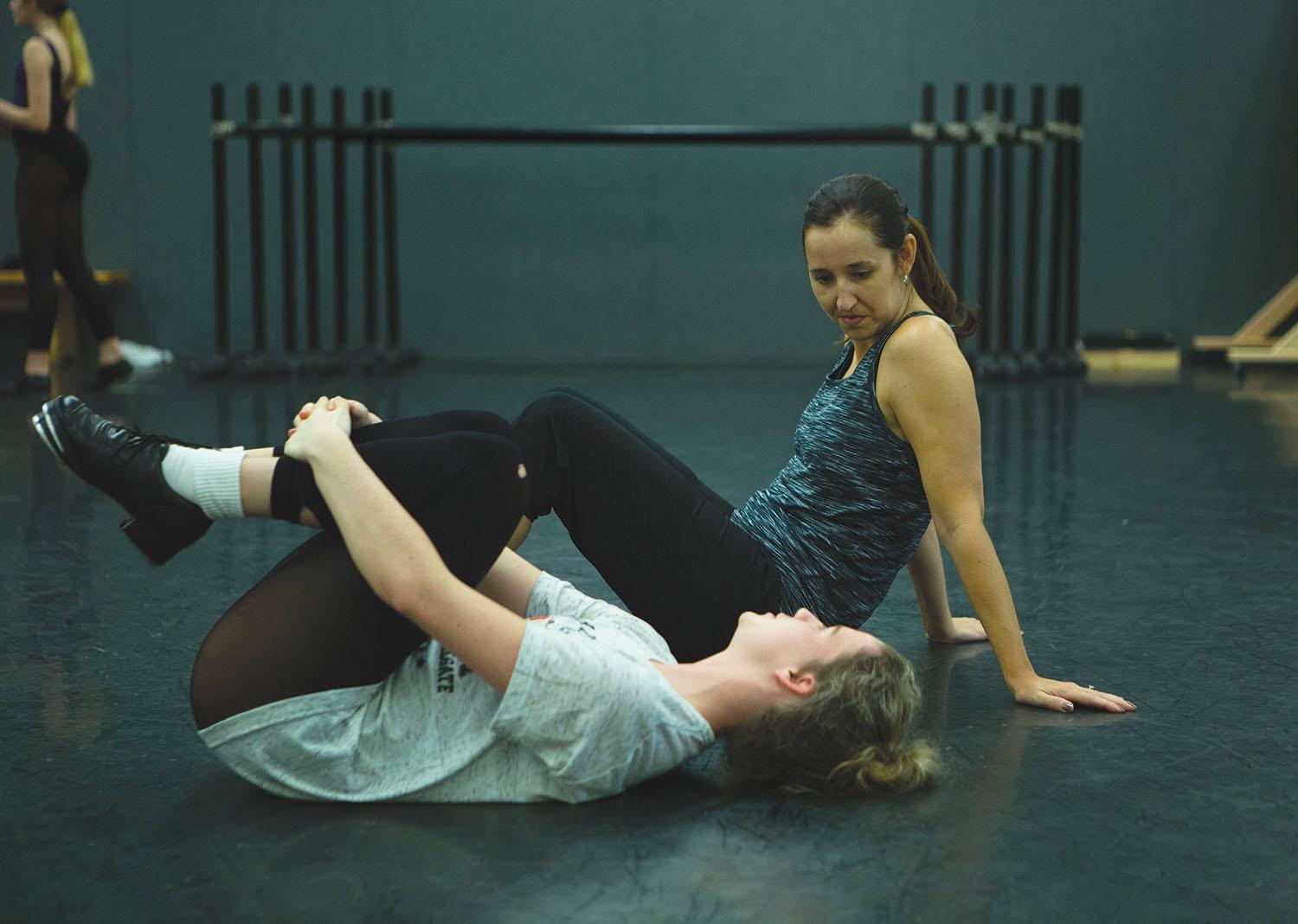 When she initially went off to begin her undergraduate degree, Clark thought she wanted to dance professionally. She said she most likely would have danced in a jazz company after school, but by senior year, she discovered teaching was her passion. Though teaching at her mother's dance studio was an option, she sought out higher education.
Clark typically manages several positions within WKU's dance program. Along with teaching tap, jazz, choreography and dance pedagogy, Clark is the dance program coordinator. She oversees the budget, recruitment and scheduling for the program, and she is the artistic director for the Dance Company, WKU's company that performs pieces choreographed by faculty.
However, Clark is spending the fall 2019 semester on sabbatical co-writing her first book, a dance appreciation textbook for nondancers. She has never taken a sabbatical before and said she felt like it was a good time to.
"I wasn't feeling like I needed a break, but I knew a break could always be healthy," Clark said.
She said the first week back from summer break was hard; it drove her crazy to not be on campus, see the students or be involved.
It was then that she decided she would reach out to students to see who would be interested in getting together outside of class and "playing with tap phrases." Clark said within minutes, she was receiving enthusiastic responses from dancers.
"It was just about playing around and seeing where things go," she said. "I had a goal to challenge myself with different types of music and to think outside the box."
While Clark enjoys all genres of dance, she said she is especially interested in tap and has been since she started dancing at 2 years old. She practiced tap, ballet and jazz throughout her childhood and concentrated on them as an undergraduate.
To Clark, tap is unique and important in dance education. She said she wanted to keep herself choreographically sharp while on sabbatical.
"Going into the studio to teach is what keeps me grounded and refreshed," she said. "It's rejuvenating."
Along with coming back to campus to teach the occasional tap dancing class, Clark has taken on additional roles. She is serving as a faculty mentor for three seniors as they choreograph The Dance Project, the program's annual student-choreographed concert held every February. She is the faculty adviser for an honors capstone experience project that will be defended in December, and she is assisting two students with their faculty undergraduate student engagement, or FUSE, grants.
As a mentor for The Dance Project, Clark said she serves as a "sounding board" for the seniors as they navigate the creative process.
"She always pushes us, and you know she cares for you," said Elise Wilham, a Louisville senior and dance major. "When she gives you a suggestion, you want to follow through. We all trust her a lot."
In the dance studio on Sept. 18, a dancer asked, "Where does the heel drop?"
"Listen," Clark said.
The dancers held their feet still and watched as Clark's feet demonstrated the dance phrase in the mirror across from them. They listened to the sound of the metal taps on vinyl, soon to replicate them.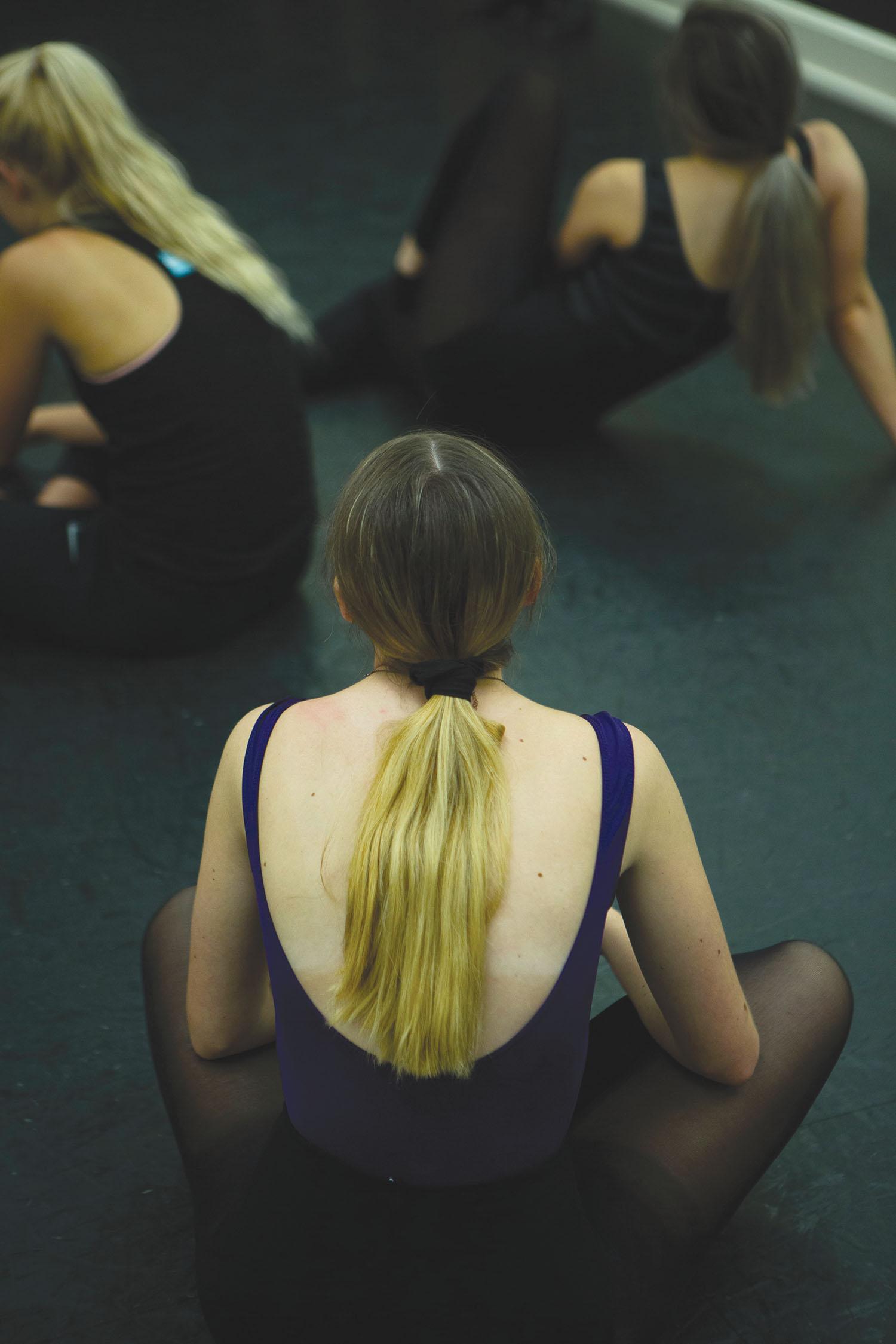 Wilham, who has been dancing since she was 5 years old and is currently the president of the WKU National Dance Education Organization student chapter, has taken a class with Clark every semester since her freshman year. She just completed a FUSE grant, during which she was mentored by Clark through the whole research process.
Wilham received her FUSE grant to attend the Big Apple Tap Festival in New York City. She said she studied contemporary female tap dancers and was able to take classes with female tap dancers firsthand. Clark attended the festival with her.
"She works magic," Wilham said. She said she believes Clark is special because she manages to be specific for each individual dancer in the class — she doesn't generalize.
"There's a spark behind her eye when she's teaching class," she said.
Wilham said when she came to WKU as a freshman, she didn't see the potential and importance of tap dancing as a career. Now, she is completing an honors capstone experience project on tap history and contemporary tap, and Clark is her adviser.
"Without her, I would be a completely different dancer," she said.
There are two collegiate dance programs in Kentucky, and WKU's program is the only one accredited by the National Association of Schools of Dance. The accreditation signifies a pledge to seek optimum learning conditions for dance students and develop the strength and quality of dance in higher education by assisting institutional members and their faculty to do their best work, according to the association.
"We find it very important for our students to get a well-rounded education," Clark said. "Today, it is essential for dancers, and they will be asked to do everything."
Dance majors at WKU are required to take classes in ballet, modern, jazz and tap. Clark said it is rare for jazz to be incorporated in dance programs, and even more rare for tap, which just recently became a required class for dance majors.
"We're trying to help our students become as marketable — as employable — as they can be," she said.
Clark is especially interested in the history of tap dancing.
"Tap is unique from the other dance genres," Clark said. "You go to a ballet class and a plié is a plié, a tendu is a tendu. You go to a tap class and what one person calls a pick-up, another person calls a pull-back."
Tap dancing was first brought to the United States in the 19th century during the transatlantic slave trade, Clark said. Rooted in African, Irish and English dance, white slaveholders learned tap dancing by observing their slaves dance on plantations.
Tap dancing flourished as an art form during the 1920s through the 1940s, and it developed parallel to jazz music. Clark said it was a style of dance that was performed with jazz musicians in night clubs and ballrooms.
During the '70s and '80s, modern dancers took the concert aspects of their modern dance training and combined it with their traditional tap training to form a concert tap style of dance, having sought out African American tap dancers as mentors.
"It was the idea of having a concept, something deeper behind a piece rather than it being just for entertainment," Clark said.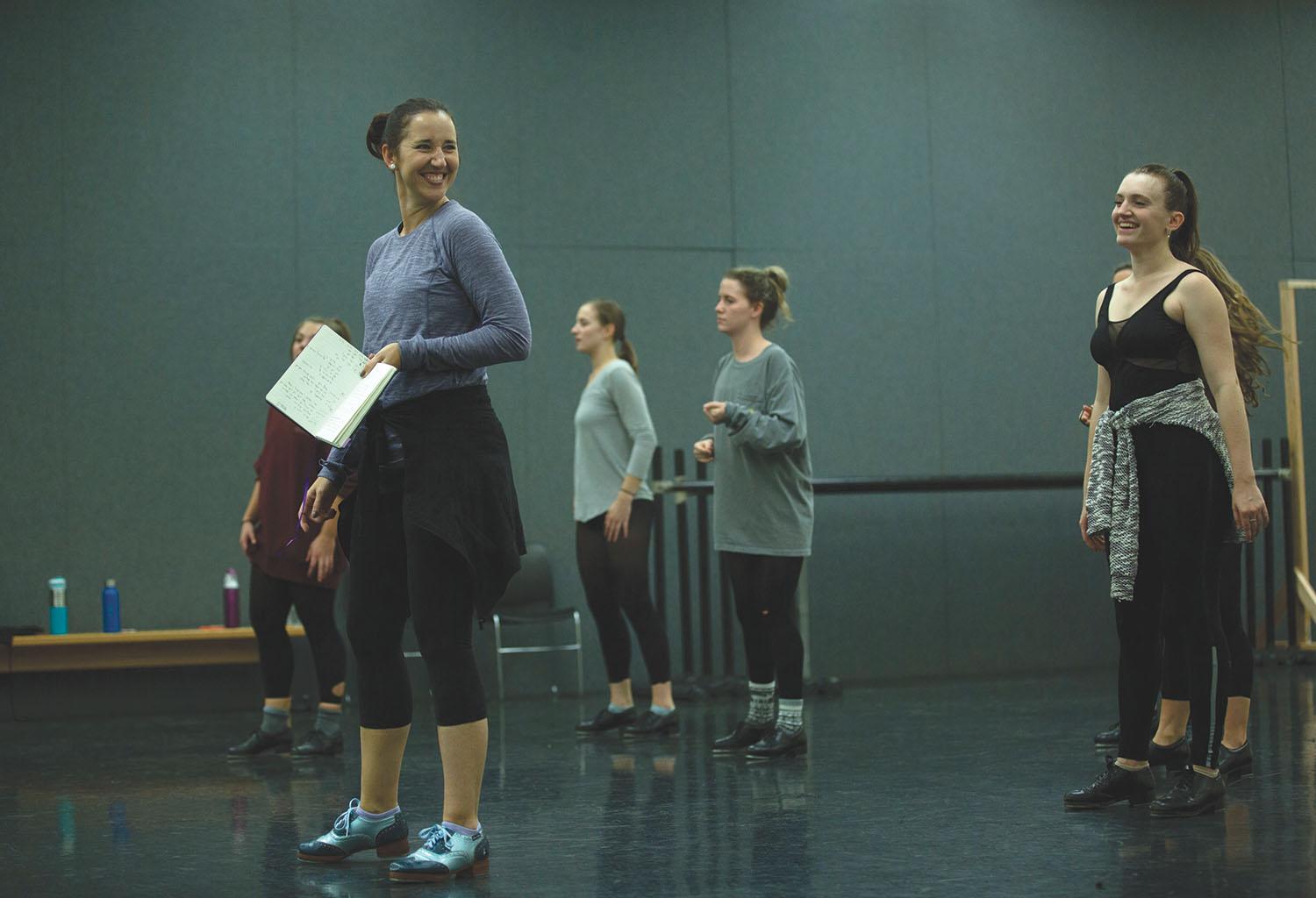 There are three main styles of tap dancing: buck-and-wing, Broadway and rhythm.
Buck-and-wing tap dancing is very heavy and flat-footed, while Broadway tap dancing is high energy and is done up on the balls of the feet. Broadway consists of a large ensemble in unison, dancing to a steady beat and using the lines of their upper body.
Rhythm tap dancing, however, is the style that Clark primarily teaches her students. This style uses more of the heel and different parts of the foot and shoe and focuses less on the upper body. Clark said she doesn't want her students to focus too much on upper body training but instead focus on feeling the music's rhythm.
When the chorus of "Survivor" blared throughout the dance studio on Sept. 18, the dancers tapped with the same gusto and impact as the beat suggested — the lyrics, "I'm a survivor, I'm not gon' give up," affirmed their power.
Clark led the group as they tapped their way through the routine once again. There came a moment when she stopped tapping, turned around to face the dancers and just watched.
"Don't let me stop you," she said when the dancers hesitated to continue without her.
Front and center during the entire dance practice was Lexi Rice, a senior dance major from New Albany, Indiana. Having tap danced since she was 2 years old, Rice said dancing is a way for her to express herself without using words.
"The stage is when I allow myself to be me," she said. "There's no better feeling than being able to be myself, to be free with a piece of music — just dancing."
Rice said when she came to WKU, there were not a lot of tap dancers. She said Clark had heard by word of mouth that Rice and Wilham had tap shoes and was thrilled to bring new life to the program.
Before Clark went on sabbatical, Rice had a class with her and was cast in at least one of her Dance Company routines every semester. In addition to Wilham, Rice is another one of the students choreographing The Dance Project that Clark is advising.
Rice said coming in as a freshman, many students are scared of Clark's honesty. She said Clark can be very blunt, but being realistic is what makes the dancers trust her so much — she doesn't sugarcoat.
"She always says to us, 'I know you're struggling, but you're doing a good job,'" Rice said.
Rice recalled a time when she had a breakdown from struggling with school and had to attend Clark's dance class.
Rice said Clark looked at her and said, "'I don't know where you need to be right now, but it's not here. Go find that place.'"
Because of this, Rice said she finds her relationship with Clark to be personal.
"I don't think Amanda realizes just how strong and amazing of a human she is," she said. "I don't think she realizes how much she does for us."
Clark will return from her sabbatical in spring 2020. Until then, she can be found near the sound of the thick-heeled, metal-tapped shoes rumbling in a dance studio on the occasional weeknight.