On the concrete floor of the ceramics studio in the Fine Arts Center lay rectangular wooden frames, empty and about the size of an 11-by-17 inch poster. Professor Greg Strange's sophomore-level ceramic students crowded around with pieces of their own finished pottery in their hands. Kennedie Nelson, a sophomore from Lexington, was among them.
Black, chipped nail polish and silver rings adorned her fingers, which were wrapped around her meticulously crafted vase. Industrial fans whirred in the back of the room, echoing off the cinder block walls, and dated metal shelves were decorated with the marks of paintbrushes. It was quiet — until the sound of hardened clay slammed onto the ground. This day was one of many in this ceramics class when students were assigned the task of breaking their past artwork. The frames served to catch flying shards of pottery.
"Our professors tell us not to cherish too much of our pottery because it will break in the future," Nelson said. "Things are going to break. If it shatters, let it shatter."
Nelson grew up creating things.
"I would make fishing rods out of empty chapstick tubes, some ribbon and a paperclip," she said.
At 5 years old, during vacation Bible school, Nelson crafted her first piece of art from clay. It was an imitation of the biblical story of God forming the first man, Adam, from the dirt of the earth. Nelson pulled the clay into her hands and began making a model of herself.
"I made my hair, the eyes, the nose; it was like a perfect doll," she said. "But not perfect."
Her instructor and her mother were amazed with the realism of the clay doll, she said. At 8 years old, her art teacher recommended her to attend School for the Creative and Performing Arts, an art school in Lexington for artistically gifted children and teenagers. She has been in ceramics classes since then.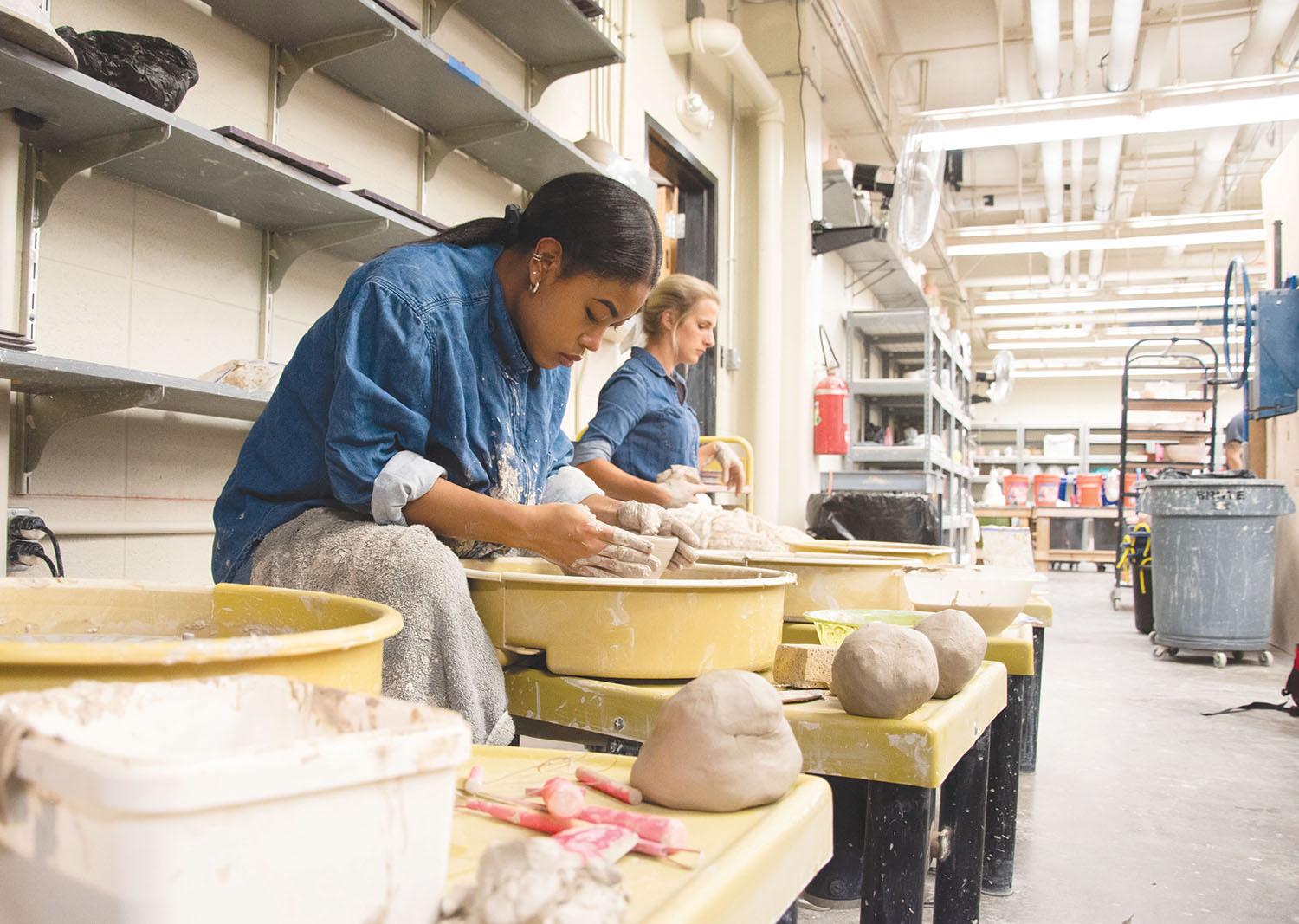 Shelby Riley, a junior from Sellersburg, Indiana, had hands coated in layers of multi-colored paint while sitting in the wooden chairs of the student lounge of FAC. On her shirt was Smokey Bear framed by pink peonies and purple pansies. Her major is studio art with a focus on drawing and painting, which explained her paint-covered palms.
"I don't know if you would consider me a potter," she said. "I just do clay on the side."
Riley is involved with WKU's clay club, which is her central connection to pottery. While she may not be extensively involved with the ceramics department, this does not separate her from the intricacy and understanding of the drive it takes to create art.
"Maybe it isn't the prettiest, but they still put effort into it," she said on the work of less experienced potters.
"There is an artist in everyone," said Rachel Rummage, a senior from Hopkinsville. "Artists have a drive to create and understand that everyone does too."
Rummage had hair falling into her face from a pink scrunchie's attempt to hold it in a ponytail, and a teal towel slung across her lap was decorated with streaks of beige clay. She was hunched over the pale yellow pottery stool, trying to shape an amorphous stack of clay into a vase.
She first threw clay as a teenager at a pottery session for her mom's birthday and then took a pottery class in high school. However, she didn't fully fall into pottery until college. Rummage has two majors: graphic design and studio art, with a concentration in printmaking and ceramics.
"Graphic design is definitely how you pay the bills, and clay is what gets me through school," she said. "It's kinda like the retirement plan, too. I feel like when I'm old, I'll just make mugs."
No matter the potter's experience level with clay, it is an involved process. They spend hours wedging the clay, a process where a stack of clay is repeatedly hit against a block of concrete to make it more malleable. They then throw it on to the stool, shaping it until it takes form, glazing it carefully and finally putting it into the kiln. They've also smashed pieces of pottery with sledgehammers, thrown them against walls and watched the fire of the kiln send their pottery simmering into shards. From the women's experience, pottery is an art that can both generously give and also unapologetically take away.
"Sometimes there is no known outcome," Riley said.
Working on this line can be difficult, and not letting the art of pottery be completely life-consuming is imperative, a sentiment all three women hold. Budding potters are taught this from the start, as seen in Strange's decision for beginner potters to smash their old pottery pieces. The event of pottery getting ruined is painful, but it's "something you get used to," Rummage and Riley said in unison.
In the ceramics studio in FAC, senior Cecilia Morris from Whitesville works on an assignment to create a series of identical mugs. When too much pressure was applied to the fragile clay, it halfway collapsed in on itself. "Don't worry about that," Strange said to the student. "Go through the process. Finish it."
From the half-collapsed piece of clay, Morris revived it into the shape of a flower.
Morris was a self-defined "Play-Doh kid" as a child, always creating either from packaged clay or mud and dirt outside.
"It is an art that is very fragile but also very forgiving," Morris said, as her pair of yellowed Keds pressed down on the pedal controlling the speed of the pottery stool.
"You have to make good with what you're given," Nelson said. "Even if it's warped in some way, make something that way. It's about the process."
Rummage said there is a meaning behind the kiln's fire.
"The kiln is like the maturity process," Rummage said. "You put something into the kiln to mature it into stone."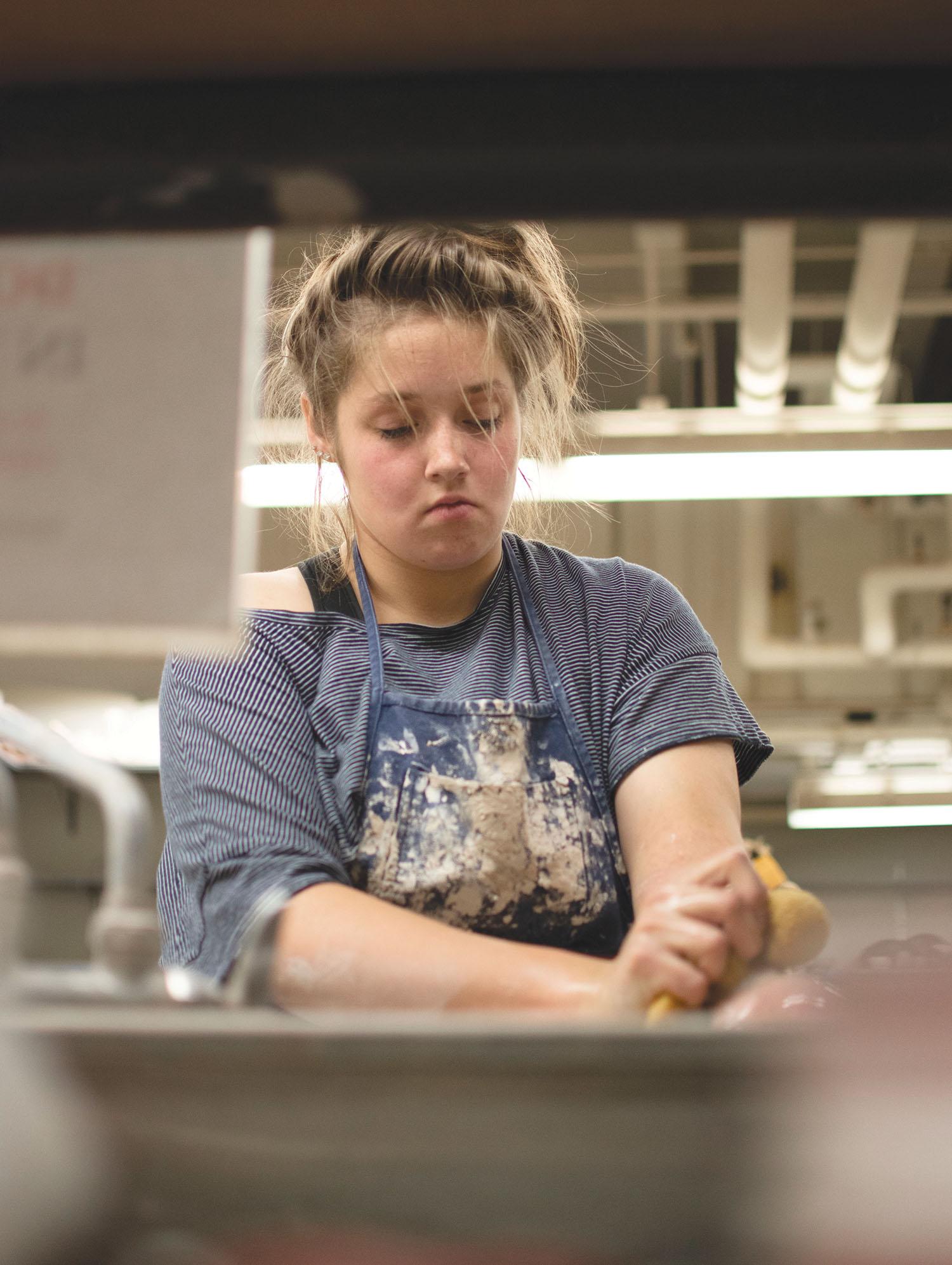 Firing the kiln is an all-immersive event that takes effort from everyone. Four or five students are consistently watching over the kiln, switching shifts every few hours.
"Even though you feel like you're in hell, you know the fire is being watched," Rummage said.
The students collectively fill the kiln, and everyone has art matured and fired at the same time. If a younger student's piece explodes in the kiln or the kiln itself is damaged, then everyone's work will influence everyone else's work, Rummage said.
The ceramics department is strongly community based, and the students have class critique sessions where they are able to grow from each other's ideas, Rummage said.
Even though there are age differences between the potters in the department, there is still a relationship between seniors and beginners, Riley said.
Riley described the feeling of holding clay in her hands as similar to holding a newborn baby.
"It's like having a kid I guess," Riley said.
There is a compelling amount of transcendence and understanding in creating pottery, Morris said. Like when raising children, potters are holding all of the potential in the world to make something beautiful. As Riley said, it is an intimacy that isn't sexual. While you are holding all of this potential, there is still an essence of succumbing to the clay.
"You have to play with it and then just do what it wants to do," Nelson said of the clay's personality and character. "Every time you try to force it to do something, it doesn't work."
For the potters, room 151 in FAC becomes a kind of home, Riley said. They are molded into themselves as they pull pieces of clay into pieces of artwork. As the clay flowers into a completed work of art, potters experience their own growth. It's an intimate process, creating art out of the calloused pads of hands.
As Rummage said, there is a sort of power in creating something out of nothing.