Under string lights and industrial-style ceilings, the interior of White Squirrel Brewery on Broadway Avenue began to fill with lively guests and welcoming employees. Around 4 p.m. on a Thursday, before it shifted to carryout only, the brewery was empty aside from a few guests at the bar being greeted by the bartender. 
"We'll start getting busy around 6," General Manager Courtney Holland said, settling herself behind the bar. She was surrounded with a motley array of liquor bottles, and a homemade board hung above her head that listed names and prices of in-house beers.
White Squirrel Brewery will celebrate its 5-year anniversary in 2020 by navigating to-go and curbside orders amid COVID-19 concerns.
Since the switch to to-go and delivery in Kentucky restaurants, White Squirrel Brewery has changed both its menu and hours. Now, the restaurant only offers carryout from 4 to 7 p.m. Tuesday through Sunday, and a special family menu is offered every day.
The family menu is priced at $25 and feeds four people, as it comes with a choice of one of the restaurant's three most popular entrees — pork tenderloin, fried chicken tenders or meatloaf — and three sides. The brewery starts taking orders at 3 p.m. 
However, the restaurant has not spent the past five years operating so restrictively. In fact, it's quite the opposite. 
Holland, who has been the general manager at White Squirrel Brewery for about two years, pointed to a man who was shaking hands with two guests at the far left end of the bar and introduced him as Sean Stevens.
Stevens, one of the three original founders of White Squirrel Brewery, is the primary owner of the brewery. He also brews all of the beer that the restaurant sells. 
"I've never seen it anywhere else," the bartender, Courtlin Sims, said. "I like that we brew the beer here because I can tell people about each beer that we brew based on what Sean tells me."
The brewery has three mainstay beers. Kolsch was the first one, and then came the Pale Ale and the Nut Brown, which Stevens said is more popular in the fall and winter as a seasonal brew. Still, the menu changes between the seasons to keep guests entertained. 
Sean sat at one of the high tops, sipping on ice water and reminiscing on the beginning of his business. Before the restaurant opened in 2015, it was three years in the making with Damon Wilcox and Jason Heflin.
"It took us about three years of making beers on Saturdays and drinking until we came up with business plans," Stevens said. "We'd brew and come up with really, really bad business plans."
After the three years of experimenting and brainstorming, Stevens and his two partners decided to open the brewery with the money they had — meaning they had to brew in the kitchen. 
"Finally we got tired of waiting for someone to give us money," Stevens said. "I just decided, 'fuck it, we'll brew in the kitchen.'"
Holland recalled the first year that the White Squirrel Brewery was open, which happened to be a tough time for Stevens. He was on the floor managing the restaurant by himself, was doing the marketing and social media and found time to brew the beer.
"It was so much fun and I was learning a lot, making a lot of mistakes, but it was rough," Stevens said. "I can write a good book on what not to do."
After about a year and a half, the restaurant leveled out and became what Sims called the small, cute and homey place she admires to this day.
"I like it a lot," Sims said, pouring a cup of ice water and sliding it across the bar. "All the stuff is sourced locally, a lot of our vegetables are sourced locally, our meats — I think that adds to it."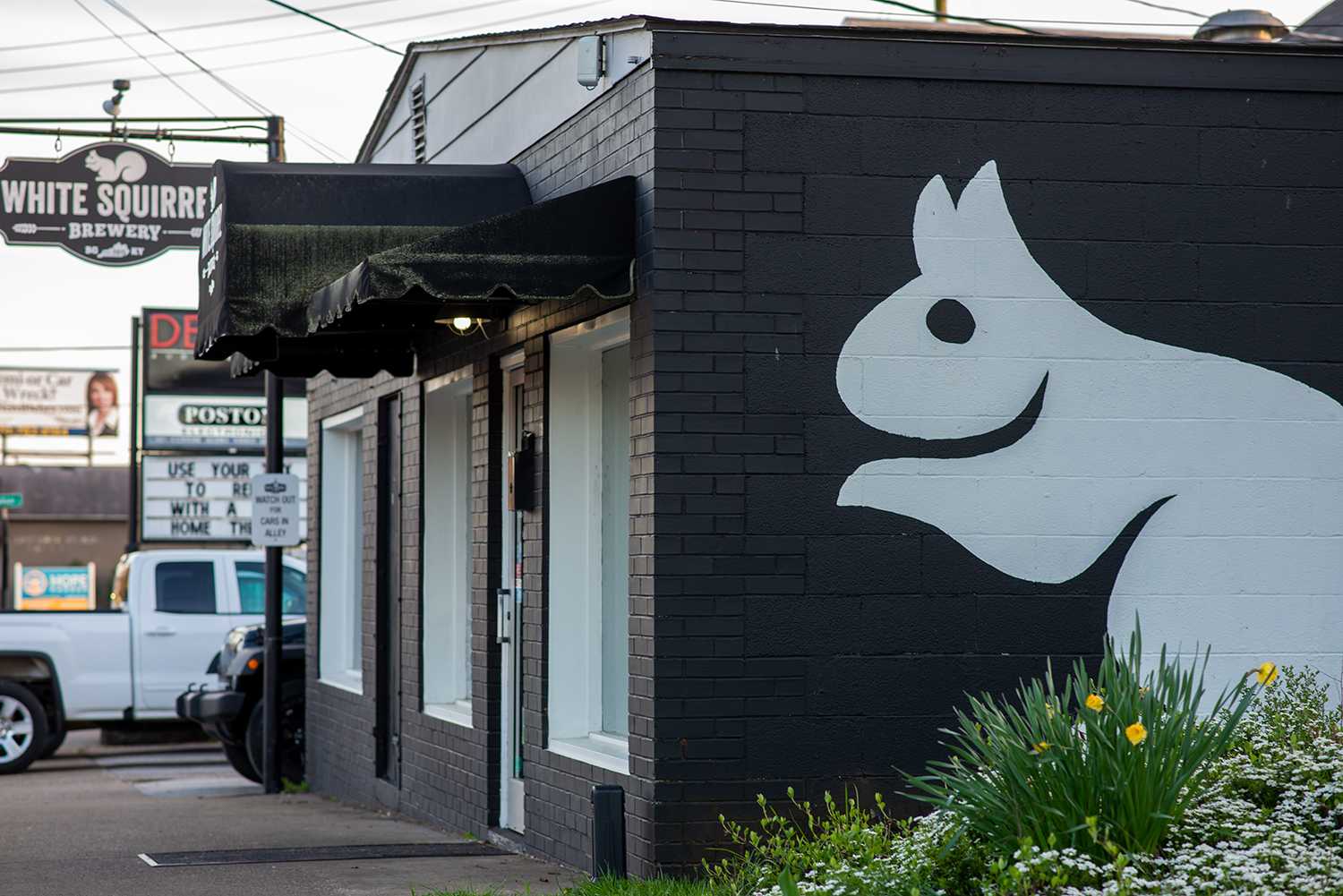 The White Squirrel Brewery is usually open Tuesday through Thursday 4 p.m. to 9 p.m., Friday and Saturday from 11 a.m. to 10 p.m., Sunday 10 a.m. to 8 p.m. and closed on Mondays. On Mondays, Stevens comes into the restaurant to brew the beer for the week. 
Stevens said that he has to move the entire kitchen around to brew, so he is usually there from 6 a.m. to 9 p.m. on Mondays. He hangs out in the restaurant as much as he can to check on things, but nowhere near as much as he used to be.
"I used to be in here 100 hours a week when I was running the restaurant and brewing the beer," Stevens said. 
At that point, Stevens brought Holland, a longtime friend, in to manage the restaurant and former Hops Brewery boss Tom Holmes — who also owns 440 Main — in to design the menu. 
Holland called the menu "eclectic," with signatures like the Hot Jam Burger, the Beef Burger and Fried Chicken & Waffles. Other items include the Apple & Kale Pizza and the Bacon Cup — a Stevens original. 
"I came up with the bacon cup," Stevens said. "That's my only claim to fame. Instead of serving nuts in a cup, I'm gonna serve bacon in a cup."
When the restaurant was first starting, Stevens said that the plan was to serve snacks out of a little toaster in the kitchen. However, in order to serve wine and liquor at his bar alongside the in-house brewed beer, there had to be 55 seats in the restaurant, and 51% of sales had to be from food. 
"My wife doesn't drink beer," Stevens said. "I couldn't just open a bar that she couldn't drink wine at."
On top of the core menu items offered, the brewery normally offers three specials a week from Wednesday to Tuesday. The menu is subject to change when the restaurant reopens to the public, as the kitchen just brought in a new chef. 
"We want to keep the menu fresh," Holland said. "We even have a few different things that we do throughout the week for the locals."
The brewery offers a game day special on days that WKU or UK play, cutting wings down to $5 and domestic beers down to $2. From 4 to 6 p.m. everyday, pints are $3.50, and wine is half-price on Wednesdays. Live music is offered outside during the summer. 
Regardless of the specials, Saturdays and Sunday brunch are typically the craziest times.
"You just can't move — it's crazy," Stevens said. 
With limited seating and a patio that remains open year-round to offer emergency seating when it gets too crowded behind the black brick walls, Stevens has no plans to expand or move the restaurant.
"You lose the feeling if you go somewhere else," Stevens shrugged. "I love the way this place feels." 
As it got dark, the string lights across the ceiling became more prominent and more guests began to file in. Stevens explained his plans to get the brewery out of the kitchen while still brewing at Broadway Avenue every once in a while.
"We brew in the kitchen, but we're trying to get the brewery out of here just to feed the restaurant," Stevens said. "If I keep a license here and get a license somewhere else, as long as I brew in this building every six months, it'll still be the brewery."
Named after the white squirrels that are good luck for students on campus, White Squirrel Brewery came together with three WKU alumni that wanted to create a "community brewery," according to the White Squirrel Brewery website. 
"Happy accidents — that's what this place is," Stevens said.