On the first floor of the Kentucky Museum stands several glass cases containing intricately designed clothing pieces that look like they're from the set of a period drama.
At the entrance of the exhibit, there is a gown from 1892 on display, adorned with beads, sequins, ribbon and ruffles. In another corner, there is a pink silk satin afternoon dress that draws the eye to its swirling floral print. Across the room there is a presentation of elaborately decorated hats. These well-preserved pieces were designed over 100 years ago by Bowling Green native, Mrs. Carrie Burnham Taylor.
Through garments, writings and photographs, the Kentucky Museum tells the story of Taylor in a curated exhibit titled "Styles and Thegistofit," named after the title of Taylor's short-lived fashion magazine. The exhibit opened on Oct. 23 and is a culmination of years of collaboration and research with WKU faculty and students.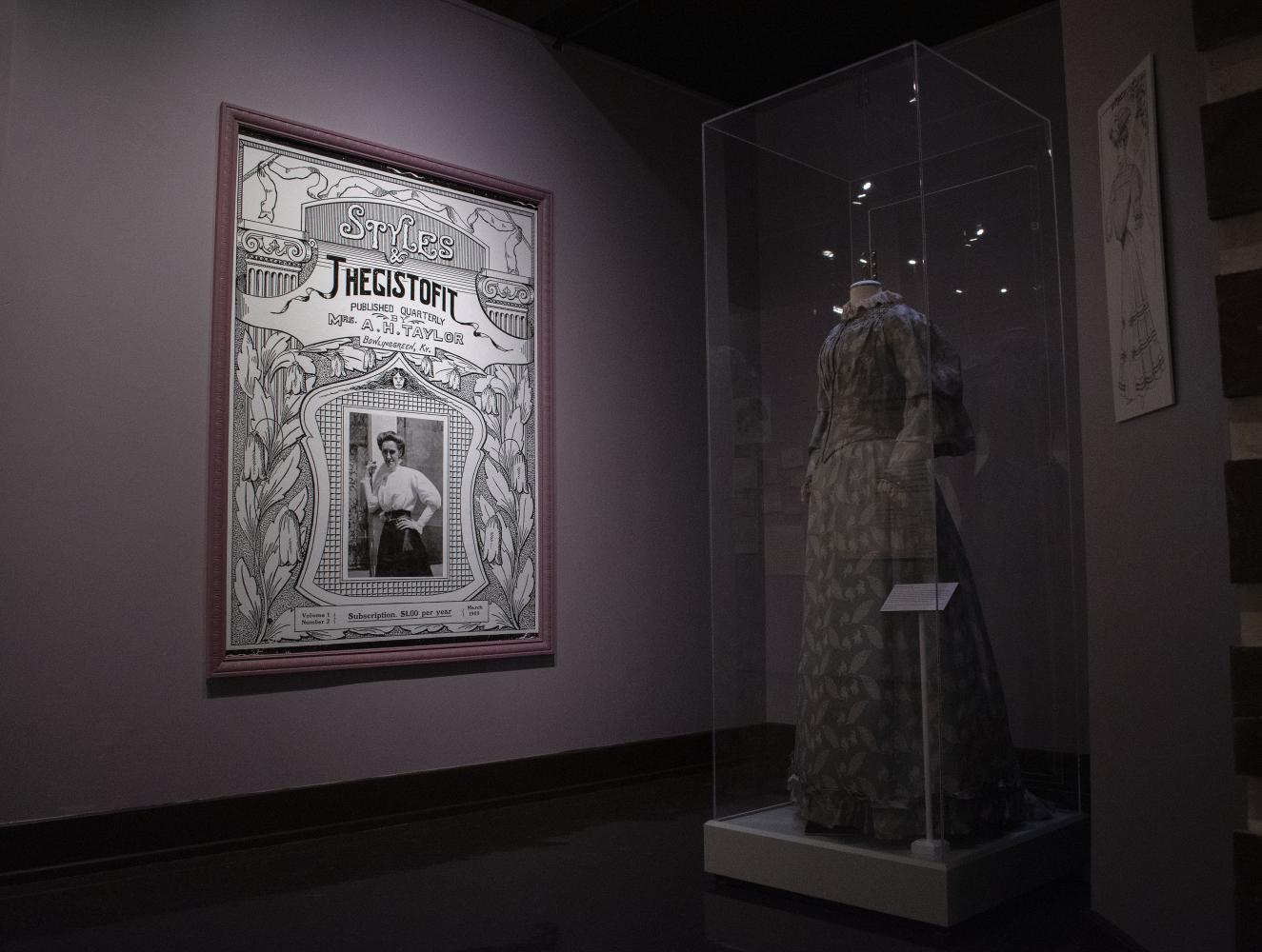 Born in 1855, Taylor grew up to become a talented dressmaker. According to Carrie Cox, assistant professor for the Fashion Merchandising program and guest curator of the Kentucky Museum, what began in a personal sewing room grew into a factory in downtown Bowling Green. At one point, the factory employed more than 300 women.
Taylor began her business, Mrs. A. H. Taylor Company, in 1878 and continued to run it until her death in 1917. Taylor's focus was on serving wealthy women with her custom-made designs. She was also known to design for the students of the former women's college and predecessor to WKU, Potter College for Young Ladies. A few of the garments she designed for the women of Potter College are on display in the exhibit.
"Within a short period of time, she grew her business to be a nationally recognized brand — with orders for her custom-made dresses coming from across the nation," Cox said.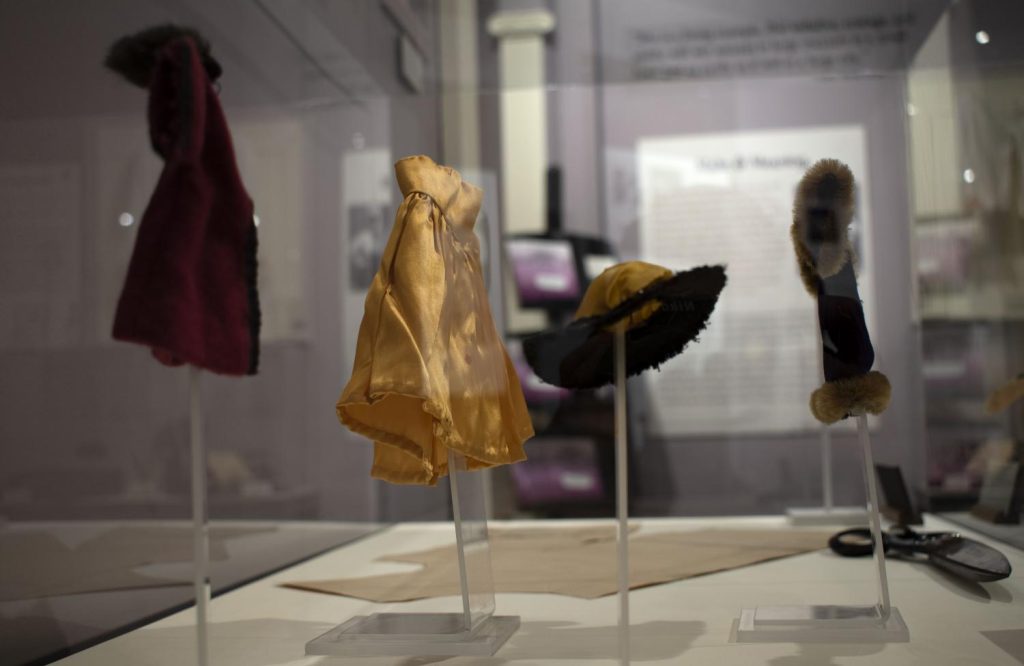 While Taylor was a successful businesswoman, she was also a wife, mother and philanthropist. Tiffany Isselhardt, the Kentucky Museum's development and marketing manager, was inspired when learning about Taylor's life and work.
"She always looked out for her family and community, partnering with merchants, providing gowns to girls who had lost their mothers and providing entertainment and support for children throughout Bowling Green," Isselhardt said.
From fashion card announcements to correspondence from customers, the Kentucky Museum has a wide variety of artifacts and documents from Taylor's life. The exhibit includes dresses, coats, bodices and undergarments from the Mrs. A. H. Taylor Company. Also included are photos of Taylor, her factory, her workers and customers wearing her creations.
"Many South Central Kentuckians have incredible stories just waiting to be told," Sandy Staebell, Kentucky Museum registrar/collections curator, said.
According to Staebell, most of Taylor's garments were donated in the 1950s and 1960s by either the original wearers or by a relative. Fortunately for the research team, much of Taylor's life was preserved by her descendants, former employees, former clients or friends. Many items were donated to the museum and the Department of Library Special Collections to preserve history.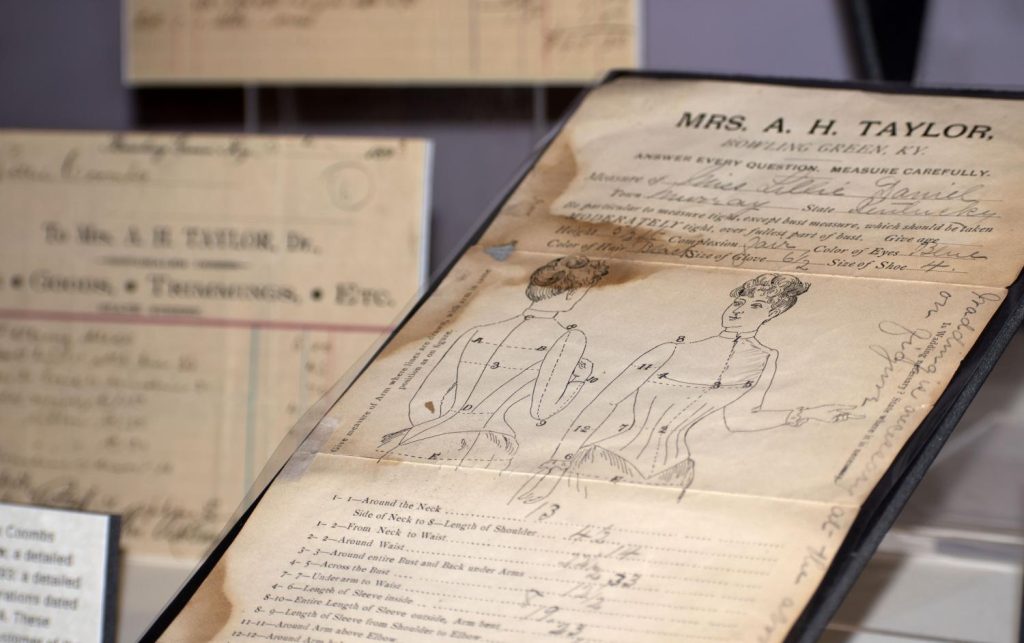 An exhibit on Taylor has been in the planning process since 2018. Her life story was intriguing not only for her Bowling Green roots, but also for her entrepreneurial spirit, business acumen and nationally recognized talent. Research on Taylor was originally started by former WKU professor of textiles and clothing, Sallye R. Clark, and has been continued by Cox.
A unique element of "Styles and Thegistofit" is that students contributed to the research that helped narrate Taylor's story.
Cox collaborated with her Fashion Merchandising students to gather research on Taylor. During fall 2019 and 2020, students in her History of 20th Century Fashion course researched Taylor's life, company and designs.
Aside from the beautifully preserved Victorian and Edwardian apparel, the exhibit also spotlights important women in Kentucky's history and their impact on their communities.
"These women dedicated so much of their time and skill to creating beautiful things, and many utilized their hard-won success to benefit their communities," Isselhardt said.
The exhibit can be seen Wednesdays through Saturdays from 9 a.m. to 4 p.m. at the Kentucky Museum through June 1, 2023.