Do you ever pause, take a moment to look at your own reflection and realize you don't like what you see?
That's exactly what I did a few weeks ago, and suddenly, I came to a realization. I needed a new frame on life.
Literally.
It had been over two years since I got new glasses. That might not seem like a long time, but when your prescription changes — even ever so slightly — it is.
I'd changed in that time, too. I wasn't the same bubbly, bright-eyed 19-year old I was two years ago. Then, I picked out one of the first pairs of glasses I found in the waiting room at the eye doctor's office. Now, I am a (slightly) more sophisticated 21-year old.
Those old brown frames straight from the eye doctor's office were holding me back. I realized I wanted something new.
Enter Warby Parker.
I'd heard the name of this prescription glasses brand before. Some of my trendiest friends wear Warby Parker frames, and they all seemed to have only good things to say. I figured I'd give it a try for myself.
I did, and I had so much fun.
The home try-on program
One of the coolest things about Warby Parker is their home try-on program. You can scroll through their website and pick out your five favorite pairs of glasses. Then, a few days later, Warby Parker sends you a cute little box filled with samples of the frames you picked out without a prescription — for free. You're allowed to keep the samples for five days before sending them back, and you don't even have to buy any when you're finished.
(Pro tip: I would highly suggest signing up for the home try-on program even if you don't need new glasses. It's that much fun).
Five days to try on glasses was good for me. By nature, I'm a little indecisive. I've spent hours trying to decide what I want to eat for dinner before. I usually change my outfit two or three times before I leave my apartment in the morning. It's who I am, so a few extra days to make a decision was definitely welcome by me.
Since I had five pairs of glasses for five days, I decided I'd do a little experiment. I wore a different frame every day, and I made my decision based on how they felt, how they looked and how many compliments I got. It might sound a little petty, but it worked.
Making the decision
On Thursday, I walked into my first class wearing the Holcomb glasses in "oak barrel," a nice, rich brown color. They had cute, speckled-brown rims on the top, wire rims on the bottom and a slight cat eye effect.
That afternoon, I went to a friend's baby shower, and the glasses were a hit. Maybe these were the ones!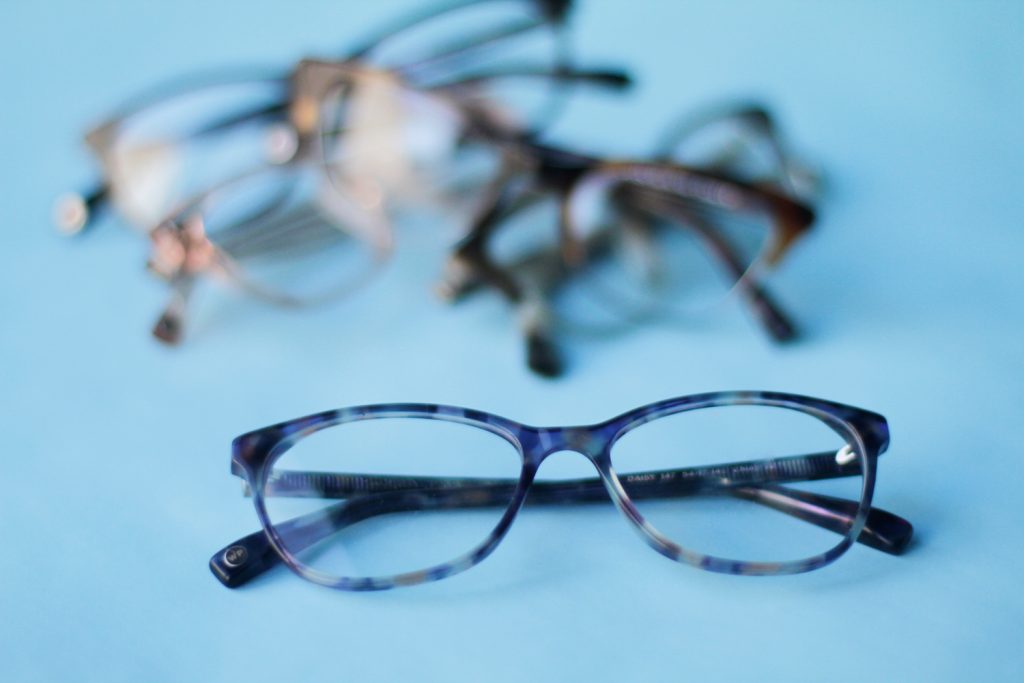 The next day, I tried on the Daisy glasses in "aurelia tortoise," a bluish-purplish tint. They were cute, but I couldn't see myself in them (haha — get it? I couldn't see myself).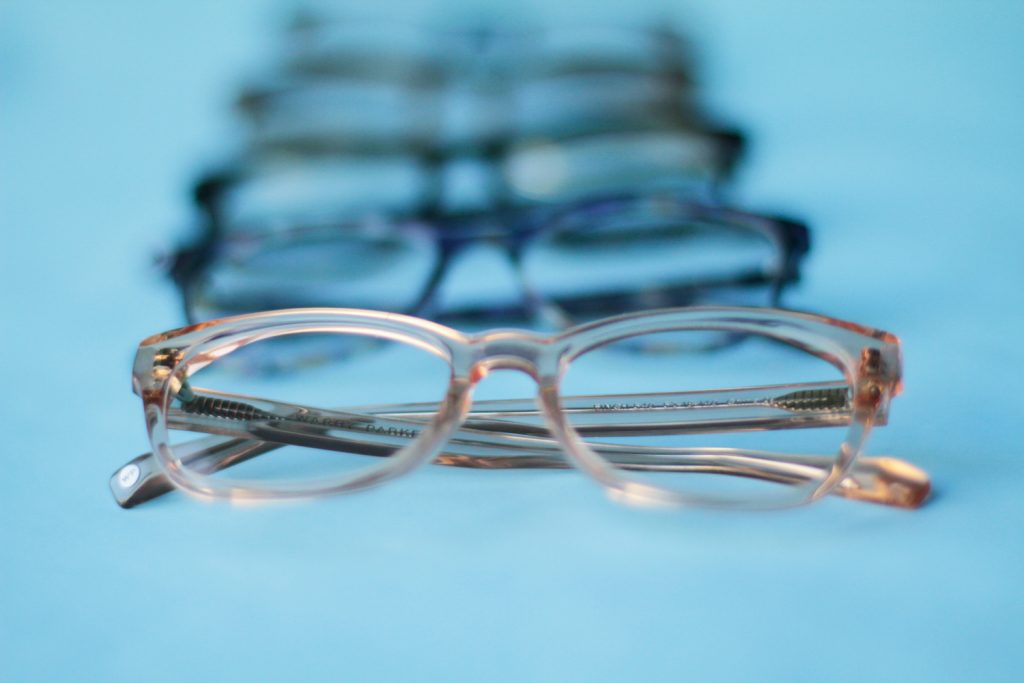 Saturday, I wore the Finch glasses in "bellini," a translucent pink color. They were the coolest glasses I tried on by far — but a little too cool for me, I thought. I needed something that was a little more classic.
Sunday, I tried on the Welty glasses in "whiskey tortoise." Welty was a rectangular pair that I thought would look great on my round face, but they were a little too square for my personal taste.
The Holcomb glasses from Thursday were still my favorite.
That was all brought into question on Monday when I started the day by putting on the Anders frames in "river stone fade." The top of this frame was a soft brown while the bottom was translucent. These glasses felt cool and relatable — like the kind of person I want to be. In a way, I was surprised by how much I liked the Anders. To top it off, they got about as many compliments as the Holcomb glasses.
I'd tried them all on, and now, it was down to my top two, Holcomb and Anders. I had to make a decision.
I texted selfies of myself wearing the two top contenders to my mom, hoping she could help break the tie. And she did. She picked the pair that I realized I'd liked best all along: the Holcomb glasses.
Maybe it was meant to be.
The next step
It was time to send the glasses back, but I wasn't able to make it to the post office in time the afternoon they were due. I got on Warby Parker's website and was easily able to extend my home try-on period. Five more days!
A couple days later, I ordered the Holcomb glasses in my prescription online. Eventually, sending the glasses back was just as easy as it was to get them. I just put them back in the box they came in and took them to the post office.
My recommendation? Try Warby Parker for yourself. And if you need help deciding which frames are best for your face, let me know. At this point, I'm pretty experienced.
By the way, it's Warby Parker's birthday, so now's the perfect time to try them out!