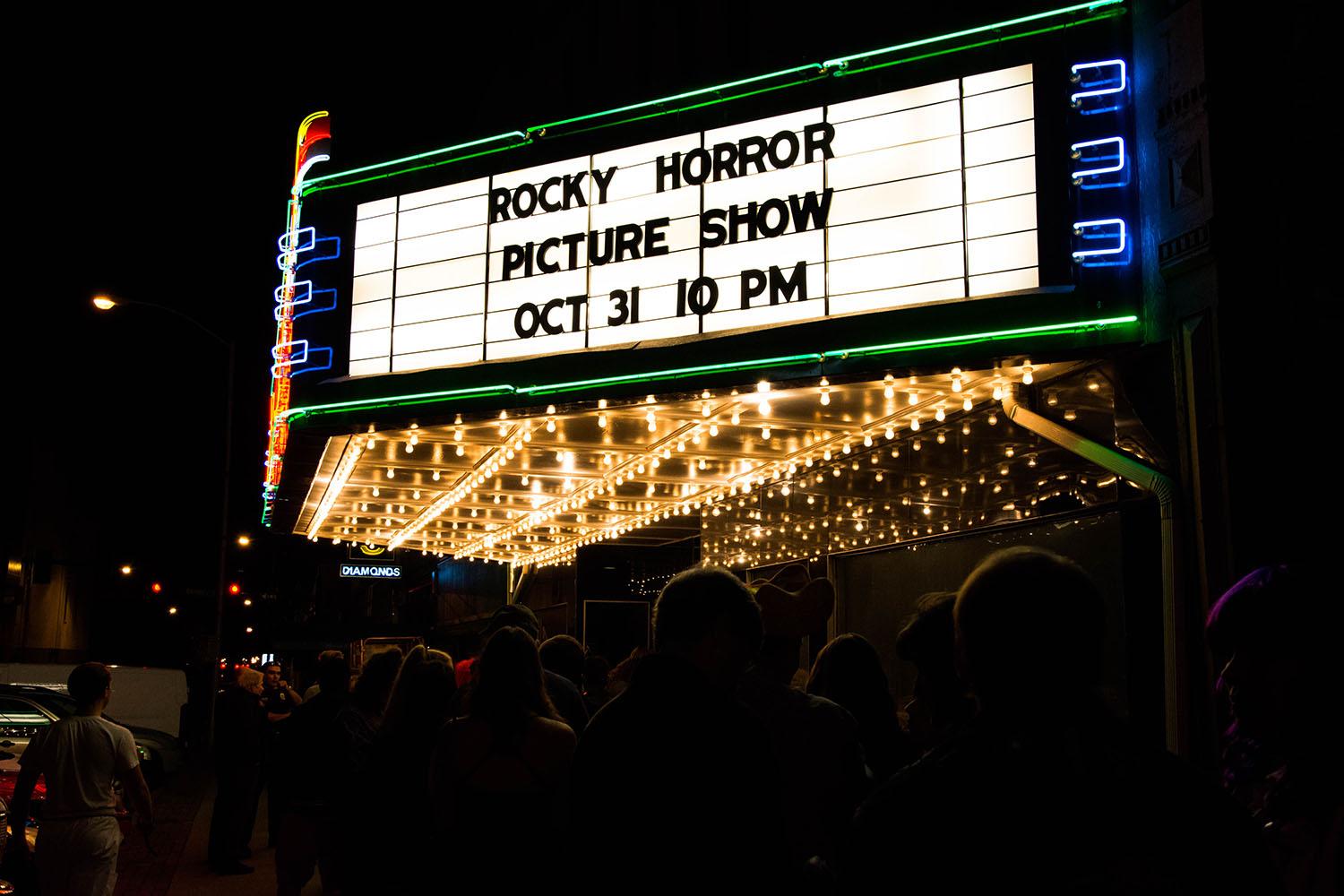 The doors to the Capitol Arts Center opened at 9 p.m. to a line of people of all ages. High school students and professors alike stood in the line, outfitted in fishnet tights, creepy masks and all kinds of sequins.
Those who had never been before were marked with a "V" in red lipstick on their forehead for "virgin" as they waited under the incandescent bulbs of the Capitol sign.
WKU students and other Bowling Green residents came to the Capitol on Halloween night for the annual showing of the "Rocky Horror Picture Show," sponsored by the Campus Activity Board.
Full of audience participation and ever-evolving traditions, late-night productions of the film have been a cult phenomenon for four decades. The film initially premiered in Los Angeles in September of 1975 but was not widely released and was largely considered a failure.
According to Sal Piro, one of the originators of the idea of the Rocky Horror shadow cast, it wasn't until April of 1976 when a young advertising executive convinced the manager of the Waverly Theater in New York City to play the film every Saturday at midnight that the film accumulated a following of regulars who then began interacting with the film.
Over time, the tradition of call-outs evolved into using props (like throwing rice during the wedding scene), dressing as characters and eventually, including a shadow cast.
Now, "Rocky Horror" is played annually, monthly and even weekly in theaters across the world with a cast of characters acting out and lip-syncing lines as the film plays behind them.
CAB's production of Rocky Horror is also a long-standing tradition, and it holds a special place in many student's hearts, whether they've participated all four years or are newcomers — or "virgins," as they're known in the traditionally lewd Rocky lingo.
Per Rocky Horror tradition, virgins are initiated through a humorous (and often sexual) "initiation" that sets the tone for the rest of the show. The point is to take newcomers out of their comfort zone and encourage them to lose their inhibitions in order to become full participants in the show.
The show was student-directed by Cadeja Hays, a Taylorsville senior, and Faith Turner, an Aurora, Illinois senior. They said Rocky Horror provides an opportunity for both attendees and cast-members to be themselves.
Hays has directed the show for the past three years, and she said her first experience with the show her freshman year was eye-opening.
Not all of the night's Rocky Horror virgins were audience members. Turner had never been to a Rocky show before. She volunteered to direct the show as part of her duties as a member of CAB. She said she had reservations about the film at first, but she warmed up to it over time.
"The more you do it, the more you fall in love," she said.
Chicago sophomore Gabi Lopez, who played Brad Majors, the film's hero, was also a Rocky virgin. She said she saw the casting call on Twitter and decided to audition, though she'd never seen the film. Lopez said the experience has made her more open and challenged her to do things outside her comfort zone.
Lopez's favorite scene was the floor show, a choreographed dance number toward the end of the film in which all of the characters dress in elaborate corsets, feather boas and fishnet tights. The number culminates in a burlesque-style kick line.
"Who gets the chance to do that?" Lopez said.
Audience participation is a large part of the Rocky experience, as viewers throw rice and toast across the room — a marked difference from other film and theater experiences.
Bowling Green senior Aaron Morrison starred as Dr. Frank-N-Furter, the film's complicated antagonist who creates the film's titular monster, Rocky. Morrison has been a fan of the film since high school and has played Frank-N-Furter since his sophomore year at WKU. He said he kept coming back because he found people like him.
"It's a chance to hang loose and enjoy a night — a chance to not hide behind a mask," Morrison said.
Cincinnati freshman McKenna Renner had seen the show twice before in her hometown. She joked that her first time was "traumatizing" because of the strange and chaotic nature of the film, but the community was accepting and open-minded.
"No one cares," Renner said. "They love you for who you are."
Bowling Green junior Sophia Nasato said the opportunity to dress in scandalous costumes draws many of the audience members to the show. Nasato, who played Magenta, said the Rocky Horror community's open-minded acceptance makes people feel comfortable enough to dress up.
"It takes you out of your comfort zone," Nasato said.
This is a theme that carries throughout the culture of Rocky Horror. More than a film showing, Hayes said, Rocky Horror is an experience unlike any other. Though the production is often crude and nonsensical, its devotees all expressed that this absurdity creates an environment in which people feel open to express themselves freely and truly.
"No one is going to care about what you wear and who you are," Nasato said. "You just feel loved."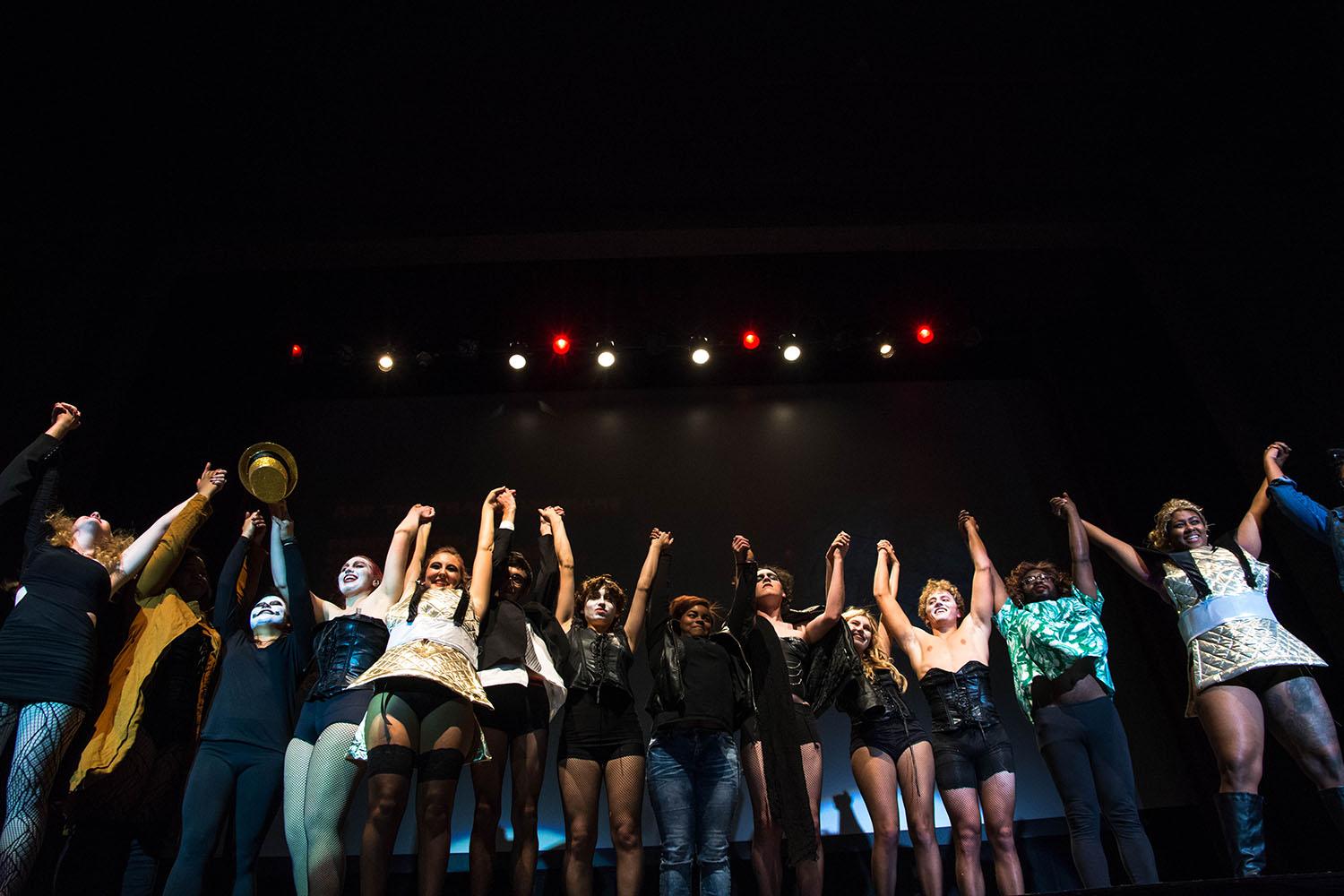 Editor's Note: A previous version of this story said CAB has been performing Rocky Horror since 2007. Talisman editors were unable to verify this information. We regret the error.