This story was originally published in early May in "Paradise," the sixth issue of Talisman magazine.
A terminally ill patient walked around her home without any idea of where she was going. She stared off into space and tried to communicate but the only sound she could make was gurgling noises in the back of her throat. She had not been responsive in over three years.
Chaplain Greg Wilson at Hospice of Southern Kentucky was present in late 2017 when this Alzheimer's patient was in the center's care. To care for her, Wilson asked the woman's husband if he could sing to her.
"You can, but I haven't seen anything out of her in over three years," Wilson said he remembers the husband saying. Wilson said singing the little children's song "Jesus Loves Me" normally resonates with his Christian clients.
Sitting in his office at Hospice of Southern Kentucky in February 2019, Wilson said he got cold chills remembering the reaction he got out of this woman.
The patient seemed to be alert, as if she finally understood what was happening to her, Wilson said. The woman's husband thought he'd never have another moment with the person she used to be because of the Alzheimer's, but in that moment he saw her one more time.
"She looked and she looked, and she looked at her husband, and he saw something in her that he hadn't seen in years," Wilson said.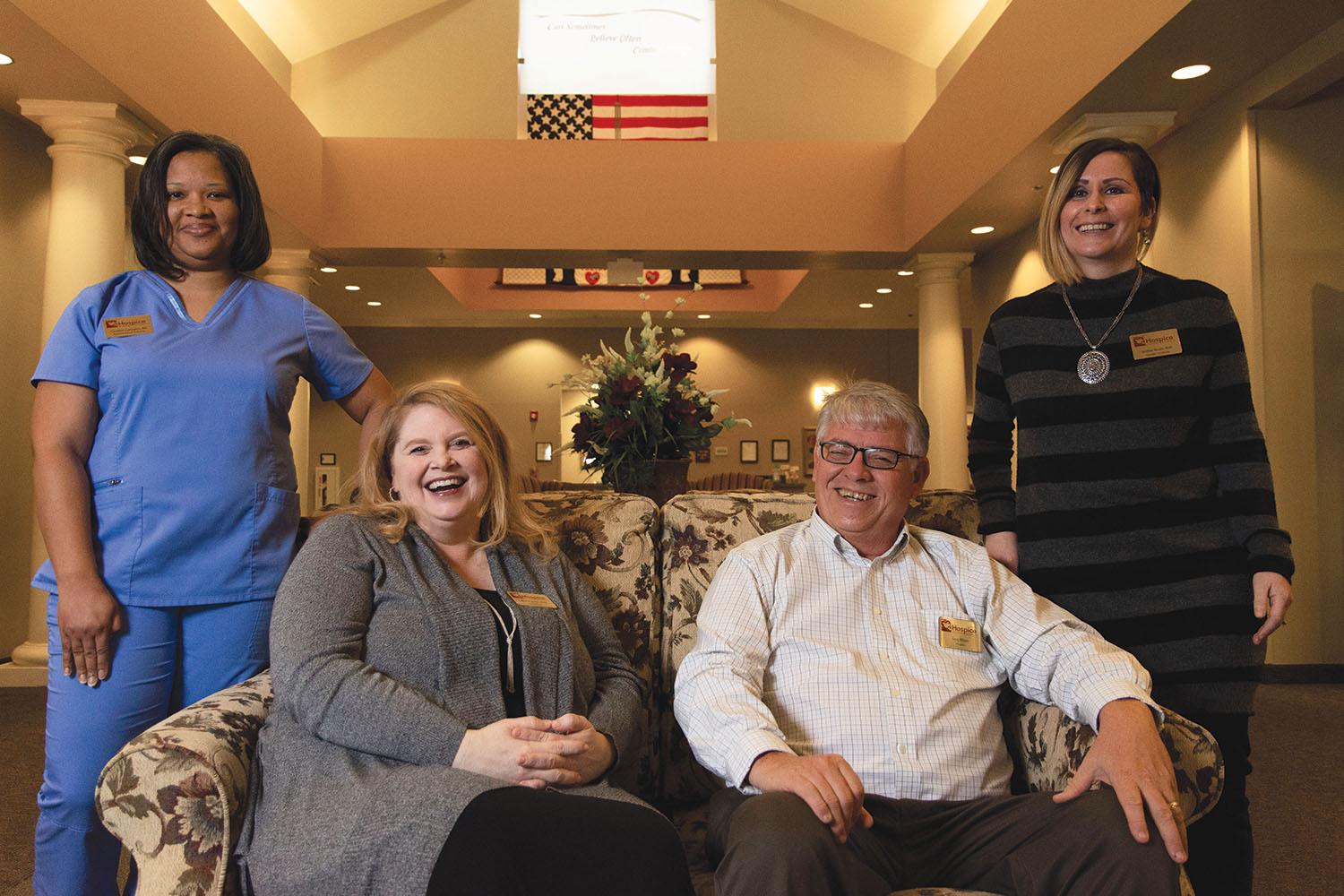 Hospice of Southern Kentucky is a non-profit organization that provides relief and resources for the terminally ill and their caregivers and allows the patients to spend the rest of their lives in a home-based environment, according to the Hospice of Southern Kentucky website. Within that home-based environment are the people who provide that care to the patients and their families.
"Ninety-nine percent of the time, it ends in death," Wilson said. "But we don't look at the death part."
"We look at the life before death," said Sheri Pearson, a social worker and grief counselor for Hospice of Southern Kentucky.
Wilson has been a chaplain at Hospice of Southern Kentucky for five years. Before that, he was working as a chaplain for the Rhea County Sheriff's Office in Dayton, Tennessee, until 2014.
Wilson is one of two chaplains at Hospice of Southern Kentucky and serves patients regardless of their religious beliefs or lack thereof.
"This is the most fulfilling work I've had an opportunity to do because you are able to help and encourage them in one of the hardest times of their life," Wilson said. "It's like being a servant."
Pearson said she feels rich because she gets to help people everyday. She said death is going to happen whether she is caring for them or not, so she would rather be there to help them.
Pearson has been working at Hospice of Southern Kentucky for eight years and received a master's degree in social work from WKU.
"After eight years working in hospice care, no matter how many times I witness someone passing or see them after, there is always a need –– or longing, if you will — to provide an atmosphere of dignity and comfort for them and their loved ones," Pearson said.
Pearson said she values being able to help patients and their families however she can.
"The hope shifts from a cure to having the best day possible every day," Pearson said. "You have to redefine your mission to have hope that every day will be the best it can be."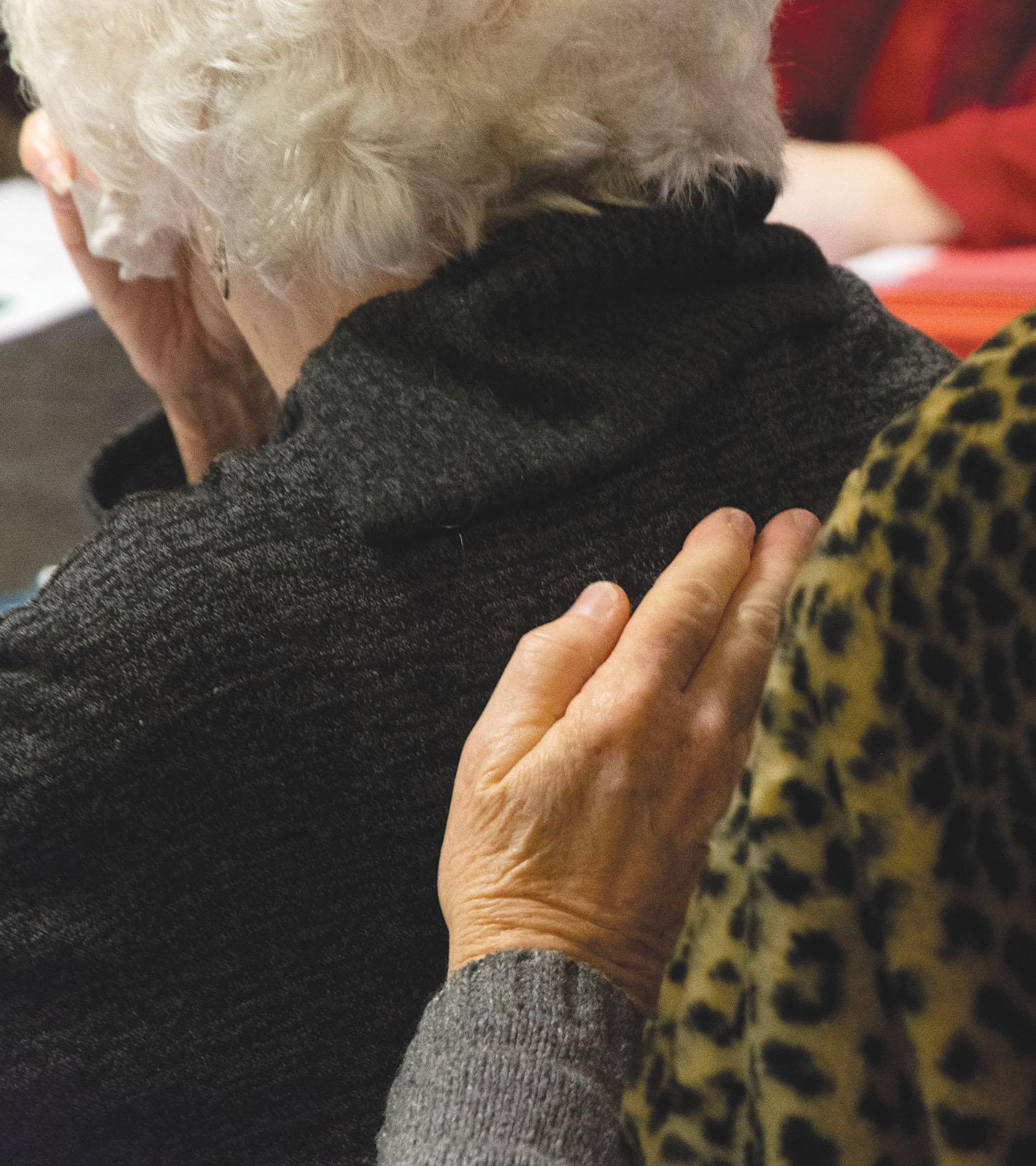 One glimpse of hope for Pearson came in the form of a young woman's wish to marry the father of her children. She was bed-bound and battling cancer.
Hospice workers and volunteers organized a wedding in her room at the Hospice of Southern Kentucky house. The woman couldn't stand, so her dress had to be cut up the back to be laid on her body. Cake and punch were served and her room was decorated with twinkling white lights. Her two children sat on her bed throughout the ceremony, and members of the community donated wedding rings and a wedding cake.
"The entire community came together for her ceremony," Wilson said.
Pearson said the woman stayed up all night after the wedding looking at herself in the mirror, smiling at her dress. She told Pearson she felt like she was in a dream.
The team of social workers, medical aids and chaplains will either care for patients at Hospice of Southern Kentucky, the patient's home, a nursing home or an assisted living facility, Pearson said. The team will start out by interviewing the patient if they're responsive and if not, the patient's caregiver to obtain all necessary information, whether it be learning where they used to work when they were younger, what activities they enjoy now or what they enjoyed in the past.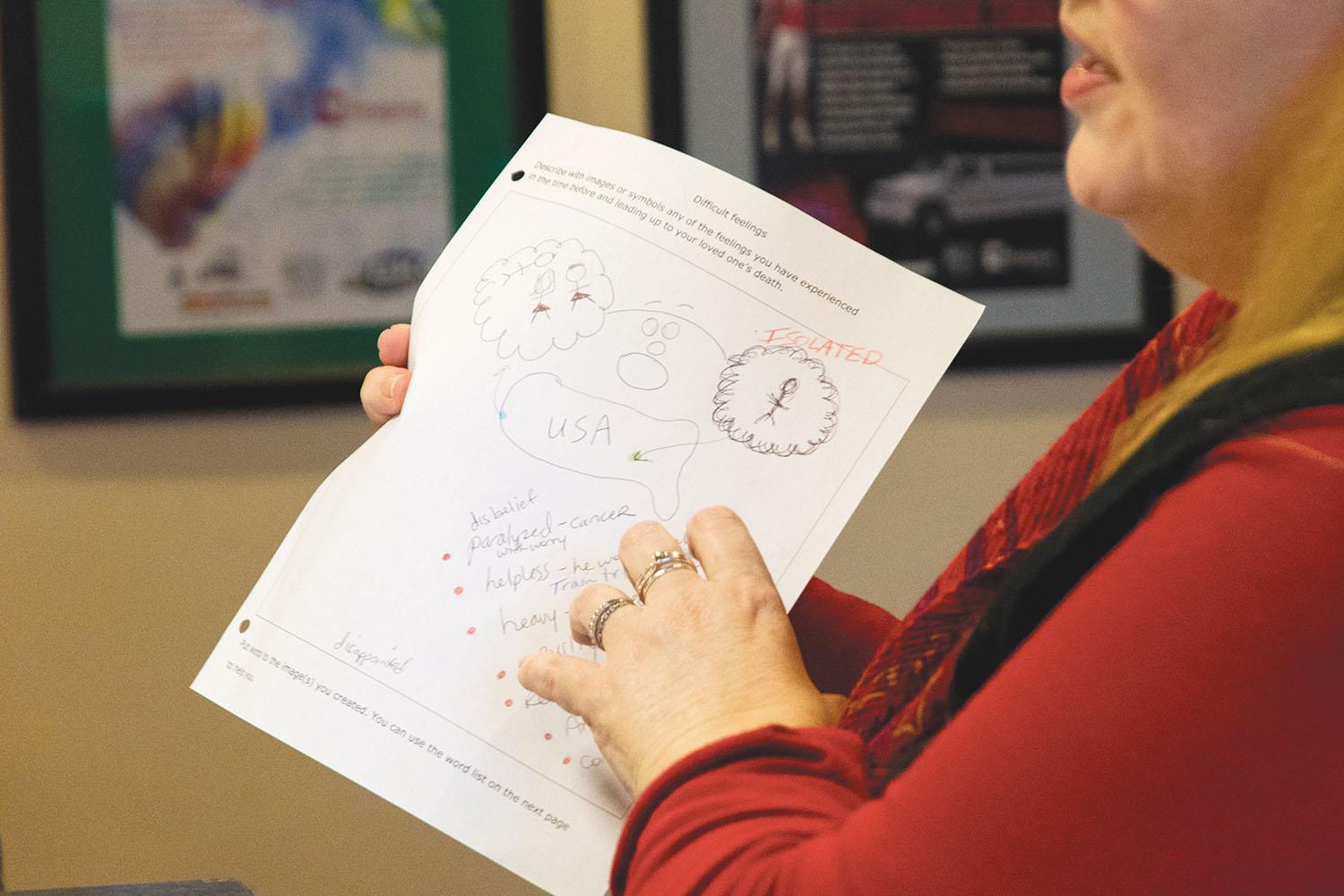 The team also obtains information about the patient's illness and basic demographics. Wilson said the Hospice team asks about the patient's spirituality, and if they're not comfortable with where they stand in their faith, the chaplain and social workers strive to get the patient to a comfortable point.
From there, Pearson said the team's goal is to make sure the patient and their family are relaxed. Staff members take on the role of caregiver, which includes bringing the patients food, washing their clothes and bathing them on a daily basis. The team also includes cooks who prepare the meals and nurses who give the patients their necessary medication and administer daily check ups.
"I come to work every day loving my work," Wilson said. "It's honorably intimate here."
Andrea Tanaro, a part-time social worker on the Hospice of Southern Kentucky team and graduate student at WKU, said she has been through a lot since she joined the team but it has benefited her in strengthening her relationship with God.
"I've recently lost a granddaughter to a horrible car accident," Tanaro said. "And things like that can either make you or break you and then dealing with death every day at work –– it was a lot to deal with."
She said she tries to look at death in a different way and tries to focus on the things she does have in her life.
"Being at Hospice and watching other families go through the pain of losing someone or the joy of having them for so long in their life makes you appreciate what you have a lot more," Tanaro said.
While Hospice of Southern Kentucky doesn't have a music therapy program, Tanaro volunteers to sing to her patients. One patient Tanaro asked to sing to was an elderly woman close to 100 years old at the Hospice house suffering from cancer but still communicative.
The woman agreed and asked Tanaro to sing "How Great Thou Art" since she loved gospel music. As Tanaro sang, she said the woman threw her head back and prayed with her.
Tanaro said she could tell the woman enjoyed the song and hoped it was what she needed at the time because, ultimately, the team's job is not all about death.
"It's about living the best you can for whatever time you have left," Tanaro said.
Editor's note: The print version of this story misattributed a quote to Greg Wilson and inaccurately stated the roles of social workers at Hospice of Southern Kentucky. The Talisman deeply regrets these errors, and they have been corrected in this online version.