Colorful paintings, murals and installations centering on themes of sexual assault, recovery and empowerment adorned the narrow walls of Ingen Art Gallery & Studio on March 22 in downtown Bowling Green. A small handful of guests wandered around the gallery viewing the paintings. N.E.R.D. and Rihanna's "Lemon" played from a connected studio where gallery owner and artist Courtney Davis-Beckley sat painting local bar and music venue Tidball's on a canvas in the style of  Vincent van Gogh's "The Starry Night." Her husband, Chris Beckley, sat in the corner stapling canvases from a recent painting class the gallery held to benefit local sexual trauma recovery center Hope Harbor.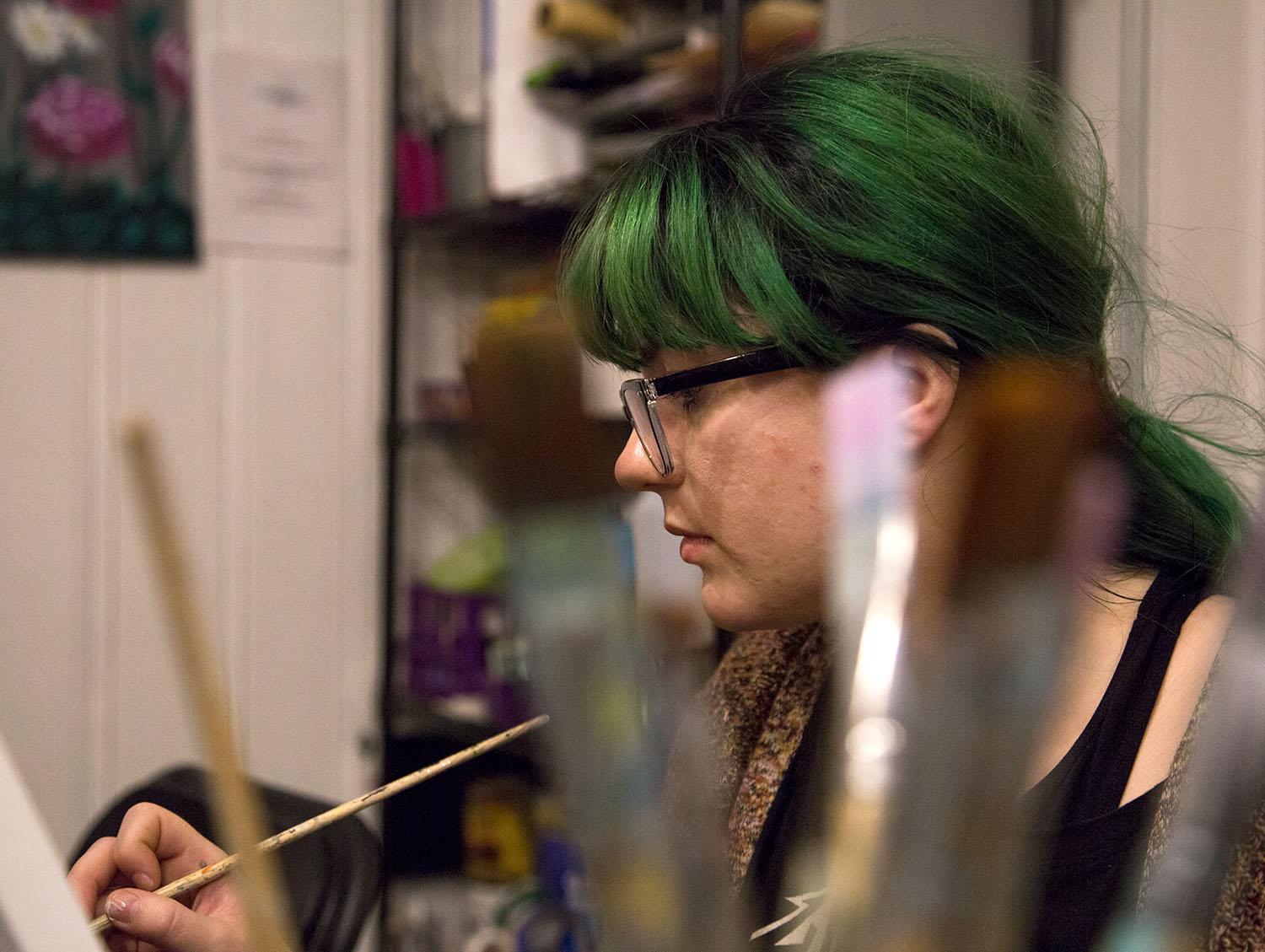 Ingen has partnered with local nonprofits to host a series of art shows throughout March and April that aim to provide a platform for local artists to speak out against sexual violence.
The show is a collaboration between Ingen, Hope Harbor and FFOYA House, a local nonprofit community arts venue. Davis-Beckley said the collection's pieces reflect on themes of the #MeToo movement to raise awareness for Sexual Assault Prevention Month, which is recognized nationwide in April.
Darla Richards, 57, of Bowling Green, attended the March 22 event at Ingen with her granddaughter, Isabella Richards, 10, of Bowling Green, who is a student at Art Matters, another local gallery that also provides art classes, and has ambitions to be a tattoo artist. Darla said she used the show as an opportunity to teach her granddaughter about the #MeToo movement and the issue of sexual assault. Darla said she initially questioned if the art in the show might be too intense for a 10 year old but realized it would probably empower her.
"I just hope she can embrace this way of thinking 'no,' that when she grows up, she can speak out and that she doesn't have to accept sexual advances or mistreatments or emotional abuse," Darla said. "She doesn't have to accept that. It's not okay."
Darla said she's so glad the #MeToo movement has come to light and grown so rapidly. She said it means so much to her to see change happening.
"It needed to happen so many years ago, and I would give anything to be a part of that too in some way," Darla said.
She said seeing the paintings and reflecting on what each artist was thinking when they created their works made her emotional. She walked over to several of the paintings from the Hope Harbor workshop that bore phrases like "don't be delicate," "rise" and "be vast and brilliant."
"Those are things we never thought of women to do or be," she said. "It was just, 'Keep quiet. Don't talk to anybody. Keep the secrets. Don't confront about anything.'"
Davis-Beckley said that kind of visceral, more immediate impact was part of the goal of the show.
"A lot of times, visual things can speak louder than our words can," Davis-Beckley said. "Sometimes artists have the ability to kind of put things into perspective for people that may not always get the message."
Char Downs is a 70-year-old Paducah artist whose work was featured in the show. Downs, who herself experienced a "#MeToo moment" in her childhood, said art is a means of both healing and communication.
"It's another kind of communication," she said. "How can we get messages to people that really touch their hearts and really say something to them that might change their minds or (compel them to) take that message to somebody else and maybe change the world one person by one person?"
Downs assembled an installation of 17 white, female masks and seven black strips of paper bearing the names of "silence-breakers" like Tarana Burke, the movement's founder, and Alyssa Milano, who popularized the movement. The faces and paper stood in for the ones and zeros of binary code to spell out "Me too." The installation also featured a hashtag in fabric behind it. Downs said she liked the irony of expressing a technologically-driven issue in its own coded language, but in a tangible way.
"Social media was one of the connections with this particular piece," Downs said. "It takes it out of the screen or off the computer and puts it on the wall as a face-to-face confrontation of what people deal with."
Downs said the #MeToo movement, along with Saturday's March for Our Lives events and the swell of women running for public office makes her feel hopeful for the future.
"We can tell everybody what we've been putting up with for centuries — that this isn't right," she said. "We don't have to be silent about it anymore."
The show opened on March 16 for the Bowling Green Gallery Hop, an arts event that happens five times a year and involves 12 local art venues. The gallery opening included a painting class to benefit Hope Harbor.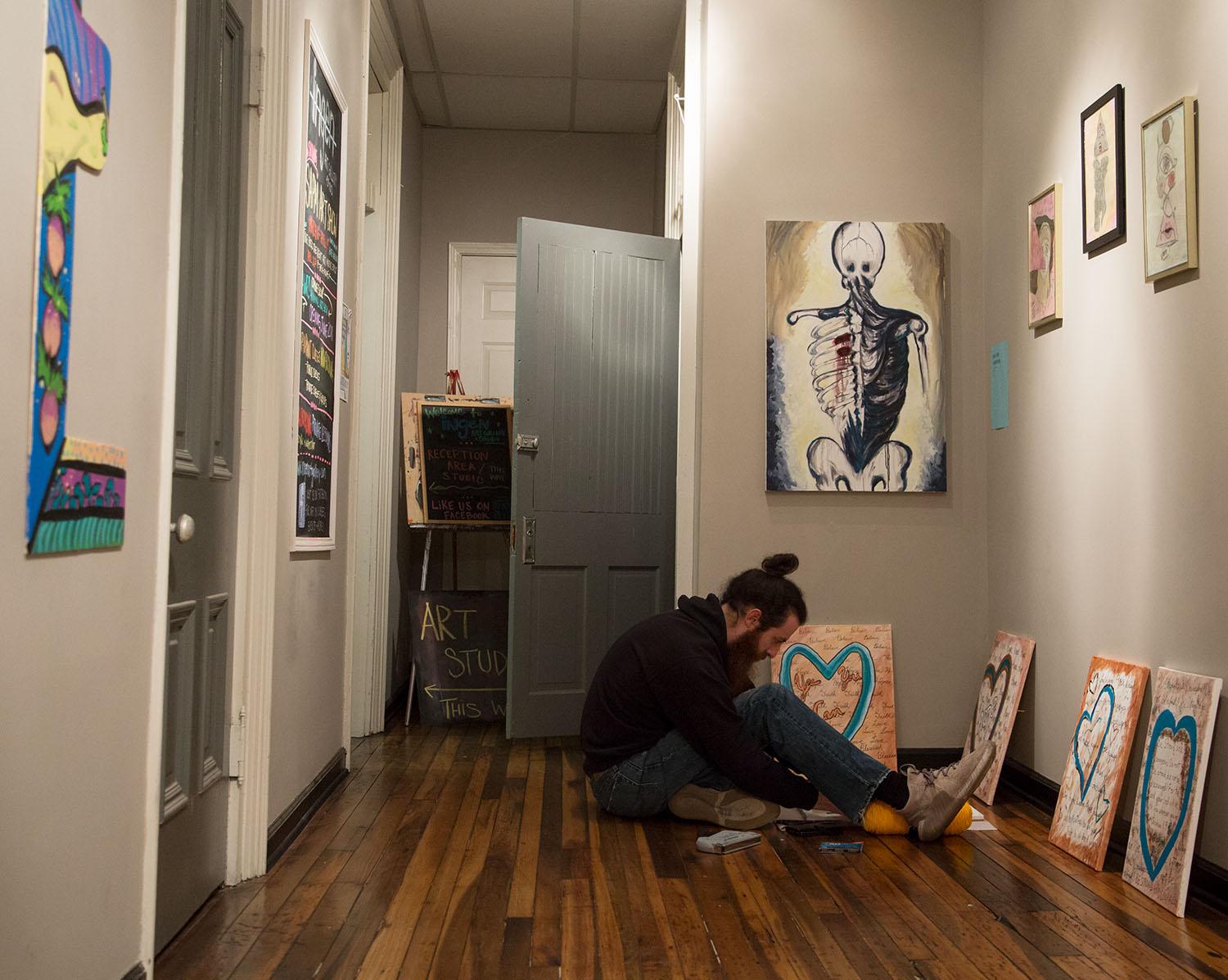 FFOYA House received a grant in August 2017 from the Kentucky Foundation for Women to conduct arts workshops for survivors of sexual assault and domestic violence. As part of this grant program, Ingen hosted a mural-painting workshop last fall. The resulting mural, which consisted of four colorful letters spelling "hope," was displayed in the show.
The #MeToo Sexual Assault Prevention Month art show at Ingen Art Gallery & Studio will be on display April 5, 12 and 19 from 5 to 8 p.m. On April 19, the show will conclude with a closing reception and benefit night for Hope Harbor that will feature a live poetry reading.
This story was edited to amend an error in name spelling. The Talisman regrets this error.