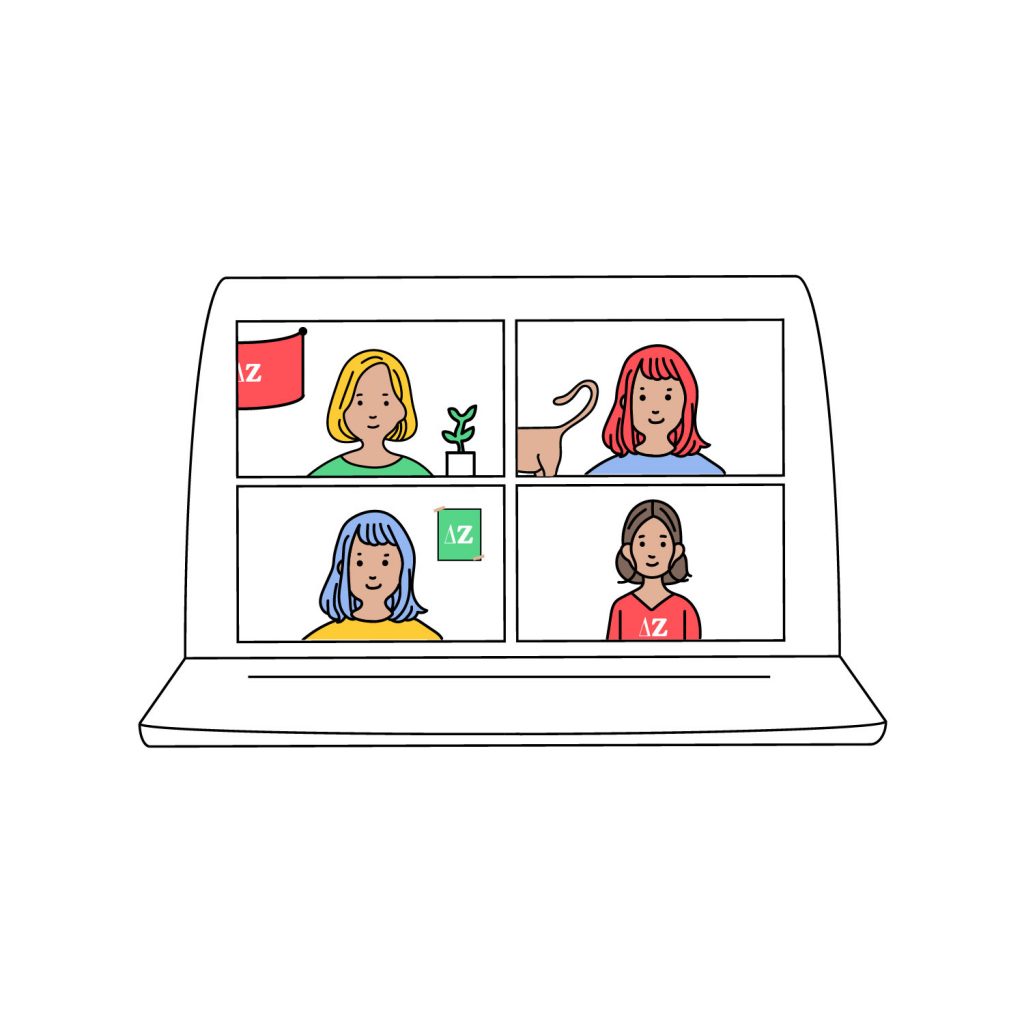 Cyn'Clara Cofer, a Bowling Green junior and member of Delta Zeta, sat in Room 3014 of Downing Student Union with a few of her sorority sisters waiting for the first Zoom call of sorority recruitment to begin. She was worried about messing up or becoming too emotional when telling the potential new members why she chose to join her sorority. This was her first year recruiting, but it looked a bit different than she had originally hoped it would.
Just two short weeks before the start of sorority recruitment, also known as "rush," members from each sorority in the Panhellenic community met over Zoom to discuss how to proceed with recruitment in the midst of the pandemic. They could host a socially distanced, in-person recruitment or an online recruitment. 
With a prominent concern for the well-being of chapter members and potential new members, the members voted to hold sorority recruitment over Zoom. This ultimately led to several different changes with how recruitment itself would run and how the participants felt about it.
"The biggest thing I was worried about is will we have people fall through the cracks because they don't either have that kind of technology or people do not understand it," said Andrew Rash, coordinator of Greek Affairs.  
 Sororities spent the week before recruitment, known as spirit week, practicing in order to overcome the difficulties of having recruitment through Zoom. Breakout rooms were used to group potential new members with current chapter members in order to still have one-on-one conversations like with in-person recruitment. 
A top priority was to keep many things about recruitment the same, including the nature of conversations. However, some differences brought a new ambience to the process. Instead of being packed in a loud room full of sorority women, Zoom gave participants a calmer setting.
 "An in-person recruitment process can be a little bit daunting, especially on the sorority side, because you have 100-plus women chanting and singing and dressed to the nines, and that is a little overwhelming, especially if that's not necessarily your thing," Rash said.
 Everyone going through recruitment was in a controlled environment and were either alone or, like in Cofer's case, with a few of their sisters. This gave breakout rooms a quieter atmosphere and made conversations more audible unless the Wi-Fi was bad. But trouble with hearing and technology was not the main worry for some people.
"I thought I wouldn't be able to make deep connections with potential new members," Cofer said, "but I was able to do just that and more." 
In her case, Cofer was still able to have meaningful conversations about why she loves Greek life and her sorority. However, others still felt as if recruitment over Zoom was challenging.
"Zoom has made rush extremely difficult, especially for our chapter," said Nicholas Walz, a junior from Goshen and a member of Phi Delta Theta. He said the limited interaction would be difficult. 
The decision to make fraternity recruitment virtual was made after seeing the success of virtual sorority recruitment. However, this change came from The Division of Enrollment and Student Experience, not a vote. The original plan was to hold rush in-person and socially distanced; however, they decided the switch to virtual was the safer option.
According to Rash, more women registered to go through recruitment (556 total) and accepted bids than ever before. This could be credited to the big freshman class as well as students looking for different ways to meet people this year since most events and classes are online. Many view Greek life as an opportunity to make friends and be involved in campus life.
 "One of the things we've been communicating is, 'Remember why you're doing this,'" Rash said. "You're doing this because you want to connect with people or because you want to have a group that's gonna hold you accountable."
 As recruitment came to an end, some people, such as Walz, worried about how the portrayal of what Greek life is would be skewed because of distancing rules. Others realized that even with restrictions, those connections were still able to form. 
"My favorite part of recruitment was being able to talk about my sorority to other potential new members and telling them the reasons why I decided to choose Delta Zeta," Cofer said.