A welder suits up in an armor of leather — a thick jacket, pants and gloves — to protect their skin from scalding pieces of molten metal. A massive helmet blocks sound, smell and limits their sight. The only guidance for the welder through a mask of thick, green glass is the faint, bright spot of their work, inches from their face.
The welder might be in a studio, workshop, factory or outside battling the wind, welding stick in hand.
Franklin, Tennessee senior Cheese Dumas Palindrome, a student of sculpture and painting at WKU, described the care and protection it takes to weld safely.
"Honestly it's still not enough sometimes," Palindrome said. "Or sometimes I'm just dumb, and I'm like 'Wow, this looks smooth!' and I will just feel it and forget that it's hot."
Dakota Beckmann, a private welding contractor in Bowling Green, prefers an even more hands-on approach; he opts for no leather jacket and said the molten metal scars are a part of the job.
"The only thing I keep is gloves, helmet and always have eye protection," Beckmann said. "Good shoes and good jeans — that's about all you can ask for. "Beckmann said he regularly replaces singed shirts.
He traced his hands-on curiosity back to his childhood, recalling a love of tearing things apart as a child. In high school, he enrolled in a year-long, half-day welding course at Bowling Green vocational school.
Beckmann said he never looked back from jumping into the craft.
"Working hard and getting dirty — it's an instant gratification," Beckmann said.
Welding is the process of fusing together two metal parts through heat, pressure or both, according to The Welding Institute, the world's largest welding training institution based in Cambridge, United Kingdom.
Assistant art professor David Marquez listed several types of welding: arc welding, metal inert gas welding and tungsten inert gas welding. Marquez explained that each type of welding uses different means to the final goal of heating metal. Some variations of welding use electricity as a heating source.
Gas welding, in contrast, is a longer process. Because of the gas heat source burning through oxygen and acetylene to ease the metal toward sweltering, patience is required to master this form, Marquez said.
Beckmann said he personally prefers arc welding, or stick welding, for its reliability. He said that in his line of work, different welding methods poke fun at the other, claiming that metal inert gas welding was easiest – a point-and-shoot method.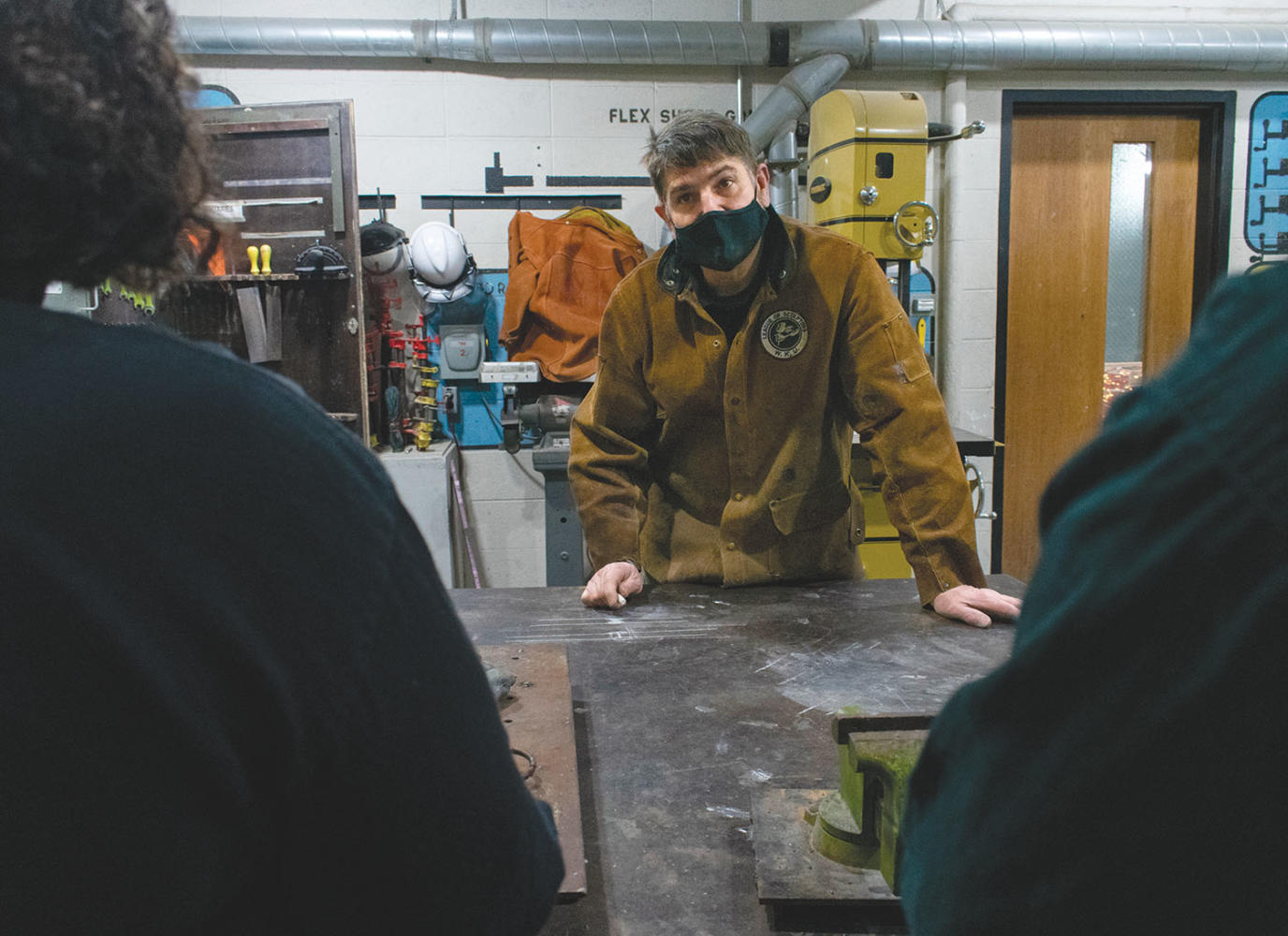 According to Beckmann, tungsten inert gas welding is most difficult due to its use of both a heat source and a filler rod. Marquez said that a filler rod is used to fill segments or holes of metal melting away from itself; an electrical heat source is applied simultaneously to melt the filler rod and apply it to the structure.
Marquez said to think of the different types of welding like different types of sewing; machine sewing, much like electrically-sourced welding, is faster — but the care and craft can easily get lost in the efficiency.
For a mixed-media artist like Marquez, welding is one medium employed to construct structure, sculpture and art — commonly used alongside 3D printing, wax and clay.
"I'm a metal worker," Marquez said. "If I cast metal, I sometimes have parts that need to be welded together, or if I'm fabricating a sculpture, it might be steel and need welding as well."
Marquez said he progresses his students in his classrooms by building their versatility as artists through independent work and mixed-media projects.
Palindrome, a major in fine arts with a focus in sculpture and painting and a minor in art history, said they use the opportunities of Marquez's classes to construct ambitious, creative and personal designs.
Creativity is also used for contracted welding work, Beckmann said.
"Nobody ever gives me a plan," Beckmann said. "They'll tell me their ideas, and I have to decipher their ideas without even seeing it."
Through his company, Beckmann Welding & Fabrication, he works for a variety of customers, including local farmers, residents and businesses. Moving his business forward, however, Beckmann plans to shift toward industrial welding.
Professional welders are aging, so there is a need for younger tradesmen to enter the business, Beckmann said. At 27, Beckmann is one of the youngest in his field — and looking to hire more young, hands-on workers.
"What sells me the most is my grandfather, when I was younger, would always tell me: Find something you love to do and figure out a way to get paid for it," Beckmann said. "You know, there's not a day goes by that I don't look forward to whatever the day brings."
Palindrome said they love the challenge and monotonous nature of welding.
"You have to go slow, and then you can't have the voltage too high; you can't have the wires being too high. But if the wire speed is too slow, then it won't be able to spot weld," Palindrome said.
According to Palindrome, spot welding is much like a single stitch in sewing, it can be used to tack down metal or as an artistic choice of roughly binding two pieces together.
They explained that breaks are necessary when welding.
"I have tendinitis. I feel like most artists do, or carpal tunnel," Palindrome said.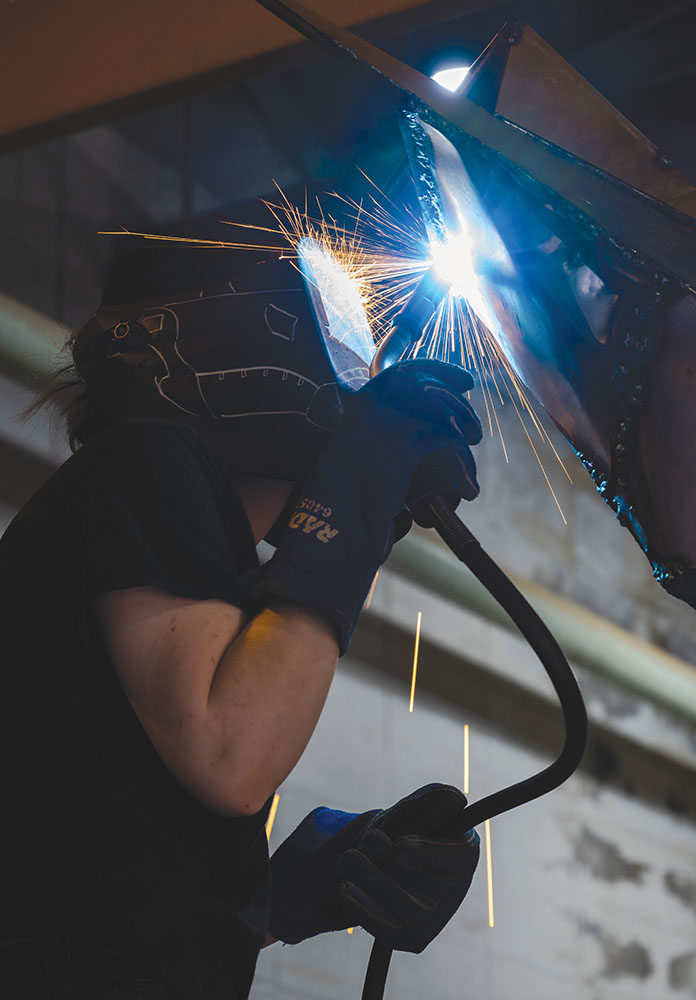 To bring together the desired curvature of welded material, they must continually hammer a section of sheet metal, make a welded anchor, move forward, hammer another section of sheet metal and make a welded anchor. The repetitive, taxing motion easily exhausts them.
Palindrome has been working on their current welding project for over a semester, spending time in class working on various art projects — and spending 10 to 20 hours outside of class chipping away at their design.
Standing at over 6 1/2 feet tall, the sculpture Palindrome is making is a physical manifestation of their gender and body dysphoria.
Gender dysphoria is the feeling of frustration or discomfort from feeling as though one's assigned sex at birth differs from their true gender identity, according to Mayo Clinic. Mayo Clinic defines body dysphoria, or body dysmorphic disorder, as obsessive embarrassment, shame or anxiety surrounding a perceived flaw in one's physical appearance.
"A lot of times I, like, really want to just chop off my breasts. But I know if I chop them off, there are some times where I feel feminine," Palindrome said. "It's that frustration."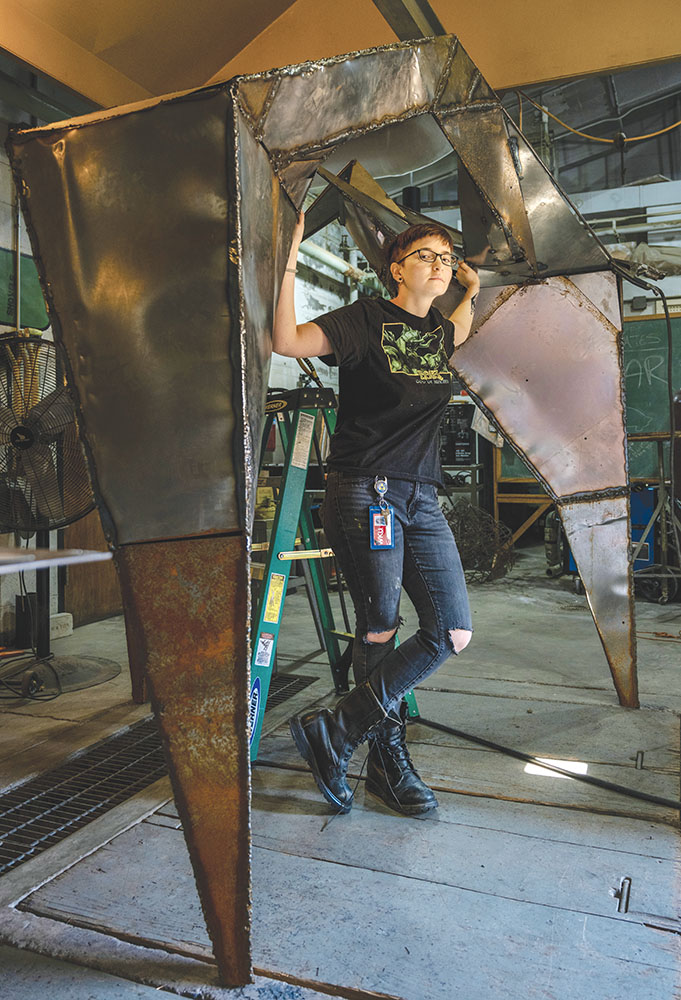 Palindrome's finished sculpture will be interactive, featuring nude-colored dresses painted with body parts and outfitted with functional zippers. Onlookers will stand underneath and look up at Palindrome's metaphoric body, able to cover and reveal parts of it as they choose.
"It's cliché but it's also therapeutic or cathartic, in a way, to get this out, instead of inside," Palindrome said. "It's the incarnation of how you feel, or what you are, or what you've experienced and seen."
Palindrome explained that they prefer their artwork to be performative or interactive; they work to make the intangible tangible — bringing feeling and experience to a physical space.
"I like problem solving, problem solving of like, how the heck do you create something that is not necessarily a visual thing? Right?" Palindrome said. "So that's kind of the same with body dysphoria. Like it's an emotion you feel, like, how do you figure out how to create this, but create something that doesn't actually exist? That isn't tangible?"
For Palindrome, creative and industrial welding are similar. They said that no matter the result, the repetitiveness and methodical nature of the work evokes a sense of meditation.
"It's all about intent and approach because a lot of the time, fundamentally, the work is the same," Palindrome said.
Master welders may see their work of mass production as art, Palindrome said, because of the close work and skill that goes into the final product.
Beckmann said that to him, the art of welding comes from the creation of function from scrap.
"To me, it is art just because you've got to take a pile of straight pieces, or square pieces or just flat stuff and make what somebody wants," Beckmann said. "You know, you've got to have imagination."
Palindrome sees a fulfilling nature in welding.
"Going back through, feeling certain parts of it, and seeing it come together with your own hands," Palindrome said. "It's that feeling of, like, you're making this thing come to life."