Walking through the doors to the newest skate shop in Bowling Green customers are greeted with skateboard decks and merchandise lining the walls and Molotov Skateshop's owners Wesley Driver and Michael Portugal.
Molotov Skateshop is located on the second floor of the A-Frame, a local bar and venue and is open from noon to 8 p.m. on weekdays. The angled walls and exposed wood throughout the space fits Molotov's gritty, anarchist aesthetic. Molotov carries most major skateboard brands, top-of-the-line hardware, grip tape, wheels and other supplies. They also sell clothing and decks with their own in-house designs and logo.
On Nov. 23, 2019, Molotov Skateshop opened its doors to the public. Ever since the closing of Abyss Skateshop around seven or eight years ago, Molotov's owners said Bowling Green has been missing the vital part to a healthy and growing skateboarding community: a skate shop.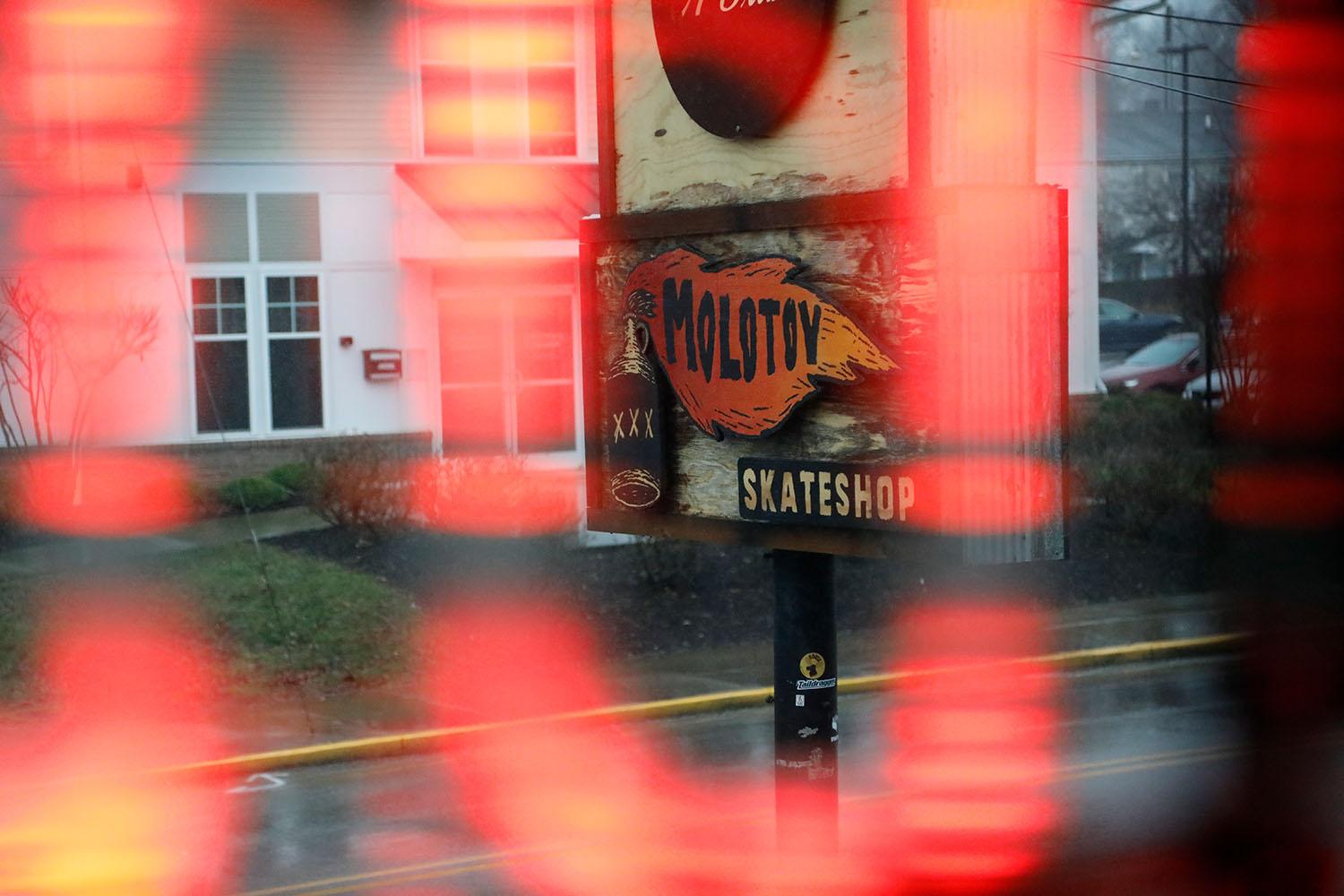 Co-owners Driver and Portugal are two seasoned Bowling Green skaters who saw the need for a local shop and a chance to help grow the community. 
"The skateboarding community didn't have a place to get products; it didn't have a place for events to happen or for ideas to happen," Portugal said. 
While Bowling Green's skate community is small, Driver said he sees it growing.
"We're here for the community and we've already seen a growth in people that skate just because we've been here," Driver said. 
One of the main things that sets Molotov apart is that on any given day, you could bump into Driver or Portugal at the skatepark or in the streets. They make sure when they go skating to share their business with other skaters by sharing business cards and stickers. 
"When people have the experience of coming in and hangin' out, or if we get to skate together or give them a card or a sticker, kids can relate to that," Driver said.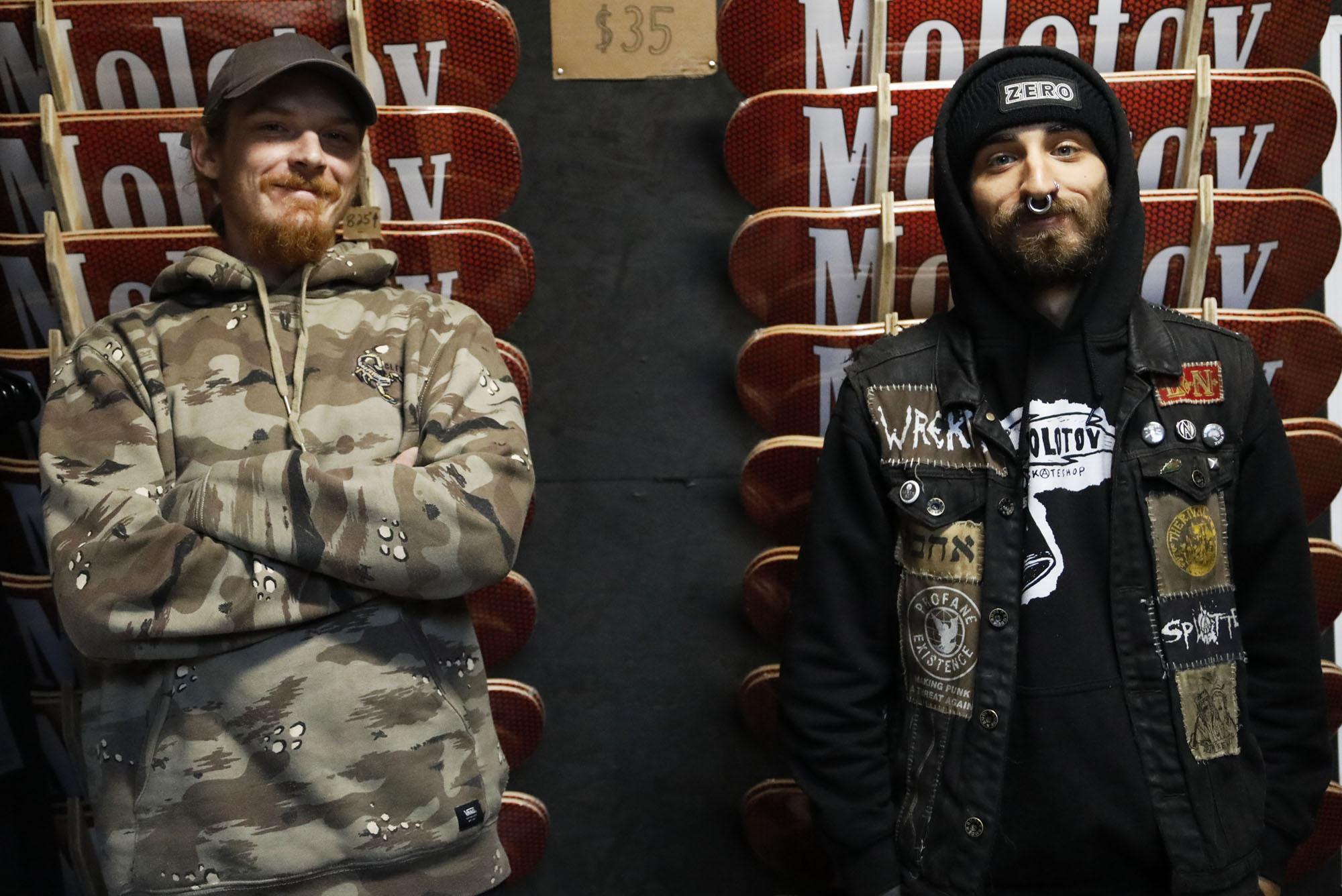 Molotov hosts community events, such as board releases, video premieres and skate contests, which are all events to get people together and help the community grow. Driver and Portugal are hoping to build a mini-ramp at the A-Frame, which is like a small half pipe, to use for contests and to give people another place to skate. They also plan to host a kids skate camp, in hopes of bringing more young people into the sport.
"Hopefully this will bring in more kids to skating, and it will definitely give them a place to get better, more reasonably priced equipment," said Jordan Copass, a Bowling Green skater and Molotov team rider.
Molotov also hopes to provide a link between major companies — such as Baker, ZERO and Toy Machine — and young and talented local skaters who would never be noticed or discovered otherwise. 
"Through buying online, there is absolutely no way to even get close to meeting pros or to get sponsored," Portugal said. 
Thanks to Driver and Portugal, Bowling Green skaters are able to connect with skaters from different parts of Kentucky. Molotov has put together a small group of some of the best skaters from Bowling Green and Lexington, and they just completed their first skate trip, spreading the Molotov name to Missouri and Arkansas from Jan. 25 to Jan. 30. 
Molotov has a lot in store for Bowling Green and doesn't have any plans on slowing down. For Driver and Portugal, it's always been about the community and just having fun while skating. Skateboarding is what brought the co-owners together in the first place — it is the glue that keeps them together as business partners.