For Bowling Green native Ashlee Taylor, encountering understaffed hospital floors and covering shifts in unfamiliar working areas were commonplace during her three-day work week as a student nurse intern. From sunrise to sunset, she said, nurses are on their feet critically thinking to keep their patients alive while working with inadequate staffing.
Taylor said the nursing shortage makes a three-day work week seem even harder and longer.
"It's not just three days a week," said Taylor, a recent graduate of the School of Nursing. "It's three very demanding, labor intensive shifts, and I know that from not even working yet."
Nursing shortages are plaguing health care facilities in Kentucky and across the nation. According to the Kentucky Board of Nursing's 2017 list of active licensure counts, Warren County has 1,511 active registered nurses as of Nov. 28 compared to urban Fayette County with 5,240 registered nurses and Jefferson County with 11,175 active registered nurses. WKU's Bachelor of Science in Nursing (BSN) program responded to the nursing shortage locally by increasing fall 2017 admittance numbers from 80 to 120 students per semester.
Registered nurses, earning an average annual salary of $58,700, are one of the top 10 positions in demand in South Central Kentucky, according to South Central Kentucky Launch (SCK LAUNCH), a program initiated by the Bowling Green Area Chamber of Commerce.
In the last five years, registered nursing has grown by 2.9 percent in Warren County, which is double the national growth rate, according to JobsEQ statistics provided by the Bowling Green Area Chamber of Commerce.
There are 344 nurses needed in Warren County to replenish the current retirees, and 263 nurses in total growth demand as of 2017, JobsEQ reported. As a result, they reported Warren County is currently in need of about 600 registered nurses total.
Taylor said what's frustrating about the nursing need is there isn't a solution; nurses can't just leave when their shift is up. Without enough people on shift, responsibility increases.
"It's not like a business that will shut down if they lose employees and if they lose business—it's an ongoing cycle."
Taylor discovered nursing as a junior in high school and said she never looked back after discovering all that it could offer her — even with the existing nursing shortage.
She has worked in a variety of different hospital settings for practicums and internships. Taylor graduated from WKU's School of Nursing in December, she will begin work as an Intensive Care Unit nurse for the TriStar Greenview Regional Hospital in Bowling Green this January.
"Because this is my hometown, I almost feel like I owe it to the town to contribute to the nursing workforce because if everyone becomes a nurse and then leaves, what's Bowling Green going to have?" Ashlee said.
The WKU administration is doing all it can to ease the current nursing shortage, but without more financial support within the School of Nursing's budget, there isn't much more that can be done for now, said Mary Bennett, the director of WKU's School of Nursing and a member of the Kentucky Board of Nursing.
She said they also can't ask much more of their students.
For 2016, the BSN program had a 97 percent pass rate on the registered nurse state board exam, according to the Kentucky Board of Nursing pass rates.
Bennett said pressure is on all the schools of nursing to produce as many nurses as they can, as quickly as possible, which is why WKU pushed for higher enrollment numbers encouraging students to choose nursing.
"With a 70 percent retention, we're going to graduate 100 students," Bennett said. "The local hospitals could literally take all of our students and use them. Unfortunately, a lot of graduates do not stay here."
Bennett said the biggest strain is on the local hospitals, and it's causing one of the worst shortages she has seen in her career. She said the problem is once these new graduates see what's offered at bigger, urban hospitals, they can't help but take advantage of those opportunities.
According to the Department of Health and Human Services (HRSA) 2013 U.S. Nursing Workforce report, about 445,000 registered nurses and 166,000 licensed practical nurses live in rural areas — roughly 16 percent of the registered nurse workforce.
"Whether or not a nurse stays in Bowling Green is if they like Bowling Green," Bennett said. "So, if they're really concerned about the number of nurses locally, we want to make this the best place to live and work as we can."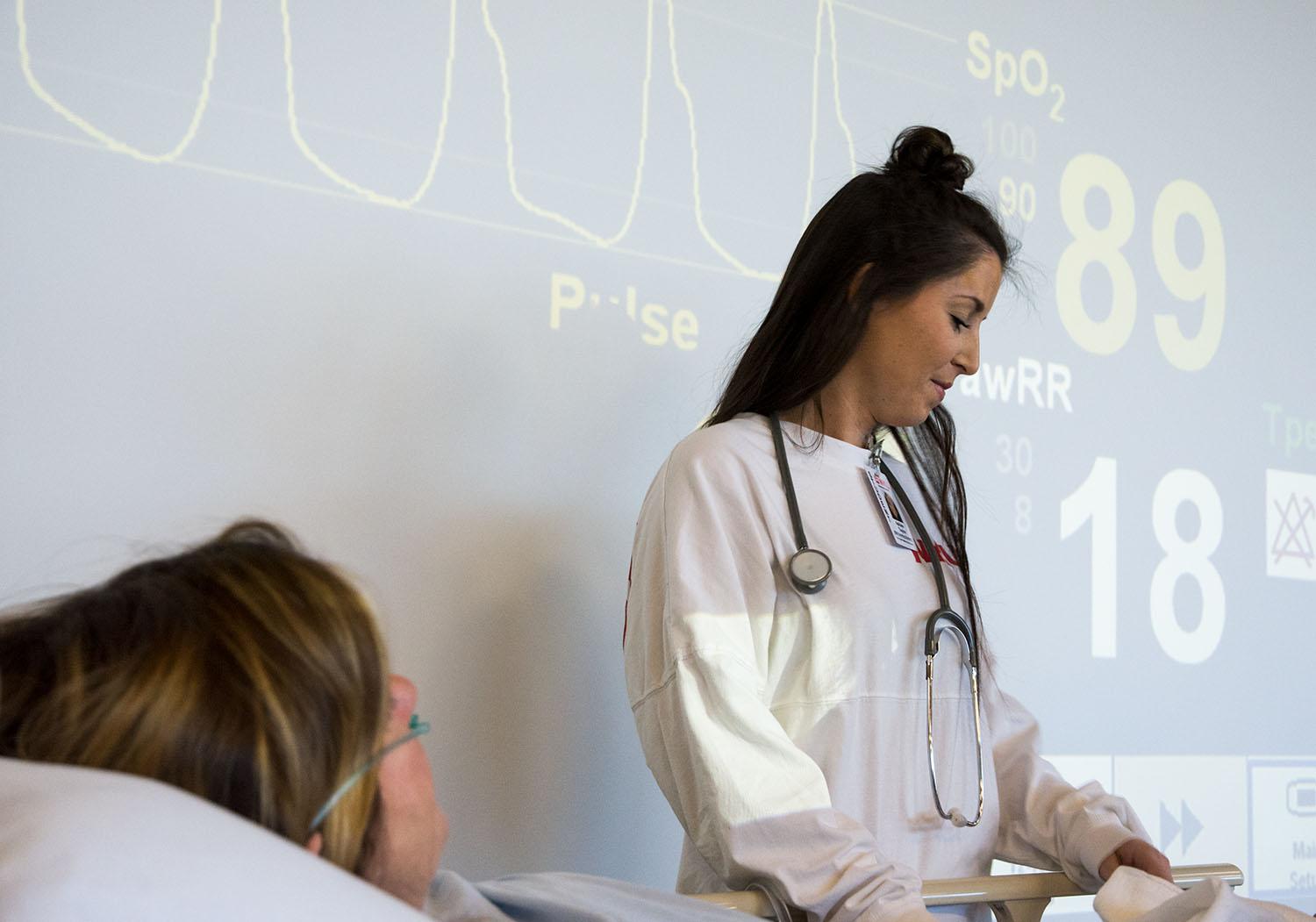 An urgency in the emergency room
According to the HRSA 2013 U.S. Nursing Workforce report, about one-third of the nursing workforce is older than 50. The agency also reported nearly one million registered nurses older than 50 will reach retirement age over the next 10 to 15 years, which means a loss of experiential knowledge and leadership brought to the workforce.
For the loss of seasoned nurses, mandatory overtime or overtime incentives have been offered in the past at both The Medical Center and TriStar Greenview Regional Hospital in Bowling Green to combat the lack of numbers in the hospitals, according to many local nurses and Bennett.
Tracy Jenkins, 52, a WKU professor within the School of Nursing and a part-time registered nurse at TriStar Greenview Regional Hospital, said the reasons for these efforts and the shortage today are not simple.
Jenkins is an agency nurse, who fills in at hospitals in desperate need of staff. She said when she is called into work there is always a shortage.
"What I hear when I'm on the floor and how I feel when I'm on the floor, after a shift — I'm exhausted," Jenkins said. "I give my 100 percent because I'm in it because I want to help people. You have to be or you don't stay in it long."
According to the Nursing Solutions 2016 National Healthcare Retention and Registered Nurse Staffing Report, registered nurse turnover has continued to rise from previous years. In 2015, the turnover rate for bedside registered nurses increased to 17.2 percent, up from 16.4 percent in 2014. Nurses working in behavior health, emergency and medical/surgical units experienced the highest rates of turnover, the Nursing Solutions report said.
Jenkins said along with retention, students are more mobile than ever before, especially with travel nursing becoming more popular. She also said that because of the increasing acuity of the patients, they are requiring more care on the nurse's part.
"I'm used up," Jenkins said about the end of her shift. "I'm so exhausted. I can hardly walk and the next day I'm limping. So that is an issue."
Jenkins said she is a huge student advocate and despite all of the challenges put on the profession, tries to teach her students how to propel change and be leaders in the demanding industry.
"I'm in a job that I don't have to go to; it is a privilege to go to," Jenkins said. "Even though some days you're wore out, dried up and can't move, you know you've touched someone's life when they're the most vulnerable, and that is one of the most rewarding experiences."
Keith Cassady, 58, who works as the Emergency Preparedness Coordinator at the TriStar Greenview Regional Hospital, finds the same reward in his job each day.
"Your job in nursing is always good whether it's a 2-year-old that is seizing or an 80-year-old that can't pee," Cassady said. "If you get a catheter in them to where they can pee and they're happy, then you've done a good thing."
Cassady manages the emergency room (ER) unit and the floor nurses scheduling. He said the number of nurses available is better than years in the past. On average, he said his ER nurses will have four patients each, but when they are sick patients, it is still too many.
Cassady said all of the positions are currently filled in the ER at the Greenview Regional Hospital. However, that does not mean he is staffed properly. Of the 15 positions that were filled from the previous year, he said they are all new graduates needing training.
He stressed that they need to gain the experience to have the foresight it takes to be an ER nurse.
"A lot of times I can tell the way you walk in the front door what's wrong with you," Cassady said. "New nurses can't do that. They've got to have the time and the experience to get that. So, even though you've got the nurses to be full, you're still not really full."
Long-term forever care
This lack of "fullness" and the pressure to discharge patients from hospitals as soon as possible may result in more people being admitted to long-term care facilities and outpatient care centers and greater need for health care at home, according to the Bureau of Labor Statistics.
The Bureau of Labor Statistics also reported nursing job growth is expected in these facilities that provide long-term rehabilitation and because many older people prefer to be treated at home or in residential care facilities.
Teresa Fisher, 51, a long-term care nurse since 1985, only left when she said her own health was in jeopardy as a result of her taxing labor. Her wing in long-term care consisted of 32 patients with several daily tasks such as giving medication, calling residents' families and completing certain charting.
Fisher had a blood clot in her leg three years ago and after standing on it for such long periods of time, couldn't tolerate the pain anymore. She would go home with her legs and feet swollen, in so much pain she would break down in tears.
She said her health condition and the nursing shortage had a major impact on her decision to make a career change.
For 30 years, Fisher worked in a rural long-term care facility about 35 miles outside of Glasgow, Kentucky and now works in home health in Glasgow. She asked for her places of work to not be named in fear of possible negative consequences for her comments.
Fisher said when she was in long-term care she never had a single day off.
"I would wake up in the middle of the night and think about something I forgot to do," Fisher said. "I'd call the nurses and they'd be like, 'Oh my Gosh, Teresa. Why aren't you asleep?' 'Well, I woke up and had so and so on my mind.'"
Fisher said she dedicated her life to nursing when she made the decision to be a nurse. She said she feels like she missed out on so much of her daughters' childhood because of the demand nursing requires.
"Neither one of them wanted to pursue a nursing career because of all the hours and all the time away from them that they watched their Momma spend," Fisher said. "They're both school teachers so they have weekends off and holidays off. So, they were smarter than Momma."
Fisher said there is always going to be a need for nurses but the profession is changing. She said it is getting away from the personal touch it used to have when she first started and becoming more about making profits.
"When I first started nursing, [long-term care facilities] cared about their patients, they cared about their staff and they wanted everyone to work together to make it a home away from home."
Practicing for the future
To make the transition from student to practicing nurse, Dr. Sherry Lovan, 53, WKU's BSN program coordinator said the faculty hopes graduates become agents of change and leaders within nursing.
"You really have that unique opportunity of connection that can make a difference in a person's life," Lovan said. "So, nursing really is a package. It's a science and an art."
Lovan said these are challenging times for health care organizations; however, nurse retention is key. She said it is important for organizations to ensure the units are a great place to work to promote job satisfaction.
Of those workplaces, The Medical Center was pleased to have contributed to the growth of new nurses who will begin work at the start of the new year, said Barbara Taylor, the executive director of marketing and public realtions, in an email.
Andria McGregor, the marketing coordinator, said the HCA TriStar Nurse Residency Program at the Greenview Regional Hospital was another strategy developed to take recent registered nursing students through the transition from new graduate hires to professional nurses.
"The nurse residency programs are proven to build confidence and proficiency in delivering quality patient care, and to develop future nurse leaders," McGregor said in an email.
Being a leader within nursing with the current shortage facing America is one of Ashlee Taylor's goals as she prepares to enter the professional workplace and her "three-day work week."
"It's not just a nine to five," Ashlee said. "Whether your patient passes away and it affects you for a whole week, [or] whether it's that I hurt my back and I still have to go back to work — nursing is hard. There's positive experiences and there's negative experiences, but the positive ones make it worth it for sure."