Senators, reporters, students and staff were milling around the Senate Chambers on the second floor of Downing Student Union. It was the night of the Student Government Association's third meeting of the semester.
President Jay Todd Richey entered. He seemed to recognize almost everyone in the room. He quickly approached those he didn't know and thanked them for coming. Richey wore black dress pants and a red polo shirt with the WKU SGA logo.
At Richey's side was his chief of staff, James Line.
Line, a Bedford junior, was dressed in a much more relaxed style with his plaid, flannel shirt and jeans. But he meant business.
Line followed Richey around the room armed with a leatherbound notebook. Both men leaned over to whisper muted comments to each other as they sauntered about before finally taking their seats side-by-side in the chamber's front row.
Politics wasn't anything new for Line. A self-described "politics junkie," he studied political science with minors in history and journalism. He also served in several different roles in SGA and was a local activist.
But his reputation at WKU wasn't for his politics. His official title was chief of staff. He spent most of his days at Richey's side.
This was a real, constitutional position. Per constitutional outlines, the SGA included an executive staff to aid the president, executive vice president and administrative vice president.
One of the executive staff positions was the chief of staff. This position was under the direct supervision of the president and entailed coordinating the executive staff's schedules, recording meeting minutes and advising the executive cabinet members, among other duties.
Richey appointed Line to this position after he managed his successful, but very contested campaign for SGA president, and Line was approved by a two-thirds majority vote of the senate.
One of Line and Richey's first interactions happened on Twitter before the start of their freshman year at WKU. They talked about 2016 presidential candidates and then became closer through mutual friends when they both moved in to Minton Hall. Richey said that Line helped him move into Minton before the H4 Honors College retreat, but they still weren't close until later in the semester.
One day Line was hanging out with a friend in Richey's room, and Richey told them he wanted to run for student government. He was worried that no one would vote for him, and Line offered to join his campaign.
"He volunteered to help," Richey said. "So I said, 'OK, I still don't know who you are, but thanks for volunteering to help.'"
Line said he had been involved in student government for all four years of high school and wanted to continue that in college.
The two met at Popeyes in the Tower Food Court and started planning their campaign strategy. Line said it was the friendship he developed with Richey during this time that pushed him to be more involved with SGA.
After Richey was elected as a senator, Line continued attending SGA meetings. He went on to become a senator and chair of the Public Relations Committee at the start of his sophomore year.
Richey said that after he was elected president, Line was an obvious choice for his administration.
"I didn't consider anyone else for chief of staff," Richey said. "That was 110 percent going to be James."
Line described his position as chief of staff as being "what you make it out to be."
"Constitutionally, I'm only required to oversee the office and take care of office schedules and that kind of thing," he said. "My other responsibility is to advise the president. Beyond that, I take on a lot of various initiatives that I'm passionate about and I think need some sort of leadership on."
Whenever Richey had questions, Line was there to answer them. Whenever Richey registered for a class, it was likely that Line could be found in there, too.
"I'm sort of the president's right-hand person, in a lot of ways," Line said.
One moment that stood out to Richey was Line's research on President Gary Ransdell's deal with the Confucius Institute. Line compiled a document of his research and distributed it to all the SGA senators, even going so far as to miss class in order to work on SGA's defense against the contract.
Josh Knight, an Owensboro junior and SGA senator, said that Line's relationship with Richey has been key for SGA accomplishing its initiatives.
"They're very best friends," Knight said. "They've worked together on a lot. I think it really helps Jay Todd to have someone take some of the work load."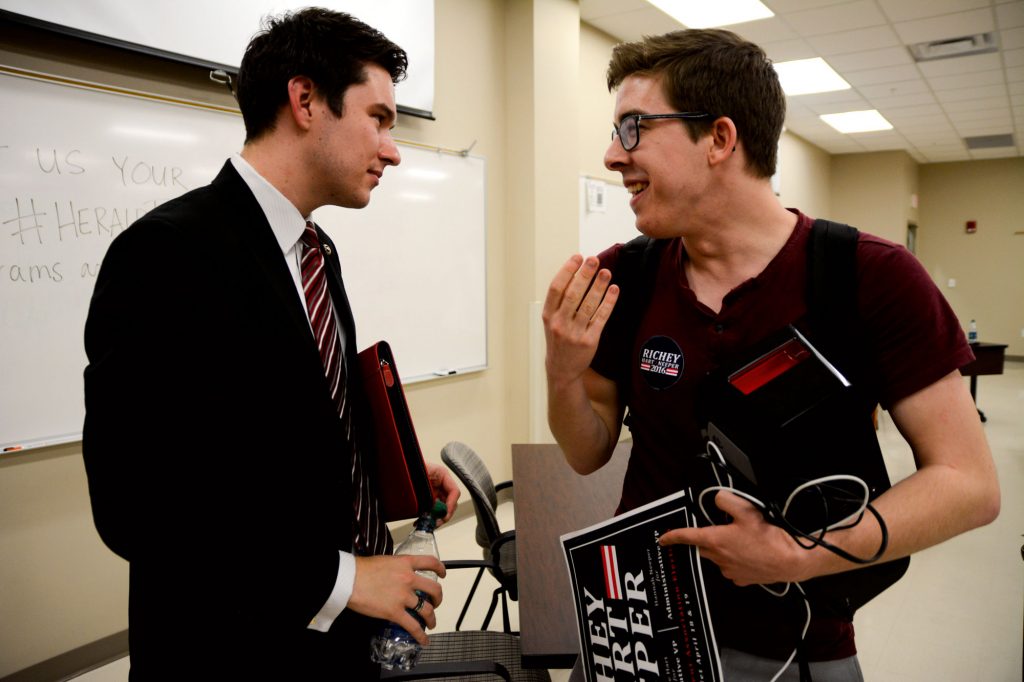 Richey said that their "symbiotic relationship" has been beneficial to him in his time as SGA president.
"He's always the person that puts my happiness before, really, his own without anything in return," Richey said. "It's just friendship. It's a very odd friendship, but I like the friendship."
Richey walked into class late on one March afternoon a bit flustered as he sat his bag onto a table and slumped into the closest seat to the door. His professor was in the middle of taking roll. With Richey accounted for, there was just one conspicuous absence.
"Where's your minion?" the professor asked.
Richey paused to chuckle before responding. He didn't need to ask whom she meant.
"I think he's downstairs in the bathroom," he said.