Instead of having another "ruff," boring day, 12 dogs filled the Colonnade running around barking on Saturday afternoon. These dogs and their owners had a waggin' good time participating in Circle of Sisterhood's puppy pageant fundraiser.
Circle of Sisterhood was founded around being able to have educated women in the United States share their education with other women in countries that don't get the same opportunities, said sophomore co-events chair Katie Thomason from Hopkinsville.
The organization was founded in 2010 by a WKU and Alpha Xi Delta alumna and has been upheld on campus ever since by sorority women. The organization is focused on increasing literacy rates among women, since two-thirds of all illiterate adults in the world are female.
The pageant was part of the organization's effort to raise enough money to put a down payment on a school in a developing country. They are still in the planning process and deciding where to build it. Altogether, the event raised $2,011 from the $5 admission fee, T-shirt sales, sponsorships, registration fees and the fee to vote for people's choice award.
WKU, Interfraternity and Panhellenic Councils and eight sororities had participants in the event to represent their organization. There were three categories for the owner and dog pairs. The first category was spirit wear.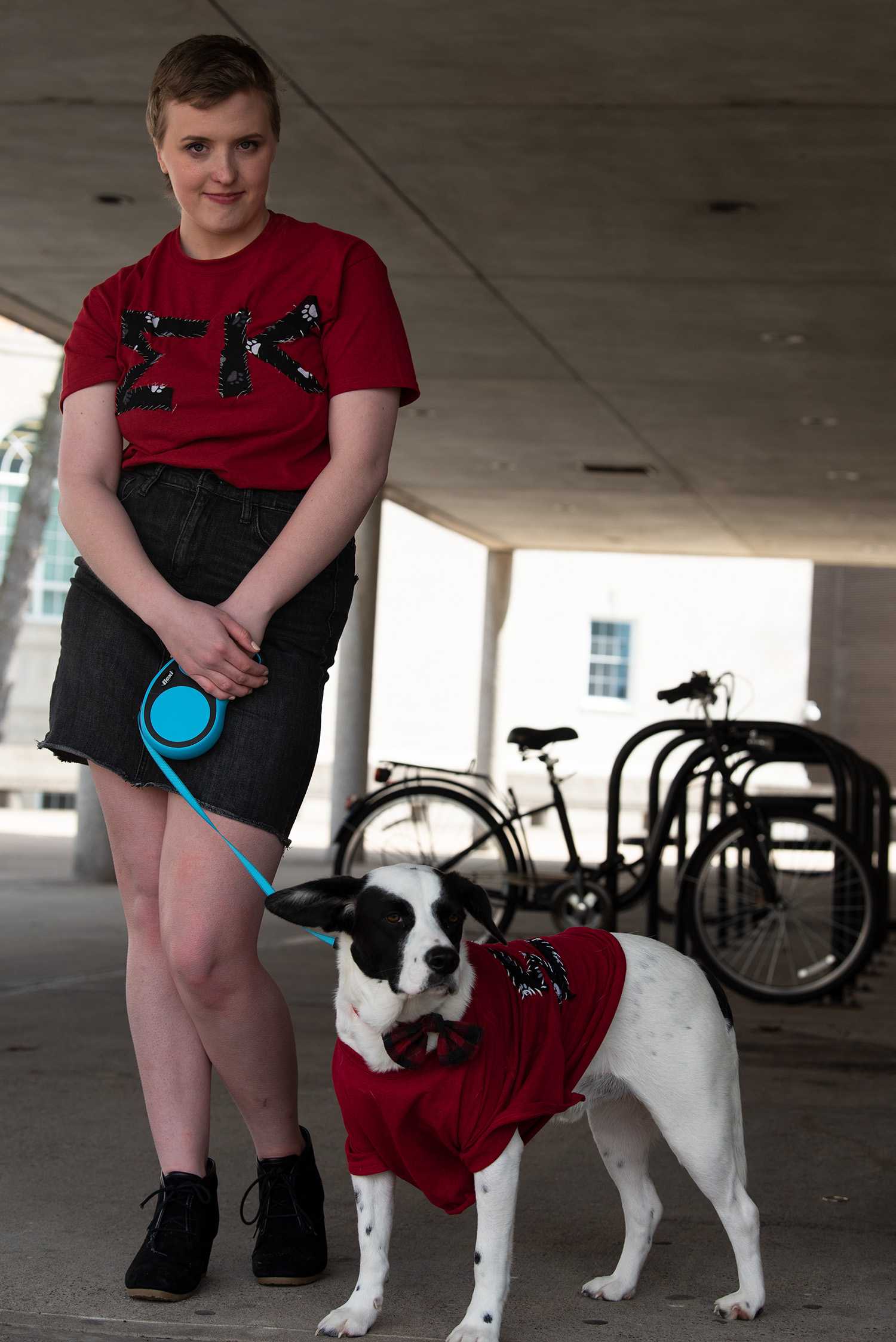 For spirit wear, the owner and dog both dressed up in a way that represented their organization. Many dogs were wearing T-shirts that had the organizations' name on them. Sophomore Bailey Stauffer from Henderson and her pointed ear corgi Kingston wore Kappa Delta shirts.
"I love showing Kingston off to everybody," Satuffer said.
The second category was talent.
"That can be 'oh he's standing there being a good boy' or like actually a talent that the dog can do," said senior co-events chair Elissa Youart from Brandenburg.
Hendersonville junior Kody Okert's two-year-old golden retriever, June, sat down and gave shake on command for this round. This helped them secure second place all over as the entrants representing the Interfraternity and Panhellenic Councils.  
The third and final round was costume, where the owner and dog wore some sort of coordinating costumes. Starting out this round was sophomore Kaley Bloyd from Bowling Green and her maltipoo named Millie wearing matching supergirl costumes.
"We just did it for Circle of Sisterhood," Bloyd said. "That's the main thing we're supporting out here."
After all three rounds conclude people could pay to vote for their favorite dog and owner duo to win the people's choice award. Bloyd and Millie won the people's choice award.
Third place went to Bowling Green native Allie Perkins and her miniature goldendoodle Dodger representing Alpha Delta Pi sorority. Second place was awarded to Okert and June representing Interfraternity and Panhellenic Council. First place went to Ethan Handel, from Elizabethtown, and Blitz representing WKU.