On Friday, Oct. 25, Kacey Musgraves took the stage at Bridgestone Arena in a fall fashioned red-orange dress for the last stop on her "Oh, What a World: Tour II" and addressed the record-breaking crowd in attendance before her: "Hey, Nashville — how y'all doin'?"
As I walked around the arena before the show started, I realized how confusing it would be to figure out what kind of music was about to be played if you didn't listen to Musgraves. Middle-aged couples in date night attire waited in line alongside decked out cowboy cosplayers and groups of college and high school-age youths. Those who weren't donning cowboy hats were dressed like they were about to attend a party, and others dressed in outfits suitable for church — all in attire that would, in a way, be right for Musgraves's performance that could double as party anthem playlist and sermon for her devoted fans. 
Rainbows were also highly visible in the clothing and accessories of attendees, both a representation of Musgraves' appeal to LGBTQ+ folks and the psychedelic '60s aesthetic that she embraces. Everyone around me served as examples of why Musgraves herself, not just her music, attracted such a massive fanbase — every type of person is welcome wherever she goes. She transcends genres to create a unique style of music, and her fanbase transcends the usual monolith of chart-topping musicians' audience to be as unique.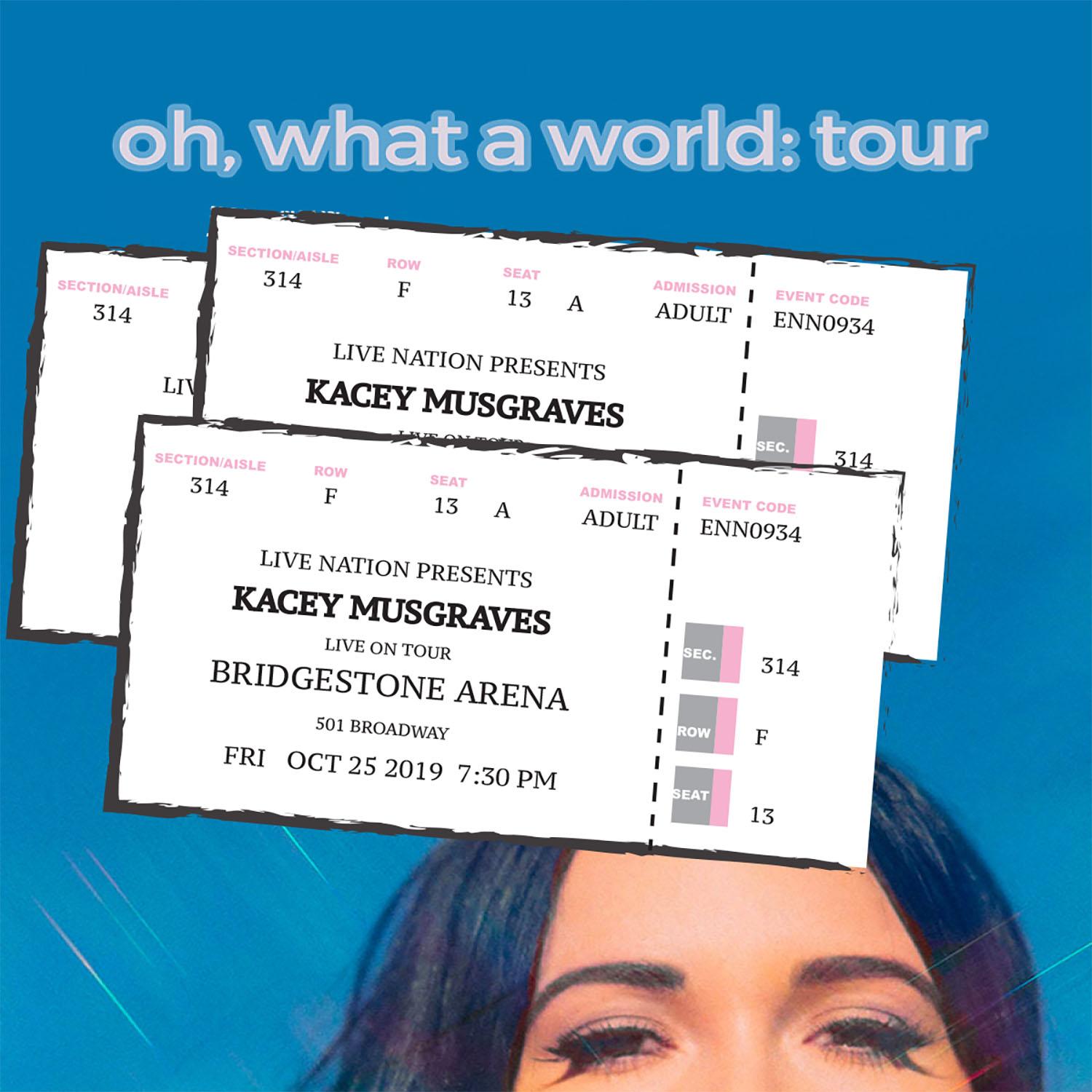 Musgraves opened the concert with "Slow Burn," a country-leaning song about not rushing romance from her album "Golden Hour" and immediately stole the attention of everyone in the building. At most concerts, phones are out and about with people recording the show or simply checking their devices out of habit, but I do not recall seeing anyone with their phone out during a song until we were asked to use our phone flashlights near the night's end. 
Her vocals came through crisp and clear even in the massive space, and if someone had told me I was listening to a studio recording instead of a live rendition, I may have believed it for a moment. "Slow Burn" would prove to be an apt opener as Musgraves's performance burned on through the night, her flame-colored outfit matching the warmth she emitted with every love song strung. 
After a few more songs from her Grammy-winning album "Golden Hour" and the preceding albums "Pageant Material" and "Same Trailer Different Park," the concert paused for several minutes as the stage went dark. When the lights came back on, Musgraves was surrounded by her band forming a half-circle with each member manning an instrument in an ensemble that included guitar, bass, drums, a cello and a banjo. They played a hauntingly beautiful version of the tour's namesake song, "Oh, What A World," as well as another song from "Golden Hour," the heart-wrenching "Mother" that Musgraves said she wrote when missing her mom immensely while apart from her. The band moving in to be around her somehow made those songs feel more intimate, as if we had all been invited to lean in closer and hear something privileged as Musgraves sang.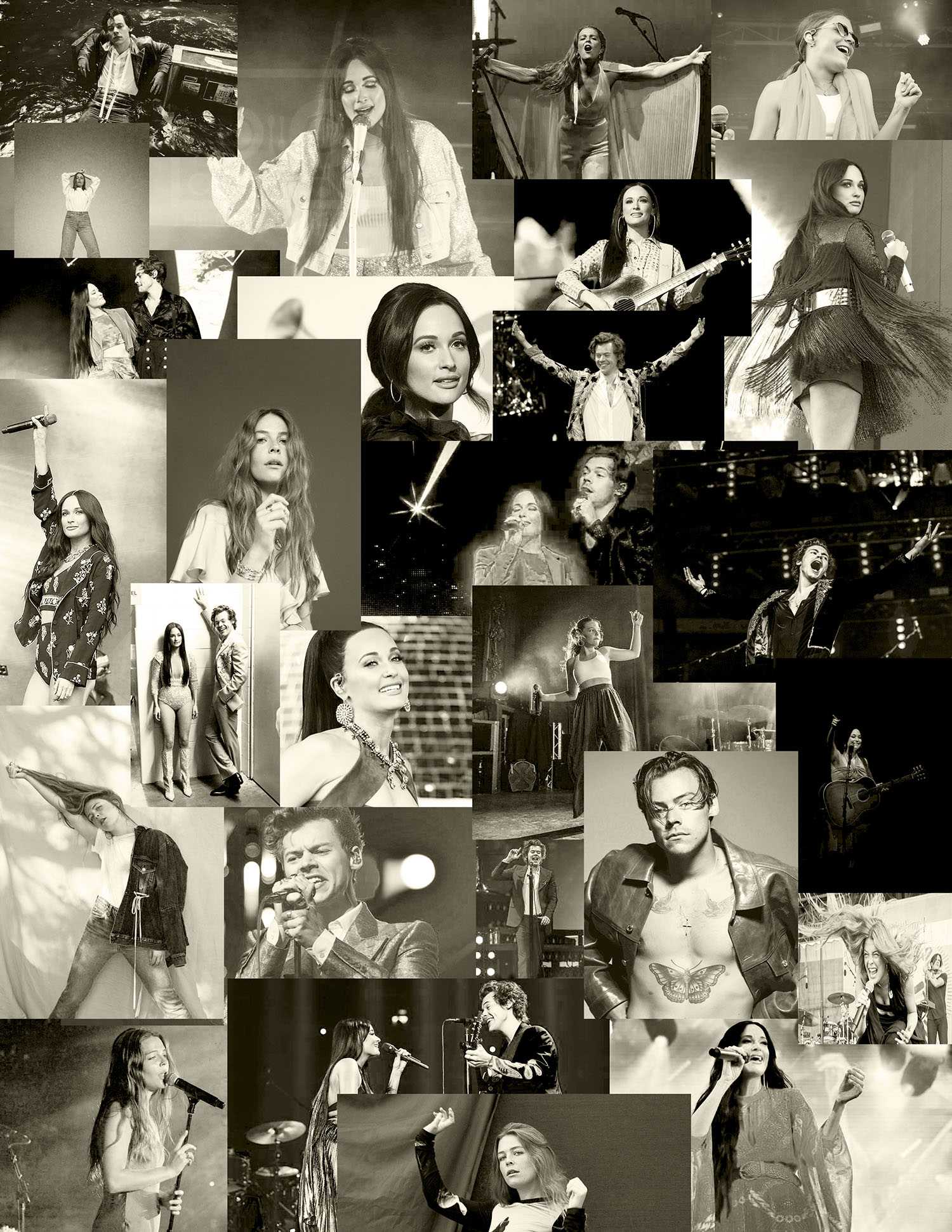 Near the end of the set, as Musgraves sang the final notes of "Follow Your Arrow" from her first studio album "Same Trailer Different Park," the arena once again was doused with darkness. This time, when the lights returned, a male figure, Harry Styles, stood illuminated in the center of the stage, and he began to sing Musgraves' song "Space Cowboy" to introduce himself to the Nashville crowd. The former One Direction member turned solo superstar joined Musgraves in a duet for the song, and as a big fan of both artists, it was an emotional moment for me. 
Styles took the reigns for a verse, turning the guitar-heavy post-breakup ballad into a powerfully emotional, borderline soft rock track for the duration of his solo stretch. The duo then harmonized on a belted-out chorus before embracing each other at the song's conclusion. "It's always a pleasure, an honor to share a stage with this lady," Styles said of his former tour companion. Musgraves opened for Styles on part of his debut album tour "Harry Styles: Live on Tour" in 2018. He then congratulated Musgraves on the ending of her tour, told the audience to have fun, and let out a resounding "yeehaw" in true Musgraves and Nashville fashion before exiting the stage. 
Watching Musgraves perform was like catching up with an old friend whose stories are always perfectly told and it's hard not to hang onto every word until hours have passed by. She graced the stage, a guitar in her hands, gliding casually through each song as if she was talking with each of the 18,373 people she said were in the crowd. She interacted with the audience between each song, making jokes or comments reminiscent of small talk. At one point, as she finished introducing her band, she turned to the audience and said, "and y'all know me — I'm Spacey Kacey." Musgraves has a way of welcoming and embracing listeners with her songs — like each is made from a mix of guitar, drums and Southern hospitality. And by the end of the night, it felt as if I did know her.