This story was originally published in early December in "Movement," the fifth issue of Talisman magazine.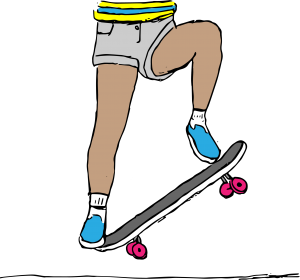 Located about two miles from campus across the street from a Dollar General is the Bowling Green Skatepark. Its rolling concrete hills and slopes absorb the heat of the sun as the sound of the wheels surround the valleys of the park.
The atmosphere is relaxed, yet energetic. The lanky bodies in the park attach themselves to skateboards, bikes and scooters, while they zoom past the world around them with youthful freedom.
While the skatepark emits a free and welcoming energy, there is often an evident imbalance of gender represented in the park.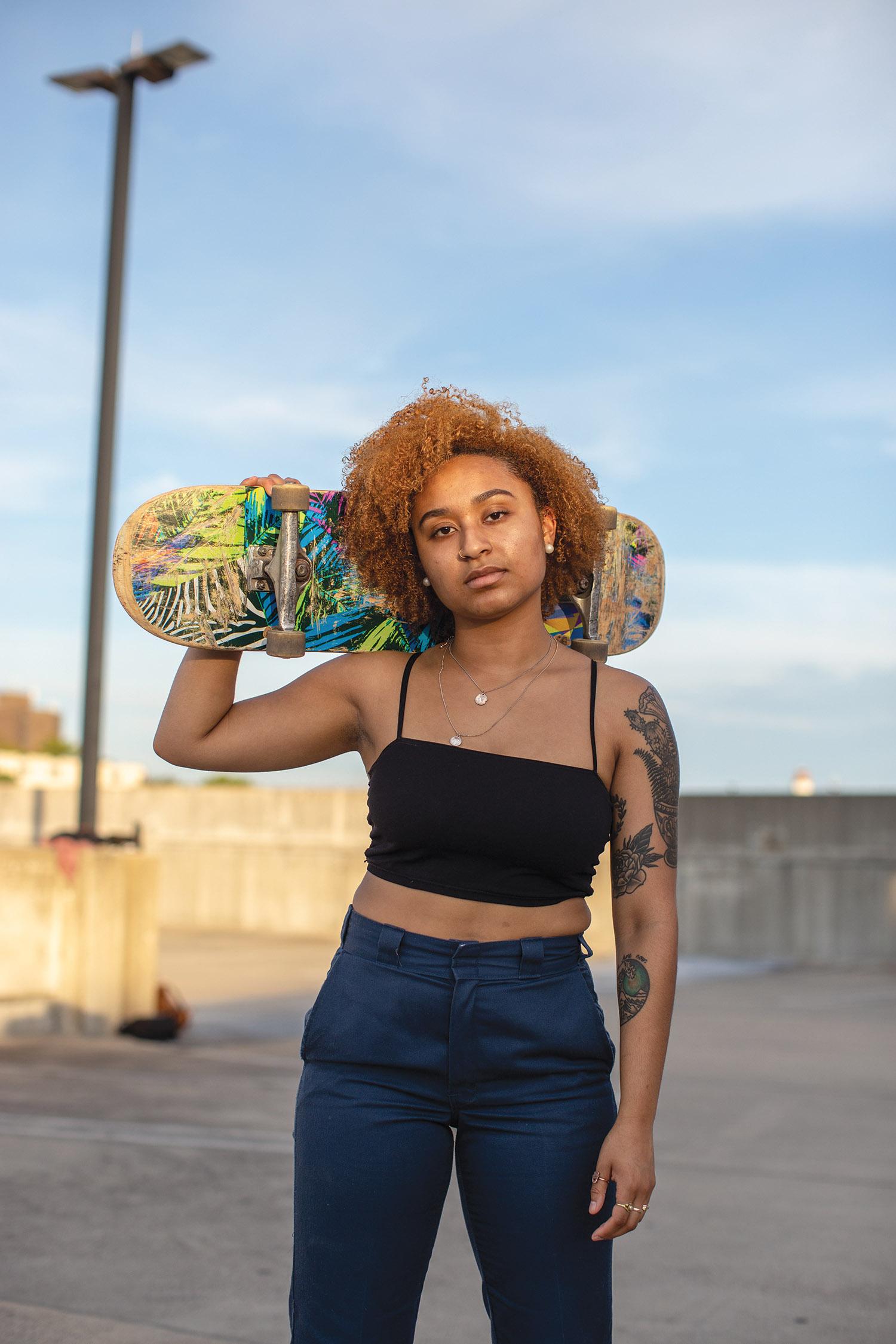 Radcliff senior Kennedy Morillo has been skating for about two years. She grew up loving the sport but didn't dedicate much time to it until college. She was introduced to the sport through Carly Coleman a former WKU student who is now a full-time mom in Murfreesboro, Tennessee.
Coleman grew up skating in her neighborhood and said she always loved the feeling it gave her.
"The rush of going down a hill with all of the wind around me is insane," Coleman said.
Despite loving the thrill of skating, Coleman said she didn't go to the skatepark in Bowling Green often when she lived there.
"I felt like I was always in the way, even though I probably wasn't," Coleman said.
The few times she did go, she said there were hardly ever any women in the park, making it hard for her to connect.
Coleman said she was nervous about ridicule from the guys even though she never experienced direct comments from the guy skaters.
"The worst ridicule I got was from non-skaters when I skated on campus," Coleman said. "I just didn't feel welcome. People would glare at me because they felt like I was in their way."
When Coleman met Morillo at Murray State University in fall 2015, they became good friends. Coleman was interested in finding someone to skate with, and Morillo was willing to learn.
They began skating on top of the parking structure on WKU's campus. Morillo said Parking Structure 1 was a good place because she could learn the basics without feeling like a hindrance to the more experienced guy skaters.
"It was natural," Morillo said. "I just got on, and I could do it. I remember thinking 'Wow, this is perfect. I feel like this is right. This is fun.'"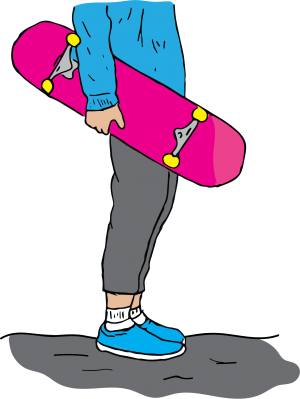 Shortly after learning to skate, Morillo entered into a relationship with a skater. Though the two broke up when he moved away, they would often go to the skatepark and he helped her master new tricks when they were together. While Morillo appreciated his help, she also learned that girls skate differently than guys due to their physical differences. She said the differences made it hard to learn new things and still does at times.
"Weight distribution on women and men is completely different," Morillo said, "Like we have boobs. A lot of guys don't realize that since we have different bodies, we skate differently. We may do something slightly different because of our anatomy."
Morillo feared judgment from the guy skaters in the park even though she too had never experienced any direct ridicule from them. She said she feels like guy skaters actually want more women to skate.
"Whenever I would go to the skatepark consistently, I would get a lot of praise for the things I was doing," Morillo said. "When a boy would see me, he would be like, 'Oh my god, you skate? That's so crazy.'"
Morillo said the most ridicule she gets is from other women. She said she often receives looks when she is skating on campus or has her skateboard with her.
"I had my skateboard on me all day and the amount of looks I got was crazy," Morillo said. "I felt like I needed to run home or go back to my car to put it up, but I am glad I didn't because I needed to feel that uncomfortability."
Morillo said that for two years, she didn't step foot inside the skatepark after she and her ex-boyfriend broke up. She no longer felt comfortable going to the skatepark alone because of the lack of women present.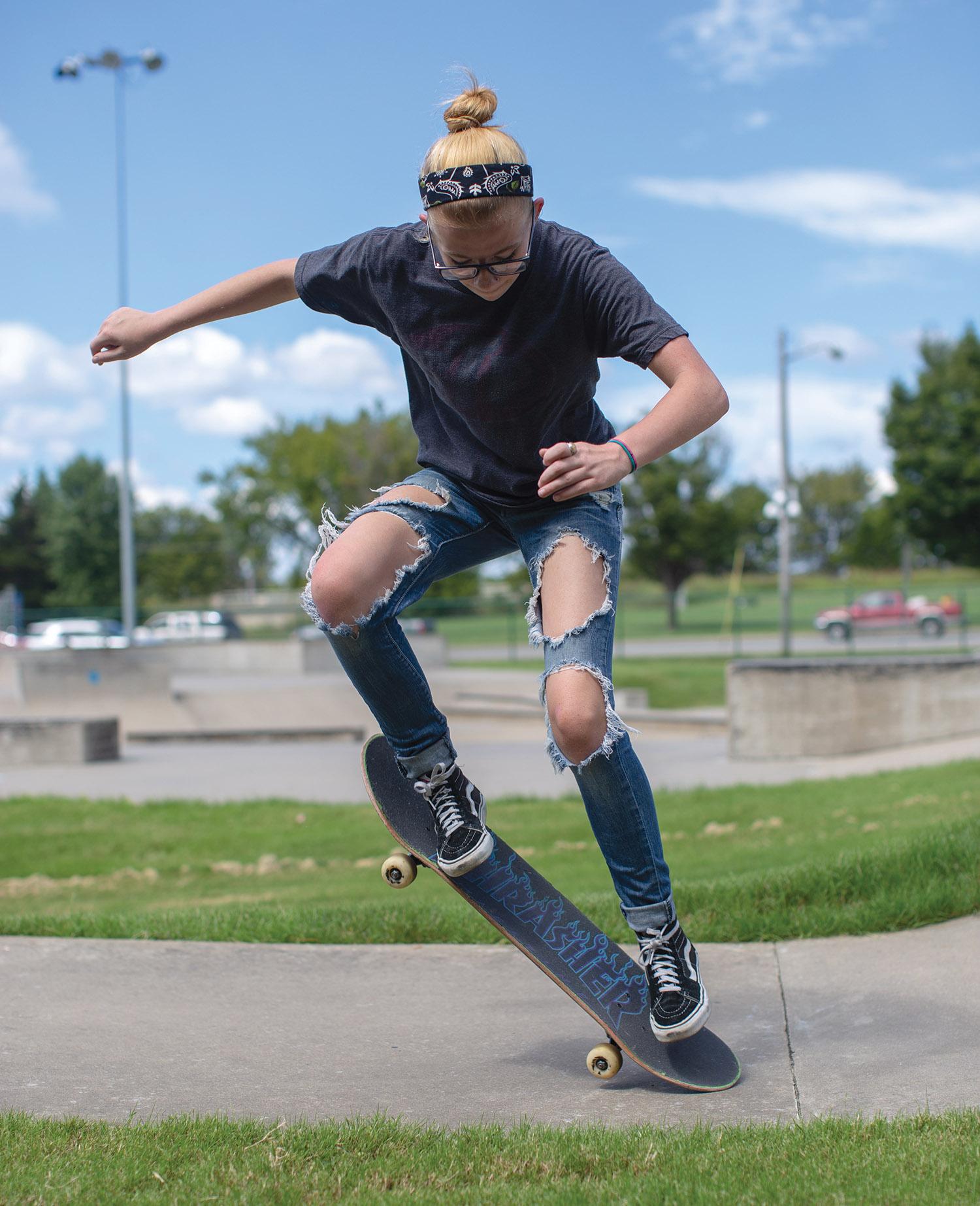 It wasn't until Sept. 2018 when Morillo met a girl with a skateboard inside Starbucks. Her name was Jaszmen Rakers and she was a sophomore at Bowling Green High School. Morillo asked her if she skated.
"That's a stupid question," Morillo said. "Of course you skate, you have a skateboard."
Rakers has been skating since March 2018. She started going to the skatepark when her 10-year-old brother was learning how to skate. She was there with him every day and decided there was no reason she couldn't give it a shot too.
Unlike Morillo and Coleman, Rakers had some negative experiences at the skatepark. One of the rules of the skatepark is that shirts must be worn at all times. Despite this, Rakers said a lot of the guy skaters take off their shirts all the time.
"It's too hot not to," Rakers said. "I fight with my mom about it but if they are taking their shirts off, I am going to, too."
Rakers said she receives stares almost every time she takes her shirt off. Rakers recalls one instance in particular was when she was skating in only her sports bra and a guy asked her if she was trying to be a stripper.
"I was like, 'Excuse me, where is your shirt?" Rakers said. "I'm a bit underage. I'm only 16."
Rakers said these kinds of experiences are what made her not want to come back to the skatepark, or at least not alone.
Morillo's experiences feeling isolated at the skatepark, along with learning that there were other girls who skate in Bowling Green like Rakers inspired Morillo to start a skate club for girls.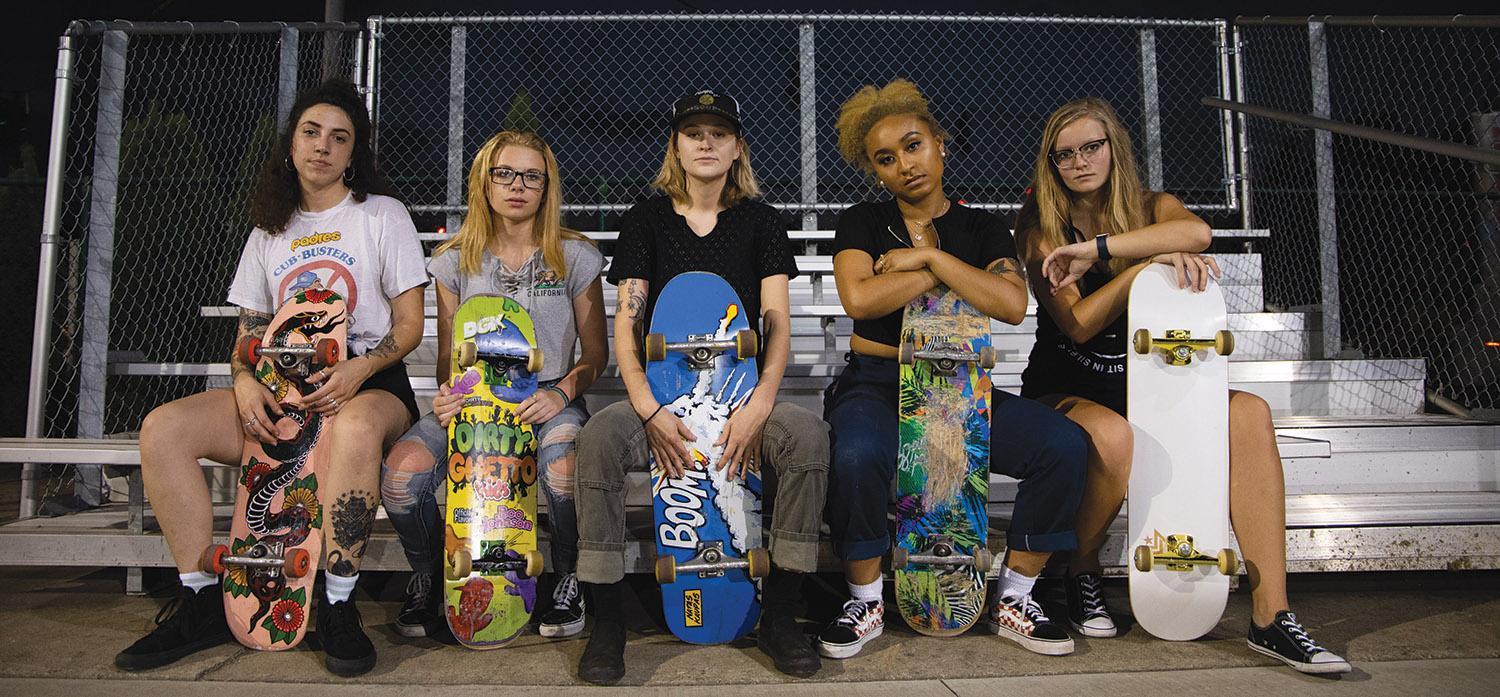 At these meetings, which occur every Thursday evening, girl skaters of all skill levels meet up and support one another at the skatepark. The energy that was once very masculine was now balanced with the presence of girls.
Morillo and Rakers said they have not faced any ridicule since going to the park as a group. The guy skaters either appeared supportive or apathetic, Morillo said.
Louisville sophomore Samuel Zitelli is a frequent visitor of the skatepark. Before the girls started meeting on Thursdays, Zitelli recalled very few times when he saw a girl skater at the park. He said most of the time, the girls were only there to watch their boyfriends.
"Skateboarding has always been a male-dominated sport, which sucks because some girls absolutely kill it," Zitelli said.
Zitelli said the other guy skaters he knows don't have any issues with girl skaters coming to the park.
"Everyone here seems really cool with it," he said. "I think it's really cool that there is a club starting. More people, in general, are coming out this semester, which is awesome."
Morillo has been incredibly pleased with the outcome of the skate club so far.
"This is the happiest I've been in a while," Morillo said at the first club meeting. "The fact that we are all here right now and supporting one another and learning new things is all that I wanted."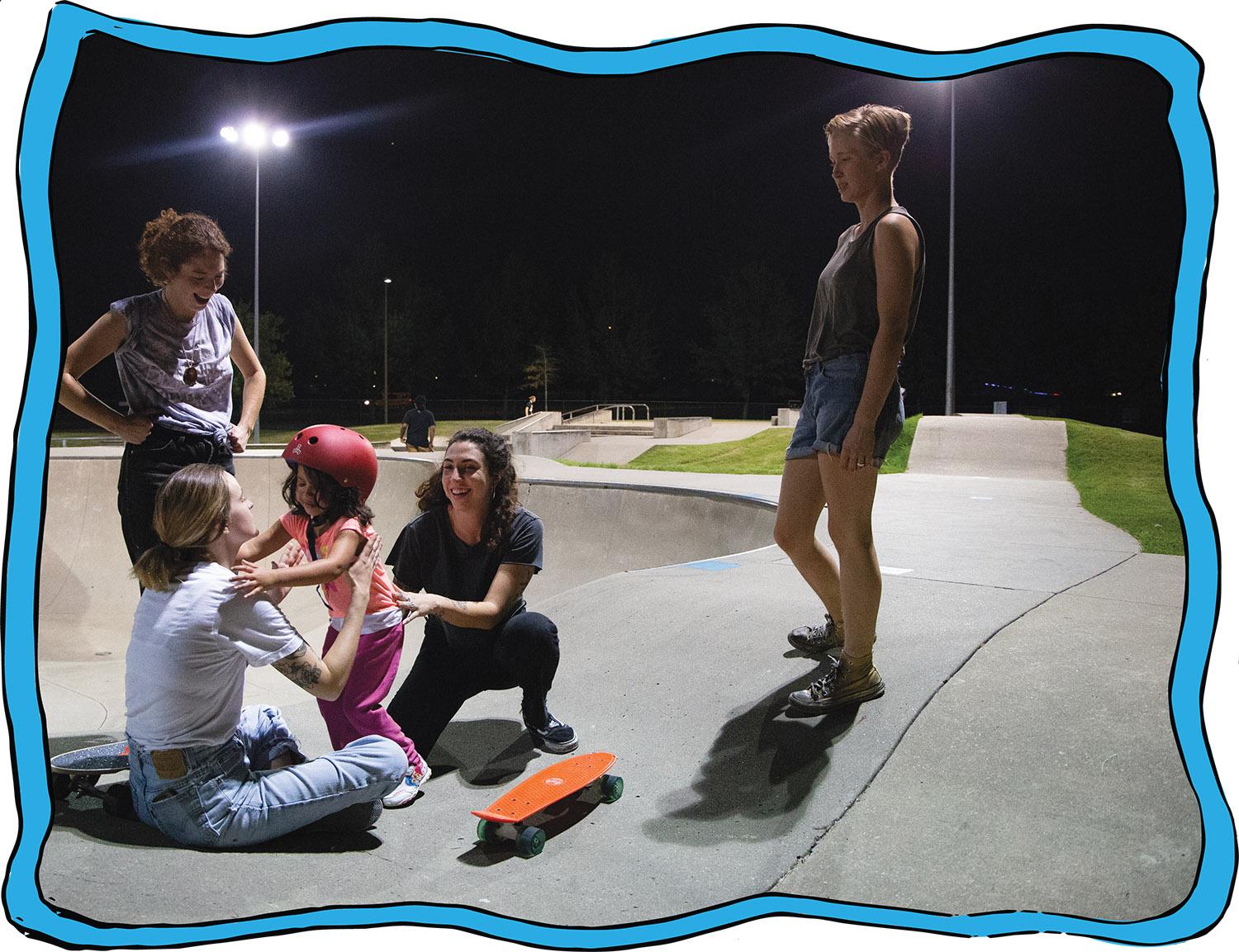 While every skater is on their own journey, Morillo is confident that a community of girl skaters is bringing a new light to the sport.
"I am not a beast by any means," Morillo said, "I can't go on rails and shred like some guys can, but I am working on my own skating every time I go out there."
Morillo said skating is freeing for her and skating with women makes her question why she wasn't doing it all along.
"I was so caught up in what men would think of my skating that I was preventing myself from progress," Morillo said. "It's nice that I don't have to do that anymore."