Editor's note: This article was produced by Cherry Creative.
Wellness goes beyond going to the gym regularly and eating healthy. Being in touch with your mental state is an important aspect of maintaining your overall well-being.
College students are immersed in an environment that can bring about stress, depression, anxiety and sometimes even eating disorders.
"All college students should be aware of it, not afraid of it," said Karl Laves, associate director of the WKU Counseling Center.
When someone begins to feel mentally imbalanced, Laves recommends they stop, think about it and realize they're human.
"Give yourself some credit," Laves said. "Ask yourself: 'What do I believe to be true? Is it true?'"
Laves said feelings of depression and anxiety aren't anyone's fault, but in the case of college students, the feelings often stem from fear of failure and not living up to expectations.
"When I'm working with students and they're talking about 'Oh what if I fail?' Laves said. "OK, but what if you don't?" Murray junior Claire Contri described her anxiety as a fear of losing control.
"I put a lot of pressure on myself to perform at an above-average academic standard on top of molding myself to my social surroundings," Contri said. "Eventually, I cracked under pressure and the feeling of control began to slip away."
When unchecked, mental imbalances can infiltrate all aspects of one's life, including physical health. Contri said her stress and anxiety caused her to fall back on disordered eating.
"Eating disorders are such a head game, and one of the hardest things about it is ignoring your own destructive thoughts," Contri said.
Contri said therapy has been beneficial and that any amount of progress is crucial to recovery.
"I'm having to relearn what is healthy and normal versus what is obsessive," she said.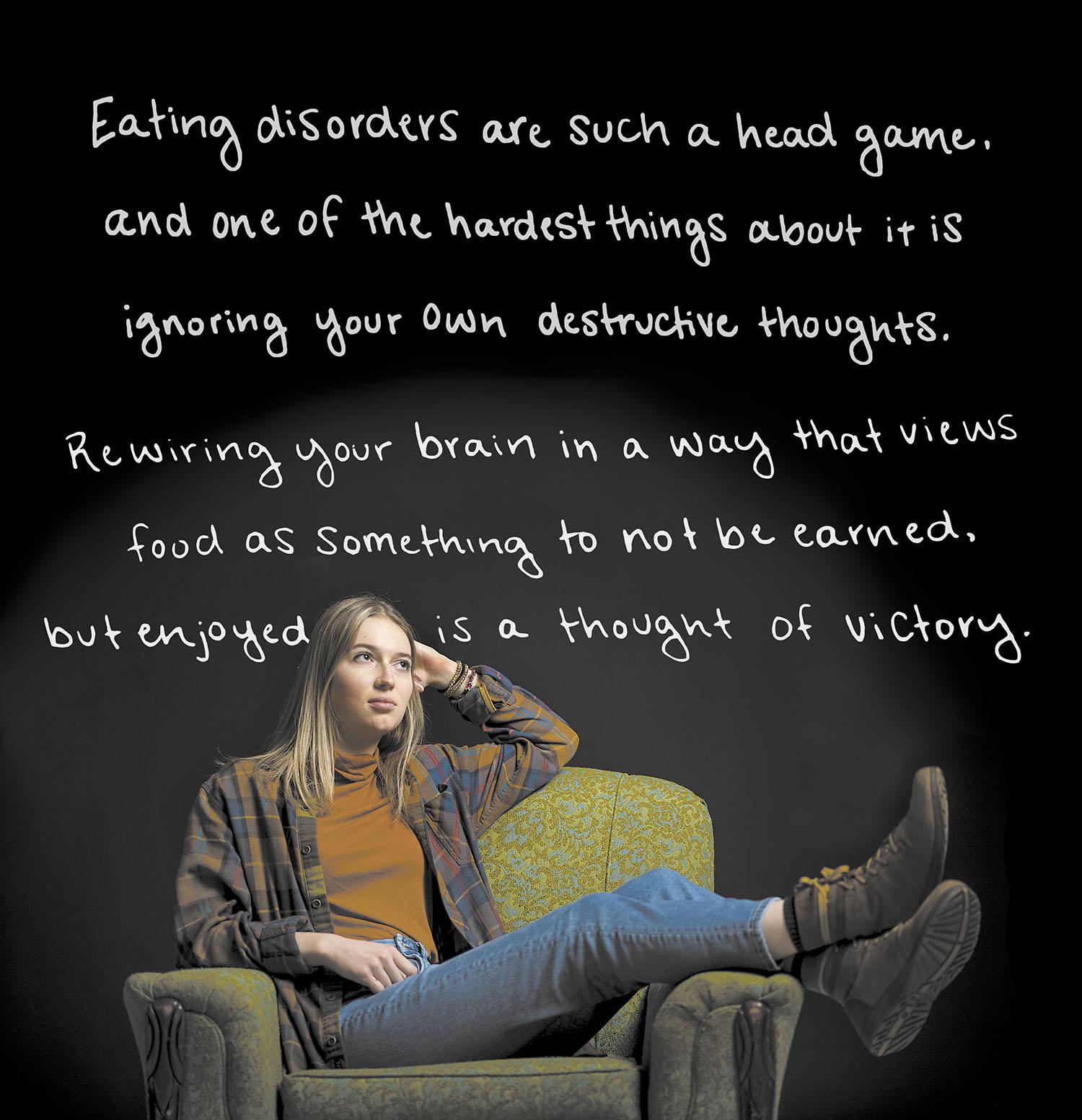 Glasgow sophomore Mackenzie Ballard recounted her experience with disordered eating as an ill-shift in her mentality.
"These were my thoughts: 'Why would someone like me? I'm not at a good weight; I don't wear makeup everyday; I don't go to the gym like I should,'" Ballard said. "All of these reasons just kept coming."
By having that kind of mentality, Ballard struggled with her self confidence and felt insecure around her close friends and family.
"It's like it made me not myself," Ballard said. "I wasn't able to live my happiest life like I normally do."
However, Ballard explained that by seeing the campus dietitian, she was able to find ways to work through her health issues.
"It's really refreshing to have someone reassuring you that food and nutrition are a good thing, and it's meant to fuel and heal our bodies," Ballard said.
According to the National Eating Disorders Association, around 35% of college students struggle with disordered eating at some time during their time in college.
While Contri and Ballard are very open about their journeys with anxiety and eating disorders, some students may struggle with depression or anxiety and may not know how to get that conversation started. Laves said the WKU Counseling Center offers many helpful resources.
On the WKU Counseling Center's website there is a place where students can take short surveys that can provide a general idea of the severity of one's anxiety or depression. There are also surveys for disordered eating, drugs and alcohol.
The surveys are anonymous and broad but can generally say if what someone is dealing with is normal, typical or abnormal. The center offers counseling to WKU students for a one-time fee of $20, regardless of the number of visits.
Learning about mental health and understanding the stressors in one's life can help start the conversation about this aspect of personal wellness.
Incorporating various well-being practices like making a rough plan for the future, taking vitamins and minerals and "finding time to play," as Laves puts it, can provide ways to ensure you're living your best life even after college.