Tailgating fans, eagerly waiting for Smith Stadium to open, crowded along Avenue of Champions on Oct. 1 before the Hilltoppers took on Houston Baptist University. It was Parent and Family Weekend, and students and families alike mixed and mingled in the heat of the day. Standing at the top of the stadium, the mass of fans in Hilltopper T-shirts blended into a sea of red and white, shouting and swinging their red towels in the air.
To many, this scene was all about the players on the field. They were the stars of the show and the face of the football team.
However, behind every football player, there are several other people behind the scenes ensuring that gameplay is as accurate and seamless as possible. This is the job of Bowling Green natives Wayne Orscheln, Jerry Searcy and Charles Lewis.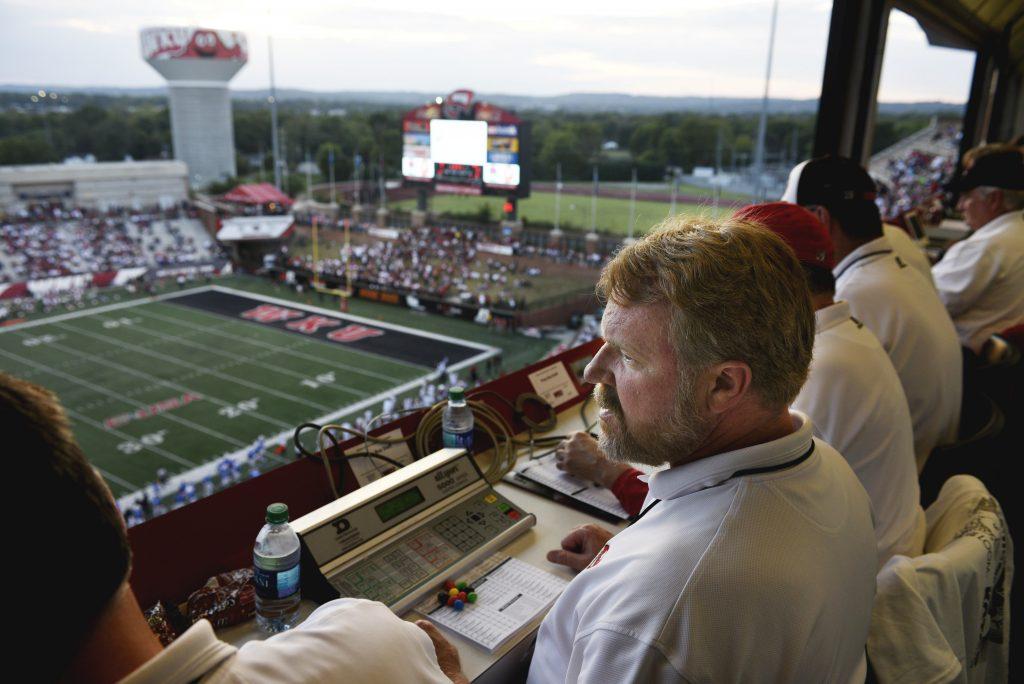 For these three men, football games are more than an opportunity to see the Hilltoppers in action. It's their job. Orscheln is the scoreboard operator. Searcy is the play clock operator. Lewis is the game clock operator.
Orscheln has been running the scoreboard for 17 seasons now. He said that he was introduced to the job through previous employment at WKU.
"I was working athletic administration here at Western for seven years, and when I left, this was one of the things I held on to," Orscheln said. "I know what goes on in the games, and they needed a scoreboard operator the year that I left."
Orscheln said he enjoys football, and these Saturday games keep him tied to WKU.
For Searcy, running the play clock is second nature. Since 1997, he has run the play clock for football as well as men's and women's basketball.
Before that, Searcy was a high school football official for 27 years. Officiating started out as a part-time job, as he would occasionally fill in for coaches as needed. Soon after, he was recruited by WKU and began working for the university full time.
Now, Searcy also runs the play clock during Tennessee Titans games.
Despite his dual employment, he said he finds it rewarding to remain close to WKU athletics.
"For me, staying in WKU sports helps me to stay in touch with the players and coaches," Searcy said. "This helps me to be more involved than if I were just a fan."
Lewis also said he sees working for WKU as a great opportunity to stay involved. He said he first found a love for sports through his father. For 30 years, Lewis has been working at high school games, and during the last three seasons, he's also run the game clock for WKU.
For these three men, jobs behind the scenes of football games allow them to enjoy the sport they love. It isn't always easy, though, Searcy said.
"There aren't really technical problems, but one of the drawbacks to the job is that you don't really get to enjoy the game," Searcy said. "Sometimes, we watch to see what's going on, but we have to pay attention to the officials engaged."
Orscheln chimed in.
"Occasionally, we have to reset the clock because the officials are saying something," Orscheln said. "You have to watch the officials more than the game in our position, and if there's a flag on the field, you have to make sure we aren't doing the wrong thing."
Lewis remembered a particular incident when he and Orscheln were operating their posts.
"During a game against Bowling Green State, the fire alarms were pulled," Lewis says. "The whole stadium went out."
The power outage created chaos. The scoreboard called for a reset, which delayed the game.
However, there are also memorably good times. All three of the men recalled two streakers making an appearance at back-to-back games in Smith Stadium in 2003.
Orscheln said a streaker ran across the football field and made his way behind the Preston Center before being arrested by campus police. The next game, it happened again. Searcy said it was unexpected, but the incidents made for a great story.
"In my forty years, I've only seen a streaker once," Searcy said. "But, sure enough, it happened again."
The copycat streaker was able to make a getaway without being arrested.
Though both Orscheln and Searcy are WKU alumni and want to see their team succeed, they said they take great responsibility in maintaining a fair position on the job.
"We want them to win," Orscheln said. "But obviously, we keep everything fair, being a neutral part of the game."
During the many years these three have worked together, they developed a tradition to pass the long hours manning their stations. Orscheln, Searcy and Lewis are all fans of M&Ms, and they decided to start bringing the treats to games to share with everyone in the press box.
Although these men were brought together for different reasons, one thing is for sure: they seem to enjoy working beside one another. They laughed together as WKU and Houston Baptist football players took the field, and when the game started, they shared M&Ms as they executed their respective jobs.
Orscheln said that the three stray away from putting themselves in the media.
"The only attention we get is when it's bad," he said.
That may be so, but Orscheln, Searcy and Lewis are all very much a part of Hilltopper football games. Every fan, player or coach's glance to the scoreboard is thanks to the quiet diligence of these three men.