December is here, bringing cold temperatures, the possibility of snow, the end of a semester and many holidays. Finals week comes to a close on Dec. 13 with six weeks of break, so book your calendar with these Bowling Green events to make the most of your winter break.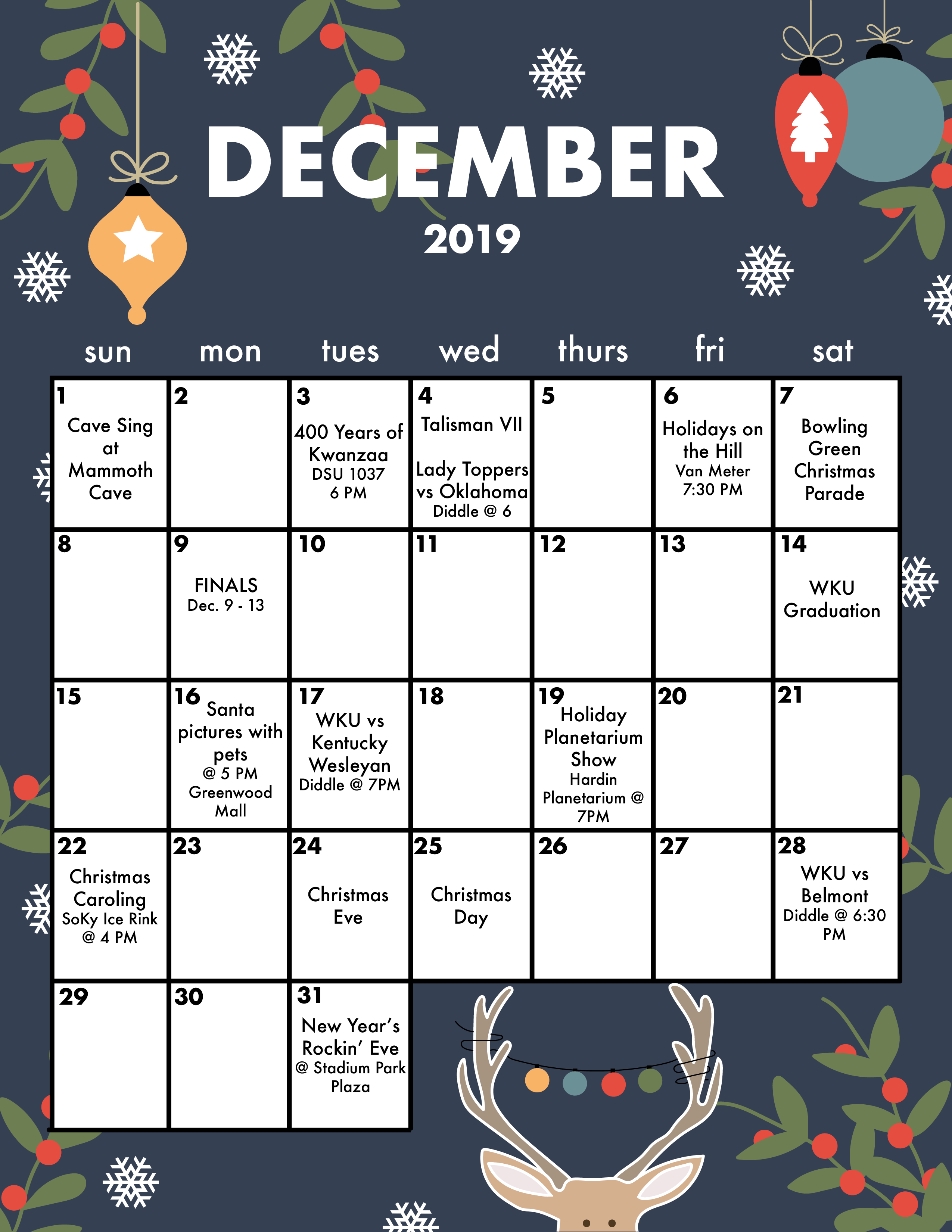 ---
Tuesday, Dec. 3
Kwanzaa Festival
Celebrate 400 years of Kwanzaa in Downing Student Union, Room 1037 starting at 6 p.m. The festival is sponsored by the WKU African American Studies Program and will have music, food and a ceremony explaining the true meaning of Kwanzaa.
Wednesday, Dec. 4
Talisman magazine release
Stop by Centennial Mall from 10 a.m. to 2 p.m. and pick up a copy of the seventh Talisman magazine!
Lady Toppers basketball game
Later that night, take a break from studying for finals, and go cheer on the Lady Toppers at Diddle Arena against Oklahoma. Grab your red towel and be there when the game starts at 6 p.m.
Thursday, Dec. 5
Volleyball game
The WKU volleyball team will take on Kennesaw State Thursday at 7 p.m. in Diddle. This will be the first time the volleyball team will host the NCAA Tournament First and Second Rounds.  
Friday, Dec. 6
Holidays on the Hill
The annual performance Holidays on the Hill will take place at Van Meter Hall at 7:30 p.m. The performance will feature over 150 WKU student musicians joined by community singers from the Southern Kentucky Choral Society. They will be playing favorites like music from "The Nutcracker Ballet," Leroy Anderson's "Sleigh Ride" and "Fantasia on Greensleeves" by Vaughan Williams. Student and WKU faculty tickets cost $6, while all others are $15. 
Saturday, Dec. 7
Last Chance to Dance
WKU students will take the Russell Miller Theatre stage at 7 p.m. in the Fine Arts Center for the Last Chance to Dance '19 event. This informal showcase will give students the chance to perform their own innovative choreography and works in progress. Admission is free, and donations will be accepted. 
Christmas Parade
The Bowling Green Christmas Parade is also this Saturday, at 9:30 p.m. The parade route will start at Main and College streets and ends at Sixth Avenue and State Street.
Week of Dec. 9-13
Finals week
Oh the wonderful dreaded finals week. Take this week to wrap up your semester, making sure all your assignments are in and final exams are aced. Once this week is over, it's time to relax. Don't worry, winter break is coming. 
Saturday Dec. 14
Commencement
Go support your friends and classmates who are walking across the stage and graduating from WKU today at commencement. If you're one of those students who's graduating, congratulations from the Talisman. This day and weekend is a very exciting one for many students, so get the most out of it by spending time with the people you love in Bowling Green before leaving WKU.
Monday, Dec. 16
Pictures with Santa
If you have a dog or cat who is dying to tell Santa what they want for Christmas, head over to Greenwood Mall at 5 p.m., where Santa will be taking pictures with pets!
Tuesday, Dec. 17
Hilltoppers basketball game
If you're staying in Bowling Green over winter break and looking for something to do, head over to Diddle at 7 p.m., and watch the Hilltoppers take on Kentucky Wesleyan. 
Thursday, Dec. 19
Hardin Planetarium show
Hardin Planetarium is having a "Celebrations for a Long Winter's Night" Show starting at 7 p.m. The show will illuminate the meaning of the winter solstice, share some history behind holiday customs and suggest possible explanations of the Christmas star.
Sunday, Dec. 22
First day of Hanukkah
Sunday marks the first day of the Jewesh festival Hanukkah, and does not end until Monday, Dec. 30. 
Christmas caroling
Gather up a group of friends and get into the Christmas spirit by Christmas caroling at the SoKY Ice Rink. Starting at 4 p.m. groups will be caroling at the rink, so head there and skate to classic Christmas songs or sign up and be a caroler! 
Tuesday, Dec. 24
Christmas Eve
The night many impatiently waited for as kids is Christmas Eve. Take this night to spend with your family or friends watching your favorite Christmas movie and driving around looking at houses with Christmas lights up before heading to bed. 
Wednesday, Dec. 25
Christmas
The day is here, Christmas! If you're looking for something to get out and do, the SoKY Ice Rink will be open from 4 to 8 p.m.
Thursday, Dec. 26
First day of Kwanzaa
Thursday, Dec. 26 marks the first day of Kwanzaa, to honor African heritage in African-American culture. Kwanzaa ends Jan. 1. 
Saturday, Dec. 28
Hilltoppers basketball game
The Hilltoppers will be facing Belmont at 6:30 p.m. in Diddle. Once again, grab your red towel and go cheer on the Hilltoppers!
Tuesday, Dec. 31
New Year's Rockin' Eve
Enjoy fireworks and watch the ball drop at Stadium Park Plaza and Bowling Green Ballpark. New Year's Rockin' Eve will have musical performances from Dan Luke and the Raid, Justin Kalk, Kiss Kiss Bang and Black Gold. The event is free to the public.