March is here, and so is spring! The first official day of spring is later this month, hopefully bringing warmer temperatures, spring break and many campus and community events. Be sure to mark your calendar with all the events for the new season.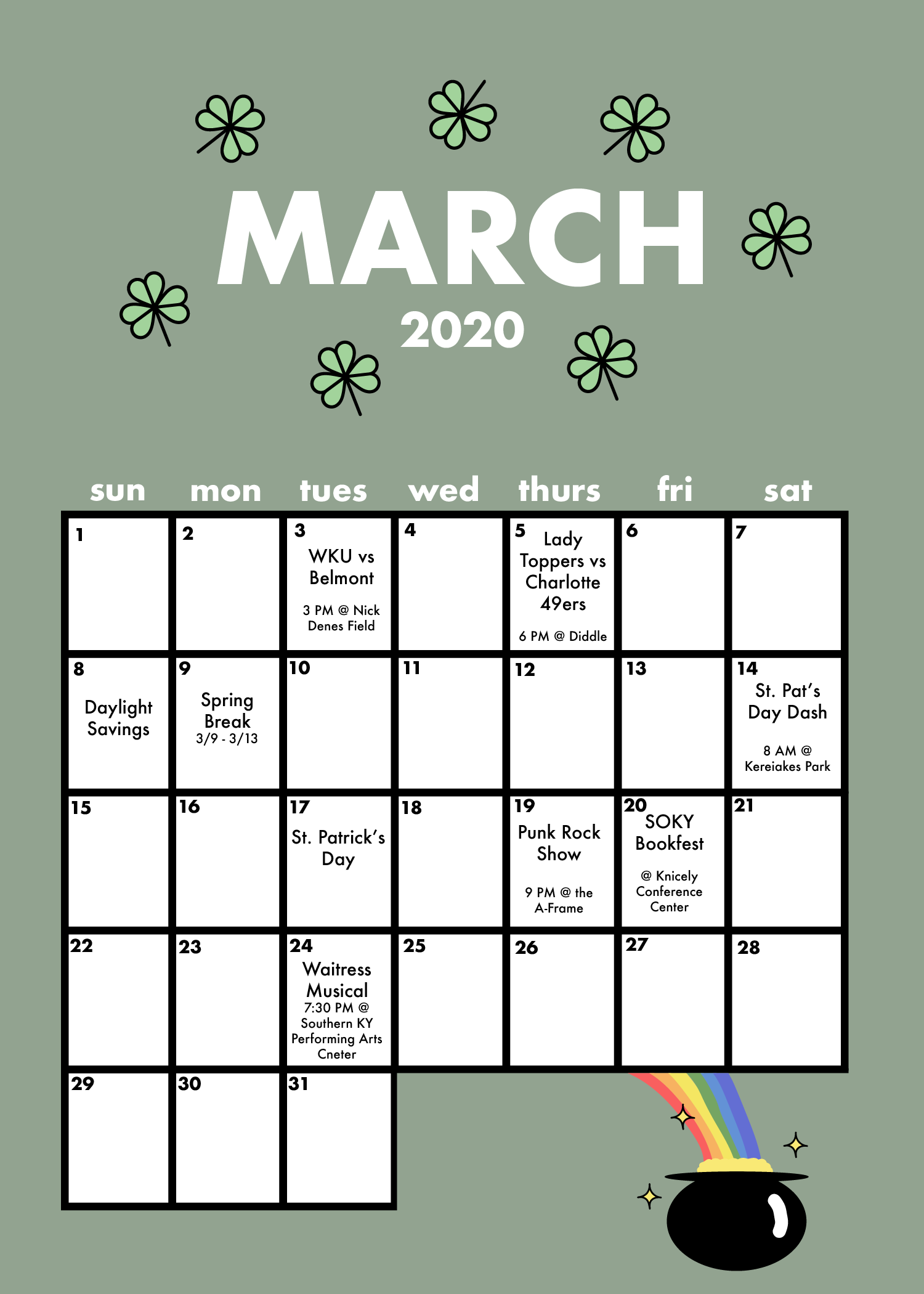 ---
Tuesday, March 3
Baseball game
The WKU baseball team will play Belmont University at 3 p.m. at Nick Denes Field. Come out and support the Hilltoppers!
Thursday, March 5
Women's basketball
Go cheer on the Lady Toppers basketball team as they play against the Charlotte 49ers at 6 p.m. in E.A. Diddle Arena.
Sunday, March 8
Daylight saving time
The days are finally getting longer. Daylight saving Time ends on March 8, so get ready to adjust your clocks forward an hour.
Bowling Green Lobsterfest
Cousins Maine Lobster and Blue Holler Brew Supplies partnered to organize Bowling Green's first ever Lobsterfest event. Head to Blue Holler Brew Supplies from 11 a.m. to 7 p.m. and enjoy lobster and beer.
Week of March 9-13
Spring break is here at last! Enjoy your week off from classes and recharge for the remaining part of the semester. If you're traveling for spring break, listen to the Talisman's spring break playlist during the drive or flight. 
Saturday, March 14
St. Pats Day Dash
The Third Annual St. Pat's Day Dash will be held at Kereiakes Park at 8 a.m. Get tickets for the 5K run/walk event here.

Shamrocks and Shenanigans
The Framed Fatale's will present Shamrocks and Shenanigans at the A-Frame starting at 8 p.m. for those 21 and older. The cast includes drag queens such as Aetheria McQueen, Serenity Sweets, Mystikzyme, India Divine, Brittanica, Spectra Cosmos, Chanel Eclipse and Anastacia Milano with special guest Sofawnda Peters.
Tuesday, March 17
St. Patrick's Day
Celebrate this Irish Saint's day by putting on your best green clothes. Custom dictates anyone who forgets green clothes today is free game to pinch. 
Thursday, March 19

Punk rock show
Come out to the A-Frame to enjoy  live music from Doping the Void, All Along and Big, if True. Doors open at 9 p.m. with a $5 entry fee, and you must be 21 or older to enter.  
Friday, March 20
SOKY Bookfest
Come find your new favorite book at the 22nd SOKY Bookfest held at the Carroll Knicely Conference Center. A schedule of authors and events can be found here. The bookfest will continue on Saturday, March 21 as well.  
Dance Big Red
It's not too late to register to participate in one of WKU's biggest charity fundraisers. Over the last four years, the event has raised over $176,000 for Norton's Children Hospital by dancing the night away at the Preston Center. 
Tuesday, March 24
"Waitress" musical
See the musical "Waitress" at the Southern Kentucky Performing Arts Center at 7:30 p.m. The show features an all-female creative team including Sara Bareilles, Jessie Nelson, Lorin Latarro and original direction by Diane Paulus. Tickets can be purchased here.