Welcome to the month of November! This is Native American Heritage Month & National Diabetes Awareness Month but also the month of turkey-eating and football-watching. At this point, the autumn season is in full swing — if you couldn't tell by the dropping temperatures — so get ready for the events and holidays the eleventh month of the year has in store. Maybe you can add a few of these upcoming holidays and events to your own calendar!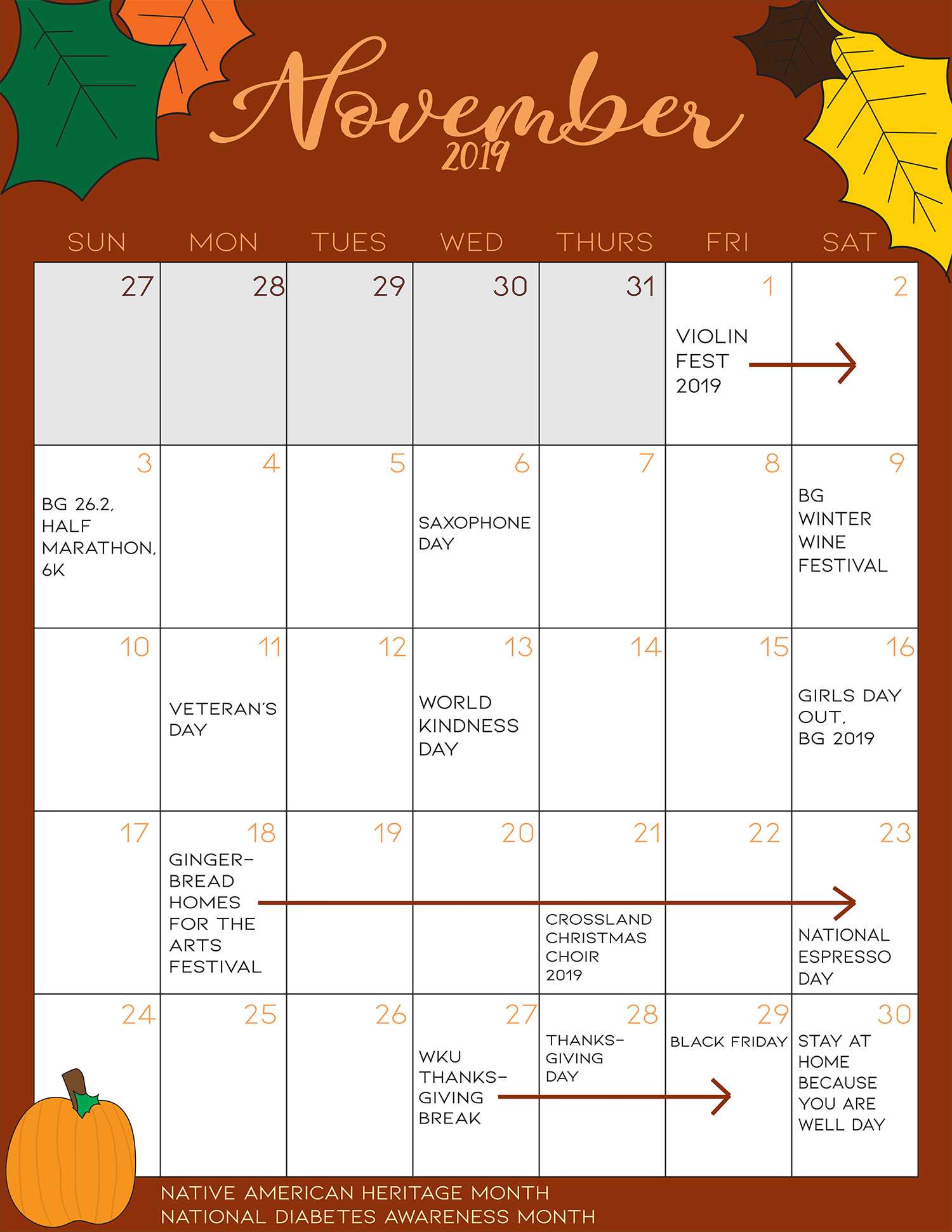 ---
Weekend of Nov. 1-2
Violin Fest 2019: The WKU Violin Fest is a weekend event at the Fine Arts Center that gathers violinists and teachers. The Violin Fest features master classes, group performances, a faculty recital and special topic discussions. In addition to performance based activities, special sessions will focus on topics such as vibrato, beginning set up and practice tips. Students of all ages are welcome. The faculty recital is Friday at 7:30 p.m. and the violin fest recital will be Saturday at 5 p.m.   
Sunday, Nov. 3
BG26.2 & Half Marathon and 6K: The eighth running of the BG26.2 & Half Marathon raises money for The National Multiple Sclerosis Society. This Boston Marathon qualifying course — the 13.1 mile loop — starts at the Bowling Green Ballpark and runs through downtown Bowling Green, the WKU campus and will finish at the Bowling Green Ballpark. Marathoners will run the 13.1 mile loop twice. 
Wednesday, Nov. 6
National Saxophone Day: National Saxophone Day commemorates the birth of the instrument's inventor, Adolphe Sax, on Wednesday, Nov. 6. A way to observe this national holiday is to simply listen to some good jazz music! Some good jazz musicians to celebrate the day are Duke Ellington, Louis Armstrong, Dizzy Gillespie and John Coltrane.
Saturday, Nov. 9
BG Winter Wine Festival: Here you can sip and shop for wine at your own leisure from 11 a.m. to 6 p.m. It's being held at the Historic Railpark with a $25 admission fee at the door.
Monday, Nov. 11
Veterans Day: Veterans Day is a federal holiday held every Nov. 11. The holiday honors military veterans while also commemorating the end of World War I. The war actually ended at the 11th hour of the 11th day of the 11th month — that's a lot of 11s. 
Wednesday, Nov. 13
World Kindness Day: This is an international observance celebrated on Nov. 13. World Kindness Day is observed to highlight the good deeds in countries all around the world, including Canada, Japan, Australia and Nigeria. It was first observed in 1998 and has been going 21 years strong. 
Saturday, Nov. 16
Girls Day Out, BG 2019: This event, held in the Carroll Knicely Conference Center from 10 a.m. to 4 p.m., consists of over 75 different local vendors that can satisfy your shopping needs. Products such as candles, clothing, accessories and personalized items will all be available at different booths throughout the venue. Admission is free, all you have to do is show up and support local businesses.
Week of Nov. 18-23
Gingerbread Homes For The Arts Festival: The fifth annual Gingerbread Homes For The Arts Festival is taking place at the Southern Kentucky Performing Arts Center for a week full of events. There's a gingerbread house contest, an education day for local schools, a "Girl's Night Out" event, a showing of Beautiful The Carole King Musical and a community day. There's an event for everyone, so feel free to check it out!
Saturday, Nov. 23 
National Espresso Day: National Espresso Day celebrates thick, bold, Italian-style coffee. Espresso coffee is usually served in small quantities, hence why you get three shots of it in your Java City drink to wake you up for that early morning class. To celebrate, why not try that espresso and drink coffee like an Italian?
Week of Nov. 27-29
WKU Thanksgiving Break: No need to worry about any exams or essays due from Wednesday to Friday, for the entire university is closed. Take this time to go back home, relax and spend quality time with your loved ones. No school!
Thursday, Nov. 28
Thanksgiving Day: As usual, Thanksgiving Day is celebrated on the fourth Thursday of November, and that definitely hasn't changed this year. Thanksgiving is a national holiday celebrated on various dates in Canada, the United States and even some of the Caribbean islands and Liberia, even though each place has its own date for it. It began as a day of giving thanks for the blessing of the harvest and of the preceding year. Most people nowadays take this time to be thankful for everything that they currently have in their lives, so we encourage you to do the same.
Friday, Nov. 29
Black Friday: The Friday after Thanksgiving, also known as Black Friday, is the day of the deal. Stores across the nation offer ridiculously good sales on some of the hottest products of the holiday season, so naturally everyone is going to show up and show out to get those good Christmas presents. Despite the amazing sales, people still have to work at these stores in order to accommodate the influx of shoppers, so if you participate in the festivities, make sure you treat the employees fair and humane.
Saturday, Nov. 30
Stay At Home Because You Are Well Day: This day is dedicated to calling into work and telling them you are staying home — even though you are well. It's observed annually on Nov. 30. Luckily for us college students, it just so happens to fall on a Saturday. With that being said, feel free to just lounge around the house because you are doing amazing things. Just let your body relax for a day, you're doing so well!