October is renowned for its spookiness. Scary movies are on TV, screams come out of haunted houses, Jackson's Orchard is thriving and everything is shaped like a pumpkin, ghost or bat. October is iconic. Take a look at the Talisman's October calendar to get an idea of what's going on this month.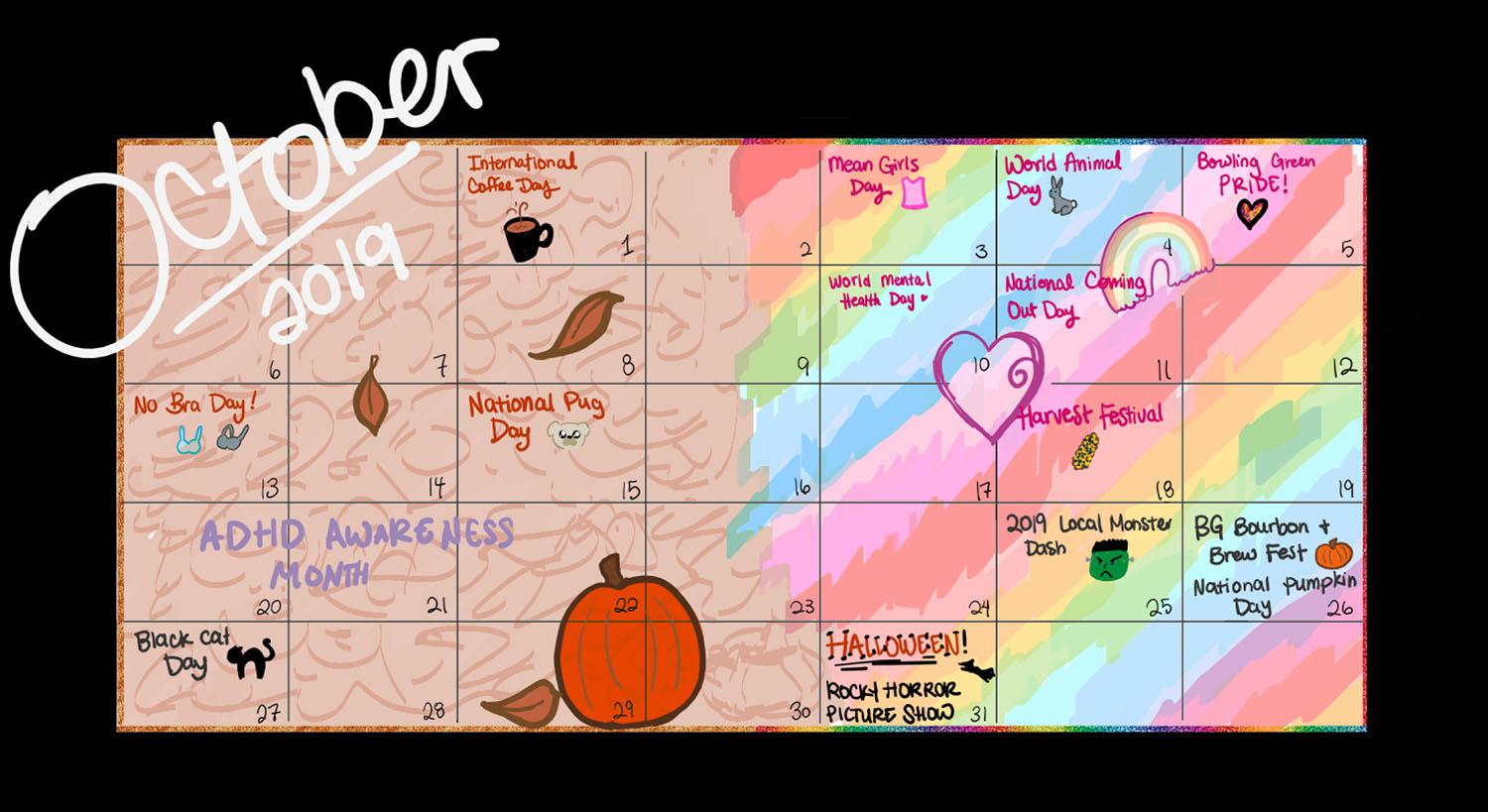 ---
Saturday, Oct. 5
Bowling Green Pride
Join other Bowling Green residents in a celebration of LGBTQ+ pride in the city! The event will take place at Circus Square Park from noon to 5 p.m. Admission is free and the event is family friendly.
Thursday, Oct. 10
World Mental Health Day
We should be focused on taking care of our mental health every day, and Oct. 10 is an extra reminder to do just that. 
Friday, Oct. 11
National Coming Out Day 
The Human Rights Campaign honors those who have come out as LGBTQ+ or as allies on Oct. 11 every year. Use the hashtag #ComingOutDay to connect with others who are celebrating.
Sunday, Oct. 13
No Bra Day 
Make yourself a little bit more comfortable. Skip putting on bra this day. 
Tuesday, Oct. 15
National Pug Day 
Find a pug to snuggle and spoil because Oct. 15 is their day.
Friday, Oct. 18
Bowling Green Harvest Festival 
From 4-9 p.m. take the family out for the second annual Harvest Festival downtown. Activities take place at the SOKY Marketplace and Circus Square Park.
Friday, Oct. 25
Local Monster Dash
The Ninth Annual Monster Dash 5K, 10K and Monster Crawl race for kids will be held at the Corvette Museum. The Monster Crawl starts at 6:30 p.m., and the 5K and 10K start at 7 p.m.. On-site registration is available, and all proceeds are used to provide adoption grants for families in the local area.
Saturday Oct. 26
BG Bourbon and Brewfest 
Make sure to get your tickets for a day of beer tasting and great food. Several local breweries and food trucks will be at the event held at the BG Ballpark at 1 p.m. General admission tickets start at $40.
Sunday, Oct. 27
Black Cat day
Another excuse to find a pet to snuggle! 
Thursday, Oct. 31
Halloween and Rocky Horror Picture Show 
Remember to get candy for trick-or-treaters or dress up for the annual showing of Rocky Horror Picture Show at the Capitol Theater downtown. The show starts at 10 p.m. and tickets at $9.