Talisman illustrator Eve Baughman recreated the alphabet just for the Hill and all the people who call it home. Feel free to print it off and color each letter in at home, work or when you need a break from studying!
Click here to download a printable version.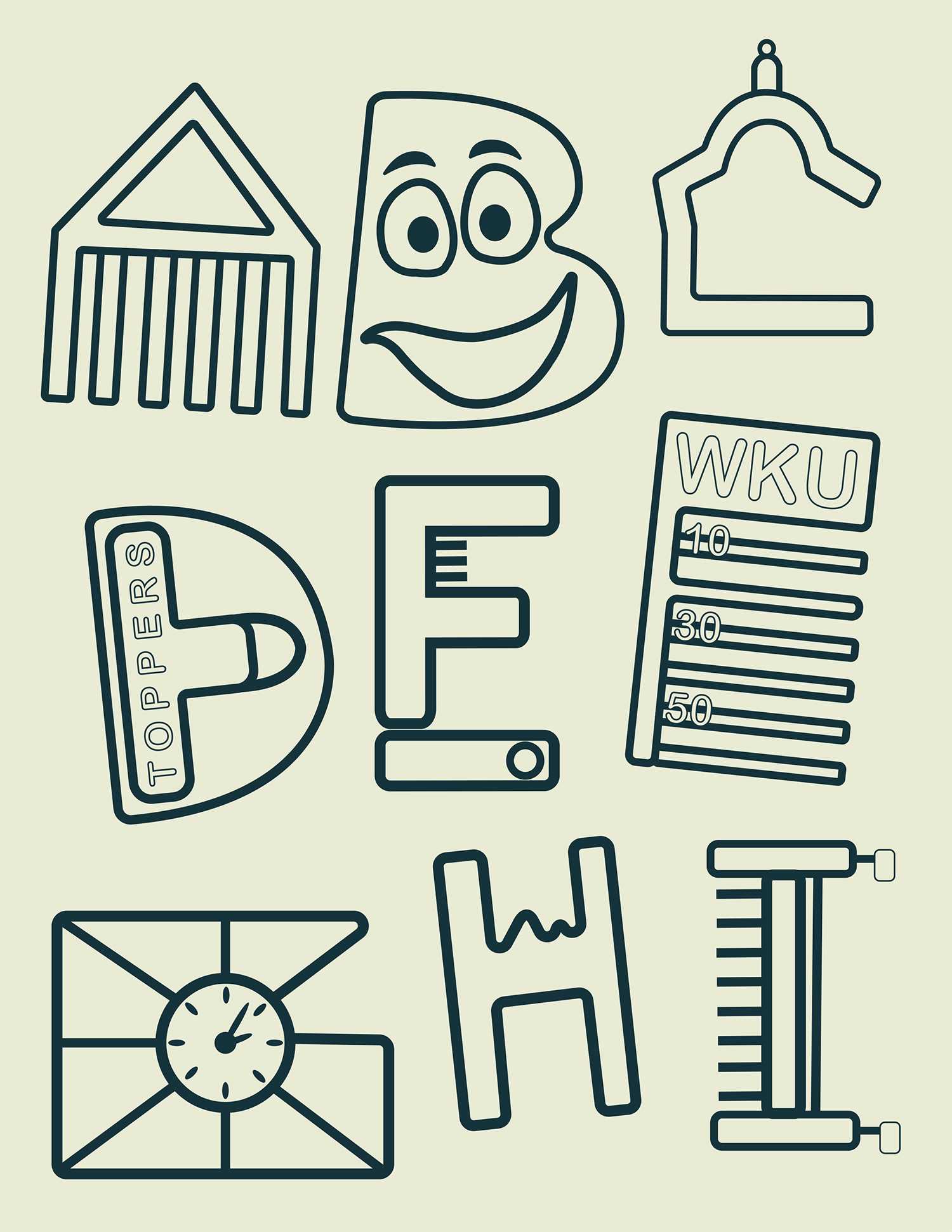 A – Augenstein Alumni Center: The columns and triangle of the Alumni Center formed to make the A.
B – Big Red
C – Cherry Hall: The top tower outlines of Cherry make the C.
D – Diddle Arena: The court in Diddle makes the D.
E – Environmental Science and Technology Building: The E is represented with gears to represent the programs in EST. 
F – Feix Field: The F is made out of a football field.
G – Guthrie Bell Tower: The clock part of the bell tower makes the G.
H – Hilltopper: The H has hills to represent the geography of campus.
I – Fine Arts Center: The I is made out of the top of the colonnade.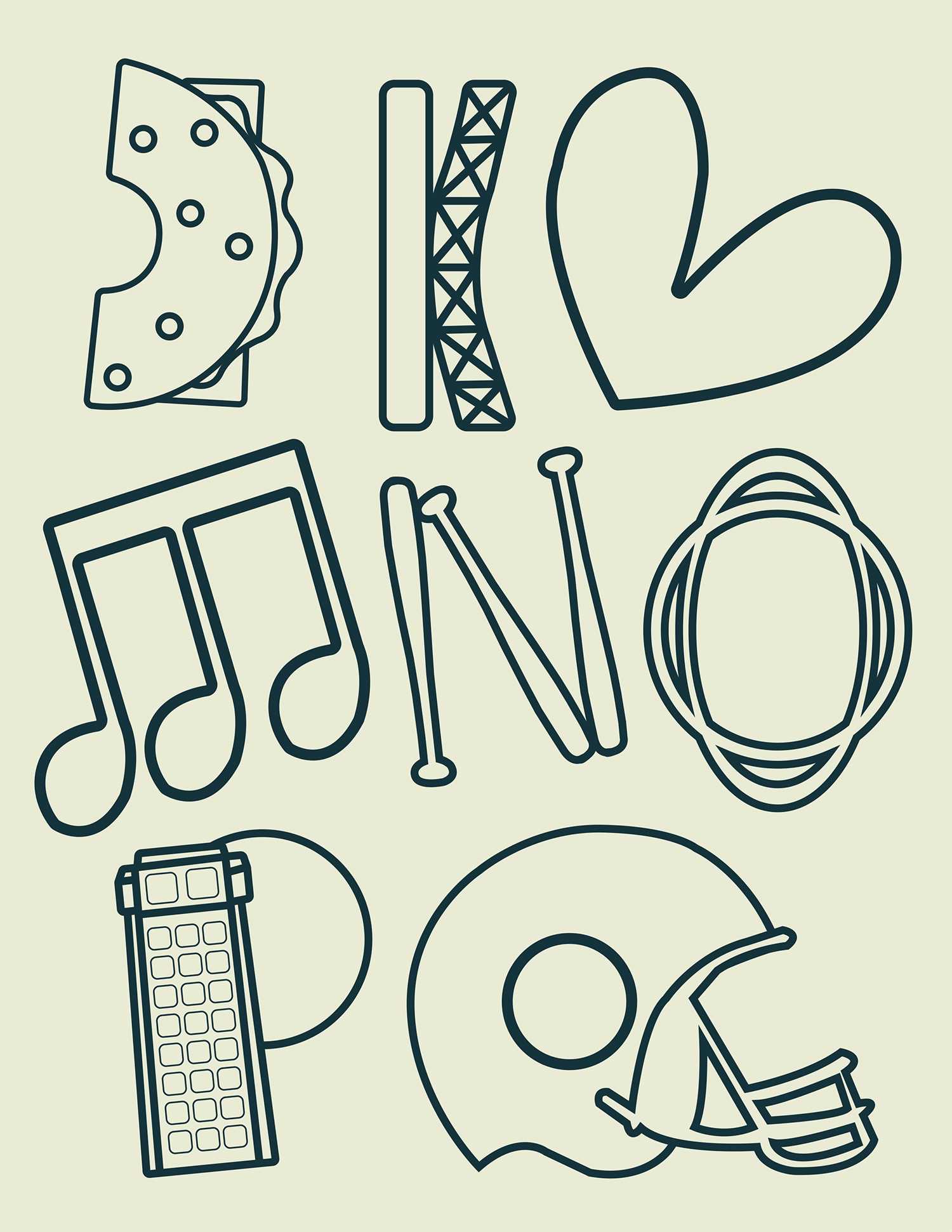 J – Jody Richards Hall: The J is made out of an Einstein's bagel.
K – Kissing Bridge: The K makes the kissing bridge on campus.
L – Love: L is for the love of the faculty, staff and students on WKU's campus.
M – Music Rehearsal Hall: The M is a music note.
N – Nick Denes Field: The N is made out of baseball bats for the baseball field.
O – Ogden College of Science and Engineering: Ogden's logo makes the O.
P – Pearce-Ford Tower: PFT makes the P.
Q – Quarterback: The Q is for the quarterback of WKU.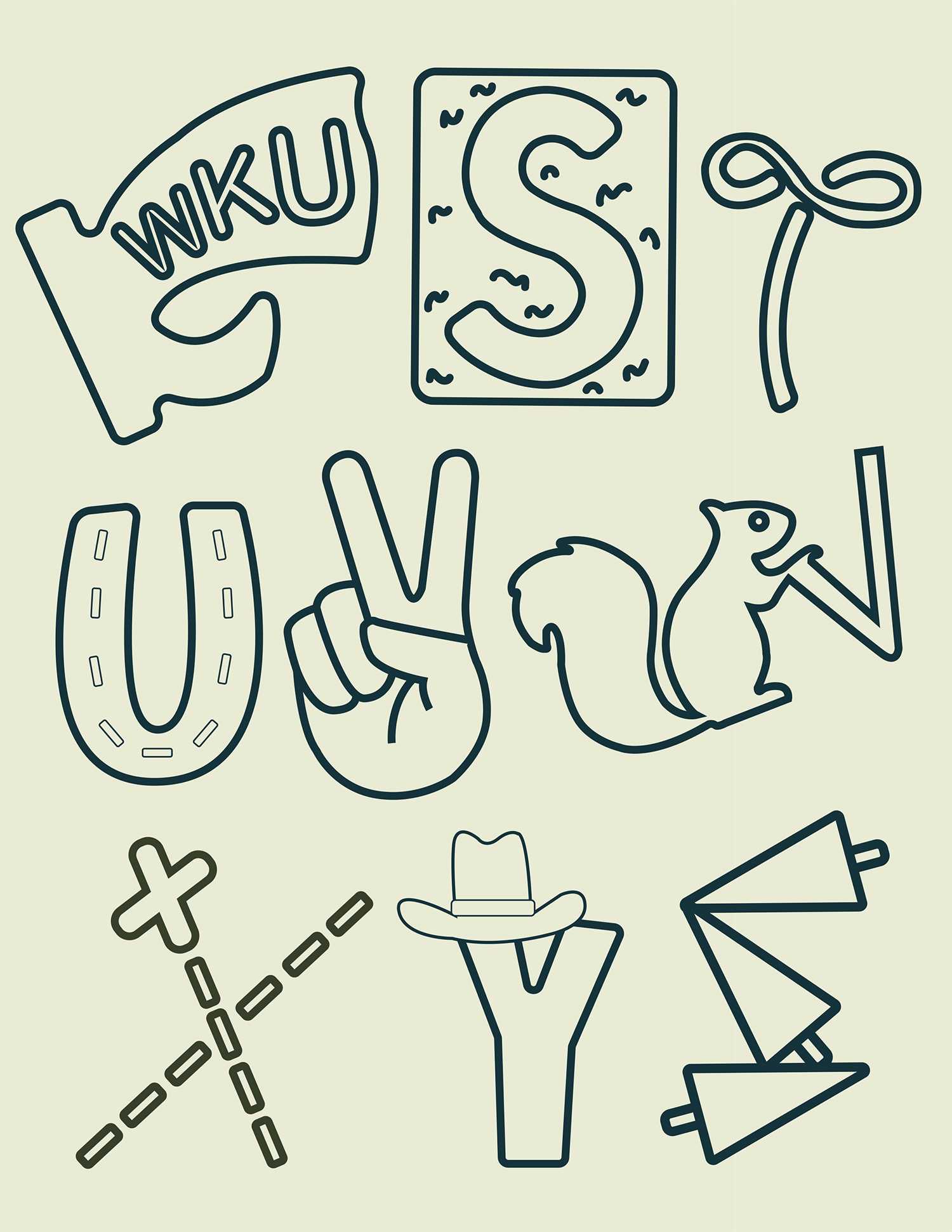 R – Red Towel: R is a red towel.
S – South Lawn: South Lawn is represented with an S cut out of the middle of a field.
T – Talisman: The Talisman's logo is the T.
U – University Drive: University Drive is a main road on campus, so it represents the U.
V – Van Meter Hall: Van meter is represented with a hand because it's the heart of the performing arts.
W- White Squirrel: White squirrel is a W.
X- Xenial: Xenial means hospitable especially to visitors, so the X is for "x marks the spot" when people look for the right campus for them.
Y- Yee Haw: The Y represents the geographical country side of WKU since it is located in the south of Kentucky.
Z- Zacharias Hall: The Z is made of trees to represent the trees surrounding Zacharias.