Wedding traditions have grown and developed over the years. Since the Euro-American model of the tradition began, a happy couple would celebrate their union with a large ceremony of family and friends, along with a reception filled with food and dancing. That idea looks a little different when family and friends live across the U.S. and gathering isn't easy. The pandemic has brought with it many changes, one being the rise in elopements.
Jules Sandlin heads a small team at her business Jules with the Flowers, which she has owned and operated since 2017. A WKU horticulture alumna, Sandlin has established herself in the community and takes orders for weddings and events all over Bowling Green. She said every day is different, but since the pandemic, her business model has changed considerably. 
"COVID changed everything, and it's been good for us," she said. "At the beginning of it, we lost a lot of weddings, and then we got a call, and all of a sudden they just needed a bouquet. So yeah, that's been a really big adjustment, but it's been good — and honestly, I prefer the elopements."
Even while talking about the changes that have taken place since the pandemic began, Sandlin's shop is bustling as she stands behind a countertop full of floral arrangements. The store didn't always look that way, only developing into a full storefront once the pandemic hit and lots of people wanted landscape plants and houseplants.
Sandlin and local wedding photographer, Carrie Guggenmos with Sur La Lune Photography, teamed up to offer flowers and two-hour packages of photos for elopements at the beginning of the pandemic. 
"I think the opportunity to do these intimate weddings and elopements that I've been relying on have really shifted my perspective, and I really do think I want my career to be full of more days that are small, a little more practical, a little less decadent," Guggenmos said. "It's a new wave of weddings that are smaller and simpler."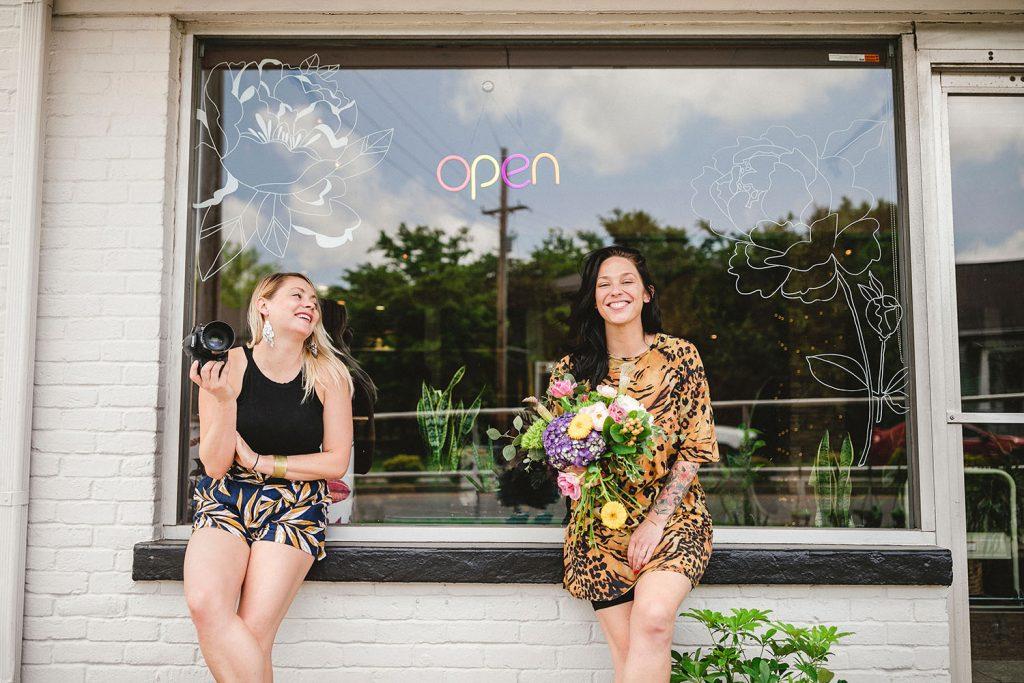 When the pandemic began, both Guggenmos and Sandlin were overwhelmed with mass cancellations of the weddings that were planned for the warmer months. Business has picked right back up again, it just looks slightly different. 
Guggenmos said her favorite type of photography is candid, unposed pictures because of the raw emotion. With big traditional weddings, she spends a lot of time "checking boxes" and trying to keep up with the time. She said those weddings don't always feel as fulfilling as she wants.
"My style definitely lends itself better to elopements," she said. "I really like to immerse myself and be an empathetic presence. I like to say that I shoot with my heart wide open. Now I have more time to slow it down and be present and available for people."
Sandlin has found a similar appreciation for elopements and small weddings due to the less traditional nature of those events, and she feels like she has more artistic license. 
"People come to us with their ideas, and they want something really epic, and if you just give us a basic idea and let your vendor go to town, I feel like those brides end up being happier," Sandlin said. "I'm team small wedding. I think it's more intimate, and I think that everybody has a better time. It's not something that you regret doing." 
The wedding tradition hasn't just changed for vendors, however. Jessica Broyles, a local flower farmer on Starry Fields Farm in Rockfield, has opened a venue on her farm for small weddings and elopements.
"One of my friends was getting married right when everything happened," Broyles said.
This helped spark the idea of using her farm for weddings.
"I was like, 'Why stress about it, just get married in the greenhouse," she said. 
Before the pandemic and the development of the impromptu venue, Broyles primarily grew flowers from seeds in her home and on her land, and business was largely based on deliveries as she has a flower subscription service.
Broyles said while big weddings will continue to be popular, her small venue and intimate setting is gaining recognition through word of mouth and Instagram.
"I don't think everyone's giving up big giant weddings, but I do hope people will perhaps see the value in more intimate ceremonies," Broyles said.
The pandemic has meant adaptability for these vendors in the wedding industry and adaptability for the client base too.
Guggenmos said she thinks eloping will become more frequent because of the pandemic. 
"I want to see the industry push itself into a more simple, practical and less wasteful industry, and I hope that people continue to feel empowered to do it in their own way," Guggenmos said. "I think that a wedding is a time to celebrate and interact with the people that matter most."