When I first decided to rid my diet of animal products, the transition was seamless. Since I made this decision when I still lived with my family in Louisville, I didn't have to worry about buying my own groceries or figuring out what I was supposed to eat. My mother, who has always been a legendary cook in the kitchen, instantly accommodated my dietary needs and prepared vegan meals for me despite the rest of my family's large appetite for meat. Eating out was rarely an issue either, as Louisville is home to a plethora of unique restaurants with menu options that can please any crowd regardless of dietary restrictions.
However, when I moved from Louisville to Bowling Green, I realized that maintaining a vegan diet would be a bit more difficult than anticipated. That is, until I got the hang of it. 
In the five years that I have been vegan, I have received many of the same questions and comments from people who do not know much about veganism. WKU's campus offers an array of meatless options, but eating at the same places every day can get old, and some students do not use a meal plan. As a result, I have heard a handful of fellow WKU students say they want to try cutting out meat and dairy, but they don't know what to eat instead and expect that the diet will be too expensive to maintain.
I can assure you that there is an inexpensive, convenient and delicious way to be a vegan or vegetarian in Bowling Green. Whether you're making dinner at home, grabbing fast food late at night or treating yourself to a sit-down meal, Bowling Green's vegan selection has you covered.
---

At home
Vegan restaurants are known to be a bit pricey, but this does not mean veganism is an expensive lifestyle. In order to save money, it is best to make your own food at home.
Kroger is my go-to grocery store, especially when it comes to their vast vegan selection. Kroger has their vegan and vegetarian selections specifically labeled within the aisles, making them easy to spot. 
There is a vegan replacement for nearly every non-vegan food item in Kroger. There are many meatless items in the frozen food section including chicken nuggets, burgers, meatballs and breakfast sausage. These meatless "meats" are made out of soy and plant proteins. They mimic the taste, texture and appearance of real meat. Kroger also carries vegan dairy products like cheese slices, shredded cheese, cream cheese, almond milk and butter. With these products, it is possible to make the vegan version of nearly any meal. 
Meatless products are easy to prepare and can make nearly any meal possible. However, they do tend to be on the pricier side. It is better to buy and consume these products in moderation. Luckily, these products last longer than animal products and usually come in bulk. Meatless and dairy-free products made from soy protein may not taste exactly like the real thing, but the point of buying these products is to avoid purchasing items that directly harm animals and the planet. Meatless brands include Morningstar Farms, Gardein, Boca Burger, Sweet Earth, Amy's and Quorn. Kroger also sells Kroger brand meatless items, which are just as good as the brand name but much cheaper.
Along with these meatless meat products, grocery stores also carry tofu, seitan, jackfruit and tempeh. These products are plant-based and can function as a replacement for meat. They require more time to prepare, but they are inexpensive compared to frozen meatless meat. For instance, a block of tofu is less than $2, and one block can be used for multiple meals. Each meat substitute differs in texture, serving different purposes.
Cutting meat out of your diet does not just benefit the planet and the lives of innocent animals — it is also good for overall health. Avoiding meat eliminates any risk of exposure to E. coli and diseases like salmonella. If you are concerned about the nutrition of meat substitutes, fear not. Meat substitutes are packed with protein, fiber, lower saturated fat content and vitamins.  
To spend less on groceries, it is best to keep things simple. Vegans and vegetarians rely on foods such as beans, chickpeas, lentils and fiber-rich grains for protein. Foods like quinoa and hummus make excellent snacks and side items for meals. If you are a fan of spicy chips like me but cannot eat Flamin' Hot Cheetos as they contain cheese, try Takis for a snack. Ben & Jerry's and Halo Top Creamery sell a plethora of dairy-free ice cream flavors if you have a sweet tooth.
The best tip I can give for cooking vegan meals is to make the meals you usually enjoy eating but replace the meat or dairy with the vegan substitute. My favorite dish is vegan spaghetti and meatballs. It is simply noodles, meatless meatballs, vegan shredded mozzarella cheese and meatless red sauce. It is quick, easy and delicious. Pizza is also easy to make. Just buy crust, sauce, sprinkle vegan cheese over the top and add your favorite toppings. Vegan deli meat and vegan cheese slices can be used to make an amazing and quick sandwich. Burgers are also easy to make, as grocery stores carry a wide selection of patties including black bean, Buffalo chicken, turkey and American-style. As for the first and most important meal of the day, I recommend scrambled tofu, sauteed rosemary potatoes, peppers and meatless sausage. These are just a few of the many meals that are possible, even within the limitations, or lack thereof, of a vegan diet.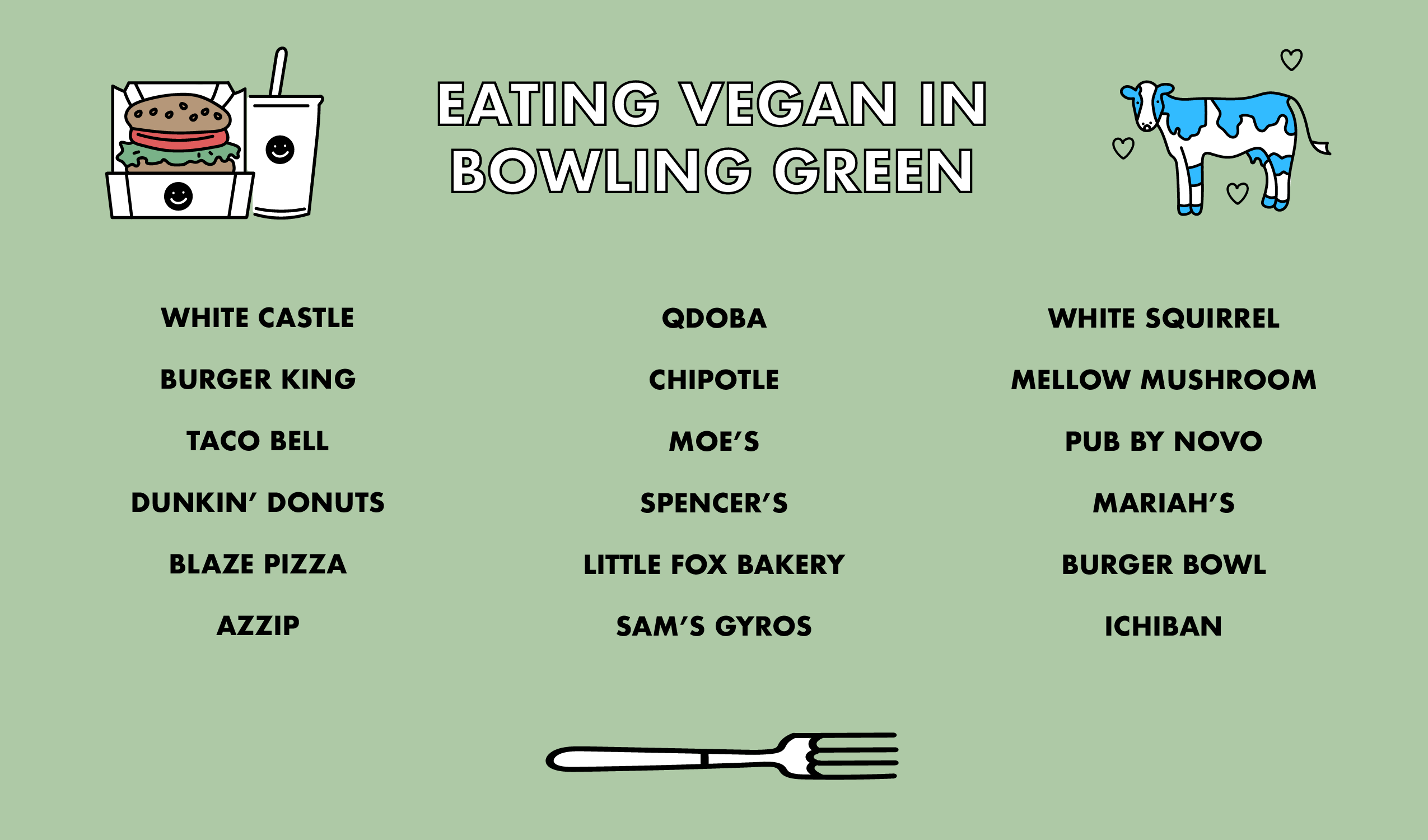 Quick, easy and cheap on the go
When I first went vegetarian and eventually vegan, fast food became a lot less convenient and easy. Whether I was on a road trip with my family or grabbing a late night snack with my friends, my options were either limited or nonexistent. Luckily, certain fast food chains are becoming more progressive by adding vegan options to the menu other than fries or a fruit cup.
My favorite place to grab vegan food on the go is White Castle. White Castle has two vegetarian sliders on the menu, and they can be made vegan by asking for no cheese. Like all sliders, the vegan options are inexpensive. The veggie slider is just 99 cents before tax. The veggie slider is made of actual vegetables, including carrots, onions, string beans, oat bran, soybeans, zucchini, peas, broccoli and spinach. Additionally, there is an Impossible slider on the menu. Impossible meat is a plant-based meat substitute that mimics the taste and texture of real meat. It is made from soy, heme, coconut and sunflower oils, but it is almost impossible to taste the difference between this and real meat. To make it vegan, just specify no cheese. Another reason White Castle is the best option for vegan fast food? It is open 24 hours.
If you need a burger on the go but want something bigger than a slider, head over to one of the two Burger Kings in Bowling Green and order their Impossible Whopper. The Impossible Whopper is the same size as other Whoppers and is topped with tomatoes, onions, lettuce, mayonnaise, ketchup and pickles. Make it vegan by asking for no mayonnaise.
Before White Castle and Burger King added vegan burgers to their menus, Taco Bell was every vegan and vegetarian's best friend. Not only is Taco Bell open late, but it is cheap, and there are four locations in Bowling Green. Taco Bell has a wide selection of vegetarian options, and most of these items can be modified to be vegan by simply requesting no cheese or sour cream. Even the items on the menu that contain meat can be modified to be vegetarian. Just ask to sub out beef for beans. Vegetarian items include the bean burrito, black bean burrito, black bean and rice burrito, 7-layer burrito, black bean Crunchwrap supreme, veggie power bowl, cheesy roll-up and a cheese quesadilla.
Wondering where you can get a meatless breakfast on the fly? Head to Dunkin' Donuts on Nashville Road. Dunkin' Donuts has almond milk available for coffee, and they have recently added a Beyond Sausage breakfast sandwich to the menu. Beyond Meat is similar to Impossible Meat, as it is made from plant proteins. It is made from peas, mung beans, fava beans, brown rice and sunflower seeds, but the taste and texture perfectly mimic meat. Make the sandwich vegan by asking for no cheese or egg.
If you are craving Mexican and want something nicer than Taco Bell, then Qdoba, Moe's and Chipotle have you covered. Of course tacos and burritos full of veggies, rice and beans are delicious, but these restaurants now have meatless items on the menu. Impossible meat is available at Qdoba as mock ground beef. Chipotle has added Sofritas to their menu, or finely chopped braised tofu. Similarly, Moe's has tofu squares available. 
Even I must admit that I miss being able to treat myself to a hot, cheesy pizza. Blaze Pizza is the perfect stop for a personal sized pizza on the go, and they accommodate  all kinds of dietary restrictions. Blaze Pizza has gluten-free crust available, vegan cheese and meatless sausage crumbles. Azzip Pizza also makes it possible to get a vegan pizza on the go. Similar to Blaze Pizza, Azzip Pizza has vegan cheese and meatless sausage on their menu.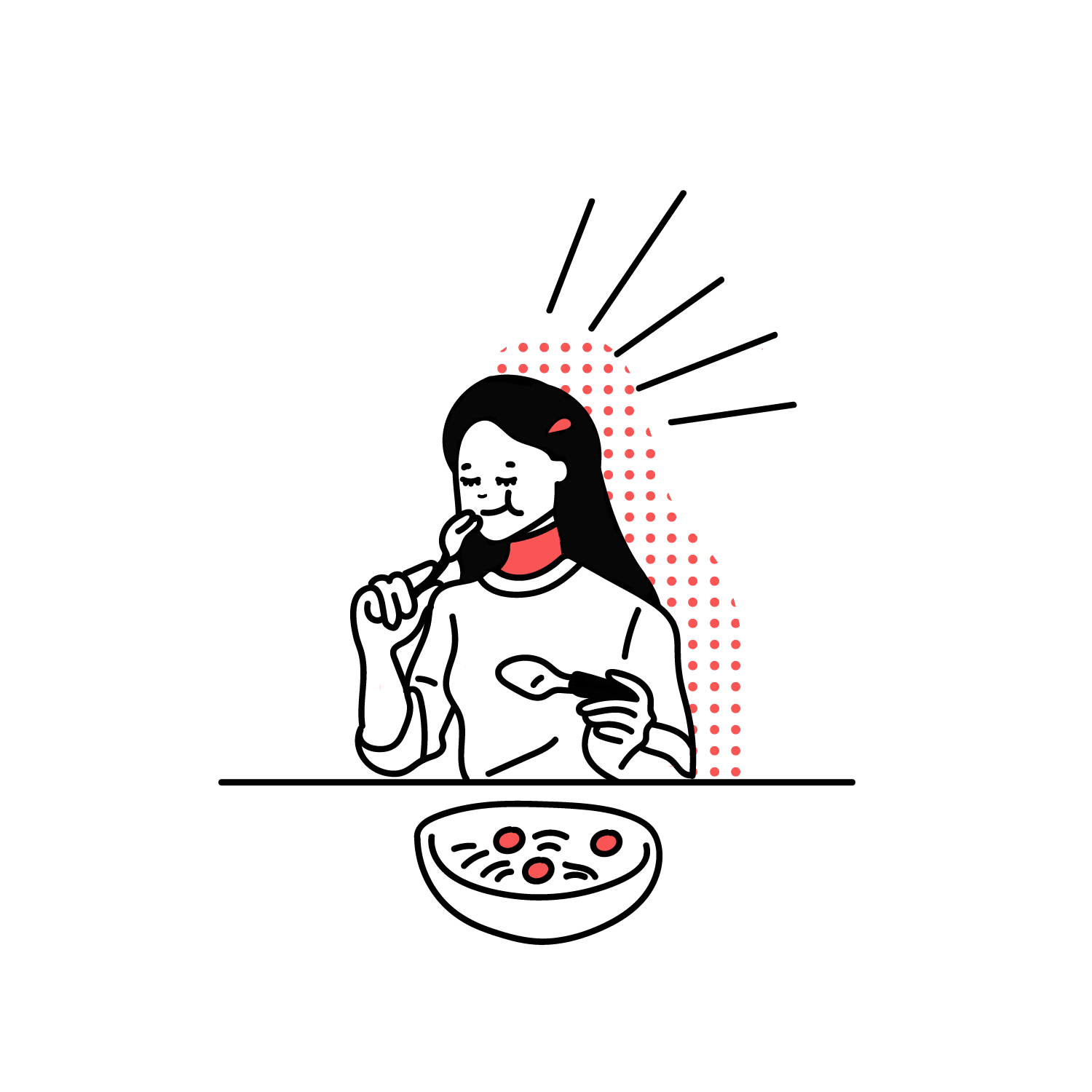 Treat Yourself
Let's say you just got paid and want to treat yourself to a fancy meal as a reward for your hard work this week. Or maybe you are taking someone out and your date is vegan. Or perhaps your friends want to splurge and go out for brunch one weekend. No matter what your reason for going out is, Bowling Green has a number of restaurants with vegan options on the menu.
One of my favorite spots for a date night is Mellow Mushroom. Mellow Mushroom serves all vegan pizzas, meaning no butter on the crust and vegan cheese instead of real cheese. Tofu and tempeh can also be added as a topping. Their menu also includes two vegan hoagies, the avocado hoagie and the tempeh or tofu hoagie. Vegan appetizers include a hummus plate or mushroom soup.
Veggie burgers are plentiful at Bowling Green restaurants as well. My favorite place to grab a burger is White Squirrel, as they sell an amazing Beyond Burger as well as a black bean burger. Make it vegan by asking for no cheese. Pub by Novo and Mariah's also sell black bean burgers. Mariah's has a veggie wrap on the menu as well. One of Bowling Green's newer spots is Burger & Bowl on Fairview Avenue. They sell a fantastic Beyond Burger and black bean burger, and the veggie patties can be used on any of their burgers or burger bowls.
Everyone's favorite spot in Bowling Green, Spencer's Coffee, has many vegan options to pair with your coffee. Order the new quinoa salad, veggie wrap or the Harvest Focaccia with no feta. They even have a vegan pastry available if you are in the mood for something sweet! Or head right across East Main Avenue to Little Fox Bakery. Little Fox Bakery always has at least one vegan and gluten-free pastry available daily. 
Other restaurants with vegan and vegetarian options include one of the many sushi places like Ichiban, Shogun or Yuki, where vegetarian sushi rolls are available. Zogam Khai, Thai Express and Thai Thai have tofu available for their noodle and curry dishes. Sam's Gyros is an authentic Greek restaurant that sells vegetarian dishes like huge falafel gyros and hummus. India Oven has many vegetarian dishes and they serve huge portions that will keep you full for the rest of the day. Even everyone's favorite Mexican spot, El Mazatlan, has a vegetarian section on the menu. If you are unsure about a restaurant having vegan options, it helps to call ahead before heading out of the house. 
Why Should I Try a Vegan or Vegetarian Diet?
After reading about all the ways to successfully eat vegan or vegetarian in Bowling Green, you may be asking yourself why it is important to do so in the first place. Even if you do not fully commit to the diet, you are capable of making a difference by simply cutting out some products, limiting your intake or having at least one day a week when you eat meatless.
There are many reasons why people choose not to eat animal products, but the main reasons are for the sake of the animals, the environment or personal health. Personally, I am a vegan for the animals. The treatment of animals in factory farms, where most meat and dairy are produced, is despicable. Animals are kept in confined spaces, their bodies are mutilated without the use of anesthetics and they are constantly exposed to the weather of these farms. Many people think that animals only exist to be eaten but would not say that for animals like dogs and cats. We would never dream of inflicting pain onto our pets, which we consider to be apart of our families, but animals like cows, chickens and pigs feel pain in the same way. It is not about an animal's contribution to society, level of intelligence or cognition, but it is their capacity to feel that makes them like us.
Animal agriculture also has devastating effects on the environment. Now, more than ever, it is important for us to make efforts to reverse the damage we have done to the planet. Reducing our meat and dairy intake is just one solution that can have an immense impact. Animal agriculture makes up 75%-80% of all agricultural emissions of anthropogenic carbon dioxide and anthropogenic nitrous oxide emissions. Meat, egg and milk production are responsible for an estimated 18%, or nearly one-fifth of human-induced greenhouse gases, according to the Humane Society International report. Deforestation is also an effect of animal agriculture, as forests are destroyed in order to make room for grazing animals. Farm animals and meat, egg and dairy production facilities cover one-third of the planet's total surface area and use more than two-thirds of its agricultural land.
Cutting out some meat and dairy can also benefit personal health. A vegetarian diet is higher content of fiber, folic acid, vitamins C and E, potassium, magnesium, many phytochemicals and a fat content that is more unsaturated. Vegan diets tend to contain less saturated fat and cholesterol and more dietary fiber. Vegans tend to be thinner, have lower serum cholesterol and lower blood pressure, reducing their risk of heart disease.
---
No matter what your reason is for wanting to try a vegan or vegetarian diet, you are immensely benefitting your own personal health, the lives of innocent animals and the world around us. Luckily for Bowling Green residents, there are plenty of affordable, delicious and unique ways to eat less meat and dairy. Whether you are cooking from home, grabbing a bite on the go or treating yourself to a sit-down meal, Bowling Green has you covered. The next time you want to say "I would go vegan, but…" refer back to this guide and see if your excuse still stands. And most importantly, remember that every little bit of effort can make a large difference.