The smell of tacos, carnitas, pozole, burritos, gazpacho and other authentic Mexican foods lingers in the unseasonably cool, May air, enticing attendees of the inaugural Cinco de Mayo festival to buy a plate of rich and savory fare.
Across the tracks in Bowling Green, Kentucky, Mexican nationals are celebrating the day of their homeland's victory over France in the Battle of Puebla in 1862.
The three-day festival, hosted by La Luz del Mundo church, occupies the church's parking lot, which sits adjacent to a railroad track. The congregation's youth, clad in bright, colorful outfits, stomp on a patio while performing customary dances like "El Baile de los Viejitos," or "The Dance of the Little Old Men," and "La Cucaracha," while parents gather around to film their children's performance.
[huge_it_slider id="12″]
At the end of each dance, a man's voice booms over the speakers. "Aplauso! Aplauso! Fuerte aplauso para los niños!"
His voice rings throughout the community commonly known as "Little Mexico," reverberating off the outside walls of a tortilla factory and through the garages of an auto shop nearby before it reaches the green and white aluminum-sided restaurant and market known as Taqueria Sinai.
Although its name suggests tacos, Taqueria Sinai's most popular item will never be found on the menu.
Instead, it sits above a glass case full of assorted toiletries for sale and beneath a wall of flat-brimmed hats that act as dust collectors more than accessories.
It's a red telephone, and for many families throughout Latin America, it's a lifeline. From here, money is transferred across international borders through a company called "Sigue," and it arrives in 30 minutes or less for the beneficiary to claim.
In 2016, remittances — the fancy term for a money transfer — hit a new high, as migrants are sending more money than ever back home to Latin America; a whopping $69 billion to be exact, according to a new report by the Inter-American Dialogue, a Washington, D.C.-based think-tank.
Perhaps it's because of the Border Wall Funding Act introduced by Rep. Mike Rogers, R-Ala. His bill would tack on a 2 percent fee on money sent by individuals in the United States to recipients in nations "south of the U.S. border" to help fulfill President Donald Trump's promise to "build a great wall."
On a rainy Friday in early March, the phone puts in a lot of work. It's payday, and Esther Santana, the owner of the taqueria, accepts cash from a man and stuffs it into her register. She later says this man obtained the money in an illegal manner.
She rolls her eyes and throws her hands in the air.
"That's for him and his God to discuss," she blurts out in Spanish.
Santana is a proud woman who does things by the book, but it doesn't detract from her animated personality. Her dark brown, chubby cheeks force her eyes into slits when she laughs with customers. Her dark-black hair sheens in the fluorescent light, while small gray hairs curl every which way, uncontrolled by her bun held tight by a black scrunchie.
She has lived in the United States for 35 years after she immigrated from Mexico to pursue opportunities in America, and you better believe she did it legally.
"There are laws in every country," Santana said. "I must respect them if I am going to be here. Those who do things illegally, well then that's their fault. I don't understand why they complain about [deportations] when they know they aren't here legally."
It's rare to find a conservative thinker on the subject of immigration like Santana in Bowling Green's Latino community, even if it's in the religiously red state of Kentucky, but the green-card holder (thus ineligible voter) made herself clear when she said she would have voted for Trump before ever voting for Clinton.
"A woman can't lead this country," Santana said after she asked a liberal college student his political views. "America needs someone strong to be president — a man, even if it's Trump."
Just two miles west of Santana's taco shop is a building that houses an agency fulfilling Trump's political promise of ridding all the "killers and rapists" from the country and deporting them back to their home countries.
Immigration and Customs Enforcement's (ICE) office sits outside the border of a neighborhood most Latinos call home. The building was built in 2000 as an enforcement office only — back when ICE was known as INS (Immigration and Naturalization Services) — to "keep up with the city's booming immigrant population," according to the Bowling Green Daily News.
You wouldn't know what you're passing by from the road. There is no sign declaring ICE operates from the building. But look closely and you'll see black security camera domes dot the green building. Around back sits an unmarked squad car in a secured, semi-transparent fence.
One Friday afternoon, a fleet of vehicles occupy the front parking lot.
Suddenly some 15 men exit the building, hop in their respective cars and hit the road.
Some head west toward Walmart, while three drive through a neighborhood jam-packed with apartment complexes. Two cars drive a block down Morgantown Road and turn left onto Old Morgantown Road, toward "Little Mexico."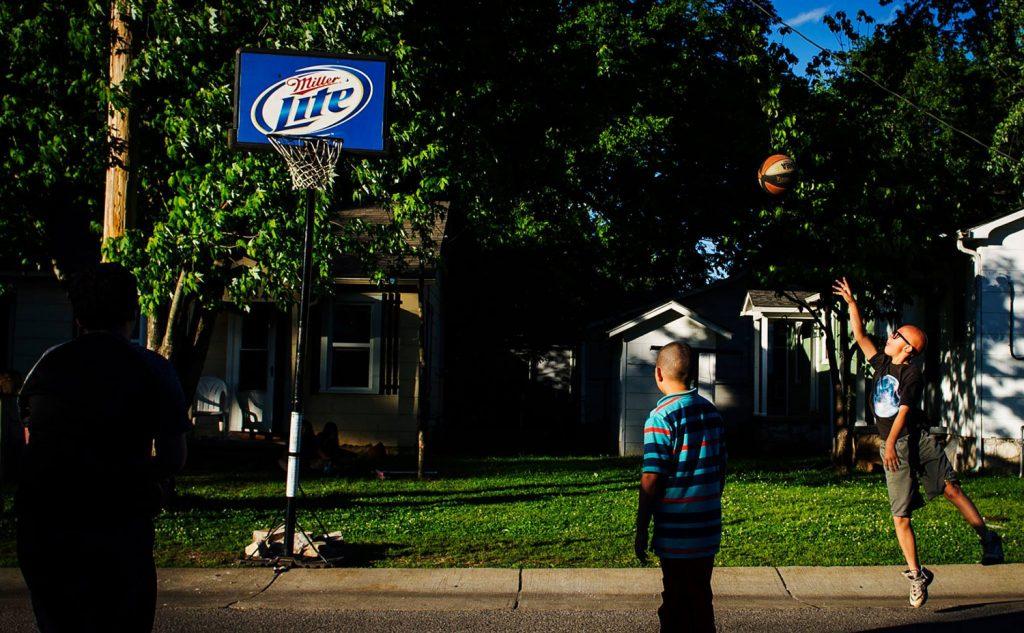 The neighborhood was recently shaken by a shooting at a Mexican market, just a block away from ICE, compounding the fear already felt after Trump signed into law sweeping executive orders regarding immigration.
Back at the Cinco de Mayo festival, Saul Blas, a Mexico native, took a break from his pancakes and crepes stand to watch a traditional dance.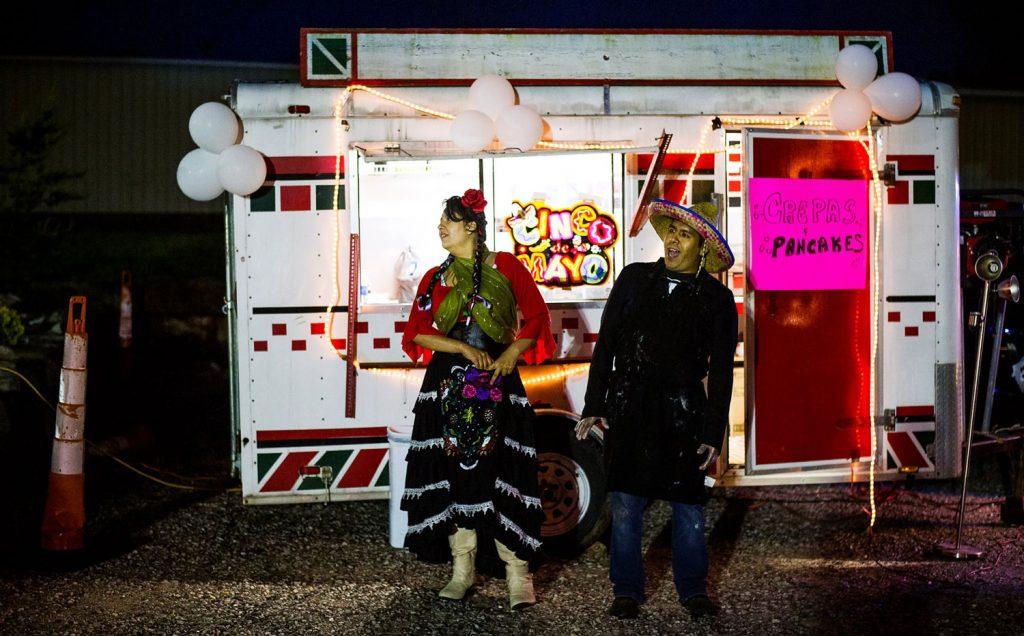 "I have friends where some of them move from here to other states, even to their home countries, because they hear about ICE," Blas said. "There's a lot of people talking about deportation. Us, as a church, we base ourselves in whatever God says, that's what will happen."
There's no sign any God can stop Trump. It was obvious on his very first day in office.
Trump's first executive order urged government agencies to "employ all lawful means necessary to enforce the immigration laws of the United States."
It also called for upping the number of deportations of removable immigrants. This encompasses all unauthorized immigrants who entered the country illegally or overstayed their visas, regardless of whether they have committed a separate crime within the country.
To top it all off, Trump ordered ICE to hire an additional 10,000 agents tasked with enforcement and removal responsibilities, tripling the agency's size and arming it well to complete Trump's desires.
For Barbara Lowe, all the hateful rhetoric doesn't make sense. Lowe has lived in the neighborhood for over 30 years, far before it became known as "Little Mexico." She experienced firsthand the initial wave of migrants from Latin America when she looked out into her yard and saw several of them sleeping in the grass. Her southern hospitality kicked in and she gave them pillows and blankets before they earned enough money to find permanent housing.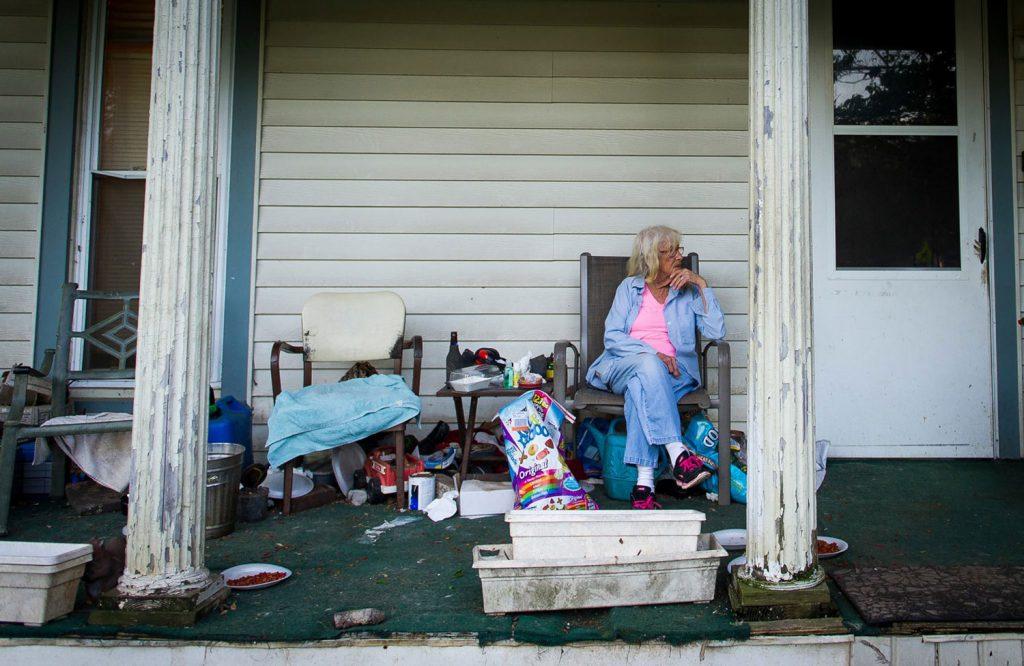 "Really nice people, the Mexicans," Lowe said between drags from her 24/7 Red cigarette. "We may not want 'em coming over the border, but we appreciate the good ones."
Still, the undocumented community feels anything but appreciation. Their feelings were clear when some 100 people from the community attended a forum on WKU's campus to learn more about how Trump's executive orders could tear apart their lives.
Francisco Serrano, a junior from Bowling Green, organized the Immigration Law Forum and enlisted the brains of local lawyers to advise and calm members of the audience in late February at the Downing Student Union.
Judy Schwank of Schwank Law told the crowd to never open a door to an ICE agent who doesn't have a search warrant.
"The best thing is don't open the door," Schwank said. "If you have a window tell them to put the picture of the person that they're looking for and the name and the address up against the window. If that person is there you have to turn them over. If that person is not there just tell them, 'That person is not here. Go away.'"
Serrano doesn't want to see a family ripped apart because of a deportation. He knows all too well what it is like. He hasn't seen his brother for over ten years after a chip in his windshield ultimately resulted in his deportation back to El Salvador.
"I feel a responsibility to my community to stand up for it and use my knowledge to help others," Serrano said. "We're all in this together, and we're stronger together, we just need to come to realize that. We'll be alright if we do that."