Four children — separated by a glass screen — desperately yearned just to be held one last time by their own mother. Each child slid his or her hand through a small opening in the window, clasping their mother's hand with tears running down their faces.
They had no idea this would be the final goodbye.
"I remember the last time we finally saw our mom in jail, she [said], 'I don't think there's any hope of me getting out,'" Berenice Martinez said. "They were going to [take her down] to some place in Tennessee and transport her from there to the [Immigration and Naturalization Service] to deport her."
At the time, Berenice was 14 years old, and she and her three siblings — ages 1, 4 and 16 — and her six-month-old niece were on their own.
"Be strong," she remembered her mother saying to her. "I'll be back soon. This is just temporary. God is good. He has a reason why he's taking me back to Mexico. I will be back. Love your siblings. Take care of them. Don't give up."
Now 24 years old and a WKU graduate, Berenice has chased the opportunities her mother risked everything to give to her since the day they said goodbye nearly 10 years ago.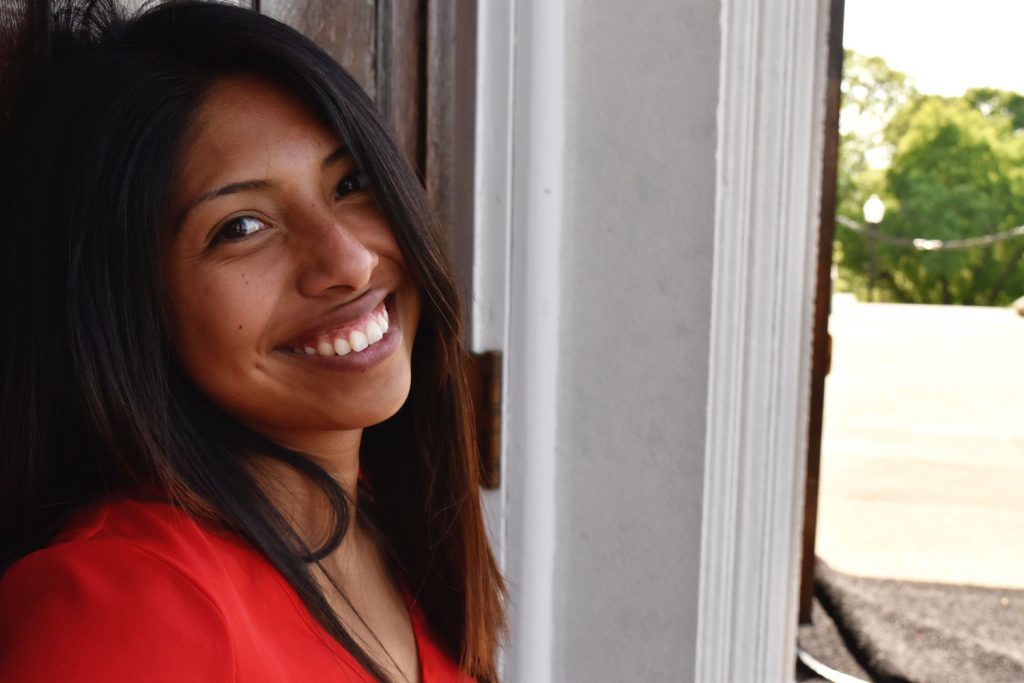 ---
Andrea Morales gave birth to Berenice in Oaxaca, Mexico, where she raised Berenice and her older sisters, Nardi and Gladis, in their grandparents' house, near the river where she washed their clothes. That one-room home is where Berenice lived for the first three years of her life.
When Berenice was 3, her mother decided to journey to America to seek job opportunities and better futures for her children. She made the trip with only Berenice at first, in hopes that the other children could finish school in Mexico, but their grandparents weren't much help in making that happen.
From dodging police officers, hiding in bushes and under rocks, and then crawling under fences, Berenice's 3-year-old mind captured stark memories of the journey
"I remember one time we were at a gas station, and there were policemen there," Berenice said. "My mom [said], 'don't turn around, and, as a little girl you're like, 'Ooh, why should I not turn around?' So I turned around, and they saw me."
Mexican police officers approached the group Berenice and her mother were a part of, thinking the group looked a little suspicious but nothing detrimental came from that encounter. They were still allowed to board the bus they were waiting for.
However, they didn't complete the trip to Kentucky without getting caught.
Before reaching America, the entire group was brought into custody. They were forced into two rooms, separated by gender. Some were let go and some members of the group were sent back to Oaxaca. Berenice and her mother were freed and continued their journey.
Finally making the full trip, they entered the United States of America and, eventually, the Commonwealth of Kentucky in 1996. They lived with a group of around 12 people who bounced from trailer home to trailer home. These trailers were where Berenice formed some of her early childhood memories.
They moved to Somerset in 2000, and by that point, her sisters Gladis and Nardi had already been reunited with the family. By the time Berenice was in the fifth grade, her mom had given birth to two more children, Martha and Lalo.
Berenice settled into life in America.
"I joined cheerleading in middle school, my very first year in fifth grade, and fell in love with it," Berenice said. "I just remember holding onto that whenever everything took place."
---
One afternoon in November of 2006, Berenice was waiting to be picked up after school by her mom's boyfriend. When an hour passed with no sign of their ride, Berenice and her sisters decided to walk home. Upon walking through the door, they found that the house had been ransacked.
Papers littered the floor, couch cushions were pulled out and a bookshelf was torn off the wall.
"When we walked in, there was stuff everywhere," Gladis said. "There was documents everywhere. It looked like the house had gotten trashed or something. I know that one of the documents we found was a search warrant where they told us the stuff they had found and what stuff they had taken."
They had barely processed the destruction when Berenice and Gladis received a call from their mom. Her voice was calming amid the chaos, and she reassured Berenice that she would be at cheerleading later to pick her up — just like normal.
Her mother never showed, and that normality never returned.
Instead, Berenice's older sister, Nardi, who had moved out three years earlier, picked her up and drove to meet up with the rest of the family at the house.
Surprised by the sight of her sister, her happiness quickly waned, Berenice said.
"I could tell she had been crying," she said. "I was just there praying. Finally [at the house], my uncle stepped up and was like, 'Berenice, your mom's in jail right now. She got stopped on the way after picking up the kids, and they took her into custody.' I felt like all these words were coming at me, but it just wasn't making sense."
Her mother was thought to be making Social Security cards due to evidence implicating her, Berenice said. She had papers from friends referring her to people who could help forge immigration paperwork, but it had never turned into action, just a messy coincidence.
"It felt really weird going back home, knowing that my mom wasn't going to be around," Berenice said. "It was just really different. I didn't understand still that everything was actually happening. Me and my two younger siblings and my mom shared one bedroom. I wake up the next morning and realize that it's happening, and she's not there, and it just starts to become so real. I'm there with [Martha and Lalo], and I'm just crying because they don't get to feel the love of their mom. I'm there holding them really tight [saying], 'It's okay. I'm going to love you guys just as much as Mom loves us.'"
Gladis, Berenice, Martha and Lalo were living with their uncle in their Somerset home for the time being. In addition to helping care for her sisters, Gladis now had a child of her own. The family's difficult living arrangement was appearing unrealistic as a permanent solution.
"I was trying to keep Berenice safe and trying to get her places, and I guess I was protective, but at the same time it made me mad because I was trying to do all of these things, and she was wanting to be at cheerleading," Gladis said. "She was wanting to hang out and do stuff with her friends, and I [was] like, 'I don't have time. I can't do any of that stuff anymore. I'm here trying to feed you and take care of you.' I know several times we got into arguments about it."
Being thrust into motherhood was a shock for Gladis.
"I had just turned 16 or 17 years old," she said. "It was kind of tough, and, being a teenage mom, it was hard."
Weeks of visiting their mother in prison turned into months.
At this time, a lady from the church the Martinez sisters attended bought rental property in Science Hill, but instead of renting it, she let Berenice and her siblings live in the house for the remainder of the summer — at no charge. They continued visiting their mother in jail throughout May and early June.
It was June of 2008 when Andrea Morales was deported to Oaxaca, Mexico, leaving her four children to fend for themselves in the United States. Her oldest daughter, Nardi, was deported a year later.
---
Living on their own without a parent or guardian didn't pose a serious problem until Berenice and her siblings were trying to enroll in public school for that fall, when Berenice would enter eighth grade. A small fee was required, but between the four of them, they simply couldn't afford it.
And that's when Berenice's boyfriend's family stepped in.
His parents, Mark and Patty Clark, already had two sons and were two and a half years into the process of adopting a little girl from China. At first, Mark didn't think his family could have Berenice and her siblings move in with them, he said, but that soon changed.
Mark attended a Christian concert at Kentucky Kingdom. Halfway into the artist's set, the PA system messed up. The artist sang for a little bit longer and then started preaching.
"He got to preaching about not worrying what the world thinks of what you do but worrying about what you think God is telling you to do," Mark said. "And I thought he was talking to me. So the next day, I came home and talked to my wife and said 'I want [Berenice and her siblings] to move in with us.' Of course, she was already for it, so we talked some more that Sunday after church and thought about it [for another] day or two, and they moved in with us."
Berenice, her three siblings and niece have been with the Clark family ever since, but the initial transition into a completely new family wasn't easy, Berenice said.
"I actually never met my dad, so Mark was completely different," she said. "In a way, I didn't really know what a dad was until he showed up, and he just cared and loved and just supported [me]. Even though I wasn't his own, he treated me like his own, and it's just nice to feel the love of a father, to feel protected."
However, with Patty, it took more time to establish a mother-daughter relationship.
"At first, every time one of my younger siblings would be like, 'Oh, mommy.' I'd be like, 'It's not your mom.' I was mad about it, as grateful as I was, I was like, 'It's not your mom. You have a mom, and she's in Mexico right now.' And I know it hurt Patty a lot," Berenice said. "It's gotten a lot better now. We can relate a lot better."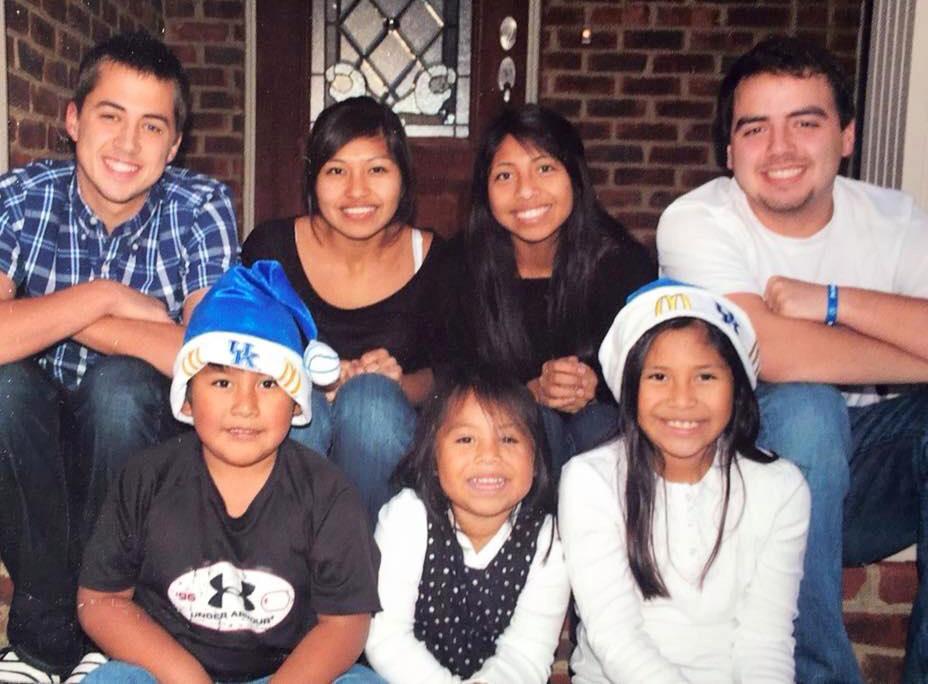 For Mark and Patty, the hardest part was that there were suddenly seven kids running around the house instead of two. At the same time, their two boys had to learn how to take care of the three little ones.
Since living together, Berenice and her siblings have introduced the Clarks to a number of spicy Mexican dishes, and they've exchanged cultural norms and perspectives on certain societal issues, among other things.
"When they first started living with us, they thought we were crazy by how we felt about Kentucky basketball around here," Mark said. "But once I took [Berenice] to a game, she kind of figured it out. I think she's crazier than me now."
Mark said Berenice was closed off initially and was very skeptical of letting anyone into her life. He believed she was scared of him, and it wouldn't be until she was 18 or 19 years old that she realized he really did have her best interest at heart, and he wasn't going to let her down.
Around that time, Mark was figuring out how to help Berenice become a citizen.
"It was pretty incredible when I finally figured out that there was a way to get her citizenship," Mark said. "I had been trying and trying and kept saying 'there's got to be a way.'"
Mark came into contact with a Catholic Charities employee and found a way to allow her to legally stay in the U.S. From there, everything just seemed to fall into place, Mark said.
They petitioned to have her classified as abandoned in order to get her permanent residency for five years, and then she was able to gain full citizenship.
Berenice became a U.S. citizen in 2015, as a junior at WKU.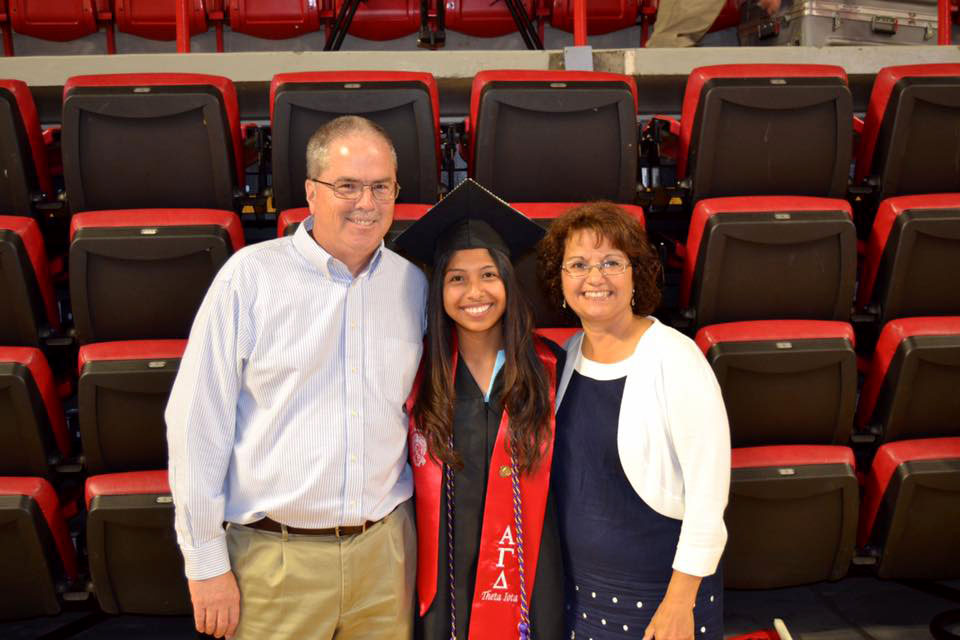 Berenice graduated from WKU with a degree in marketing in 2016, and Gladis graduated from the University of Kentucky with a degree in accounting in 2013.
"If you would have asked me in middle school, 'Are you going to go to college?' or 'What are you going to do when you grow up?' I would've been like, 'I don't know. I'll probably be back in Mexico,'" Berenice said. "Being undocumented, the possibility of me going to college was not really high, and so I expected to finish high school but not be this far — not where I am now."
Gladis was unable to gain citizenship like her sister but was granted temporary resident status through the Deferred Action for Childhood Arrivals (DACA) program, which allows immigrants who were brought into the United States as children to remain in the country without fear of deportation for renewable two-year periods. Gladis and Mark have been researching potential paths to full citizenship for her as well but, so far, to no avail.
Immigrants affected by the DACA program have been faced with much uncertainty after President Trump came into office this year. The policy was created through the Obama administration but with Trump's current anti-immigration rhetoric, the future of the protections remains unclear.
---
Berenice and Gladis stayed in contact with their mother over the phone for the past 10 years, but the last embrace they shared with her is now only a distant memory. It was a scene set in the prison's visitor's box, and the small opening mimicked the small window of time they had with the most important woman in their lives.
In July 2016, Berenice was reunited with her mother for the first time in 10 years. Mark and Patty arranged the trip as a graduation present for her since she had just been granted citizenship and was now able to travel legally back and forth between Mexico and the U.S.
Mark had a friend in Los Angeles and was able to get two rooms in San Diego through him before driving to Mexico. His friend also had a vacation home on the Baja peninsula, which happened to be only a couple hours from where her mom was living — yet another coincidence.
"I remember the week of, preparing and packing, I was just so anxious," Berenice said. "I was like, 'I can't believe this is happening. I'm going to see my mom after 10 years. This is crazy.' I'd get emotional every now and then. I remember the morning of, my sister came in and she was like, 'You're going to see Mommy in a couple hours, how do you feel?'"
Since Gladis does not have her full citizenship, she was unable to make the trip to Mexico. However, Martha and Lalo, who were 1 and 4 when their mother was deported, were able to go. They would, essentially, be getting to know their mother for the very first time.
"For me, it was more important for the kids, the younger ones [to be able to go]," Gladis said. "I just wanted her to know it's OK. You don't have to worry so much. You can live in peace even though we're far away. We're still loved."
Six people crammed into a van and traveled west with nerves tingling in each of their stomachs, the sun high in the sky and not a cloud in sight. They set about tracing the Martinez roots and a family bond.
Upon crossing the border, Berenice recalls seeing the Mexican flag and getting a sensation running through her body that made her proud to be who she was. The border was nostalgic and frightening, but it couldn't diminish the pure excitement she felt as the car slowed to their destination.
Hands interlocked yet again, Berenice, Martha and Lalo braced themselves for the moment they desired most ten years earlier — the chance to be held by their mother again.
"I remember seeing the car and I was like, 'Oh my gosh. It's right there,'" Berenice said. "'That's them.'  They pull up, and I didn't even wait for them to park. I ran to the door; my mom got out, and I hugged her. She was just like, 'Oh my baby! You're so grown up. I can't believe it. It's been forever.'"
Their mother put so much energy into hugging and reassuring the two youngest siblings after missing their entire childhood; for them, reconnecting was like trying to fit a puzzle piece back together.
All the while in Mexico, Berenice balanced her time between both moms and her father. She said she made it clear to Patty that she was her mom, not a second mom, and the memories they made were to be shared by all of them.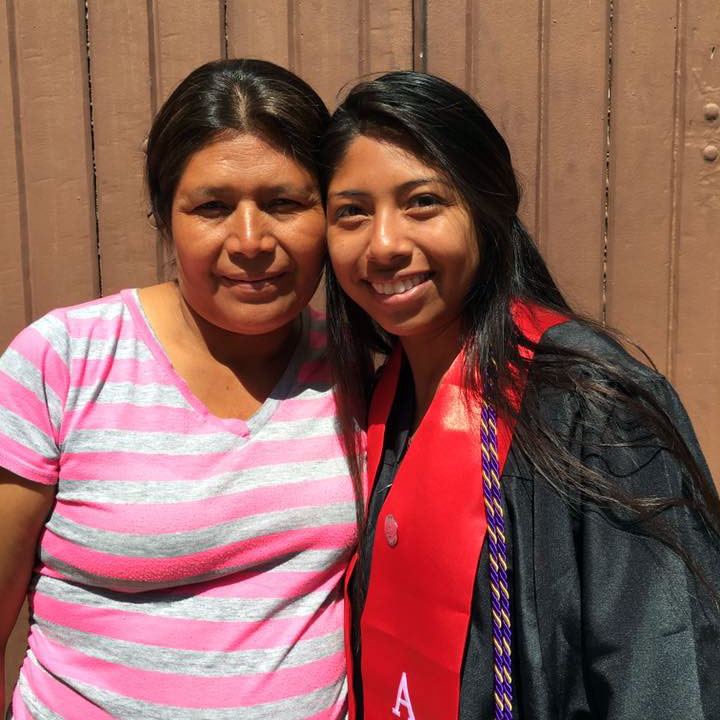 It was a time of tenderness, but time wasn't on their side. The departure came and went but with a different sort of goodbye.
"I just remember my mom telling me, 'Mark and Patty are so good to you. God was definitely watching over you guys," Berenice said. "'Even though it seemed like a really bad situation, he still protected you all and gave you a family to be with. Don't forget me. Just know that I'm working really hard to try to provide for you all. I'm hoping to come back one day."
That's precisely what Berenice and her siblings hope for their mother's future — that she would be able to come back one day. In the years since her deportation, her mother has tried tirelessly to get a visa and return to the U.S., but she cannot do so without a clean record, which takes 10 years to establish.
"I hope they have the opportunity to get back where they can be with each other permanently," Mark said. "I really want them to be a part of my life and here, but I think they deserve her, and she deserves them to part of her life, as well. Lord, if I could get her back, she could live with us."
The most realistic option for their mother at this point is waiting until Martha turns 18 to file a petition for her mother to return, but that requires more years of waiting.
As Berenice hugged her mother goodbye for the second time, she felt confident it wouldn't be the last time she'd see her mother, though she was still unsure of when the next time would be. This time, they were connected by something greater than the fear of the unknown in a prison cell.
In that moment they stood, hoping time would cease and the moment would never pass.
"We were all there hugging for 20 minutes, it seemed like, and that week we just caught up," Berenice said. "It was great. That entire week, I felt like all of those years that I had missed out with her wasn't 10 years. It felt like it was just a day because when I finally saw her everything just kind of fell into place."