Behind glass doors, the main gallery of the Fine Arts Center has become home to 80 pieces of art from WKU alumni that graduated between 1969 and 2019. Curated by WKU Art Department alumna and FAC Gallery Manager Victoria Layne, the exhibit opened Jan. 27 and will run through Feb. 29. 
"We started emailing, calling and posting on social media in October of 2019," Layne said. "Out of the 90 alumni we contacted, we never expected the first exhibit to display this many pieces."
The exhibit begins on the first floor of the main gallery and continues up to the second floor, spilling over into the hallway gallery. From a wood and paint replica of a crushed Quaker State bottle by 1975 alumnus Tom Pfannerstill to 2006 alumna Metra Mitchell's oil painting "Secret of Fire," Layne said it's difficult to pick a favorite. 
"The coolest thing to me is Russ Faxon's sculpture called 'The Pearl Giver,'" Layne said. "He did most of the sculptures already on Western's campus — like the Robert Guthrie statue — so it's an honor to have him come back and exhibit art in our gallery."
This is the first year that the WKU Art Department has created a gallery exhibit solely showcasing alumni art. Layne said the idea stems from the negativity and discouragement that art students are surrounded with as they search for careers after graduation.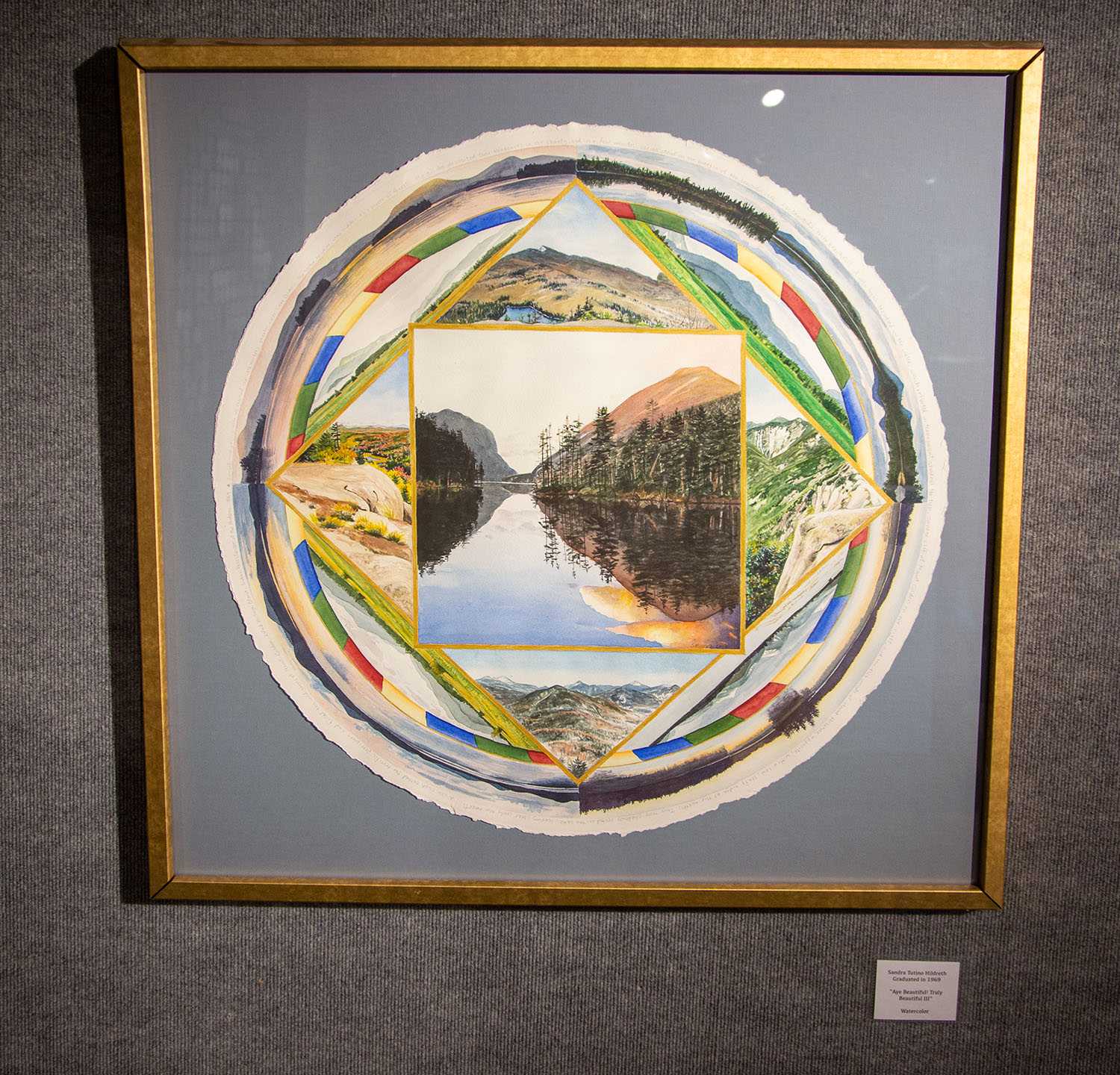 "Art students get a lot of shit," Layne said. "That's why I wanted to do the gallery; I want the students to be inspired to follow through with their education. There is success out there for them, and this gallery helps prove that." 
Stepping into the gallery does something more than please the eye of White House, Tennessee sophomore art student Mandy Pierson — it encourages her to grow.  
"Growth, not just in our careers, but also as artists," Pierson said. "We get to see a range of mediums, and it encourages us to achieve more in our own art."
Layne hopes that showcasing alumni art to current art students will inspire them to take their own education further. The exhibit shows progression of technique learned in WKU's Art Department, from 1969 with Sandra Tutina Hildreth's watercolor painting "Aye Beautiful! Truly Beautiful III" to 2019 graduate Bailey Jordan's acrylic "Imperceptibly and Apparent." 
"We're learning this stuff right now," Louisville sophomore Mary Kate Dilamarter said. "It's cool to see that we have these possibilities, especially because people like to tell us that we don't."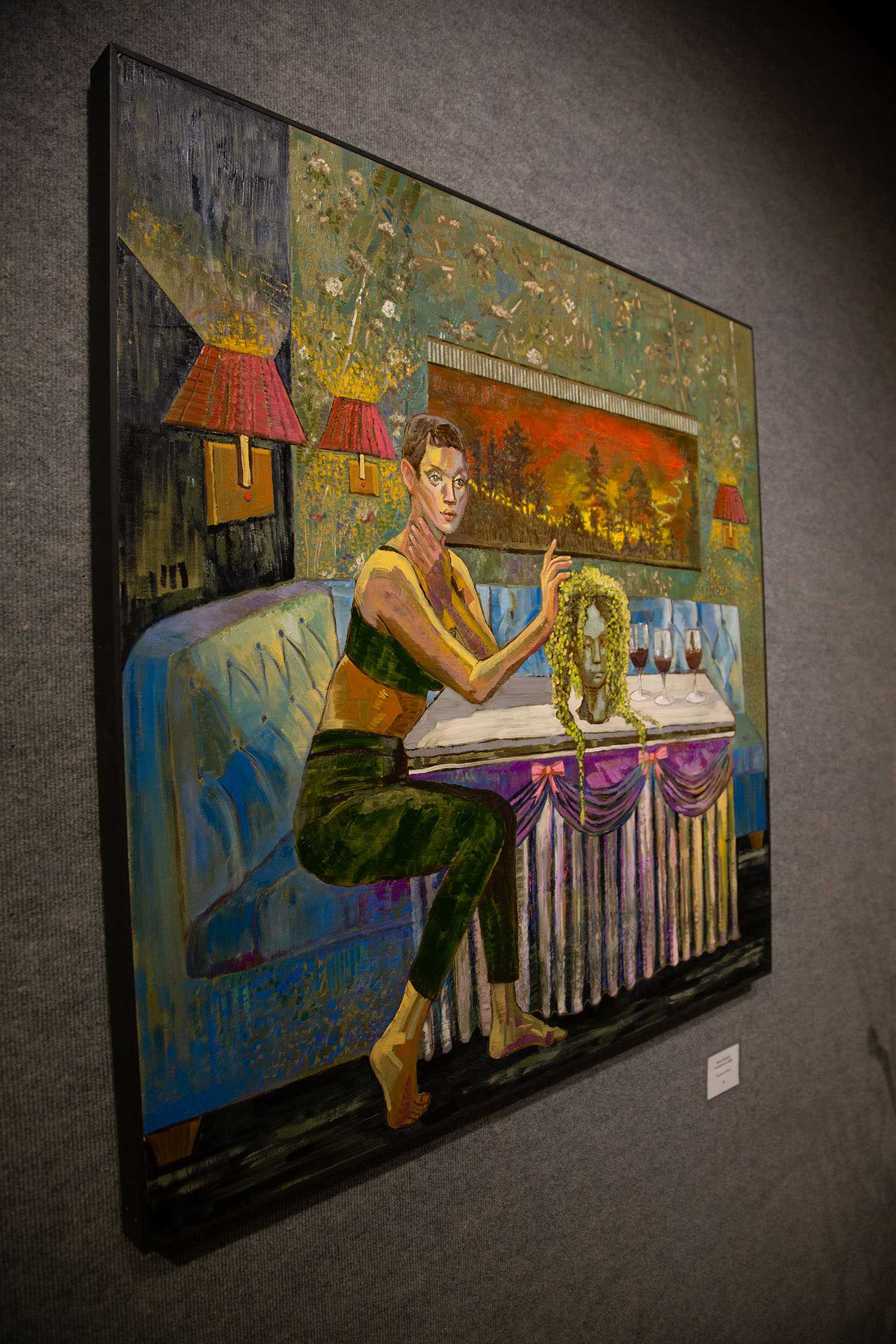 Contradictory to what most art students are told, the exhibit demonstrates that success is possible for art students — especially for graduates of WKU. 
The exhibit holds a variety of pieces, from clay, to oil, to a portrait made of pop-sockets. Although the diverse exhibit just opened at the beginning of the semester, it's already starting to gain attention and make an impact on WKU's students.
"I'll be sitting in here for a couple hours in the morning and waves of students rush in between classes," Layne said. "It's created a connection between the alumni and the students."
Not only do the art students see alumni art displayed in the gallery — the alumni themselves can reconnect with their alma mater. 
"I'm really proud to see my own work displayed with these professionals," WKU Art Department alumna and Image West Director Kara Williams Glenn said. "It makes me feel like I am part of something bigger with a vibrant past and an exciting future."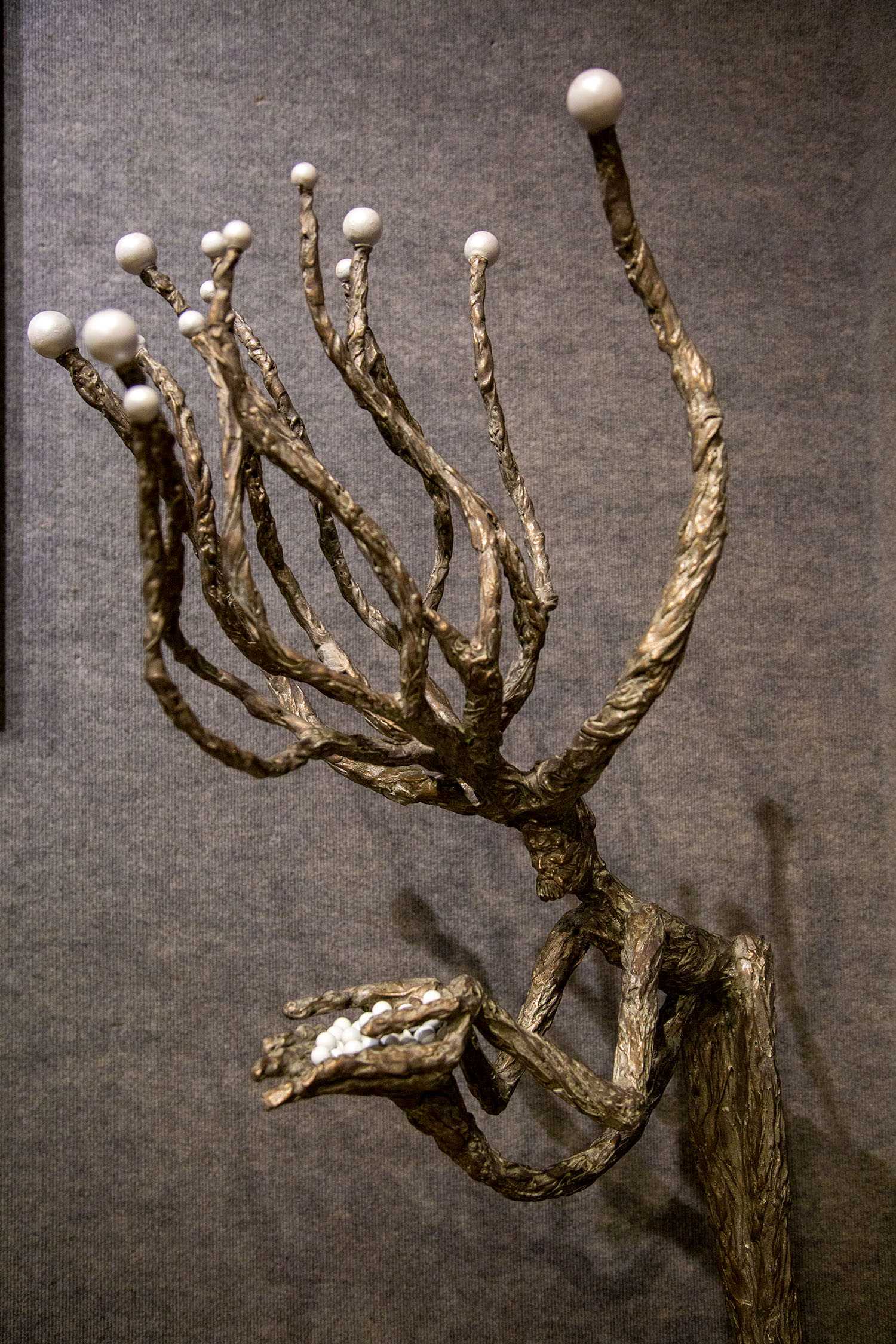 Under soft white lights, the exhibit encompasses the success that is possible for WKU students by highlighting the accomplishments of the art department alumni. The walls display the art of those who carry the WKU legacy, but they also create a space for students to imagine what their legacy will become. 
"I definitely want to do this again," Layne said. "Even if it's every two years, or every five years, I want students to have this opportunity to connect with the school's alumni, as well as give alumni the opportunity to reconnect with their roots." 
Art students will have an opportunity to connect with art alumni at the exhibit's closing reception, which will be held Feb. 29 in the FAC main gallery from 2 p.m. to 5 p.m. The reception will serve as a pick-up for alumni art, so art students in attendance will be able to interact with the artists on display in the exhibit.
"It allows us to talk to the alumni and make connections," Pierson said. "I mean, right now I'm looking at Metra Mitchell's oil painting, and I am dying to learn how to create those skin tones."
The WKU Art Alumni Exhibition is open to the public Monday through Friday from 8 a.m. to 4:30 p.m. in the main gallery on the second floor of FAC.