Editor's note: A previous version of this story read that Kaylee Willgruber decided on the shapes and colors that will be included on the vehicles mentioned, but it was Autumn Smith, a Talisman illustrator, who decided on them. It has since been corrected. The Talisman regrets the error. 
Brands occur everywhere in the world. Everything a person sees in a day is branded. Branding is how products are sold, how companies choose their logos, why your favorite cup of coffee looks the way it does. With the help of a WKU User Experience Design course, the Warren County Sheriff's Department is getting a branding upgrade. 
The Warren County Sheriff's Department has been long overdue for an update, said WKU communication professor Kelley Coppinger, and Sheriff Brett Hightower is ready to change that. Coppinger and her fall 2019 class were hopeful that they could make branding changes to the sheriff's department through social media, car designs and office branding that will benefit the Bowling Green community and its relationship with the department. 
"Back when I ran for office, one of the things I thought, as a Western alum, was to look at utilizing some of the Western classes for some of the areas of this office," Hightower said. 
As an alumnus, utilizing WKU to provide a more representative image of the department was essential to Hightower. 
"To utilize these young minds, to kind of bring them in and help them be part of the plan of a logo or icon is very important," Hightower said. "Western is such a great resource for this community."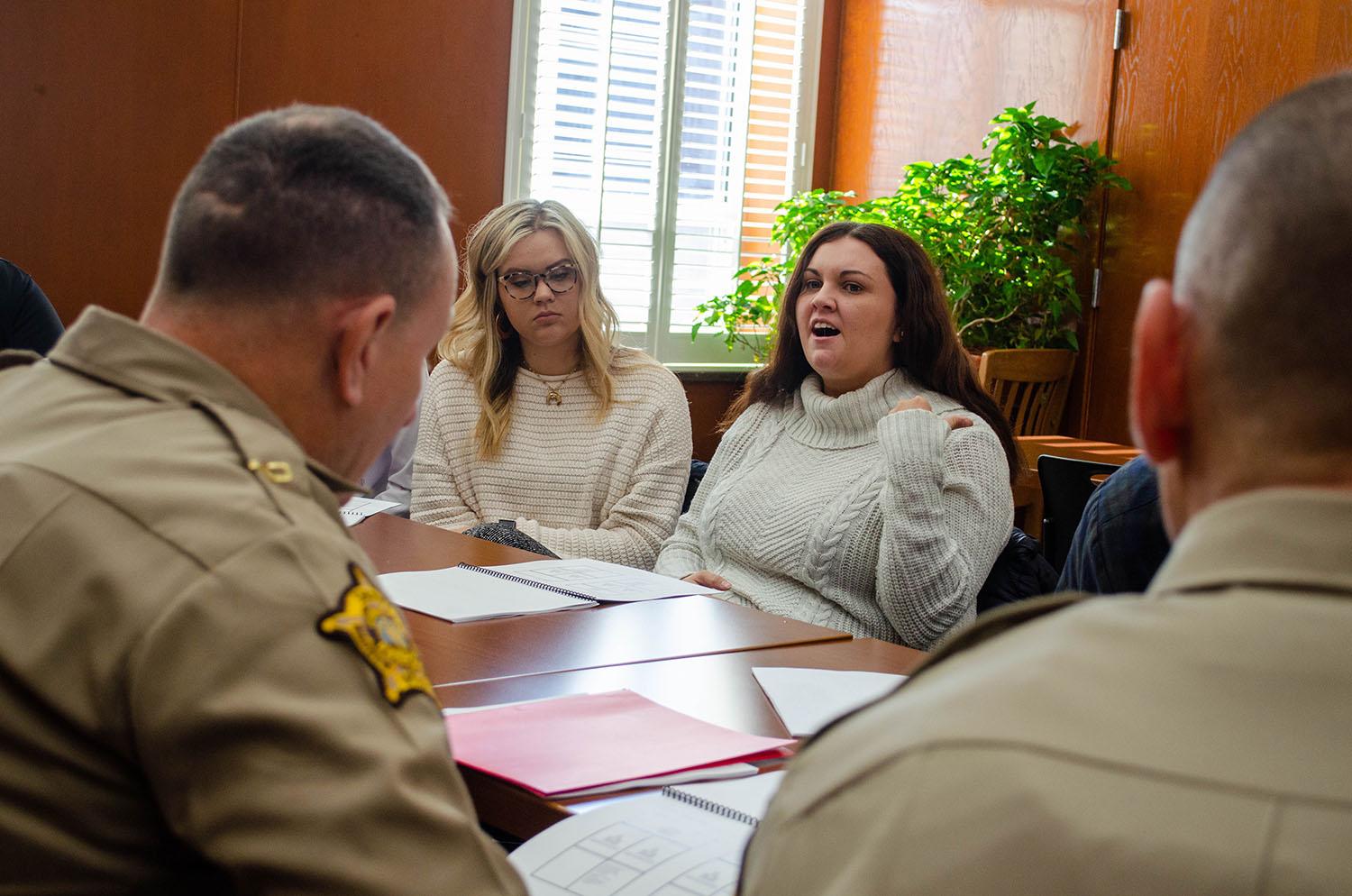 Ashley Oehler, a junior from Florence, was assigned to the social media team and embraced the new opportunity to build her resume. 
"I've not worked with a lot of actual clients, especially within the community, so it's really neat getting to see our work get used and considered," Oehler said. 
While the rebranding gave students the opportunity to work with real clients, Coppinger wants long-term results for both the students and the community. 
"It's an exciting project because it's gonna live way beyond this class, which it should," Coppinger said. "That's what we're here for. It's to give students the vision so they understand how to take projects the distance." 
Hightower also has a vision for the long-term effects of the rebranding. 
"We talked about some of the touch points and some of the visualization and how I wanted people to see us as both law enforcement but also approachable," Hightower said. "There's this balance between identifying as law enforcement but identifying as something that draws your attention as well." 
Coppinger, her class and Hightower all hope that this new attention will have a positive effect on the community. Coppinger's class made efforts to make the department more accessible to international community members. They plan to do this through how-to videos on how the department functions, journey maps explaining how to perform actions such as filing taxes and a variety of language options to be more accommodating. These resources are accessible on the sheriff department's website, where they can be seen by anyone in need of them. 
Coppinger says that the inclusion of international perspective has benefited the project. She said their ideas of "journey maps" will assist international community members in navigating the sheriff's department, filing taxes and interacting with law enforcement. She noted the importance of the perception of law enforcement to people from overseas. Coppinger said that because perceptions of law enforcement can be different to international people, it is important to translate local perception. 
Bowling Green junior Kaylee Willgruber worked on the car rebranding and hopes the cars have an effect on students and the community. Walton junior Autumn Smith, who is a Talisman illustrator, decided on the shapes and colors that will be included on the vehicles. Car designs for the sheriff's department will be reformatted with rounder shapes and softer lines. Meanwhile, cars for local high schools, elementary schools and middle schools will be outfitted with mascots and colors specific to the schools they are assigned to, giving students more ownership of their officer. 
"That was really important to keep a consistent brand of 'this is a law enforcement vehicle, this is a sheriff's vehicle,' but somehow incorporate the schools," Willgruber said about the vehicles for local schools. "In doing that, we wanted to keep a consistent design that showcases the vehicle, but we still added in the schools' aspect." 
These modifications include adding school logos and mascots to cars to make them more identifiable by students.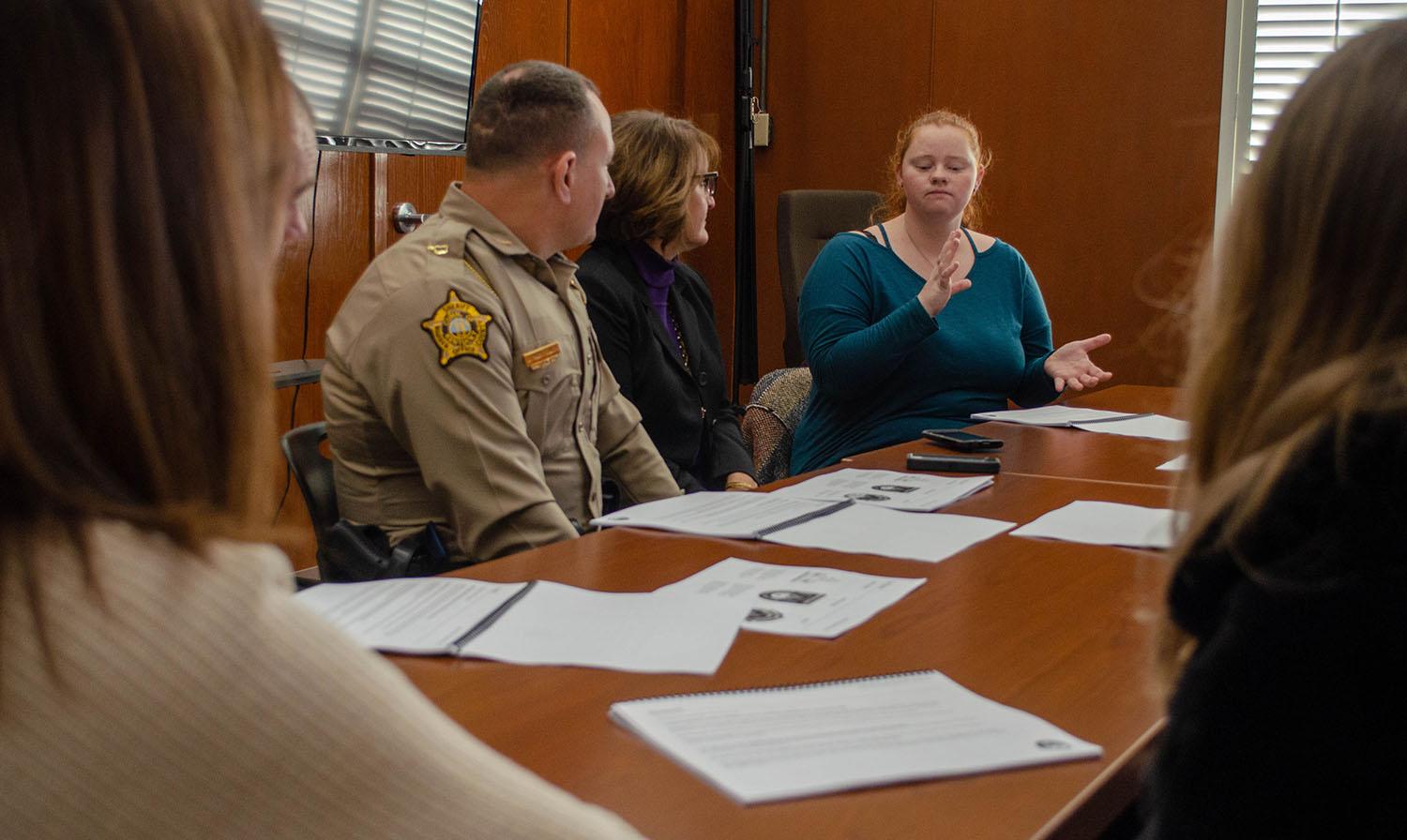 Hightower said he is excited about the new cars for the schools and expressed his interest in ultimately refreshing the overall message of the sheriff's department. 
Vehicles will be assigned to local schools' Student Resource Officers, or SRO, and Hightower hopes that this will make school resource vehicles more identifiable to students. 
"It'll be more specific to that school," Hightower said. "It's another opportunity for the students to be engaged and feel united with their school SRO." 
School resource officer vehicles won't be the only cars undergoing rebranding, though. For Hightower, it is out with the old and in with the new. 
"We used to have 'TCB' on the cruisers, which was an old Elvis Presley saying 'Taking Care of Business,'" Hightower said. "Quite frankly, I don't want to be seen as an organization that takes care of business in a flash — I want to be one that takes care of business in a methodical way." 
Hightower said this branding concern has to do with the accountability of the department.
"I just don't want to put ourselves in a position where that somehow people can mislead or misread us into somebody who's just gonna take care of something quickly," Hightower said. "That is not my vision for the office." 
Doing away with the "Taking Care of Business" motto is a big step for the department, and Hightower's concerns for law enforcement accountability are shared by Crestwood junior Sabre Semrau. 
Semrau's role in the project centered around making law enforcement more accountable, providing a point of criticism for the sheriff's department and their practices. 
"When I first heard we were doing this project, I honestly didn't want to participate because I didn't want to do free work for an institution I don't believe in," Semrau said. "I, obviously, am antagonistic to it." 
However, she was willing to work with the department in order to affect some level of change for the community. Semrau hopes that the suggestions and research she's doing on the origins of the police and law enforcement systems for the project will help to inform the Sheriff's Department and ultimately allow for a safer, more accountable community. 
"I want community policing," Semrau said. "They would have the opportunity to hold the cops personally accountable." 
Since the fall 2019 semester came to an end, Hightower and Coppinger are wrapping up the project. Coppinger said Hightower recently placed bids for new vehicles that they will then place the new logos and designs on. The changes the class recommended to the department's website have been implemented. Coppinger is putting the final touches on the sheriff's department's new logo, since the class ended and the students who worked on it are no longer on the project. 
"(Hightower's) like 'your students are incredible,' and yeah they are," Coppinger said. "We had a lot of kids working on it."