Centennial Mall went from being completely deserted to packed Wednesday evening as students, staff and Bowling Green residents gathered to protest the grand jury decision in the case of Breonna Taylor.
Students, including Covington senior Jay York, began planning the protest at 12:45 p.m. immediately after the Jefferson County grand jury indicted one of three Louisville Metro police officers involved in Taylor's death for three counts of first-degree wanton endangerment. Brett Hankison is the only officer being charged.
"Once we found out what the verdict was … we wanted to do something to aid those students, give them a chance to voice their opinions, spread light and spread knowledge," said York, also acknowledging that a lot of people on campus are from the Louisville area.
The protest began at 5 p.m. with York and co-organizer Tracy Scott, a senior from Louisville, being the first to speak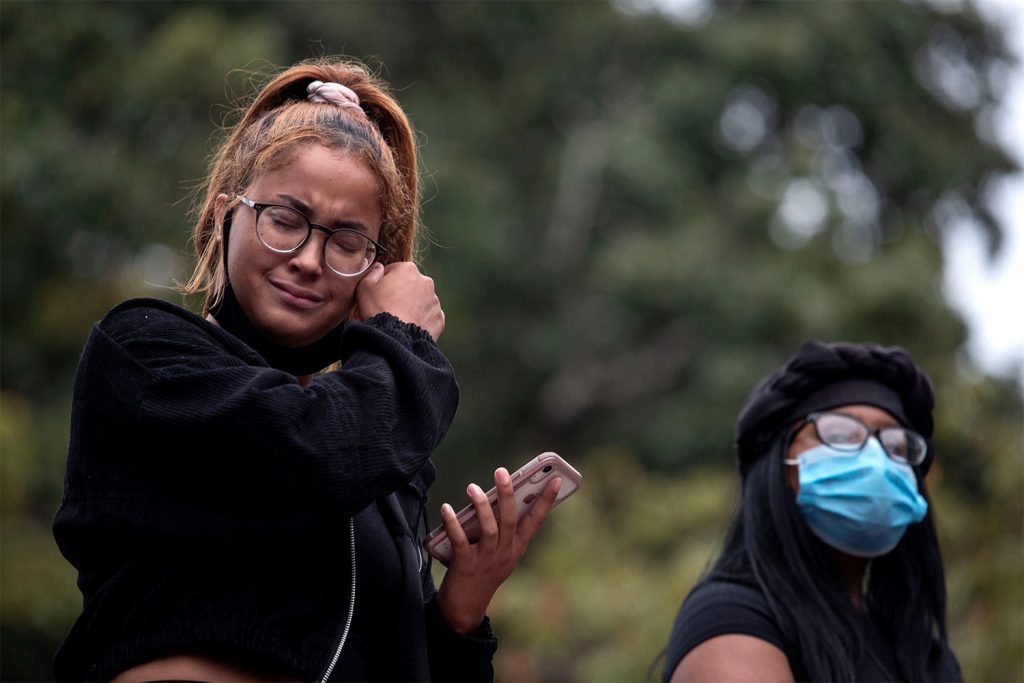 "Change starts with us," said Scott. "It starts with everyone here, so I wanted you to come out and be peaceful and I want you to get your point across, but I also want you to remember that after today it doesn't stop.".
Following Scott, 11 more people spoke, including eight students and three candidates for the Bowling Green city commission. The speakers shared their own stories, expressed frustration and grief, showed love for one another and shared their art, among other things.
From his poem "One Nation Underrepresented," Atlanta senior Austin Brown of Blaq Art Nouveau read, "Black don't crack but this city, this country in fact, was built on my brother's grandmother's mother's grandmother's back, and I put that on my bio."
Those in the crowd clapped, snapped and cheered as speaker after speaker walked to the front, took a stance on the brick wall, and delivered their message. Any time a speaker became emotional, the crowd offered support. One of those speakers was Bowling Green City Commissioner Dana Beasley-Brown.
"We need, in this moment, to expect that our leaders understand that this is a moment where you drop everything so that your students know that their lives matter," said Beasley-Brown in reference to WKU President Tim Caboni's absence at the protest. 
Her statement gathered an applause from the crowd, and Beasley-Brown continued on to encourage students to vote for candidates that believe that Black lives matter. York and many of the other speakers urged students to make their voices heard through voting.
An hour and a half into the protest, after the last speaker was finished, those in attendance walked together from Centennial Mall to Pearce-Ford Tower and back. York reminded the crowd that women would walk on the inside of the group, then officer Tim Gray of the WKU Police Department led the crowd with York and Scott.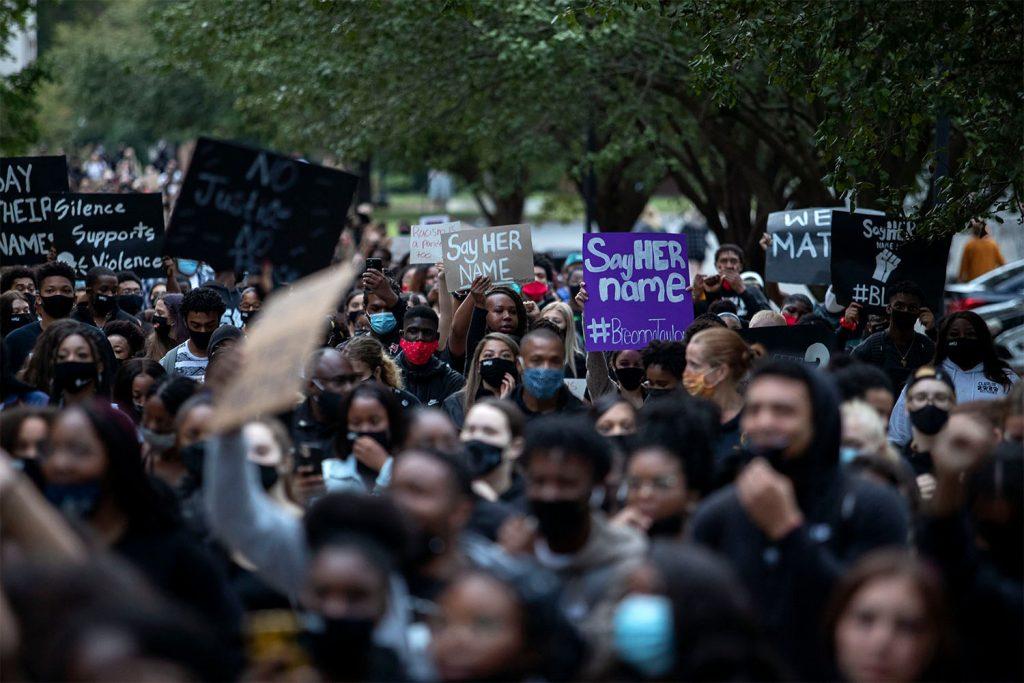 As the protest made its way down campus, attendees raised signs and their fists as they chanted messages in call-and-response like "Say her name, Breonna Taylor" and "No justice, no peace."
When the protest made its way back to Centennial Mall, York and Scott gave closing remarks thanking everyone in attendance and encouraging a round of applause.
After the closing remarks, some made their way out of the area, but several people lingered, making their way around to exchange information with other protestors and talk to the people who had spoken earlier.
"All of us here are qualified to be an attorney general," said York. "All of us here are qualified and capable of being the mayor of Bowling Green or being the mayor of Louisville. We have to take it a step further."