Editor's note: A previous version of this story originally did not specify that Galend Jones is a member of the Vette City Bop Dance Club in a caption following the quote Jones provided. The Talisman regrets the error.
The compelling — no, possessive — bass line in Michael Jackson's "Smooth Criminal" sounded through Mark Doggett's ballroom-dance hall at Indian Hills Country Club. Dancers swing their partners all the way to the dance floor. They come together in twos like Noah's Ark. The pairs around the room say nothing, join hands and seem to be welded together like steel. The men and women are steady and poised, and, unconsciously, whispers of numbers form on their lips as they count to the tempo. Suddenly, all in unison, their legs come to life.
This spinning and undulating is all keenly observed through the narrowed eyes of the master of the room, the conductor, "Dr. Dance," they call him. Mark is a dancer, John-Travolta-disciple, marksman, husband, former engineer and current WKU engineering professor-coordinator, the ultimate balancing act. 
He stands in the back of the dim, rosy ballroom wearing all black. The 62-year-old has been dancing for three decades and has been teaching dance for 20 years. He knows just about everything: the waltz, foxtrot, tango, swing, rumba and salsa. 
Every Monday, the Corvette City Bop & Dance Club members gather at Indian Hills Country Club for three hours of dance. Every first and third Monday of the month from 6:30-9:30 p.m. Mark teaches a beginner's lesson, an intermediate lesson and then sets his flock free for a group dance. 
At Mark's side is his wife and teaching assistant, Nancye Doggett, or Nancye Dance as students call her. On the floor together, they are stripes and flashes of color. They become fluid — all motion, rhythm and posture.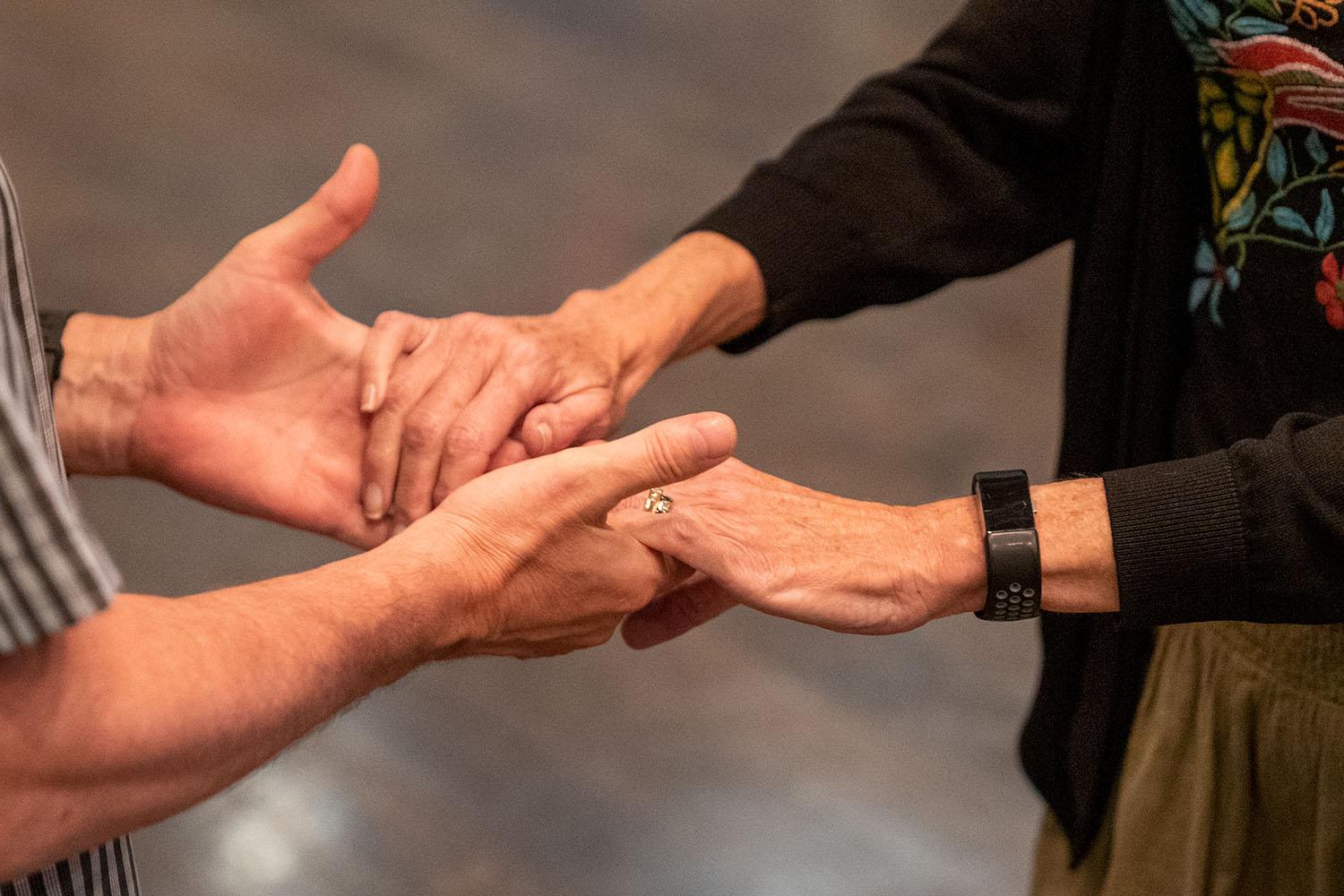 "If you've got the rhythm, you can do any dance," Nancye said.
Out of the dance hall, Mark and Nancye are practice partners.
"My wife and I, now, we do opposites, because now she's learning the male's part, and I have to play the female," Mark said with a laugh. "I'm a big girl." 
According to the Doggetts' website, Nancye has a strong background in classical and modern dance and dance for musical and theater productions. She now coordinates activities for Christian Care Communities.
Nancye and Mark both started dancing while they were young. For him, it was to his parents' dismay while he was in high school in Kingsburg, California. 
"I grew up in a very strict household," Mark said. "I had to ask permission from my parents to go to the dances after the football games."
Mark learned to overcome his parents' hesitations and started his career as a social dancer. Of his younger years he said he was "brash, cocky, too self-assured."
"I always wanted to be the best one on the dance floor," he said. "Every generation has its heroes. My guy was John Travolta. That was in Saturday Night Fever, when he did his routine on the dance floor, and I said, 'I want to dance like him.'"
Mark started catching Saturday night fever every Saturday. When he was in his 20s, he started entering and winning competitions. That's when he knew dance was no longer just a pastime. 
From then on, Mark ran up a long list of achievements and gained experience as an instructor. According to the Doggetts' website, he was the founder and first president of the Hughes Social Dance Club in El Segundo, California, and he was an instructor at Arthur Murray Dance Centers, a large dance corporation with instruction in beginner, wedding and ballroom dance lessons in 270 studios worldwide. Mark ranked highly in several amateur competitions and won first place a number of times before moving on as a performance-group and couples dancer.
After spending 30 years studying advanced choreography, Mark now teaches group, wedding and private lessons weekly at the Corvette City Bop & Dance Club and the Bowling Green Athletic Club.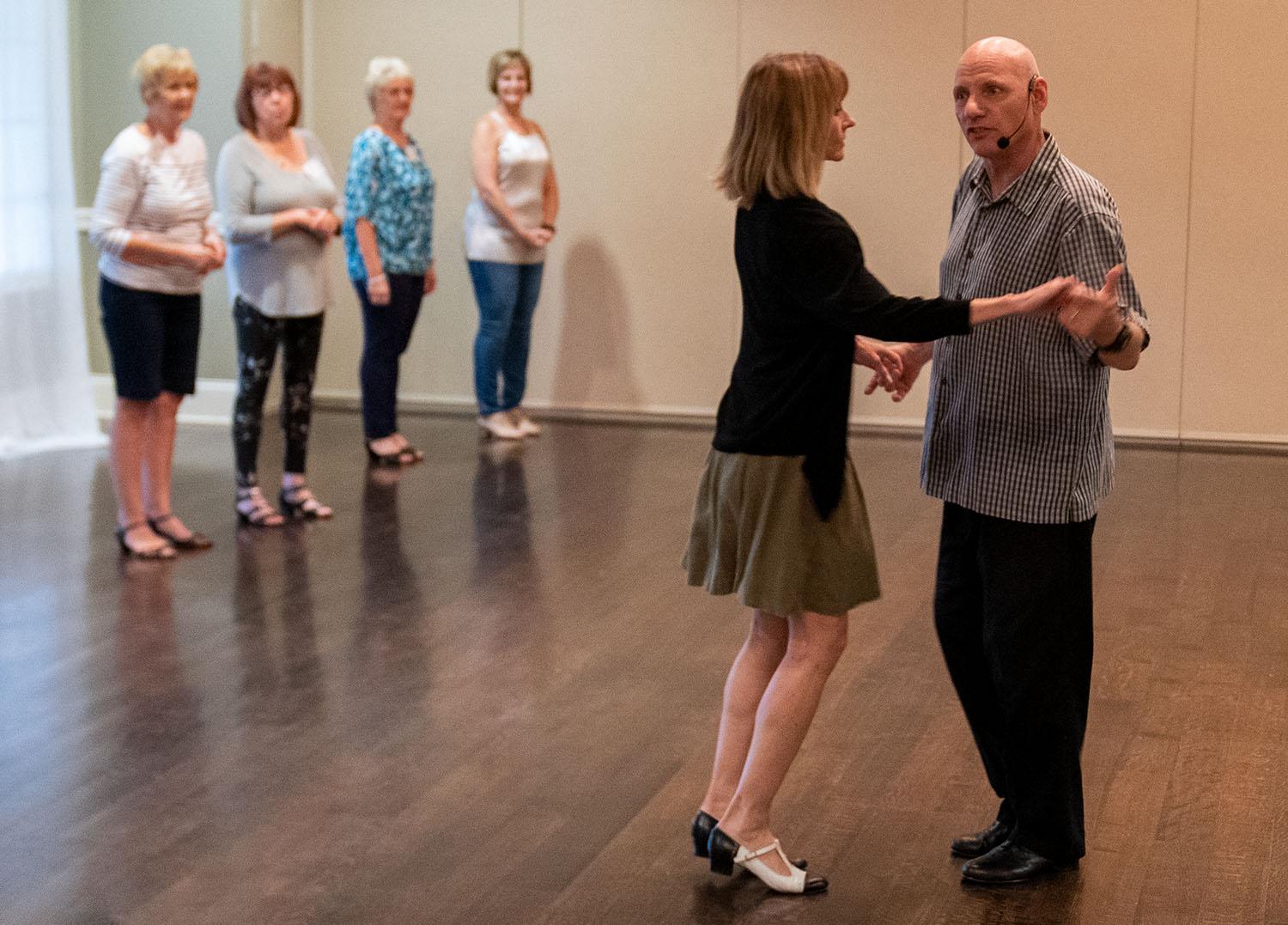 In the dance hall, he assumes his default position: feet straight under knees, knees under hips, hips under shoulders, eyes forward, arms firm but not stiff, ready and able to lead, confident, steady and precise. 
Dancing isn't Doggett's only passion though. He has practiced mindful and sharp marksmanship for years, since his California days, and he goes once or twice a month to Bowling Green's Sherwood's Guns and the Rockcastle Shooting Center.
He says the two hobbies — ballroom-dance and sharpshooting — aren't all that different.
"They both require a degree of concentration," Mark said. "There's a mind element, and then there's the physical element in terms of being in shape, having proper stance, being balanced and being relaxed. These are all things that you have to have in both of those pursuits. I don't see them as being that divergent."
Mark said he first pursued sharpshooting to keep his senses and hand-eye coordination sharp but didn't feel like he could cultivate the hobby as much in California.
"Kentucky is a lot more Second Amendment friendly than California is," Mark said. "In California, people look at you weird if you say you like to shoot target practice. Out here it's not so uncommon, but people still get weird about it. I don't broadcast it a lot, for that reason, just because I don't want people to feel uncomfortable."
But Mark doesn't show interest in the politics of marksmanship. He said he is a man of mechanical orientation. 
"I'm an engineer," Mark said. "I like the mechanics about it. I like the technology that goes into the hardware; that's what really drew me into it. These are precision instruments. They've got a lot of interesting things about them in their operation — the cleaning of them, the maintenance of them — just taking care of them is a big responsibility."
Mark is used to this kind of delicate machinery. He got his master's degree in industrial technology at California State University, Fresno. He got his doctorate in interdisciplinary education and human resource studies and manufacturing technology management at Colorado State University. 
He started working for an aerospace company in California in his 30s. For 13 years, he's been a professor of technology management and the graduate program coordinator at WKU.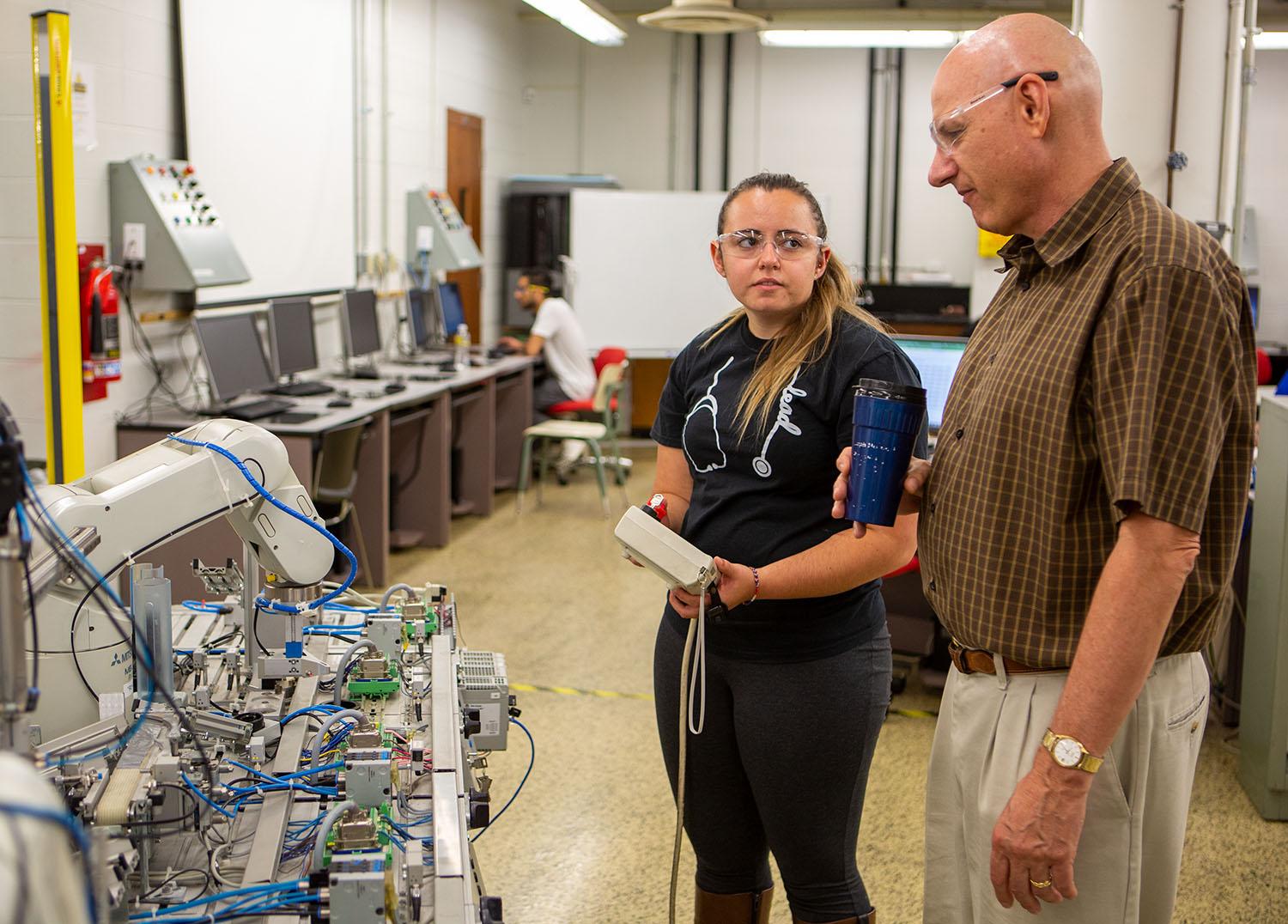 In the classroom, Mark is precise and unwavering. At 8 a.m. on Monday, Sept. 16, he explained to his robotics and machine vision students that they can't write a program with a single error, or else it cannot be run. 
He continued to explain to the students how they should write the code for the robot. 
"Move to position," he said. "Then move straight. Delay a half second. Close hand. Delay a half second. Move straight," a kind of mechanical dance. 
Pencils ticked between thumbs and middle fingers. There was a collective biting of nails.  
"As a teacher, he's stressful," said Alyson Madden, a Hopkinsville senior. "But he makes sure you learn."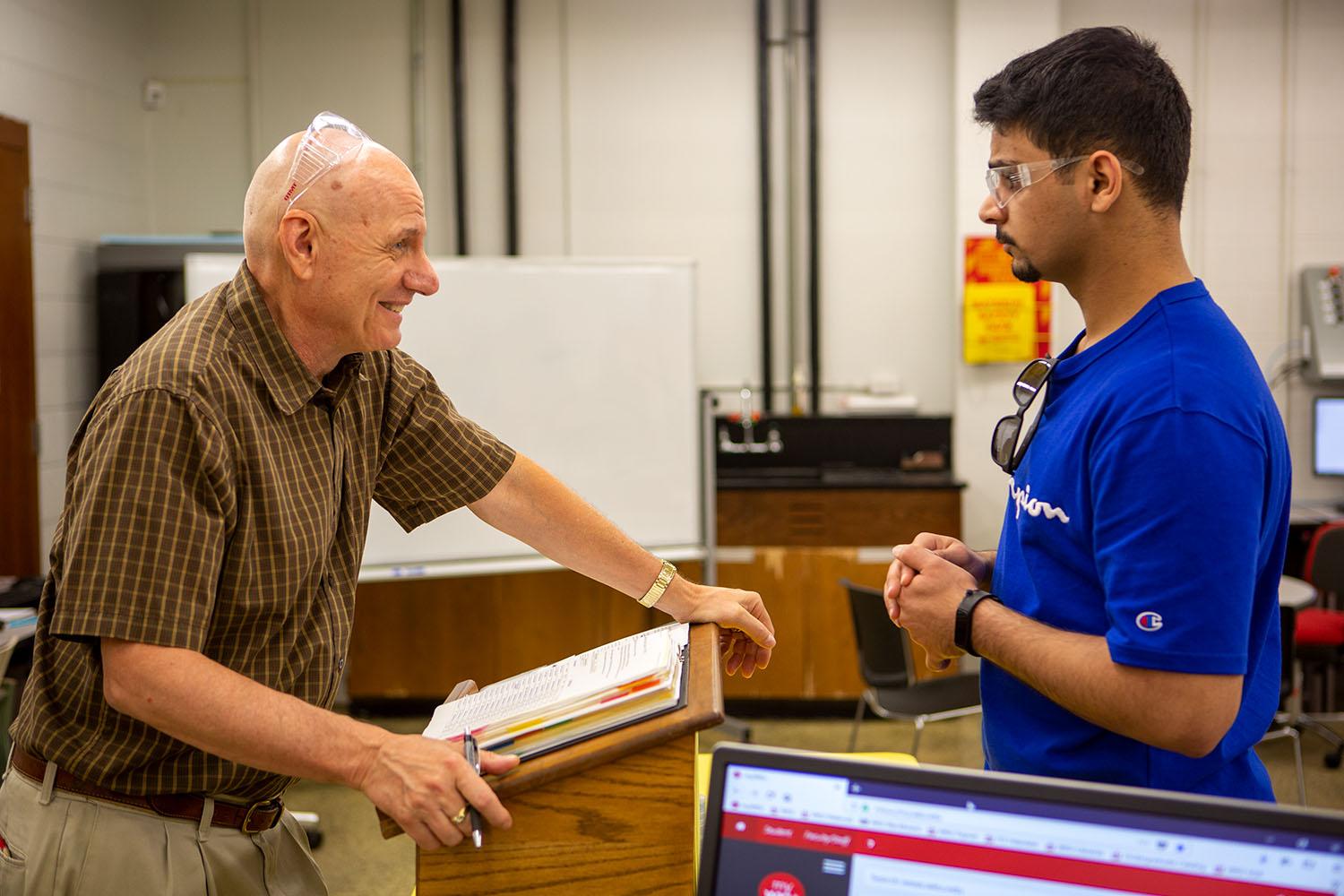 The classroom in Environmental Sciences and Technology Building was composed largely of steel and concrete, and it was vast and gray with splashes of yellow. There were big red buttons, Plexiglas barriers and pipes wide enough to suck in a decently sized cantaloupe. 
It was effectively the opposite of the rosy ballroom dance hall.
Mark said he primarily moved to Bowling Green for work and because big-city life in California was starting to get to him.
"I was kind of burnt out on L.A.," Mark said. "Any big city kind of wears on you. City life has a dark side to it. And, unfortunately, I got involved in some of that 'dark side' activity. I knew that I had to get out and I had to make a lifestyle change."
He then left a high-paying job and went back to his dance roots. He decided to learn both male and female dance parts to get a little money. 
Eventually, he made his way back from the dance world to the engineering world and was hired on as a professor at WKU. Since then, he's taken root in Bowling Green's dance community.
"When you're on the dance floor or when you're in a ballroom dance session, no one really cares what you do for a living, or what your background is, or what you used to do, or what you do now, or if you have kids or don't have kids," Mark said. "Your personal life is really irrelevant. It's about the love of dance."
As for his dance teaching style, Mark can be strict. He understands the capabilities and limits of beginners and especially of the older crowd, but he has standards nonetheless and doesn't accept laziness, he said. 
"All my students don't know a lot of steps, but they know how to look good on the dance floor," Mark said.
Mark teaches his dance students what he's learned from every part of his life: sharpened senses, hand-eye coordination, core strength, precision, focus, gentleness, relaxedness, smoothness and balance.
Back in the ballroom, now, some of the couples break apart and abandon the structure they've learned, and they surrender totally to impulse, passion and instinct. There were jazz four-squares, hips shaking, snapping, sliding, clapping and jumping around. 
"Sometimes, you've just got to groove," they said in unison during the electric slide. 
Mark said there's a certain beauty in all the structure he works so hard to teach, the "technical proficiency" of dance. 
Above all the things that dance teaches young men, Mark said, the most important lesson is how to hold a woman with grace and love.
"There's nothing better for a man's ego than when he's dancing with a woman and she's smiling from ear to ear," Mark said. "The first time it happened to me, when I made a woman smile on the dance floor I thought, you know, this has got to be the closest thing to heaven on earth, right here. You feel like you're floating. You feel like your feet aren't even touching the ground; it was so perfect that I didn't want to be anywhere but there."